A Digital Strategy Framework for Transformation
How to bring about organisational change and transformation in the digital age
We're living in the digital age; to some others, we're already in the post-digital age — where digital is ubiquitous and embedded in our lives.
A relevant and practical digital strategy framework is essential to guide organisations towards a successful digital transformation.
Background
I started my career a few years ago in a fairly new digital arm of a consulting company. Recently, the company reorganised itself to dissolve the digital teams into the rest of the company as a step to move towards post-digital. I made the decision to move to another company that allowed me to continue my digital journey.
The shift from a technology-oriented to an entire business environment required me to change and adapt my perspectives and priorities. The main difference was moving from a team that proposes and implements digital changes to one that leads the digital transformation.
The experience was akin to taking an elevator from the penthouse to the basement, and vice versa — it allowed me to get a glimpse of the gaps and challenges at the various business and technology layers.
In the previous team, I was fortunate to be placed in multiple digital projects across industries, which allowed me to experience the various digital solutions to address problems. I realised that there were common patterns and approaches to digital transformation.
I have put together a digital strategy reference framework to guide the pursuit of digital transformation in organisations and teams.
While the framework is not meant to be a silver bullet, the idea is to establish some form of a framework and modify it to adapt to unique problem and scenarios.
Defining Digital Transformation
The term "Digital Transformation" may mean different things to many people. In the context of this article, I'll attempt to define digital transformation based on the following three key traits:
Changes processes at its core
A paradigm shift
Multiple layers with benefits and tradeoffs
#1: Changes processes at its core
Digital transformation differs from digitalisation.
Changing the payment method in the public transportation system, i.e. trains, buses, etc. from coins and notes to digitalised NFC and cards is digitalisation. The process is still largely the same, e.g. having to take out something and tap/insert, albeit a different medium (digital).
An example of digital transformation in the same scenario would be the use of facial recognition for payment — without having the user taking out anything and interacting with a system. The core payment process is disrupted and transformed from having to do something to without; people eventually would not realise that they're making payment, and this is where digital becomes omnipresent.
Digital transformation often results in significant changes in human behaviour.
#2: A paradigm shift
Digital transformation involves new ways of thinking, disrupting old models and creating new ones.
Examples of today include Uber, a transport company that owns no cars, Facebook, a media company that creates no content, Alibaba, a retailer that carries no stock, Airbnb, an accommodation provider that owns no property, etc.
The above-mentioned companies have successfully disrupted existing business models and created new ones.
#3: Multiple layers with benefits and tradeoffs
Digital transformation occurs at multiple layers — like an onion — within an organisation.
At its core lies the foundation layer which includes the organisation's infrastructure, culture, business mission and models, etc. Some examples include the mission to replace "fee for labour" with a "subscription-based" business model, setting up a scalable infrastructure for digital, restructuring teams and preparing employees for change, etc.
The next layer includes the processes and products of the organisation. Examples include the digitalisation and re-packaging of products/services to cater to strategic industries, creating better customer experiences, and rethinking internal processes to optimise for the digital age.
The outermost layer involves marketing and communications. The examples in this layer include digital channels, i.e. social media, SEO/SEM, email marketing, paid searches, online Ads, etc.
Transformation at the various layers have implications on benefits and timeline. The core reaps the most long-term benefits, but the tradeoff is significantly more time and effort as compared to the outermost layer, i.e. marketing and communications.
It's important to distinguish digital transformation at the different layers in order to prioritise efforts.
Reasons for Digital Transformation
Based on my experience with several projects, the main reasons for transformation can be broadly categorised into these two factors with some examples:
Push factors: increasing customer's demand and expectations, competition and disruption from smaller and more agile companies, partners are also growing digitally and expect the same, etc.
Pull factors: new revenue models and ecosystems, new markets and blue oceans, future growth and scalability, etc.
A combination of these factors usually translates into key strategic priorities and an updated company mission — to serve as a north star for digital transformation initiatives.
A Framework for Digital Transformation
Below is a digital strategy framework that could potentially be useful to guide your approach to digital transformation. I've broken down the components into six steps:
Internal assessment
Set priorities and goals
Establish digital initiatives
Create a road map
Furnish high-level details for each initiative
Plan and take action
Step #1: Internal assessment
Before deciding on what to achieve, it's vital first to understand where your organisation stands, digitally.
You can assess your organisation's current digital state using or creating a Digital Maturity Model (DMM) similar to the one shown below.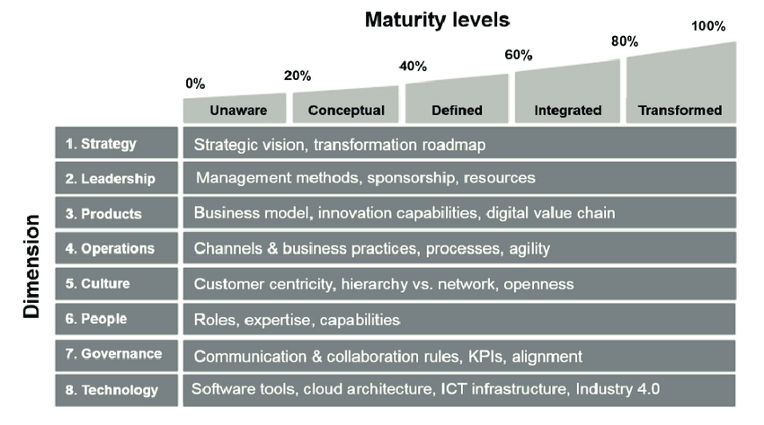 Each dimension is part of a layer in the "onion" as mentioned above, and a maturity level (percentage) is tagged to each dimension. You can also include sub-dimensions within each core dimensions as well, e.g. under technology, sub-dimensions can include architecture, governance, data, etc.
The percentage value for each dimension is established based on responses to a set of survey questions. After obtaining the scores, you can use the results to:
Identify opportunities for improvement and define a new vision/mission.
Prioritise segments to enhance based on business objectives.
Track and measure improvements and effectiveness of initiatives.
You can choose to create your own simplified version, engage professionals, or purchase an online assessment.
Step #2: Set priorities and goals
Based on the assessment results obtained in step #1, make the necessary changes, e.g. deferment, to your organisation's mission/vision if required. A brainstorming session or design thinking workshop can be conducted at this stage among senior management to assess and establish key strategic priorities.
An example of a new strategic mission would be to establish new business models and partnerships. However, you may discover that the maturity in the "Products" dimension is still the conceptual level (e.g. non-digitalised) — with a long way to go.
The maturity of the "People" dimension is also rather low as employees are not digitally savvy enough to sell digital products to customers. Therefore, priorities would be to first digitalise products and train employees.
The results of the assessment could also prompt the capitalisation of low hanging fruits to achieve short-term benefits. If the "Culture" dimension is high, recruitment of talented individuals to reinforce the culture and accelerate future growth can become a priority.
To get a better picture of the priorities on the table, you can consider using a priority matrix (example below) to group the priorities into sectors and select a few items to focus on.
If there are overlapping priorities, group them together to form overarching key strategic priorities. Try to limit the key strategic priorities/goals to a maximum of three.
Step #3: Establish digital initiatives
For each key strategic priorities/goals, branch them out to include digital initiatives.
Take the example of establishing new business models and partnerships as a key strategic priority. Some digital initiatives could include digitalising of selected products and services, digital training programmes to equip employees with relevant digital skillsets to have better conversations with partners/clients, etc. Workshops and research can be useful at this stage to ascertain digital initiatives.
Do note that digital initiatives often have inter-dependencies/dependencies. The digitalisation of products and services would be dependent on having a scalable digital infrastructure and architecture, etc. These dependencies would have to be factored into the initiatives as well.
Initiatives can also include enhancements to existing systems and processes. Therefore, it's good to make references and highlights to existing products to facilitate subsequent planning, e.g. content management system is currently a closed system and requires enhancements for it to be integrated with other systems.
At this point, the initiatives can be at a high-level with broad details. The idea is to provide an overview of digital initiatives tagged to each strategic priority.
Step #4: Create a road map
With the digital initiatives established and dependencies are taken into account, you can now establish a digital road map.
The range for the road map typically spans from three to ten years and is meant to serve as a guideline for transformation with frequent revision.
It's common for such digital road maps to include digital initiatives that span across the various layers of the "onion". Again, digital initiatives can be further grouped into categories or phases to facilitate planning and execution.
Examples include:
Phase 1: Renovating internal processes and redefining customer journeys — digital architecture and infrastructure setup, digital experience design, etc.
Phase 2: Re-equipping skill sets — training and employee development, change management, recruitment, etc.
Phase 3: Expanding outwards — digital integration capabilities and tracking, advanced security and compliance, partner portals, etc.
…
Step #5: Furnish high-level details for each initiative
This section delves into further details of each phase within the road map. The details include key activities to be performed within the phases and serve as guidelines for the respective teams and departments allocated to expand the details and achieve the objectives.
Some examples of the digital experience design initiative would include:
Conduct usability studies and research for the various business flows
Process remapping and as-is/to-be analysis
Consolidate disparate systems to provide integrated experiences
Based on the key activities in the phases, initiative leads can then be assigned and start to conduct planning on the recruitment of team members, establishing governance structure, etc.
Step #6: Plan and take action
Each initiative would likely have its own project team to drive and requires its unique set of skill sets, governance frameworks, KPIs, etc. and can be consolidated and managed as a program.
Teams would have to come together to collaborate and plan on how the initiatives can be run in parallel to optimise resources, etc. The outputs from the planning stages usually include recruitment plans, KPIs, program and team structure, governance frameworks, budget allocations, etc.
Upon approval of the program, teams will proceed to execute each individual initiative as a project — with its own timelines, resources, and management styles.
It's essential to plan and include frequent meetings for the different types of stakeholders to update/review progress, align objectives, and obtain further support to change course, etc.
Challenges and Pitfalls to Avoid
Transformation is often no easy task and involves a number of moving parts — ranging from technology, people, processes, policies, etc.
Simply focusing on the planning and execution of the road map would not guarantee success. Every action carries with it a second and third-order effect which cannot be foreseen.
Therefore, it's essential to bear in mind the potential pitfalls and implement guardrails and mitigation measures. Here are the three common pitfalls which are often overlooked:
Change management — failure to consider and incorporate changes in existing company organisation structure, processes, employee training, into the planning and road map.
Lack of support — failure to manage stakeholder's interest, obtain support and involve key stakeholders to steer and influence the programme.
Lack of governance — failure to factor in frequent stakeholder meetings to address and align infrastructure, architecture, and other concerns.
According to studies, only about twenty to thirty per cent of digital transformation initiatives succeed — and vary across industries and company sizes as well.
Nevertheless, it's better to do something than to do nothing at all. Lastly, here are three tips which I have found to be important in the digital transformation journey:
Keep an open mind and adapt when required.
Persevere and focus on the big picture.
Build and establish good relationships with other departments and industry partners to succeed together in the long run.
The digital landscape is constantly changing; it's crucial to keep your digital strategies and approaches updated along the journey — through proper governance.
However, do take note of the things that are not changing as well, e.g. customer's demand for better experiences and services, etc. and incorporate elements such as empathy into your digital strategies and priorities.
All the best!
---
In perpetual beta—playing at the intersection between digital technology and business.
--- ---
Related Articles