Digital Tools to Supercharge Your Remote Work
Besides G-Suite and Microsoft Teams, that is
Almost seven months into remote work, and one thing is for sure: it isn't getting any easier.
Team communications start feeling a little fragmented, it's hard to unplug from work, new technologies keep tripping you up, and though countries have slowly lowered restrictions on public movement, the FOMO (Fear of Missing Out) is real.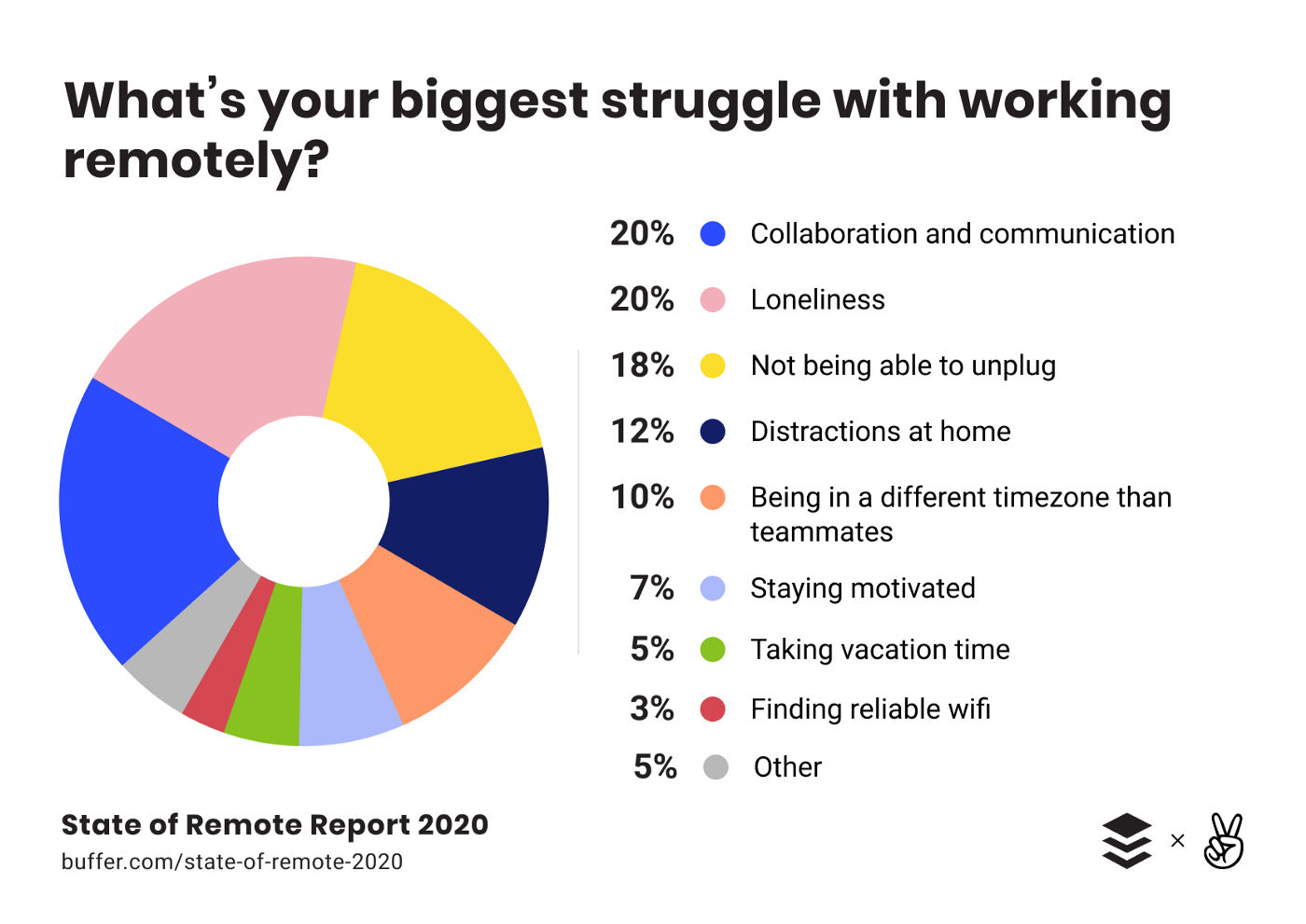 Remote work comes with a unique set of challenges, which means you need a unique toolkit to handle them. Beyond G-Suite and Microsoft Teams, here's a non-exhaustive list are some great (free + paid) digital tools you can use for:
Mind-mapping & brainstorming sessions,
Tracking team progress, and
Design & development
For Tracking Team Progress
1. Status Hero
If you're looking for a way to check out what your team members are working on without disrupting their workflow, Status Hero is a great way to do it with its Observer Mode. Not only can you see the availability status of your team but also time zones, their mood today, how many goals have been completed, and assign projects to different teams on the fly.
Available on Windows, Mac, and the web, Status Hero Basic is US$3 per member/month.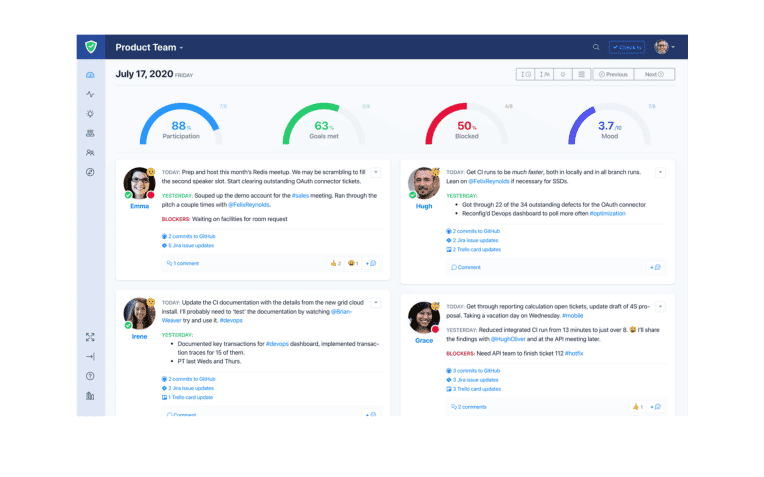 2. monday
A great project management tool in general, monday.com is more advanced than its better-known competitors like Trella or Asana. Of course, you can track tasks and receive notifications about deadlines, but monday also allows teams to look at projects from multiple views, timelines, and individual progress.
In addition, monday has a file sharing option that everyone can access via its dashboard, and allows marketing teams to plan tasks with their budget in mind. monday Basic is US$8 per user/month with a minimum of three users.
For Mind-mapping
1. Miro
Miro is a free online collaborative tool that allows remote teams to mind-map projects using their whiteboards. With its "enterprise-grade security" and integrations with Slack, G-Suite, and DropBox, Miro lets you add images and files, roadmap work, give assignments, videoconference, share your screen, and even take a photo of your physical diagrams and convert it into digital sticky notes.
With a whole host of pre-built templates available, Miro's advanced versions are US$8 per member/month.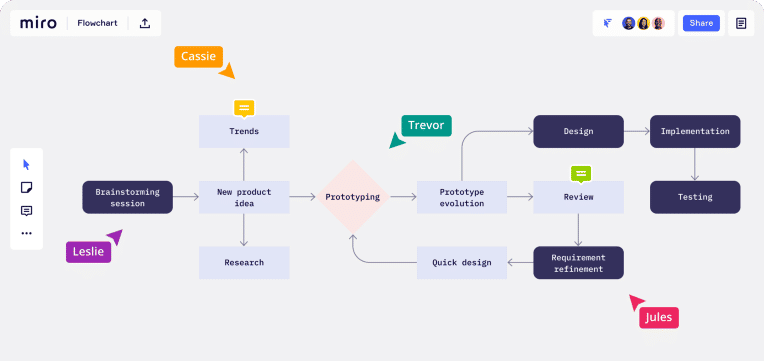 2. MURAL
MURAL is a web online whiteboard, and particularly strong for team collaborations. You can rearrange multiple whiteboards based on your needs, and choose from a variety of templates if you don't want a plain white background.
Interestingly enough, MURAL allows you to limit permissions to your whiteboards, has timers (for the more focused attention sprints), and even chatboxes and voting sessions, all at US$12 per member/month.
If you're finding the shift to digital difficult when it comes to ideation and project mapping, Limnu is another great digital whiteboard with realistic can-almost-smell-the-marker features and simple collaborative options.
For Design & Development
1. InVision
This is a free collaborative tool that turns concepts = reality at supersonic speeds. In essence, whether it's making a mobile app, creating a killer presentation, or redesigning your website, InVision helps your team work through the concept stage faster.
You can create interactive prototypes to see what the end product will look like, collaborate and message other remote teammates, and have managers direct design processes.
InVision Freehand is a design tool for designers to sketch their work and share it with their team to get real-time feedback.
2. Github
Github has a great free plan for teams, and web developers especially. Used best for version control and keeping track of changes made, Github's best feature is arguably that it prevents you from overwriting someone's else's work (or worse, your own), and keeps a history of previous versions so you can go back whenever needed — this also helps with accountability and visibility as Hootsuite's Software Development VP endorses:
"Whatever information I want to get about what's changed in our code over a period of time is all in one place."
- Geordie Henderson
Github's Marketplace gives coders a variety of software and tools that help them do their jobs more efficiently, wherever they log in from. Its Advanced plan is at US$4 per member/month.
3. Adobe Creative Cloud
20+ programs like InDesign, Illustrator, Adobe Premiere Pro, and PhotoShop come under Adobe Creative Cloud, and give you the ability to create designs, photos, and videos that can be edited by your team. A great thing about Creative Cloud's apps is that you don't need to be online to access them, since they're downloaded directly onto your computer.
Though Creative Cloud has different prices for each of its apps, you can get all of them at US$80/month for teams, or one app for US$34/month.
Which tools should you use?
Productivity tools — especially during a pandemic- are sometimes the only way for teams to collaborate, so it's important to choose depending on which stage of the process you're on, how many collaboration features you really need, and how well that app works cross-platforms.
Though remote work can give you a leg up on productivity with fewer office distractions and in-person meetings (that could have been emails), giving your team the right tools for their needs can go a long way in establishing that workflow and maximising communication.
---
A caffeine-dependent being, A studies sociology and is in search of sleep, sanity, and the Fortress of Solitude. You'll find them trying to recruit people for marathons, DC Comics discussions, and trying out new cafes and restaurants in the city.
--- ---
Related Articles