Does technology have a role to play in the organisation of volunteers?
A simple clipboard spreadsheet holds the schedule for volunteers.
I had been volunteering at a charity clothes shop before the lockdown. The volunteer shifts of 4 hours were spent assisting the staff that work there with sorting through donations, minding the till or steaming the clothes before they go on display.
To sign up to volunteer you can fill out a form online and email it to the shop, or fill out the paper form in the shop and speak to someone there at the time.
After a trial shift, you can keep coming back and slowly get more responsibility and training. To arrange a shift, you can either sign up at the end of your shift, by naming your preferred time and date, or email or call the shop to say when you can come in.
A simple clipboard spreadsheet holds the schedule for volunteers.
The system generally works very well. Occasionally, there is a volunteer who can no longer make it, most probably due to illness. In this situation, a mass email is often sent to see if anyone can cover the shift.
Once this happens, often many different people will volunteer, putting the managers in a difficult position, as they do not want to turn people away potentially putting them off volunteering in the future.
I wonder if there was a digital service where volunteers could 'queue' as backups, could this be avoided?
Technology can replace paper and pen sometimes very well or sometimes very poorly in these types of situations. There is nothing worse than having an online system that is difficult to use or access, or even one that is not updated, like many Trello boards often fall victim to.
I wonder when charity shops are finally allowed to reopen and continue their important work, can they learn something from the new apps that organise volunteers?
It was recently reported that the 750,000+ NHS volunteers who signed up to be telephone callers, drive people home from the hospital, or complete local errands like shopping or pharmacy collections have been left mostly idle, with only 50,000 tasks completed.
My sister is one of these volunteers and has yet to be given any tasks. Her app looks like the photo below, with volunteers shown as green people and no jobs to be done.
Some say this is because the app is difficult to use so vulnerable people have not been able to register their tasks, while others say that the vulnerable were not informed how to use the service or even that the service exists.
Instead, we are seeing localised responses. Community or street WhatsApp groups, coloured signs in windows when people need help, or notes through the door with the phone number of someone offering help. Neighbours are coming together to communicate effectively to help each other and particularly those who need it most.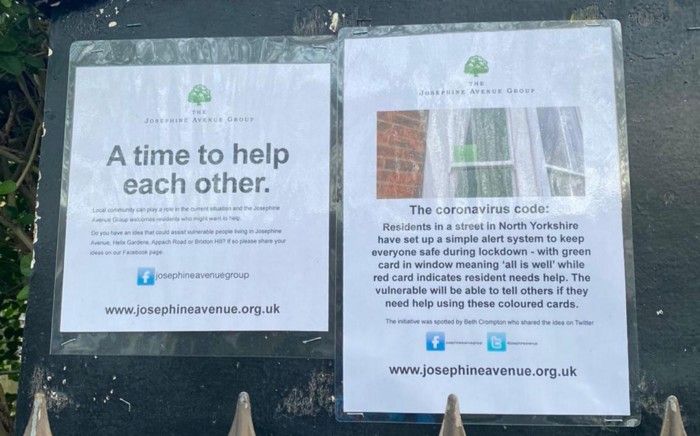 So I wonder, what role does technology have to play here? Is the failure of the volunteer coordination due to the lack of information, where nothing was detailed in the letter many vulnerable people received from the government? Or are the vulnerable meeting their needs locally, so have no need for this?
Have we considered that many of the vulnerable people may not have the ability to use the app and therefore ask for help?
There may be vulnerable people who are unable to use an app or website if they do not have the skills or access to digital products. Instead, a simple telephone call system may have been the answer, as offered by the community group above.
Looking back at charity shops, would digitising the volunteer process do more harm than good? There may be shop volunteers who are unable to use an app or website if they do not have the skills or access to digital products. Sometimes a clipboard with paper and pen might just be the answer.
The organisation OnHand has been successful in coordinating local assistance to communities, where volunteers can sign up or people can post jobs for their family members. This site allows people to call in, therefore avoiding the requirement for the vulnerable people to have access to a smartphone or computer.
Overall it seems that local communities have the power to help the most vulnerable, and this should not rely on an app or website, as this will inevitably exclude the most vulnerable.
---
Created by
Natalia Florman
--- ---
Related Articles