Don't panic, but COVID-19 is here to stay. Why humanized UX research matters more than ever.
COVID-19 is pushing companies to scale remote work
Around the world, epidemiologists are constructing short- and long-term projections to prepare for and potentially mitigate the spread and impact of SARS-CoV-2, the virus that causes COVID-19. Although their forecasts and timelines vary, modelers agree on two things: COVID-19 is here to stay,
and the future depends on a lot of unknowns, including whether people develop lasting immunity to the virus, whether seasonality affects its spread, and — perhaps most importantly — the choices made by governments and individuals.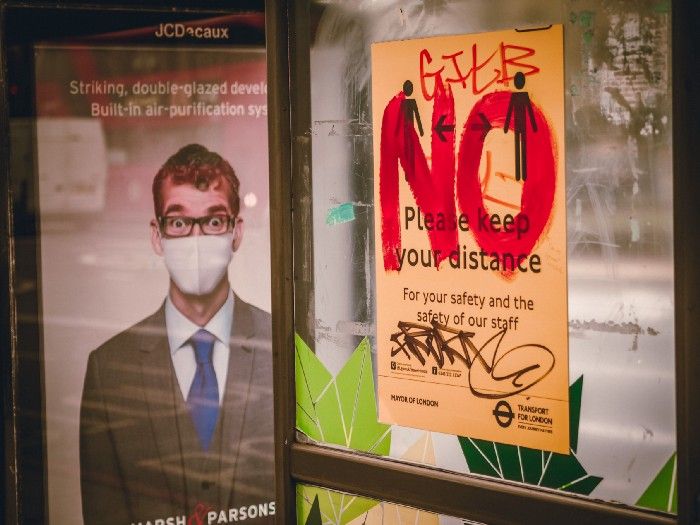 Photo by Liza Poor on Unsplash
Unless we are willing to take full responsibility for ourselves and our choices, we have no control over our lives. We have been given all the power to create our experiences through our choices, but if we believe outside forces are responsible for them, we give away all the power we have. So, one fact of life that we all need to acknowledge is this: regardless of our initial circumstances, we define our lives through the choices we make.
The International Data Corporation (IDC), a premier global provider of market intelligence, advisory services, and events for the information technology, telecommunications, and consumer technology markets, predicts that 500 million new software applications will be created in the next three years, equal to the number built over the past 40 years.
As we know, conversational applications aren't a new technology, but they make up a rapidly growing portion of all the applications being built today. Conversational design is showing up more and more in business, technology, and design discussions. Verbio is an excellent example of a startup merging speech and cognitive technologies to change the customer experience and simplify human-machine communication.
Most of UI history is defined by people having to learn and adapt to how machines and UI's work. Experience design (particularly conversational design) is being elevated even further today as more and more software experiences embody the technological shift toward machines understanding and operating on human terms (and in our language; conversation).
Companies like Gestoos are also taking the lead in reinventing how we interact with technology by enabling cameras and sensors to see, understand, and respond to human movement and behavior in any environment or context.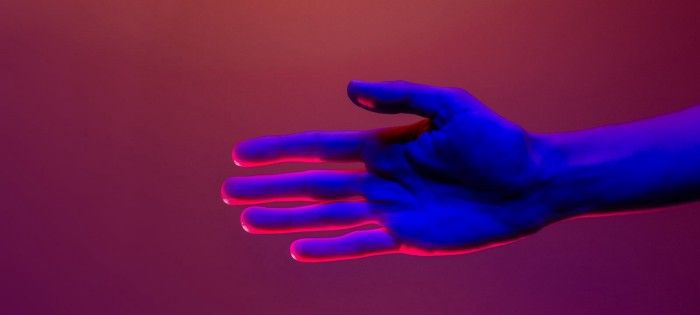 Image from Valtech — Hands Off of Our Touchless Future —
In my previous article, "The tale of a recovering perfectionist made into a UX designer.", I discussed how user experience design aligns creativity with the explicit purpose of solving people's problems and creating useful solutions embedded in the products we love.
In this article, I want to explore further how UX research significantly impacts product strategy — from the conception of an idea to the delivery of the product, and how we can humanize it during times of COVID.
The discipline of UX research encompasses many methods, including both generative and evaluative UX research. Generative user research is key and should constitute a full-fledged discovery phase, during which you can discover and analyze users' behavior and motivations to contribute context and insights to product strategy and design.
Using various user-research techniques during this phase, you can better understand users and their needs, which, in turn, helps your team identify product requirements.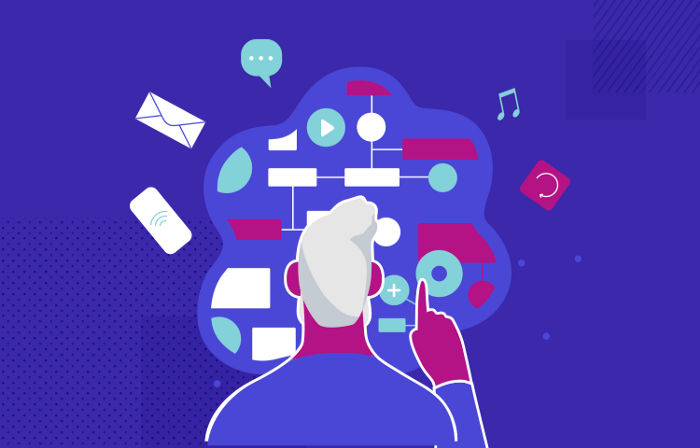 Image from Just in Mind
Without question, we all are a unique, one-of-a-kind combination of physical characteristics, personal interests, and emotional feelings that collectively define us individually and as groups. As UX designers developing solutions in times of COVID, how can we ensure that the connection with our users remains natural and effective?
COVID-19 is pushing companies to scale remote work, accelerate digitalization, and accelerate automation. According to the World Economic Forum, 78% of business leaders surveyed expect some negative impact on productivity due to remote working and emphasizes how "newly remote-working teams are still establishing a sense of community and ensuring a flow of communication in the post-lockdown world of work."
Establishing effective communication and collaboration processes are some of the most challenging parts of remote work. With traditional in-person work, people can see each other face to face. As a result, communication is fast and easy. Remote communication doesn't automatically create this feeling of shared context, and it can be hard to maintain open and quick communication.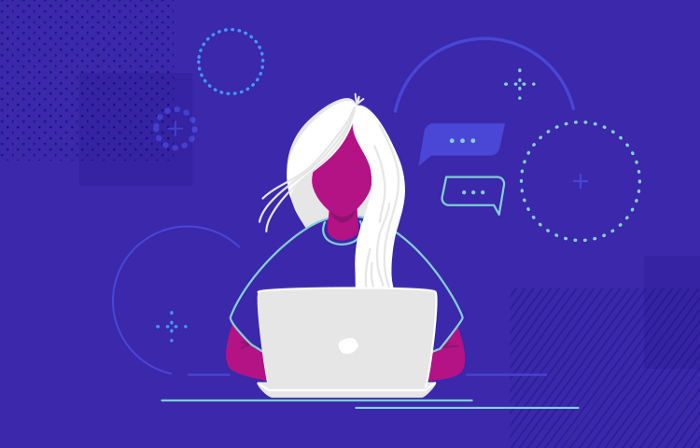 Image from Just in Mind
As a UX & UI designer freelancer and full-time master's student, I and the different teams I collaborate with face many challenges in carrying effective remote-workflows. However, we have adapted some helpful rituals to establish genuine connections among ourselves, our users, and stakeholders.
Ensure that everyone in the team, despite the location, has the same opportunities.
Create bonds by enforcing your team to hang out, chat, and have casual conversations.
Make it easy to share knowledge across the team.
Adopt a flexible mindset and find new ways for team building.
One of my most recent experiences developing a user-research workflow was for a project called Love Local Barcelona. It was a ten-week challenge for our Creative Technology module of our UX master's at Barcelona Technology School, and the team consisted of six different nationalities in four different time-zones. Our professor and mentor, Pablo Quintano, an Innovation and Business Design Facilitator, was vital in encouraging us to engage in humanized research methods to establish an essential foundation for our design strategy.
We based the workflow of our project with the Double Diamond methodology, which is a visualization of a creative process, or a design sprint, and allows any UX designer to understand and respond to the users' needs. The process helps teams work together towards a common goal.
Here is a brief description of the four stages according to the Design Council — which embodies the core purpose of making life better by design: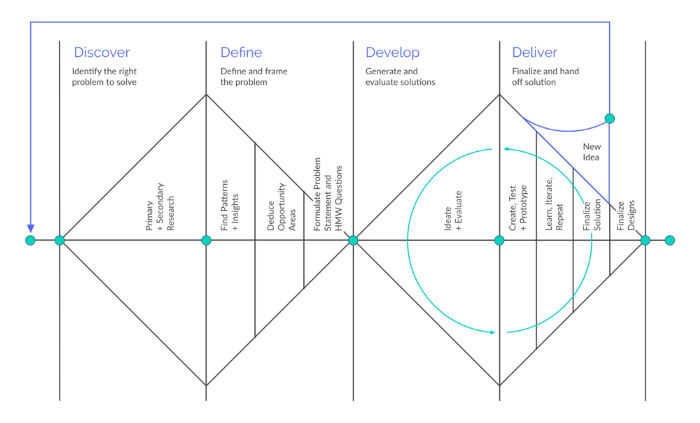 Discover. The first diamond helps people understand, rather than simply assume what the problem is. It involves speaking to and spending time with people who are affected by the issues.
Define. The insight gathered from the discovery phase can help you to define the challenge in a different way.
Develop. The second diamond encourages people to give different answers to the clearly defined problem, seeking inspiration from elsewhere and co-designing with a range of different people.
Deliver. Delivery involves testing out different solutions on a small-scale, rejecting those that will not work, and improving the ones that will.
For our Love Local Barcelona project, we first explored frameworks and ecosystems for innovation, and then we started playing with different discovery approaches to analyze connections and trends. We performed quantitative research and realized that some of the problems that existed in a 'normal' context were not as relevant in the crisis context of COVID. Here is a video that summarizes our key research findings.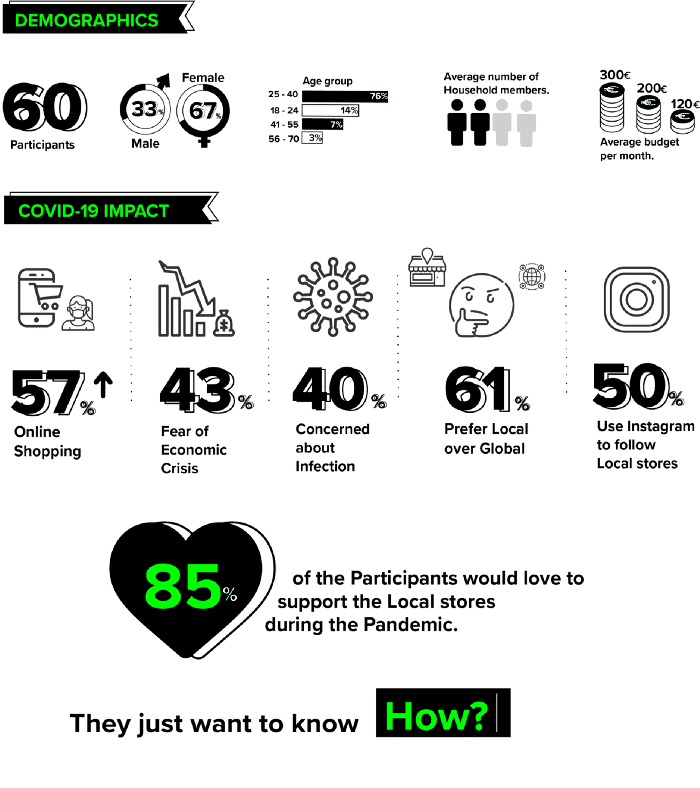 Infographic created by my colleague SRIRAKSHA KRISHNAMURTHY.
The crisis context has created new problems in all of our routine dynamics that did not previously exist. Our driving question shifted many times until we started speaking with real independent store owners to truly understand their opinions and struggles.
Humans are social creatures, and we need social interactions to connect with each other. The COVID-19 pandemic has highlighted the importance of social interaction and human contact within almost every aspect of our lives, including education, employment, entertainment, and recreation.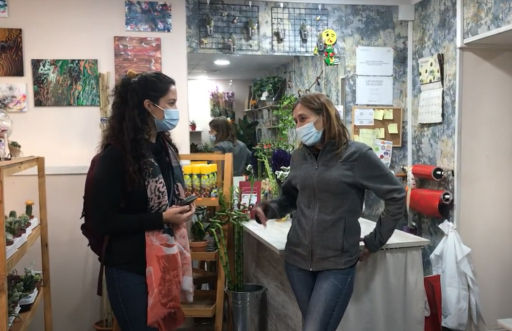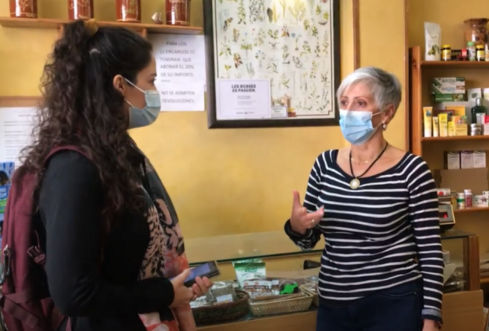 Here I am interviewing Adelaida and Rosa. They are both store owners and have really struggled during the lockdown.
After hearing their stories and understanding their pains, it became quite clear that we needed to keep interviewing and discuss with the bigger players what their role was in this situation. We engaged in conversations with members of the Barcelona City Council who are working hard to develop measures to fight off the negative consequences that COVID has imparted on all of us.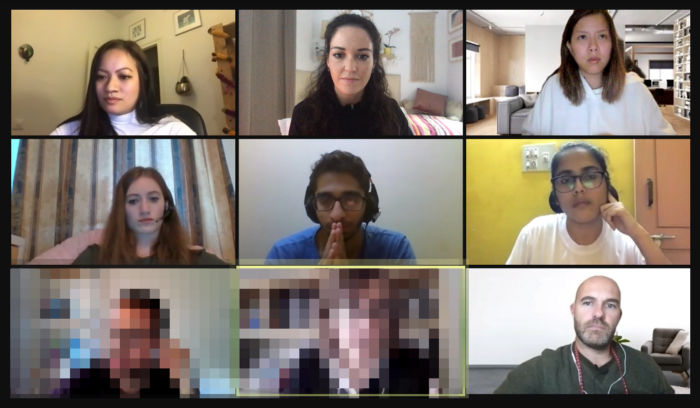 Video conference calls allowed us to meet with Barcelona Council's staff members to discuss the impact of the COVID-19 pandemic and the potential ways in which we could be part of the solution.
We were glad to discover that our motivation to pursue this project was positively supported by the City Council and that our initiative was a critical element of their rescue plans for 2020–2021:
Make Barcelona a resilient, fair, and sustainable city.
Maintain the business ecosystem of the city.
Protect employment and promote quality opportunities.
Promote local consumption.
Protect and revamp the city's international reputation.
Attract talent, investments, and visitors.
Define transforming solutions with a long term vision for the city.
The pandemic has been a time of extraordinary change, and we have had to rapidly change and adapt to the evolving situation. Many individuals have lost jobs and have been forced to find creative ways to pay the bills. To conclude the analysis of our user research process, we draw three clear and driving insights:
There is a gap in communication between the Barcelona Council and independent store owners.
There is a desire for a stronger and more engaged community.
Local businesses are greatly in need of more visibility.
After many weeks of ideation and testing, we created Love Local, whose mission is to become the go-to business partner of independent store owners to help them survive this pandemic. Below you can see the website prototype that my collage Kangsadan Palioudis designed.
Understanding your users is as critical as ever. Innovation frameworks are most effective when people are put at the center of the process. This project was eye-opening for everyone in the team, and thank you to the guidance of our mentor Pablo Quintano we tried our best to embody these principles:
Put people first. Start with an understanding of people in their environment, their needs, strengths, and aspirations.
Communicate visually and inclusively. Help people gain a shared understanding of the problem and ideas.
Collaborate, and co-create. Work together and get inspired by what others are doing.
Iterate, iterate, iterate. Do this to spot errors early, avoid risk, and build confidence in your ideas.
Thank you for taking the time to read my article. In my next publication, we will be discussing topics related to artificial intelligence. I can't wait to collaborate with my teammates Viola Miebach and KristineDotTech on this future endeavor!
---
--- ---
Related Articles