The Dreamer, Unicorn and Market Shaper Phases of Careers
These are the three phases of your career
These are the three phases of your career. Staying relevant means keeping the Dreamer alive even when you are the Market Shaper of your profession
My parents would always spend time with the teachers who taught the subjects I got the worst grades in. My Chemistry teacher was the primetime fixture during PTMs. She convinced my parents that a career in science was ruled out for me.
The only option left was to choose Commerce, because the school did not offer Humanities.
I realised on the first day of being a Commerce Student that Book-Keeping had nothing to do with arranging books. Accounting was Chemistry in a new avatar. This marked the start of two more years in hell.
The problem was that I could never articulate what I liked but could identify anything dreadful as soon as I got started. My dad told my mother, "The problem is that these youngsters have too many options."
Ma tried to side with me, "Choosing between Science, Arts and Commerce is like having to choose between an Ambassador, Fiat and Standard Herald car."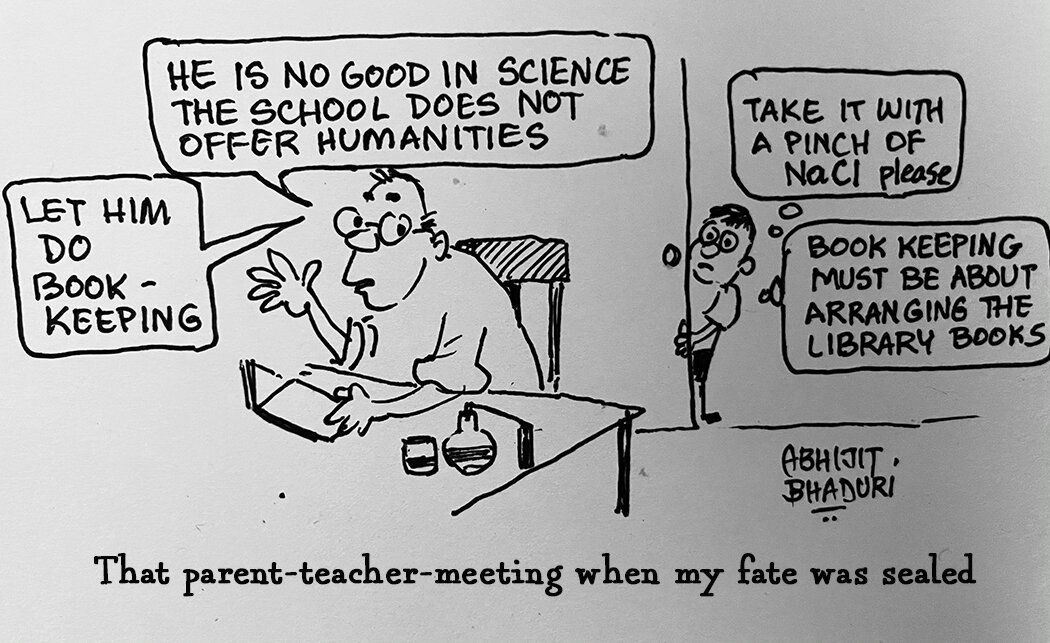 From a time when career choices were limited, we are now in the age of abundance.
Thanks to Ma, India now has many more cars to choose from. The roads are better and there are options like ride sharing. If the hyperloop and space travel keep developing, it will trigger new career choices and options. What has changed since?
The average life expectancy in India is close to 70 years in 2020. Life expectancy in India in 1947 was 31 years. For the people who are entering the workforce now, expect to celebrate your 90th birthday or maybe even the century.
The life of a business is getting shorter (less than 20 years). Lifelong employment will fade away. Multiple career trajectories will be the norm.

NEW CAREER OPPORTUNITIES EVEN FOR GRANDMA:
The rise of smartphones, cheap data, social media and several other shifts have come together to create an enormous opportunity. This may well be the model for careers in future – not just in social media but in any field. Robot ethicists are already being employed.
Digital-embalmers, are being paid by celebrities to keep their digital presence going even after they are gone. This will be the age of plenty when it comes to career choices.

INTANGIBLE FACTORS DRIVE VALUE:
In my book Dreamers and Unicorns, I have spoken about the shift from tangible factors to intangible factors. The amount of land or the value of machinery held by a company and other tangible factors makes up only 20 per cent of the modern firm.
The rest of the value, says Colin Mayers in his book Prosperity, comes from actors like brand, the patents held, intellectual property, the robustness of the succession planning process etc.
The ability to build trust is a vital part of the leader's skills. The ability to build trust matters just as much for the employees.

The three intangible factors – leadership, talent and culture are the new growth drivers for firms. Career trajectories will not be dependent on degrees but by intangible factors like skills, ability to learn, emotional intelligence and personal brand.
DREAMERS, UNICORNS AND MARKET SHAPER PHASES:
Expect to think of your career in phases of 5-8 years. The first 2-3 years is the Dreamer phase when you try out many things much like an explorer who is charting new territory.
Focus on teaching yourself as many things as you can without depending on the employer nudging you. Go above and beyond to become the expert in your field.
The next 2-3 years is the Unicorn phase when you leverage your deep expertise to solve problems in other teams or areas you have had limited exposure to. Building your relationships and connections beyond your immediate team or area is priceless.
A combination of deep expertise and a wide network sets the ground to make you a Market Shaper. Invest in a career transition coach. It may help you get a foothold into your next career when the field is still uncluttered.
That is when you get to write the rules. Work with someone who can support you as you become a Dreamer.
The stint as a Market Shaper is a short one because the world is changing rapidly. Political changes, social shifts, technological advances turn Market Shapers into Incumbents.
Incumbents are always speaking of their achievements in the past tense.
Staying relevant means keeping the Dreamer alive even when you are the Market Shaper of the profession.
---
Created by
Abhijit Bhaduri
Founder & CEO, Abhijit Bhaduri & Associates || Certified Independent Director || Leadership & Personal Branding Coach
--- ---
Related Articles