Education for seniors: an unexplored universe for UX
Accessibility should be the norm, at the bare minimum as a business strategy
---
Luiza Munhos
2 years ago
|
11 min read
---
Do you think about Elderly people when you talk about the future of education? Perhaps the starter question should be: do you think about Elderly people at all?
I had to ask myself that dozens of times when I was developing an online course platform focused at 60 years old and over for my first UX project.
I was part of a small group that was given a broad topic to work on: the Future of Education. So our first challenge was to figure out how to find an issue that we could work on specifically while avoiding overused clichés.
One way of doing that was thinking about who our target would be. So we listed the possible clusters we could work with, like children in elementary school, teenagers, young adults who look for continuous education… And then I remembered watching a feature program about the Silver Economy, which is the name given to the production, distribution and consumption of goods and services aimed at the Elderly.
Never had any of us heard about educational products thought for this public, so it was our chance of doing something a little more original. Now, our next step was to research the actual market for Elderly people looking for education solutions.
"Silver Economy (also known as Silver Market or Mature Market) is the name of the production, distribution and consumption of goods and services aimed at the Elderly or ageing people."
Elderly consumers: untapped potential for businesses
The first thing we learned was that there wasn't much of a market for Elders in Brazil. Compared to other countries that are more advanced in the inverted demographics pyramid process, like Japan, Germany and even the United States, Brazilian companies were not paying attention to this target. Very few acknowledged them as consumers at all, except for health insurance businesses.
But don't older people buy stuff? Don't they hire services like everyone else? Our research showed they do, and they can be very specific about what they're looking for.
The first study specifically made about Elderly consumer behaviour in Brazil, Tsunami 60+, showed that we already have more grandparents than grandchildren, and by 2050, we will be the 6th oldest country in the world. That means there will be a lot more consumers over 60 years old than teenagers.
And they are very different from what our grandparents were 20 or even 10 years ago. 60+ today are healthier, richer, more active and more demanding. They can be gamers, they are dating, they are traveling, and they are looking for continuous education as well.
However, over 40% of 55 yo and over believe there's a lack of products and services for them. 31% of those want better educational options. And they have the buying power: every year, the Silver Economy is responsible for R$1.6 tri.

But companies are not looking at them yet, and this is where we found our opportunity. There is this huge untapped potential for businesses that target Elders as their main consumers, and anyone who makes the first move can build an important market share. So we decided to go for it.
Challenge: adapting and developing during the pandemic
Despite all we learned about the Silver Economy, now it was time to understand what Elders, as individuals, wanted or needed. And this is where the in-depth interview phase started. It was very exciting to plan for this part since it was going to be our first hands-on work in UX.
But then the pandemic happened. And this was the beginning of a series of challenges we had to go through in 2020.
The biggest one was going for a completely remote system for both our work and private lives. We needed immense adaptability to balance our deliverables and project progress in a moment where most of us were dealing with stress, technical difficulties, work overload, not to mention the fear for our health and job security.
There was also a list of challenges regarding our chosen target: Elderly people. Now, more than ever, we had to rely on a lot of technology to interview our prospects when they are traditionally known for not being great at digital tools. And this takes us directly to a very important factor we had to consider when working on this project: our own prejudice.
We assume that 60+ are not connected. That they won't desire an online solution. That they don't know how to use all the devices and gadgets we have. Most of the time, we are wrong.
We interviewed 8 people live (I had never heard of Zoom before this, so I learned a lot about online conference tools) and sent out a number of Google forms to try to better understand this public.
We've learned a lot, and this is a short list of the major inputs:
Elders want to keep learning, but they are very objective
They don't care about becoming fluent in French, what they want is to learn how to order cheese and wine on their trip to France, or how to edit a picture on Photoshop. And they want to learn fast.
Forget the Elders x Tech antics
A 70 yo woman said she's crazy about technology. She not only has every possible Apple device, but she was also the first in her family to buy an Alexa. So we can never assume they're not familiar with digital solutions.
Retirement doesn't mean free time
We are retiring later than ever, so it was hard to find an Elder that was completely work-free. And even when we did, they were busy. They have families to take care of, houses to maintain, bureaucracies to deal with, so they don't want to invest months in a course.
It's not only about learning something new; it's about remaining relevant
I've mentioned our prejudice before, and this topic alone is infinite. Ageing is like a taboo for our society and discrimination against old people is common. This leads to a range of issues, including the ones older people have for themselves. We discovered there's a subconscious fear about becoming irrelevant to their friends and family, and continuously learning and staying active is one way they can prove to society they still matter.
Their limitations are not different from anyone else's
We all have natural changes that are happening to us over time, like the loss of visual, hearing, motor or even cognitive abilities. What they need is bigger screens, bigger buttons and bigger texts. Therefore, we need to talk about accessible design.
They like online, but they seek human interaction
This group is still more inclined to prefer human contact instead of a completely online and lonesome experience, for example. Not because it is necessarily easier, but because talking to another person is a great value they uphold.
It is important to remember that we are talking about 12% of the Brazilian population, so they are an immense and diverse group. These conclusions are not absolute, but they were the kickstart for the ideation process.
The product: online classes for specific demands
Based on the qualitative research, we decided on a main persona that was going to guide our work: an Elderly woman, middle class, recently retired, family oriented and used to online courses. We created her journey and identified the steps in which there was an opportunity to help ease her frustrations.

The persona's scenarios was the following: she wanted to travel abroad but she didn't know English. She wanted to learn just enough to go on her trip and communicate to others in case she needed something. She wanted to be independent.
But in order to learn English, she would have to take some classes. She didn't want a traditional course because it takes too long and having other students with different goals in the classroom was something that could put her off.
Therefore, the solution we proposed was a website for online courses with short and objective materials that people can acquire on demand.
Before we moved on to the actual creation, we validated this idea with our peers through online dynamics such as Round Robin on Mural and a lot of feedback sessions with tutors.
Once the idea was set, it was time for working on creating the sitemap, user flow and information architecture. At the same time, we were researching as many references as we could in online courses and other websites designed for a Mature audience (spoiler here: there weren't many).
Eventually, we had to decide on the main features to work with. In order to do that, we went back to the documentations generated during interviews and qualitative research to see what were the most looked-for resources:
Video classes with reading and exercise material depending on the subject
Easy support and contact with the company team online and offline for fast and humane experience
Possibility to book 1:1 sessions with professors to improve the learning experience
Accessible design and the power for the user to change the interface if necessary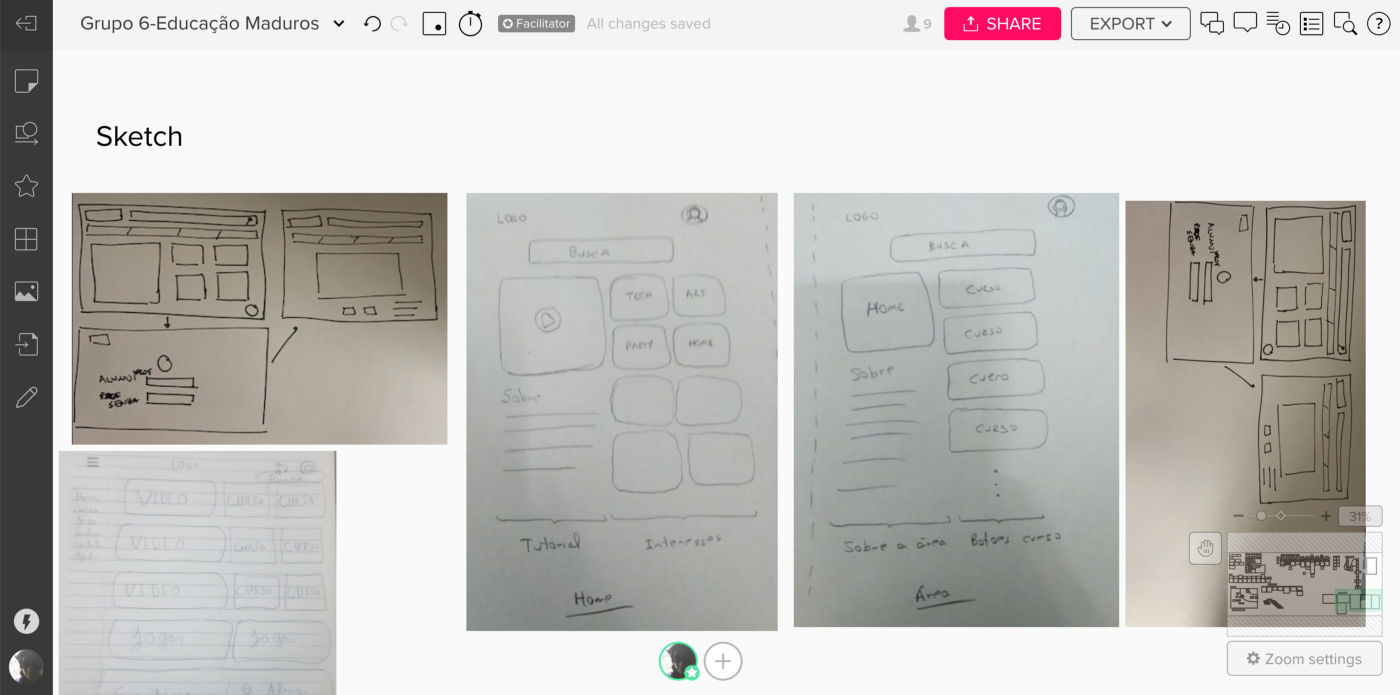 We also relied on Google Forms and social networks to decide on the content of the courses we would offer. In less than two days, there were 49 responses and we had enough insights about the length of video-classes, what features we had to prioritize and what were the top themes we were going to teach.
Our resources would address the main inputs and pain points we discovered during our research and interview phases:
Short and objective content for people who didn't have too much free time and were looking for specific knowledge
Human contact with professors and technical team whenever they want
An entire service thought for this public who is normally dismissed my other businesses
This last point happened to be our main concern when we finally moved to the prototype phase. It was at this moment it became painfully clear to us that design rarely considers the Elderly.
Accessible design: creating an interface for all
Amidst the ocean of lives happening throughout social media during the coronavirus pandemic, we were lucky enough to discover that Don Norman himself was going to participate in a live webinar about designing for Elders, called "Old People are Cool, Design for Them Sucks".
It helped to confirm what we had discovered in the previous 3 months of researching and reading about this subject: businesses, in general, don't consider old people as potential consumers, and consequently, designers won't think about them when designing.
This means that: 1) there are almost zero digital interfaces that are friendly enough for people with some sort of accessibility needs; and 2) when there happens to be a website or anything of the sort aimed at a Mature audience, most certainly this interface is going to have an ugly, inefficient design.
So for the rest of our project, we drank into accessible design interfaces and recommended practices. And the more we found them, the more we noticed how rare it is to have inclusive websites in Brazil.
We also learned is what it really means to be accessible. We were completely focused on creating something for Elderly people because we were convinced that they lacked personalized services (and they do!). But there was no point in creating something for them if we excluded everyone else.
And here is when I learned my favourite thing about accessible design: when we develop something for a smaller group with very specific needs, we are actually attending the needs of the bigger group.
In this case, we were designing for 12% of the Brazilian population who is over 60 years old and most likely will present some sort of limitation in the near future. And by doing this, we are not only creating a solution that will work for a younger, healthier audience, but also to 6% of the population who presents some type of disability from a young age.
We found inspiration from a number of guidelines and toolkits, like this one from Microsoft. And after so much time and dedication put into this topic, we realized this is where the value of our product really was: not just an online course website, but an online course website that had accessibility as its core.
That meant extra care in features such as:
Bigger buttons
Constrast
Font size
Blocked information
Objective writing
Simple navigation
Of course, when we evolved to the mid-fi prototype and started running usability tests, we learned that it was so much easier said than done.
Remote tests and results
It was time to run user tests, design the high-fi prototype and present our project pitch.
The test itself had to be completely remote and we were afraid of losing some characteristics that make user tests so important, like noticing what the user is not saying during the activity.
Still, we discovered that our value proposition - our core asset of being accessible - was not clear enough. None of the users noticed our "accessibility button" which allows people to change font size and contrast for the entire website.
The only thing that stood out for them was the feature of booking 1:1 classes with professors, and even that needed to become easier to understand. At the end of our first round, we had to review the entire UX Writing for the website and redesign the homepage.
At this point, we didn't have much time left until our deadline, so we prioritized what was going to change and what we were leaving behind.
In the end, we upgraded the "accessibility personalization" feature, in which the user can choose contrast and font size when they first visit the website and also change it at any time from anywhere in their journey.
There was also a change of colours to make the UI less monochromatic while also respecting the proper contrast for people with lower visibility.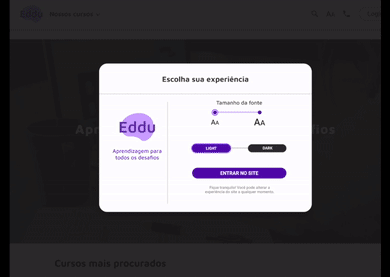 And the class section was reorganised. Inside the course, the student has access to video classes, text and activities to test their knowledge. So we re-resigned that sector in a way that the user will be prompt to work on one asset at a time. That is a valuable resource for Elders and pretty much anyone else who might have difficulties multitasking.
Learnings
The biggest challenge of my first UX project was the fact that I had to learn everything from scratch while working on it, which is also the greatest benefit I had from this experience. Now I know how some of the processes could have been done faster or in a more practical way, but still they were all very precious to the development of our platform and mine as a professional.
The other thing I learned was that building an accessible interface is far from simple. Which takes me back to the question I asked at the very beginning of this text: do we think about accessibility at all?
If we don't question who the interfaces we use are made for, how are we going to see what is accessible and what isn't? And how can we build something if we don't have this reference?
To me, this was the most precious thing I've learned in this process. It was incredibly hard to build this website because I did not have references for it, and that happened because I did not think about accessibility before.
Hopefully now I become more aware of the interfaces I use and I learn to appreciate better designs when I see them. And then, next time I build something, it will be easier to make it really accessible.
Group: Alisson Saito da Costa, Eliane Alves Leandro, Renan Hideki Matuy, Cesar Augusto Michelin, Luiza Elias Munhos, Samer Kamel Azzam.
*This article was originally published on Medium.com on July 24, 2020.
---
--- ---
Related Articles