Edukids — Facilitating the work of teachers in remote learning
This article is about an app that was developed during a UX/UI Design course. The challenge that I had to solve with my three classmates was to propose a solution to make classes more pleasant for elementary school students during and after the Coronavirus pandemic.
---
Jamile Silva
9 months ago
|
8 min read
---
How we use UX Design to help schools and teachers stimulate students' interest in online classes.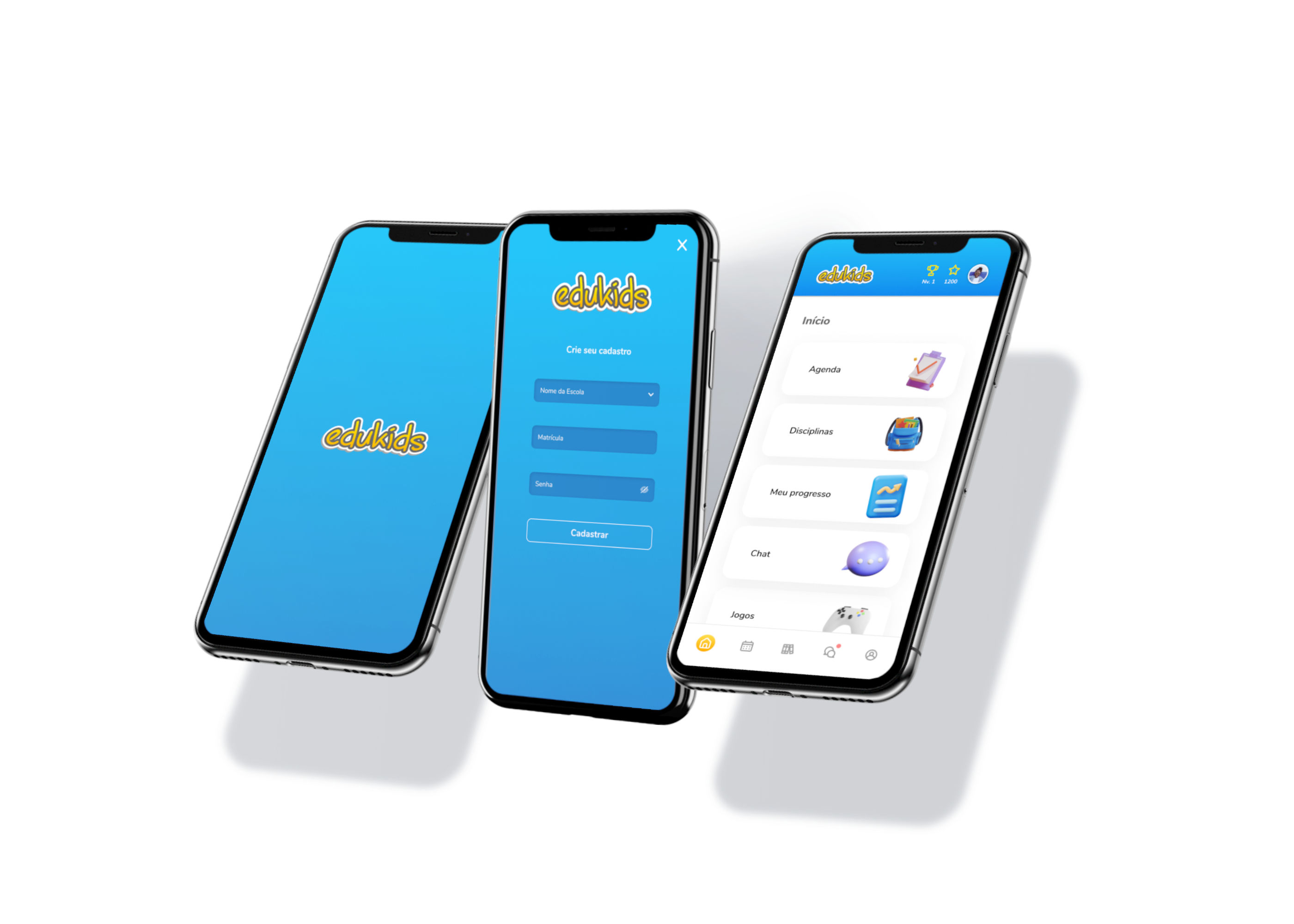 The challenge
During the pandemic, schools of Bazil had to suspend face-to-face classes and establish them online. Thus, in 2021, we accepted the challenge of using UX Design to create a solution that would help schools, parents and teachers to stimulate and facilitate children's studies.
How to create a playful, gamified and easily manipulated tool in order to auxiliary schools and teachers in the education of children?
The Scenario
During 2020 and 2021, Brazil was in voluntary or forced isolation in order to prevent the spread of the SARS-CoV-2 virus. Given this scenario, schools throughout Brazil had the face-to-face classes suspended, having to teach them online.
This situation has made it difficult for schools and teachers to develop the skills necessary for children's cognitive development. Due to the limited time between the closing of schools and the beginning of remote classes, there was not adaptation process for parents, professionals and students.
The solution found by a large number of schools was to use platforms where teachers send short content, activities and videos to replace face-to-face classes. As well, these platforms are used to exchange messages between parents, students, teachers and school managers, which causes teachers to be constantly requested, not maintaining a fair working hours. Thus, the parties involved were unsatisfied with the solutions determined by the schools.
In view of this, we question whether this would be an opportunity to change Brazilian education. Therefore, in this project we will create solutions that are not temporary in orderto develop society for the coming decades.
Sources:
https://www.uninter.com/noticias/pandemia-elevou-estresse-dos-professores-especialista-da-dicas-para-melhorar-saude-mental
https://covid.sh.utfpr.edu.br/acoes/acoes-educacionais/ansiedade-medo-e-exaustao-como-a-quarentena-esta-abalando-a-saude-mental-dos-educadores/
https://www.istoedinheiro.com.br/durante-a-pandemia-67-dos-alunos-tem-dificuldade-para-organizar-estudos-online/
https://emais.estadao.com.br/blogs/kids/educacao-infantil-sente-impacto-da-pandemia-no-desenvolvimento-da-crianca/
https://www.cnnbrasil.com.br/saude/2020/08/31/saude-mental-de-72-dos-educadores-foi-afetada-durante-pandemia-afirma-estudo
Desk Research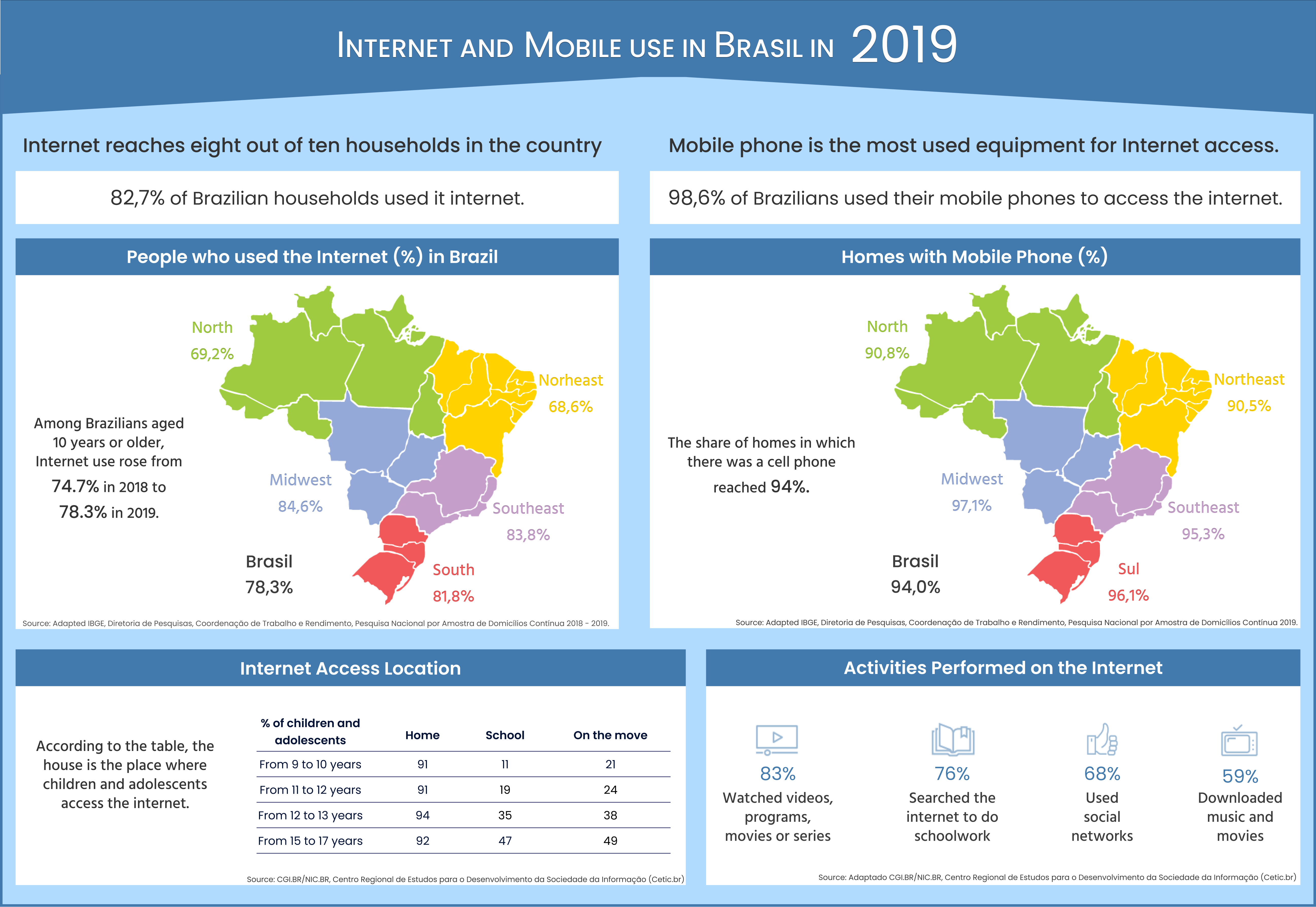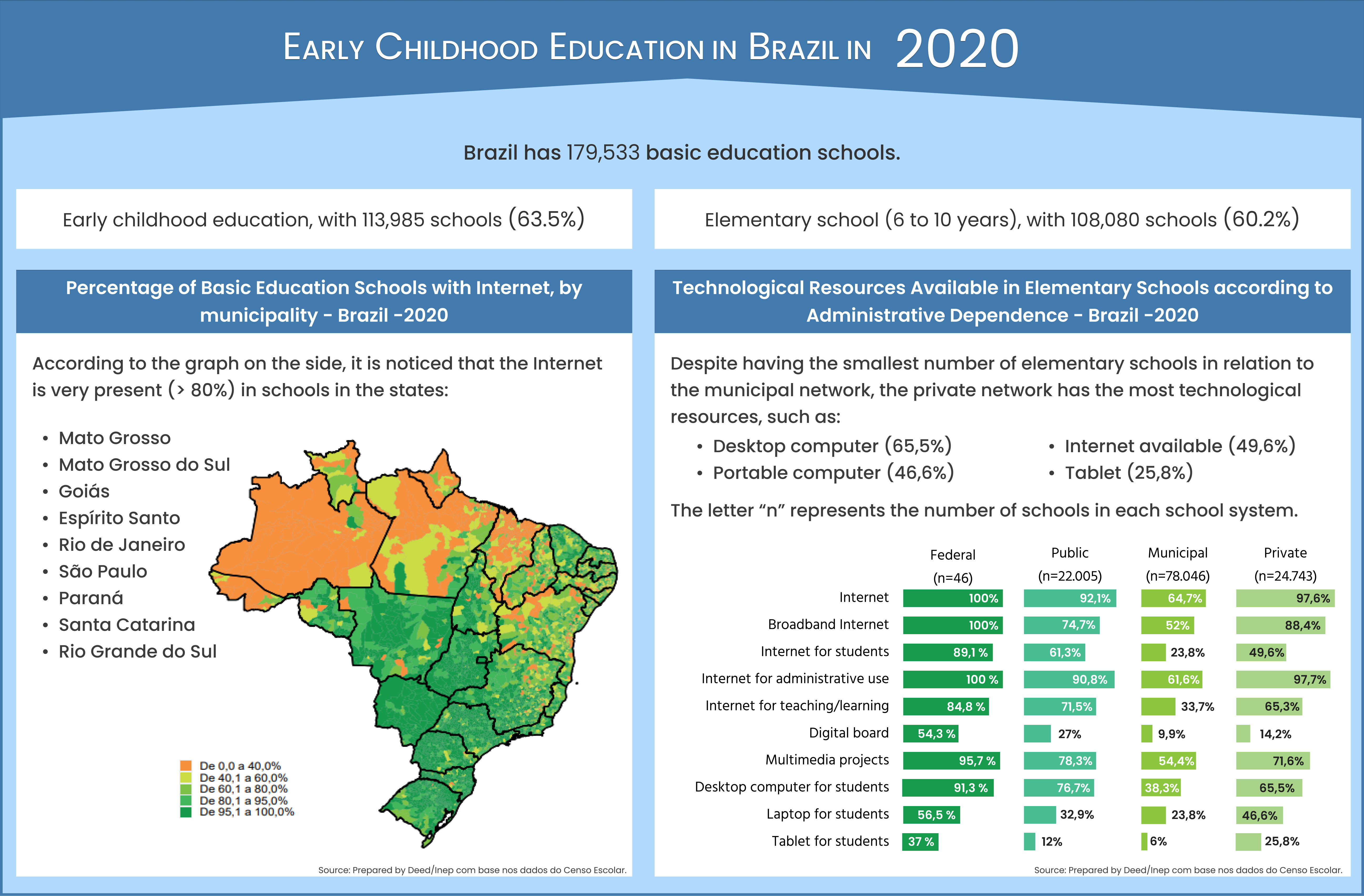 ​​​​​​​The information from the 2020 School Census presented above portrays the situation of schools at the time before the pandemic. Therefore, it is not yet possible to observe the impact of the Covid-19 pandemic on the educational data collected. But, we can see, through research, that a digital solution can be viable for the project.
Sources:
https://educa.ibge.gov.br/criancas/brasil/2697-ie-ibge-educa/jovens/materias-especiais/20787-uso-de-internet-televisao-e-celular-no-brasil.html
https://download.inep.gov.br/publicacoes/institucionais/estatisticas_e_indicadores/notas_estatisticas_censo_escolar_2020.pdf
Stakeholders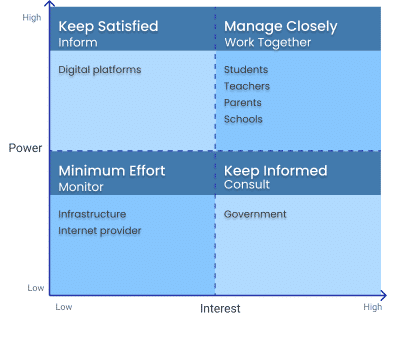 Project's Goal
After analyzing the current scenario and observing that there are difficulties in administering remote classes by schools and teachers, we defined the objective of the project:
Help elementary school students to develop cognitively through an application with school content games in order to increase the number of students in client schools by 30% within 1 year after application implementation.
To achieve this goal, we set the following goals:
Produce a playful and easy-to-use interface for any age;

Stimulate the development of students through the creation of a tool, in which learning is through gamified activities;

Promote interaction between children and teachers through sharing among users of the same group;

Produce a safe tool that is easily accessible;

Create an organized and intuitive system to keep school, parents, teachers and students connected.
Business Model Canvas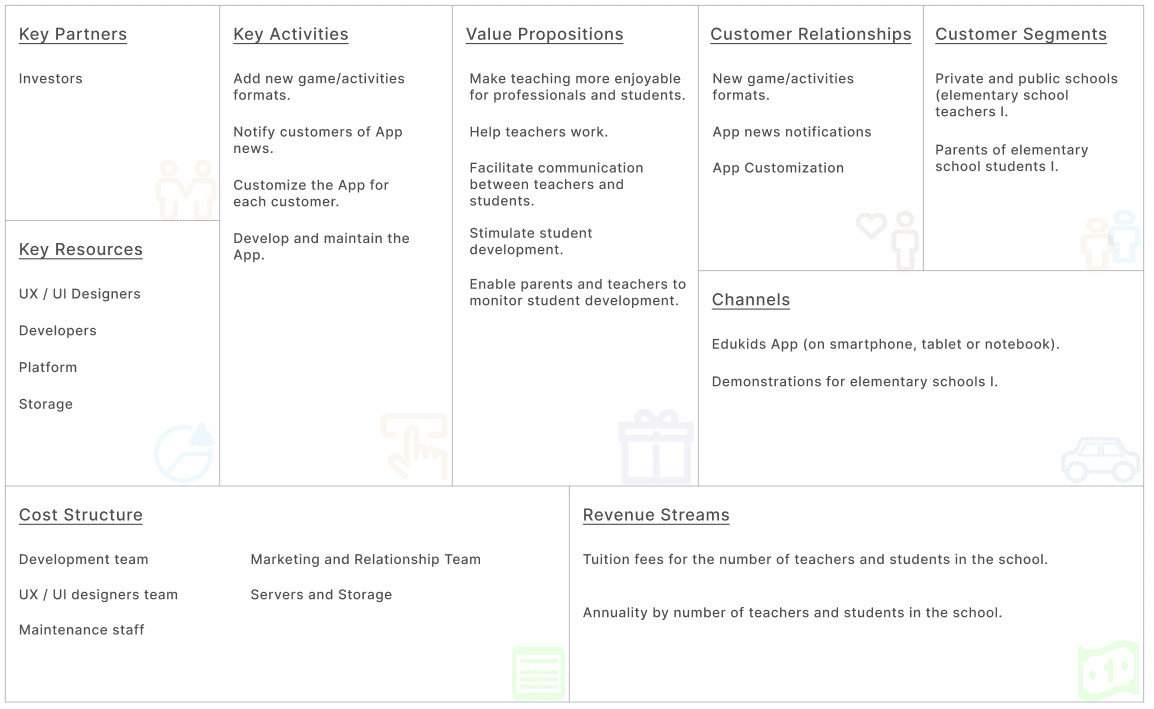 Users
Teachers and pedagogues of public and private schools;

Children from 6 to 11 years old, elementary school students;

Parents or any other person responsible for the school guidance of children.
Users Profile
At first, three protopersonas and their journeys were elaborated for a better understanding of the possible clients of the project. Then, through qualitative and quantitative research, we validate the information from the personas shown below: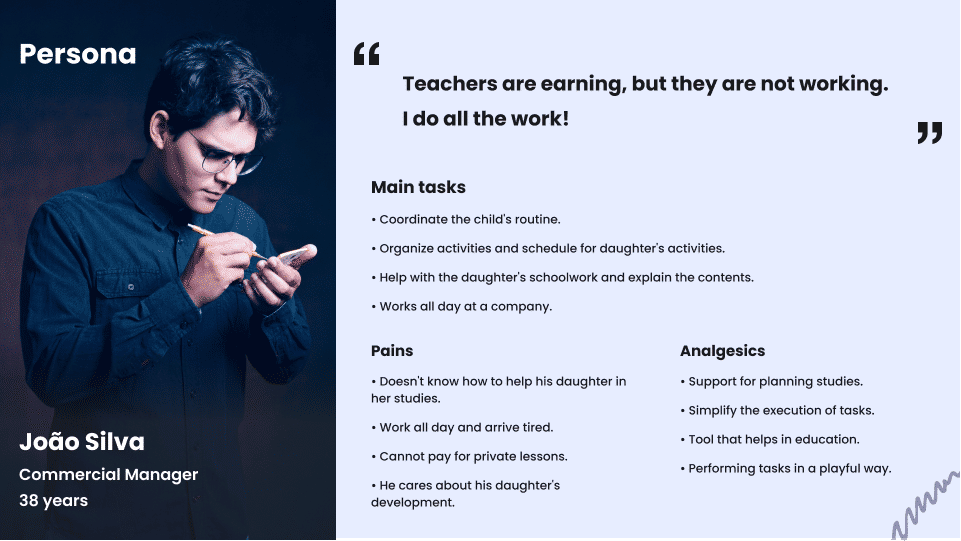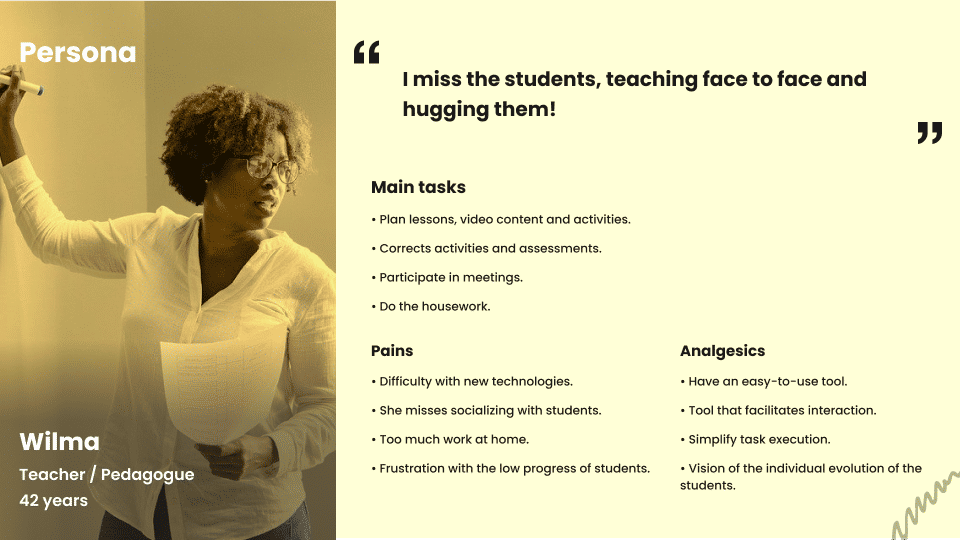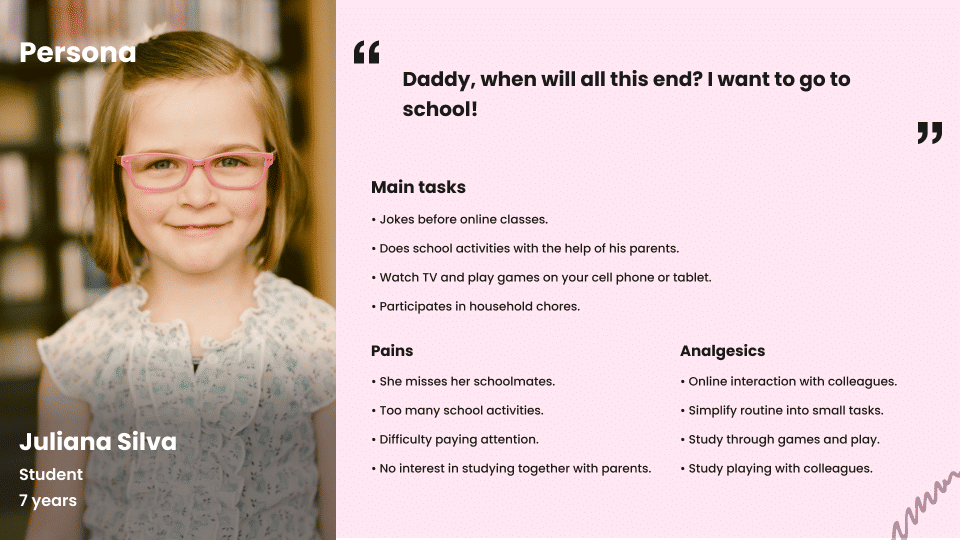 Storytelling
We also created Pixar Storytelling to better understand the purpose of our solution.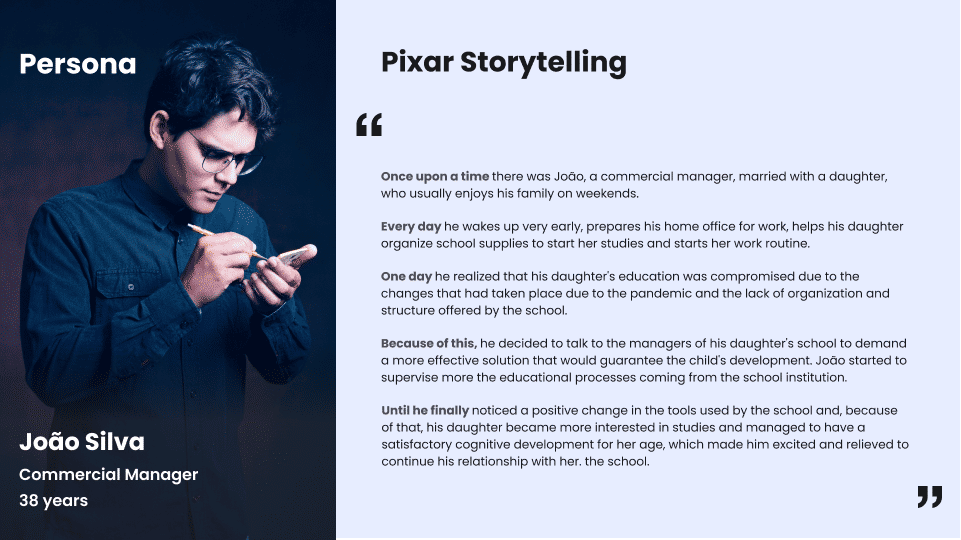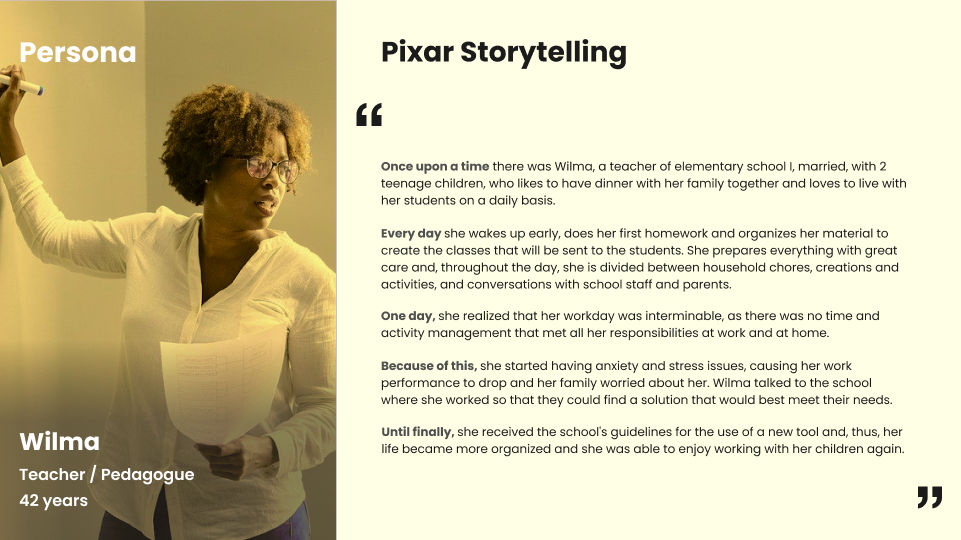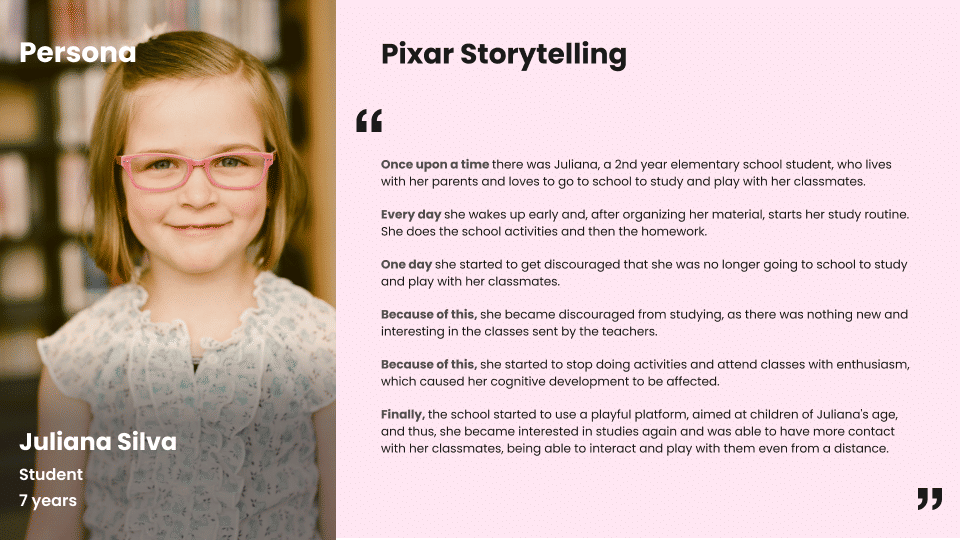 Users Context
The purpose of this step is to detail each user's journey to understand their routines and needs.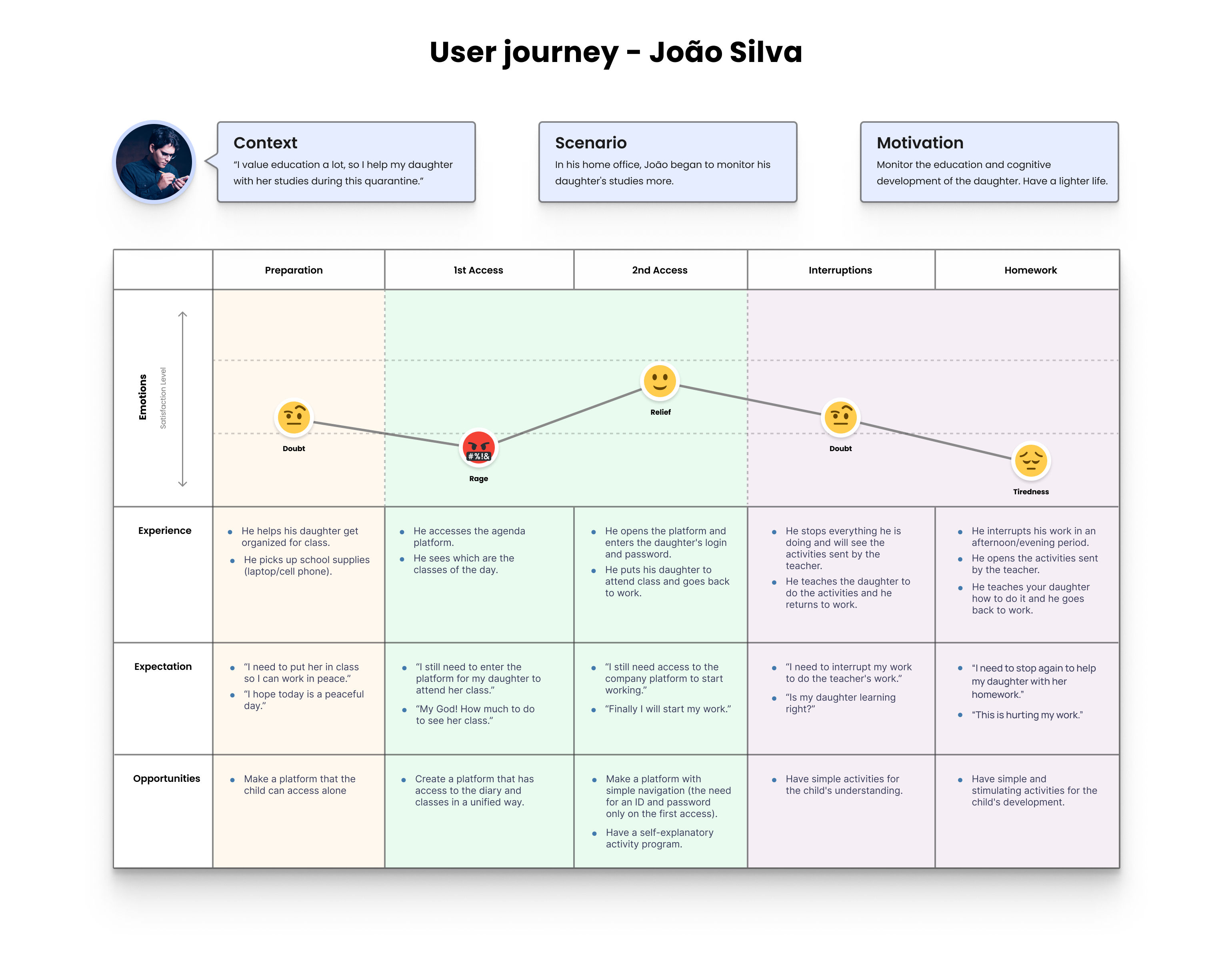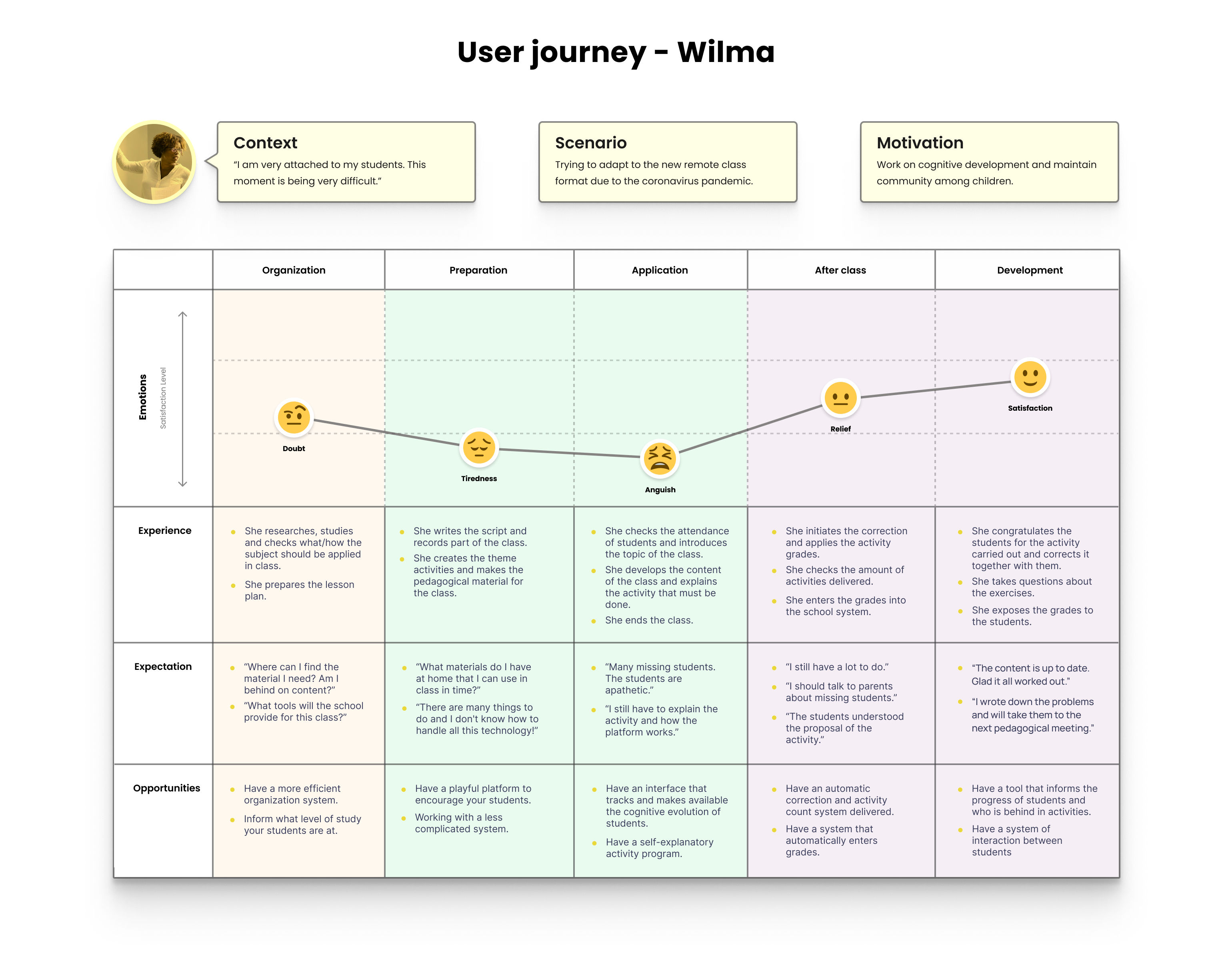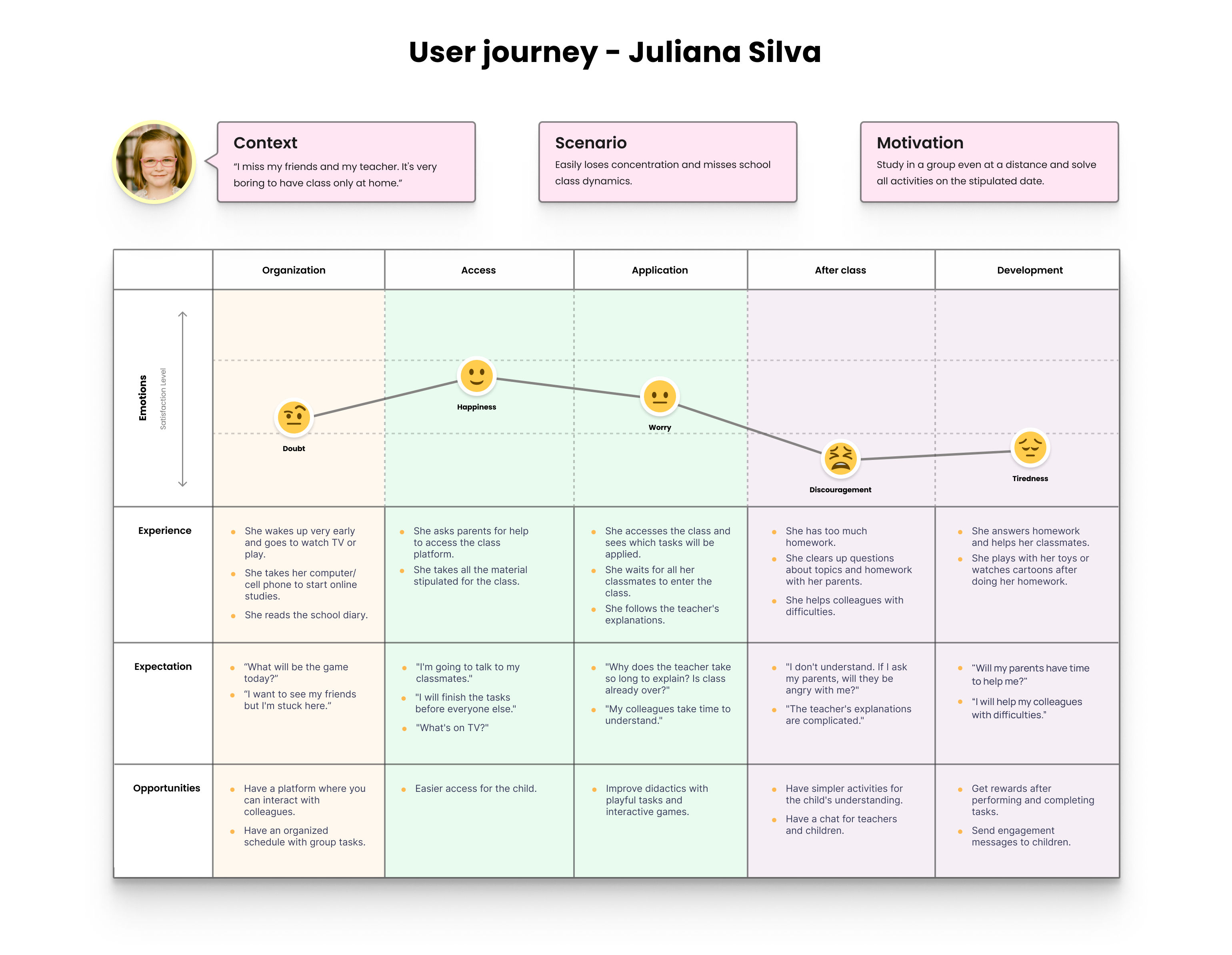 Validation
After identifying the personas and their journeys, we made a CSD matrix to know our certainties, supposition and doubts in order to identify the most relevant problems for the solution.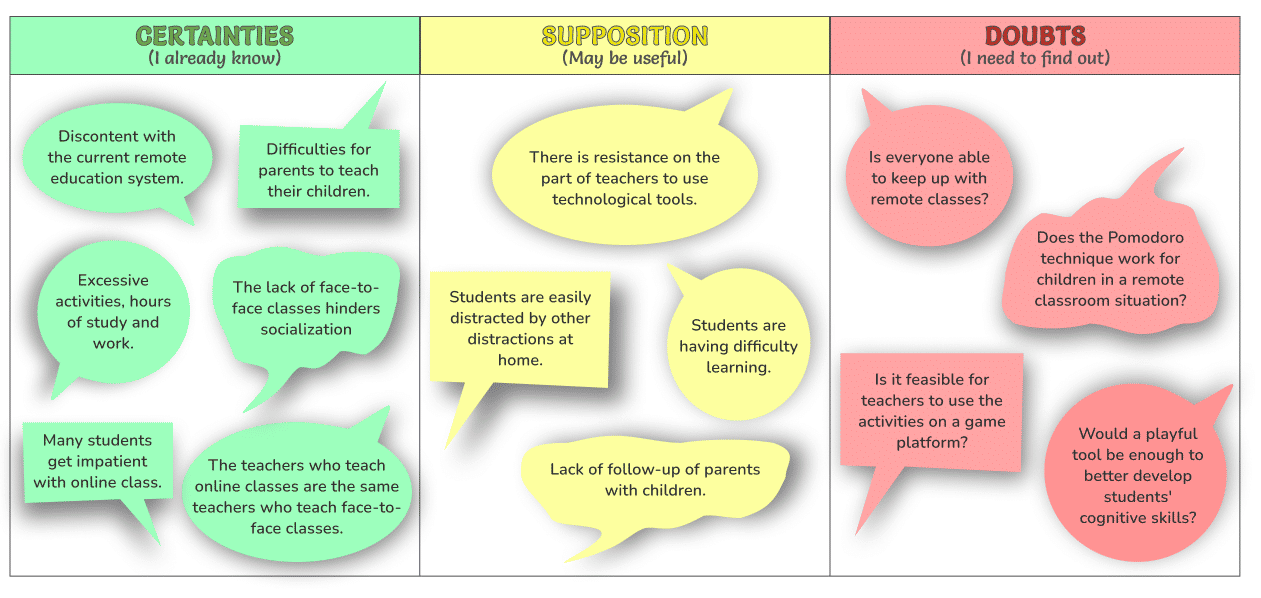 Through the Knowledge x Impact matrix, we identify the assumptions and doubts that are of lesser knowledge and of greater impact for the solution of the problem in order to choose which ones are necessary to develop the quantitative research.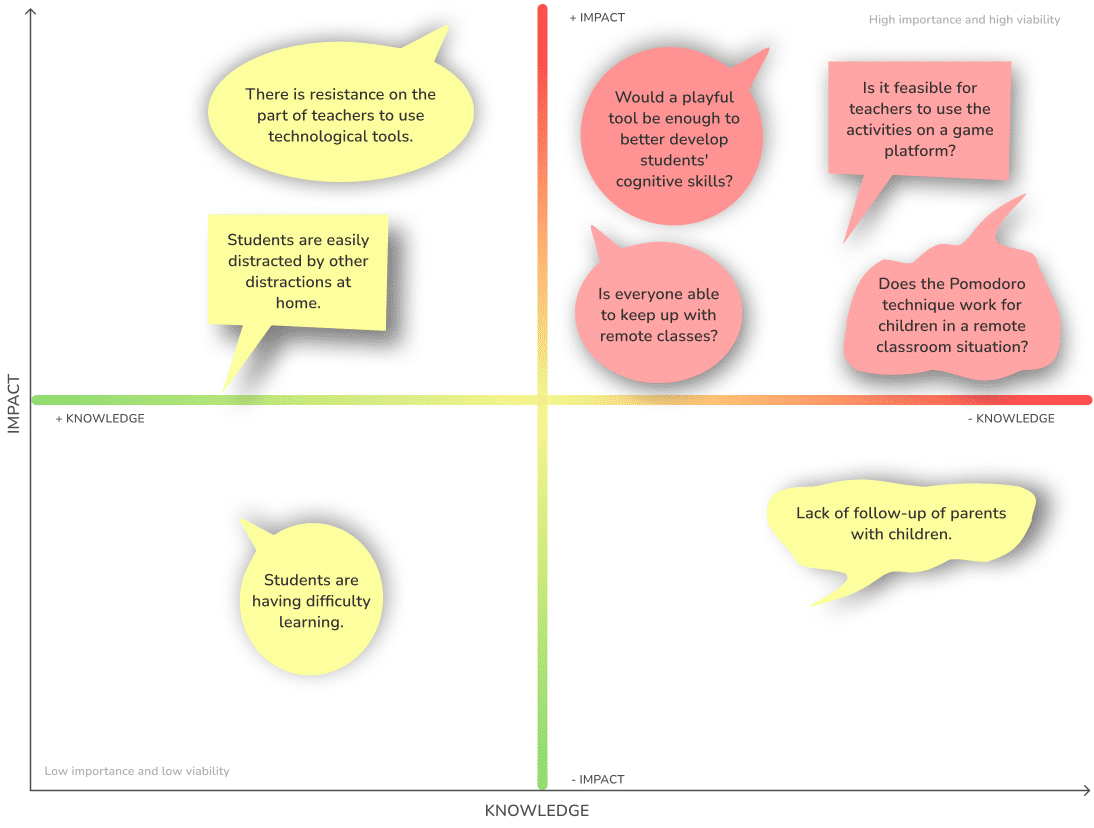 Most impact supposition:
There is resistance on the part of teachers to use technological tools.
Doubts of greater impact and lesser knowledge:
Would a playful tool be enough to better develop students' cognitive skills?​​​​​​​

Is it feasible for teachers to have activities on a platform in a game format?​​​​​​​

Is everyone able to follow remote classes?

Does the Pomodoro technique work for children in a remote classroom situation?
Quantitative and Qualitative Research
To understand the experiences lived by our users, we did quantitative research from two types of forms by Google Forms. One was aimed at teachers and the other at parents of children aged between 6 and 11 years and we distributed them through social networks in groups of teachers and to parents with whom we have contact.
The questions asked were based on the assumption and doubts with the greatest impact identified in the Knowledge x Impact matrix.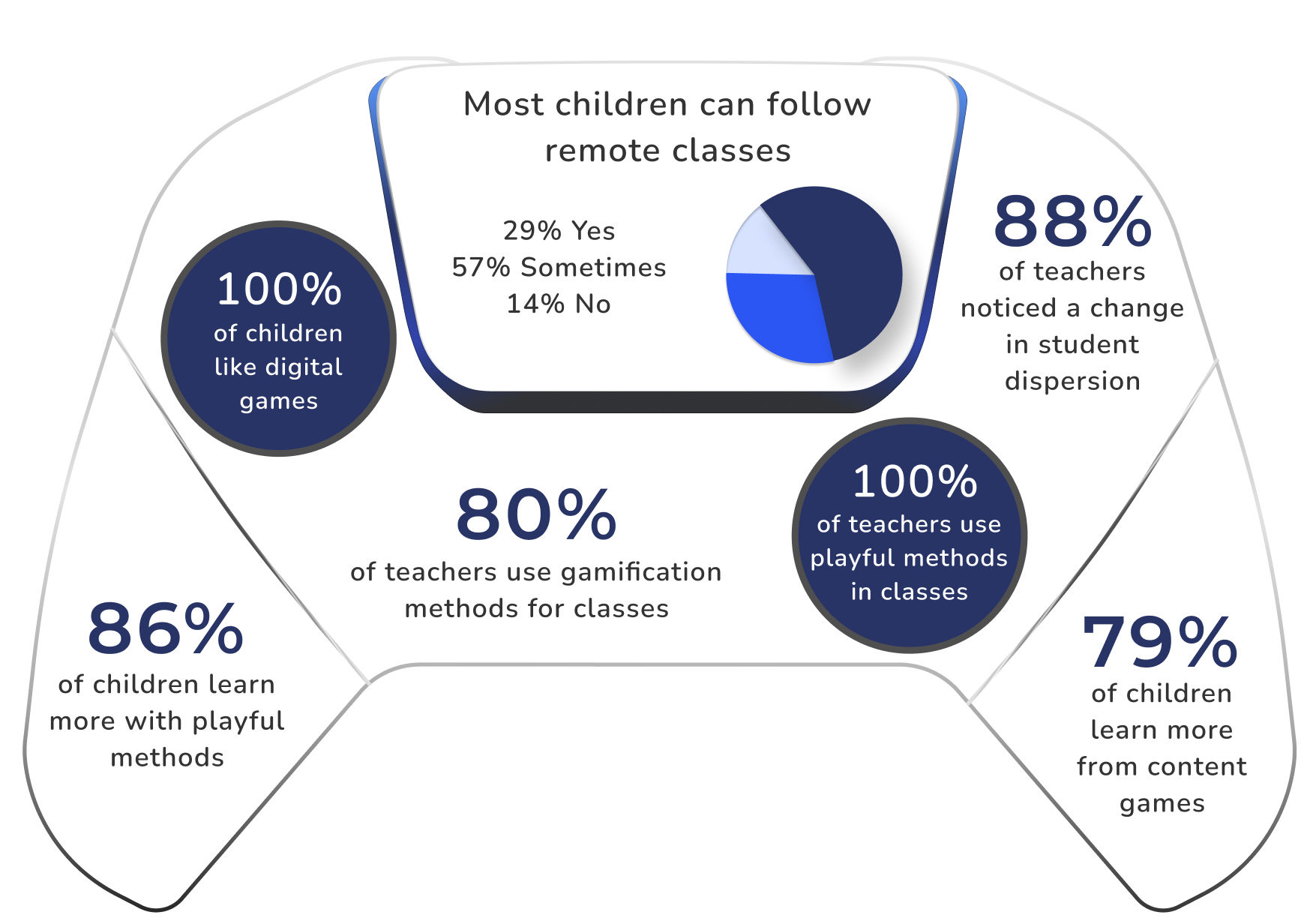 After obtaining the data from the quantitative research, we sought to better understand how the routine of children and teachers worked during online classes. Thus, in the qualitative research, we conducted interviews with some parents and teachers in order to delve deeper into the whole process of creation, application and correction of classes and activities by teachers, and the process of organization and study by students.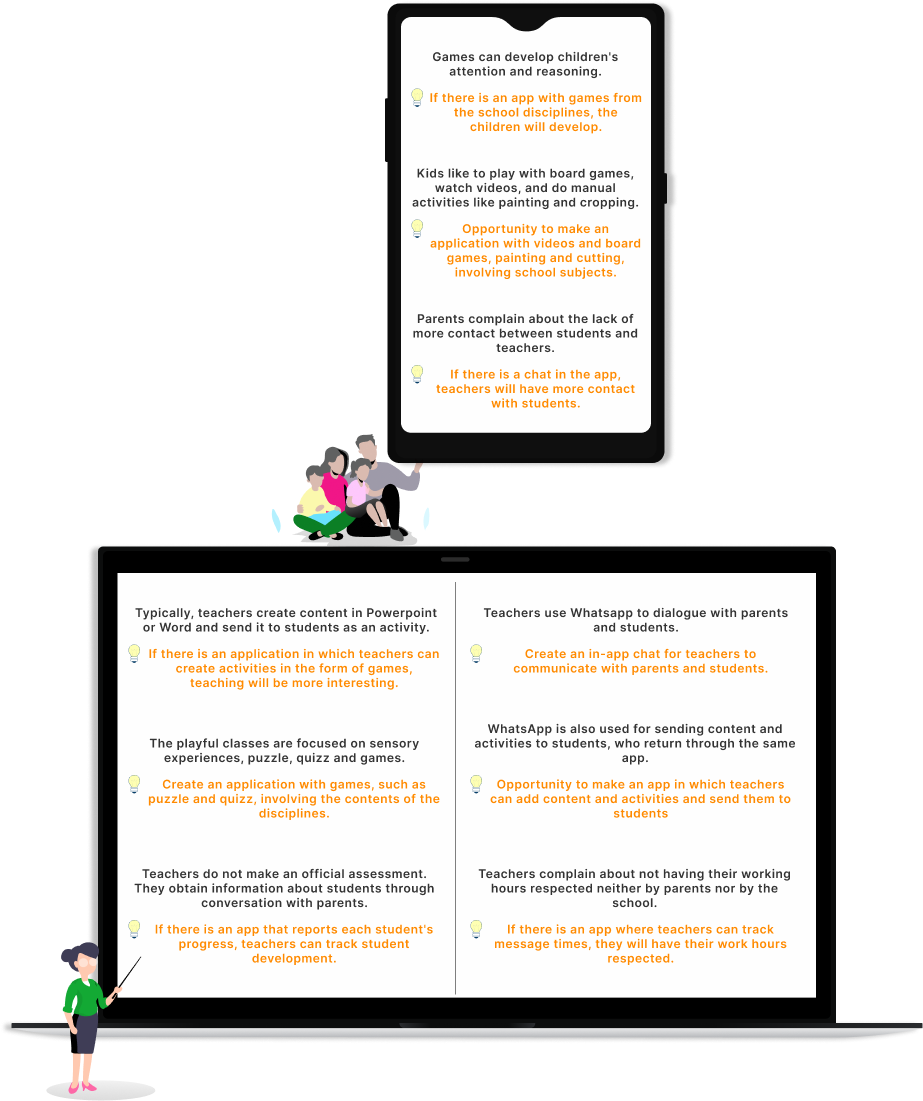 Alternatives of Solution
Based on the information obtained from the first surveys, we concluded that the tool to be created should summarize the resolution of the main pains complained by users:
How to incorporate in a single tool:
gamified activities;

space for sending activity content;

conversation place between teachers, managers and students;

space for socialization and mutual support among students.
Thus, based on the clarifications from parents and teachers, and the steps described in the users' journeys, we developed a list of possible solutions based on the How Might We method.
The decision alternatives were taken from the development of an Effort x Impact matrix: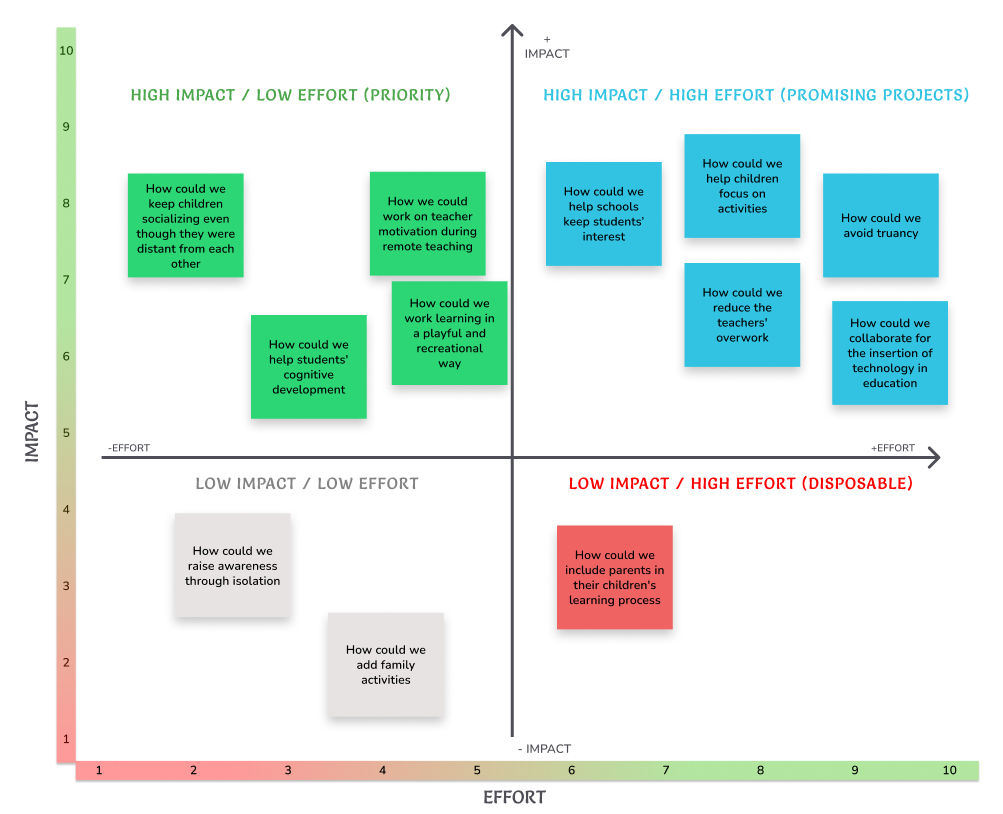 The main solution alternatives found were:
centralize the activities of all disciplines;

automate activity correction;

automatically transform routine activities into educational games that serve the most different groups of children (with and without behavioral disorders);

create a staged process based on scoring or ranking in games;

create a space for conversation and coexistence between children and teachers;

create a space for attachment of content by video, presentation and text;

create a form of time adjustment for receiving messages and activities;

respect text and tone of voice for different user groups.
Benchmark
To understand how the current market scenario is and how competitors are helping teachers to maintain their activities, we analyzed some applications (Kiduca, Khan Academy Kids e Duolingo).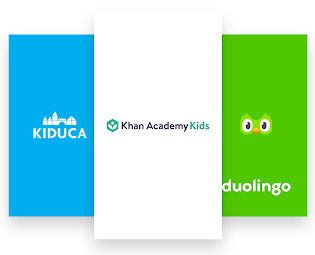 Through this market research, it was possible to identify the requirements that must exist in our solution:
Provide monitoring of the progress of student activities;

Provide lessons organized as small phases in which children earn points when they finish activities and receive a motivational message when they don't (gamification);

Chat with classmates and teachers;

Have interactive and playful activities;

Provide a place where teachers can add books, animated videos and creative lessons for children;

Have a profile with a personalized character;

Show motivational messages;

Offer collaborative activities among the children in the class;

Provide automatic correction of activities.
We also identify what we can add as a differential within our application:
Provide a teachers' agenda that is connected to the children's agenda when the teacher selects what will be shared;

Have notifications about activities for children;

Offer message time control for teachers;

Provide activity models for the teacher to prepare the tasks and send to the class.
The Solution
Low-fidelity prototype
With the solution alternatives prepared and the benchmarking data, we brainstormed in order to develop different interface ideas for the tool. Each member of the group, using Crazy 8's technique, made sketches of interface designs. After gathering all the best ideas, the result was put together in a low-fidelity prototype.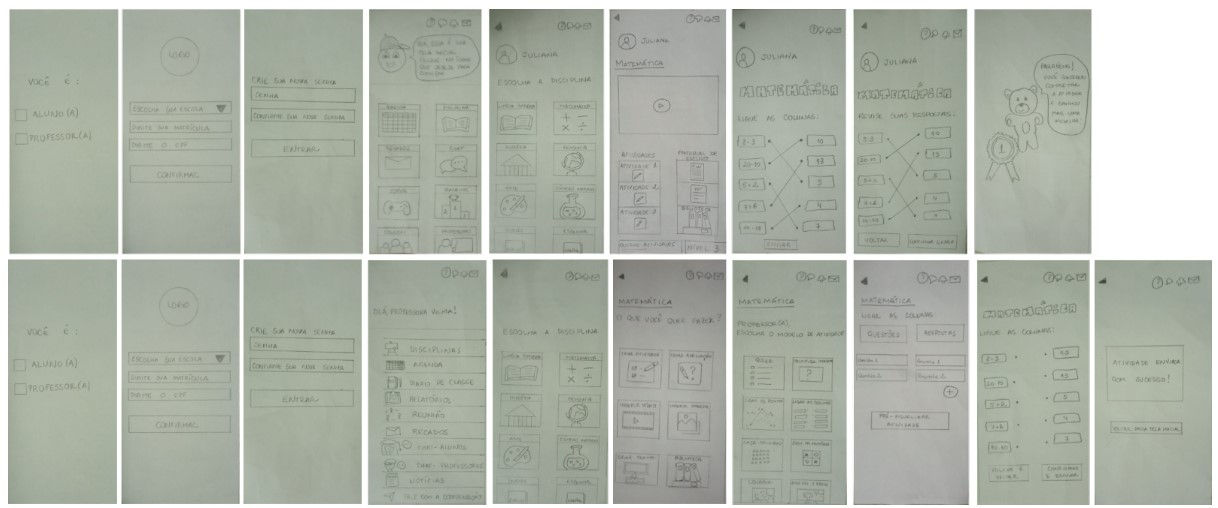 From this sketch, we created a low-fidelity prototype with the Marvel application in order to carry out usability testing with both students and teachers.
Usability test
We invited some children aged between 6 and 11 years and also teachers from public and private schools from different regions of Brazil to carry out the usability test.
Before performing the test, the participants were instructed on the action they should take. In addition, as the test was either being recorded via Google Meet, or observed in person, they were also instructed to think aloud about each step carried out in order to understand any doubts or difficulties they could possibly have. The test result was:
None of the participants had any difficulties while performing the test;

100% of the participants stated that the interfaces were intuitive and easy to use;

All participants were able to complete the actions to the end in seconds;

The participating teachers stated, after being questioned, that they had no difficulty with the texts and words presented in the interfaces.
Wireframe and User flow
After the first usability test, we created the wireframe to decide how the elements would be organized and what steps users would take to complete a certain action.
The medium fidelity prototype brings the flow of the teacher who creates a math activity of connecting the columns and the flow of the student who responds and sends this activity.
The medium-fidelity prototype and the user (teachers) flow:

The mid-fidelity prototype and user (student) flow:

Style Guide
To create the visual identity of the high-fidelity prototype, we defined the style guide. Let's see:
Colors
The color palette was designed to make the application as fun as possible, that's why we chose the colors: blue, lilac, green, yellow, orange and red. Each color is made up of the main tone and a lighter variant.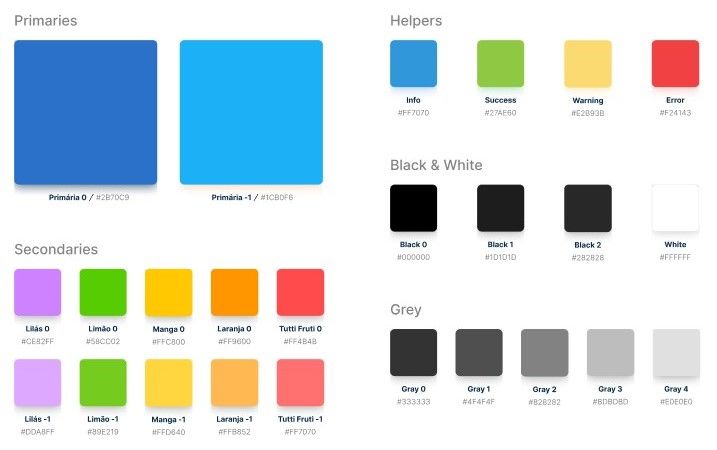 Typography
The font chosen was Nunito because it is approved by Google without serif, making loading easier. This font offers a variety of weights and styles which helps readability of mixed and lowercase text.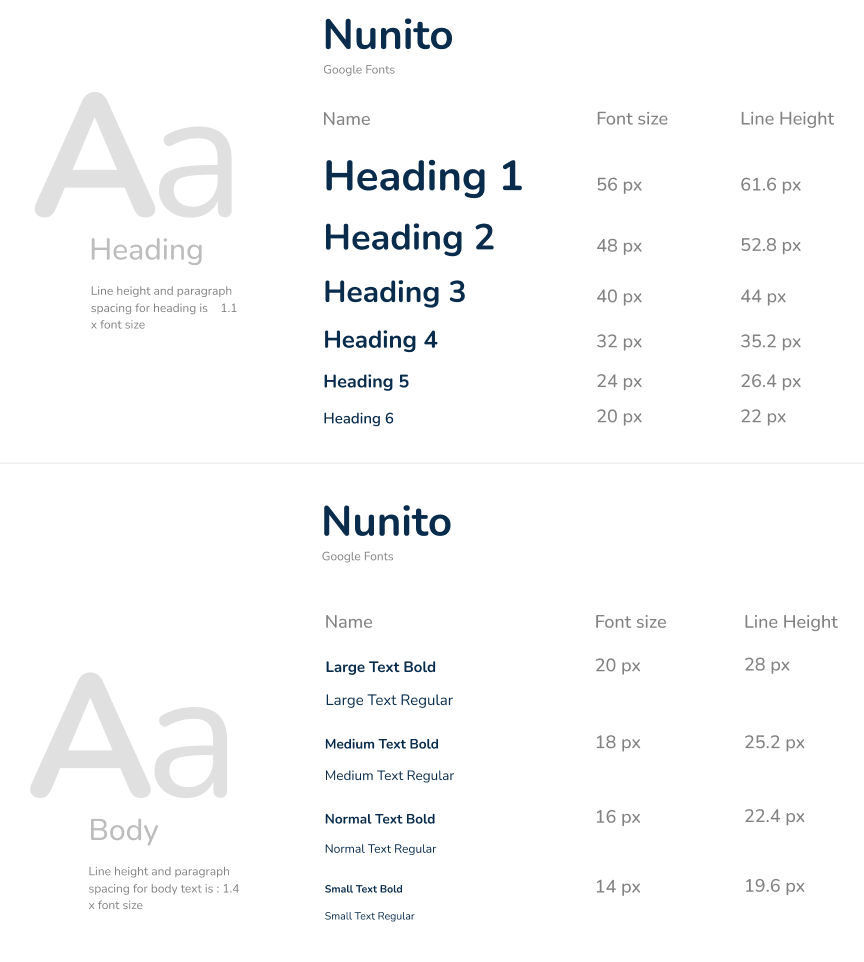 Buttons and Icons
For the creation of buttons and icons we made a pattern of states and styles that can be analyzed below.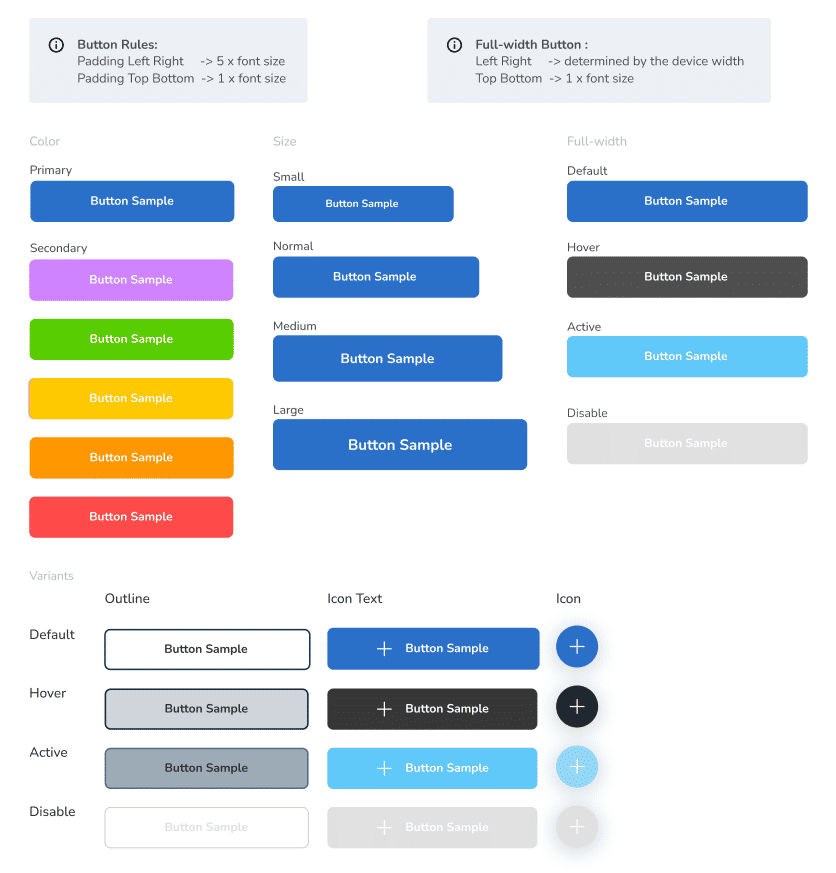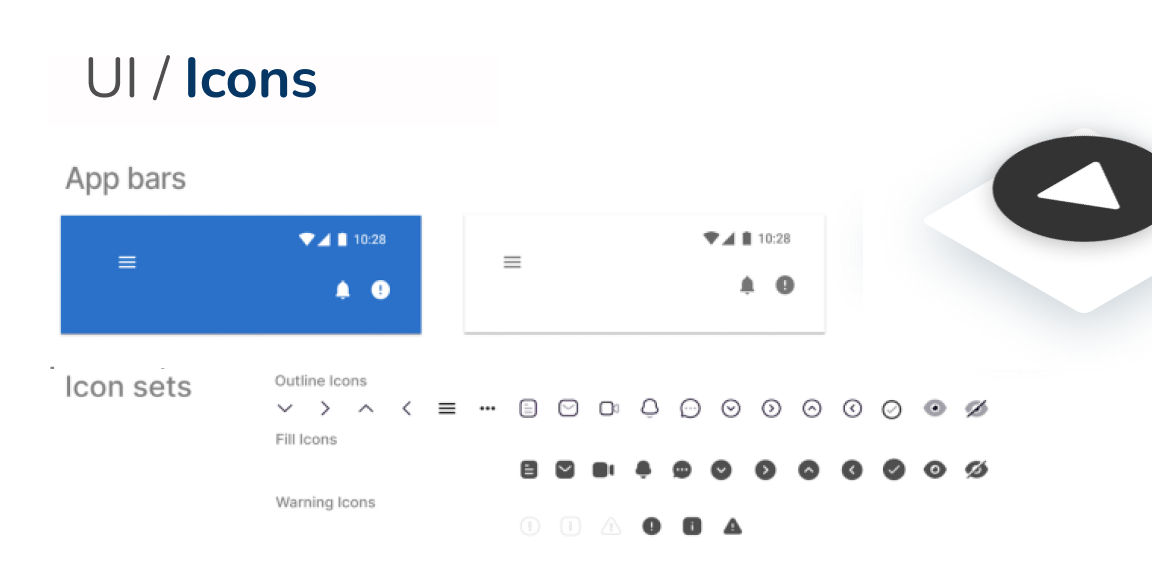 Form components
We also made a pattern of styles and states for the form components as seen below.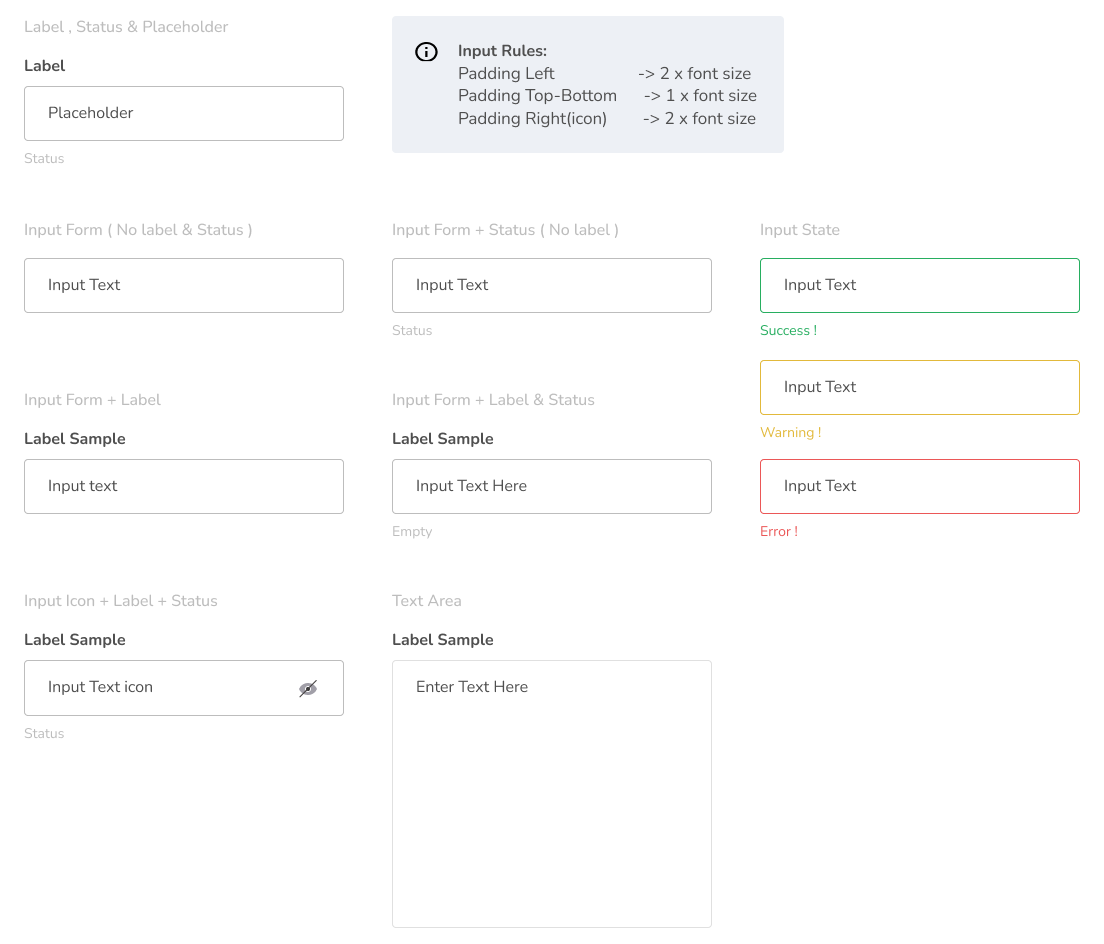 High fidelity prototype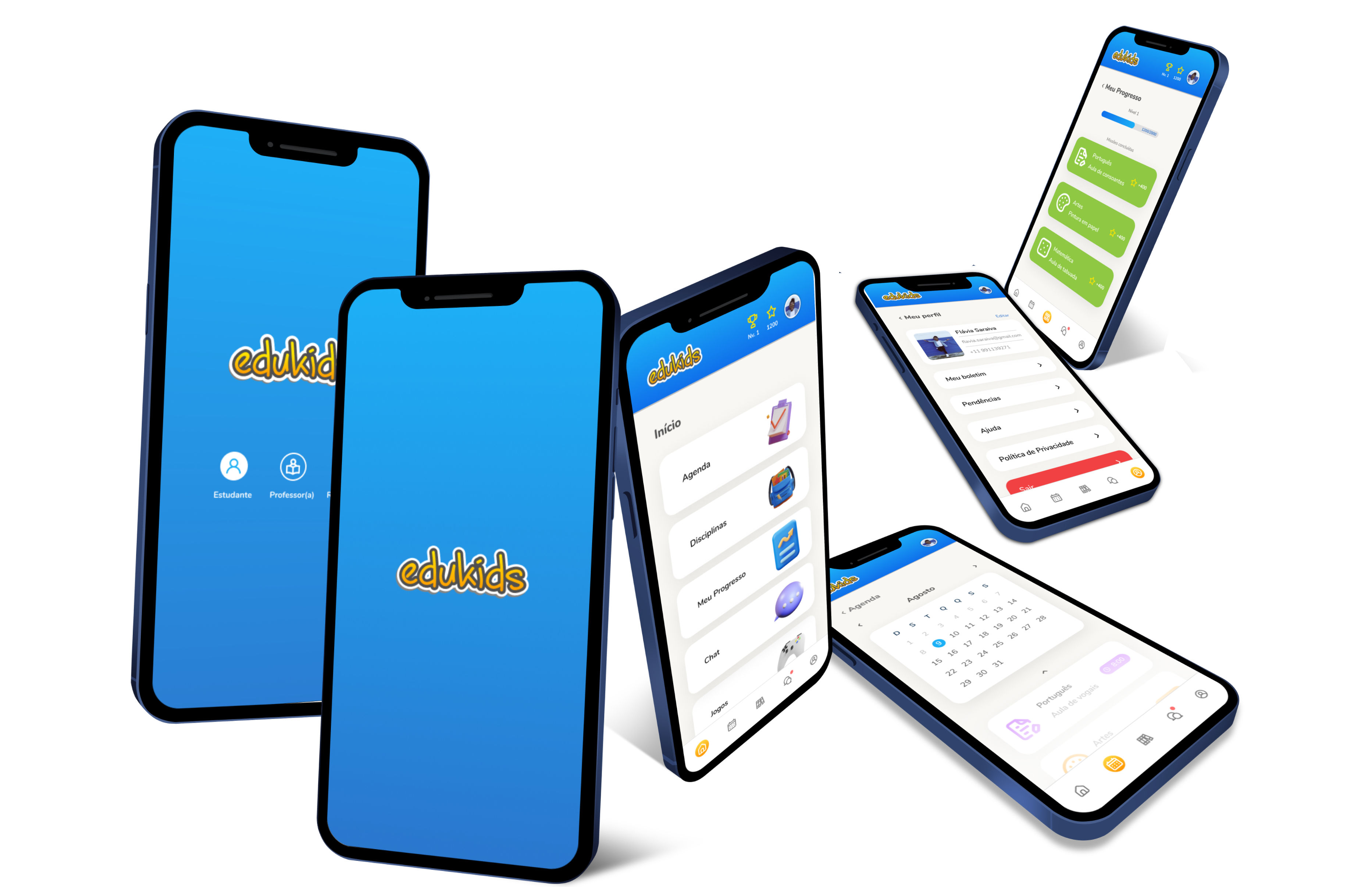 You can browse the prototype in high fidelity 👉️ Edukids Prototype
Metrics
​​​​​​​We created the HEART framework to help us choose metrics that will help us improve users' experience with our application: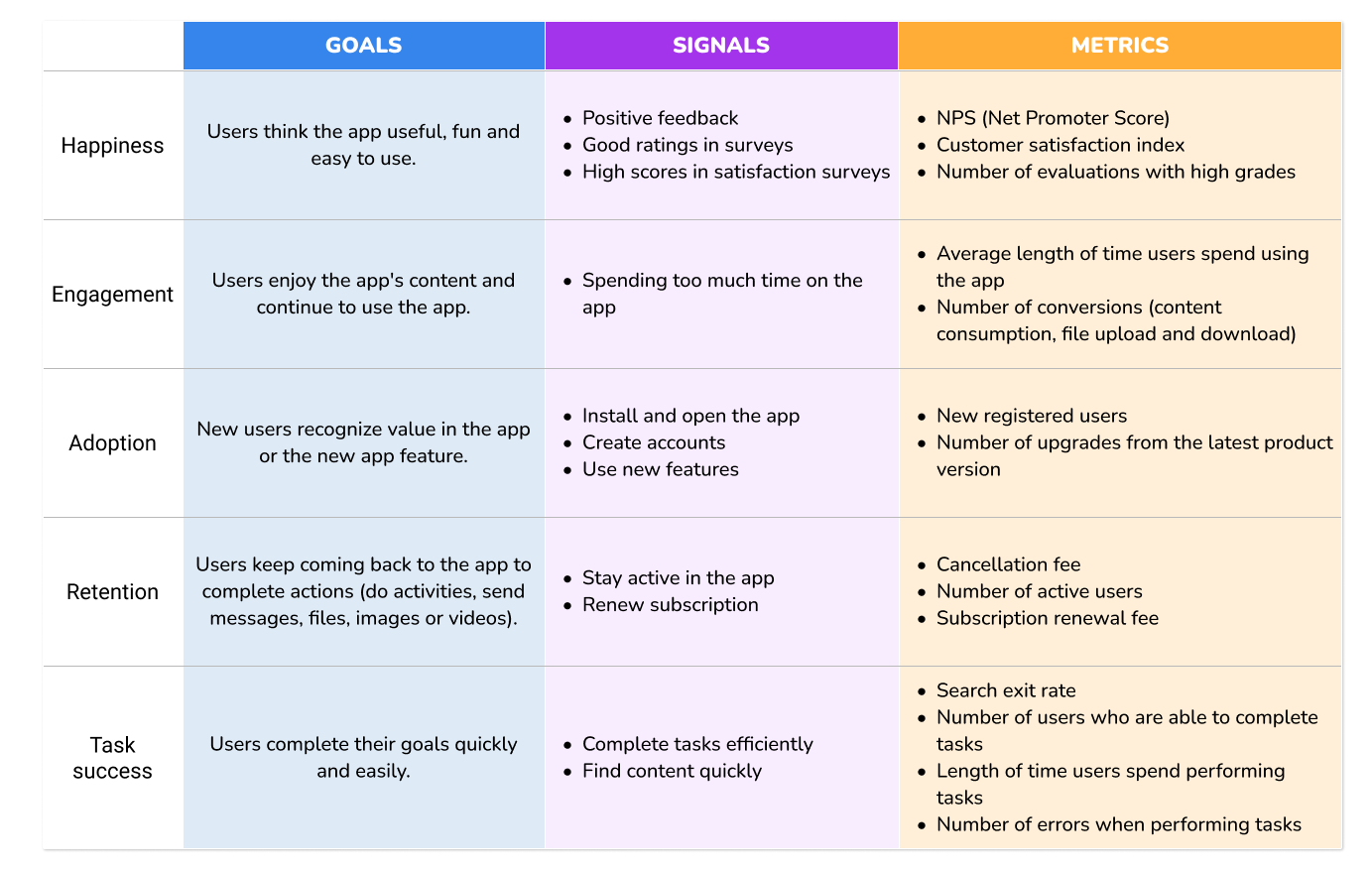 Conclusion and Lessons learned
Our first idea was to create a digital tool that could help parents and Elementary School I students (children between 6 and 11 years old) to organize themselves in relation to the student's study schedules during the period of online classes. However, when we understood the pains and needs of users, through research, we realized that many educators were not effectively teaching classes. They prepared materials with content and activities on the topic and sent them through a message application through which the entire relationship operation between parents, teachers, students and school administrators took place. In this way, we arrive at a solution whose main objective is:
Improve the entire process of dialogue between the parties, sending and receiving activities and class content, socializing even at a distance and encouraging studies through gamification.
We understand that a product must be constantly improved, taking into account the changes that naturally occur in society, changes in users' pain and customers' business goals. Therefore, we understand that the solution found can and must undergo constant modifications to better suit the needs of users.
So the next steps would be:
Conduct new research with potential users, to understand more and more the needs and opportunities;

Perform usability tests and solution improvement.
---
The team
This project was carried out based on the proposal to solve a challenge during the UX Design course at UX Unicórnio. Our team consists of the following members:
Jamile Silva (LinkedIn): UX Strategy, UI Design, UX Research, UX Writer
Mauricio Santos (LinkedIn): UX Strategy, UI Design, UX Research, UX Writer
Tatiani Baldo (LinkedIn): UX Strategy, UI Design, UX Research, UX Writer
Vinícius Pio (LinkedIn): UX Strategy, UI Design, UX Research, UX Writer
We thank the mentors for their guidance throughout the process and, in particular, Leandro Rezende for all the knowledge passed along the course.
Thank you for reading to the end! 👍️
Feel free to criticize, praise, ask, comment, share or "clap your hands". 😉
Do you want to talk to me?
---
I'm currently a freelancer and I am studying for an MBA in UX Design and User Research from UNIFATEC (Faculdade de Tecnologia de Curitiba) in partnership with the Toronto School of Management. I have created some designs like invites, business cards, tags… I am passionate about technology. I really love creating things through tools like Figma, AutoCad, Canvas... I can learn easily how to use a design app I have never used before.
--- ---
Related Articles