My entrepreneurial journey has taught me to be patient and that has helped me bounce back into corporate ecosystem: Avesh Sharma
Avesh Sharma reflects on his entrepreneurial journey, and how it has transformed him completely!
Starting your business is like planting a sapling. First, you have to invest your time and money. Then, you must take care of it while expecting nothing in return.
But when your startup blossoms, it makes all the patience and hard work worthwhile.
However, like saplings, many startups fail to grow -- and many die one-to-three years after launch.
Either way, it's not easy being an entrepreneur. Avesh Sharma, the co-founder of Woodays, reflects on his entrepreneurial journey, and how it has transformed him completely!
Q. At what point you realize that you want to be an entrepreneur for the first time? Can you recall that instance?
The realization was always in the DNA! There's a saying, "You can take the soul out of the mountain but can't take the mountain out of the soul". And, my case was no different.
Hailing from Shimla and living a corporate life in different industrial segments, I and my friends took some days off to spend a weekend in my hometown Shimla in 2015.
While chilling out one fine evening at one of the nearby resorts, we realised how the ambience, look, feel, and the atmosphere does not justify what Shimla has to offer!
It felt like sitting at any other cafe with no differentiating experience and it made us feel bad for the people who travel from far away places just to explore the uniqueness of Shimla. And, that hit us hard.
Q. There are always two kinds of motivation for an entrepreneur- extrinsic and intrinsic. What's that extrinsic factor that drives you?
After doing a lot of group surveys across different segments of travellers, we saw a gap and an opportunity to build unique holiday experiences. This made us collaborate and work towards enhancing traveller's experiences!
Q. What's the intrinsic drive?
Since childhood, we as a group were fascinated by the mere thought of exploring the unexplored places in and around Himachal, and other territories too.
The Traveller was always there inside us, it was just waiting for the right time to explode out of our DNA and put that drive into implementation mode with a well-thought-out crafted biz Canvas!
Q. What's the most satisfying part of being an entrepreneur?
It's the entire journey. The lows, lows, a further low, more lows, and eventually a high (before more lows)!
It's about burning the midnight oil and sticking to your idea truck-loaded with varied different inputs. You have to take every input into consideration, jump over the pitstops with a lion-heart, and take forward strides positively till the time you reach your destination. And, once you reach the destination, give yourself and your team a treat before preparing for the next goal.
The intoxication lies in the fact that the buck stops at you, you have to pat your back for some good step, and apologise to yourself for some misfire (which will be in plenty).
Q. What's the fundamental difference between being a businessman and an entrepreneur? How is Woodays different from the traditional resorts?
One differentiating word that pops up right away in my mind is passion, though the bottom line remains the same.
Woodays, from the incubation stage itself, was built on an idea to create such unique experiences for the consumers that stay and get imbibed into their soul forever with a repeat value.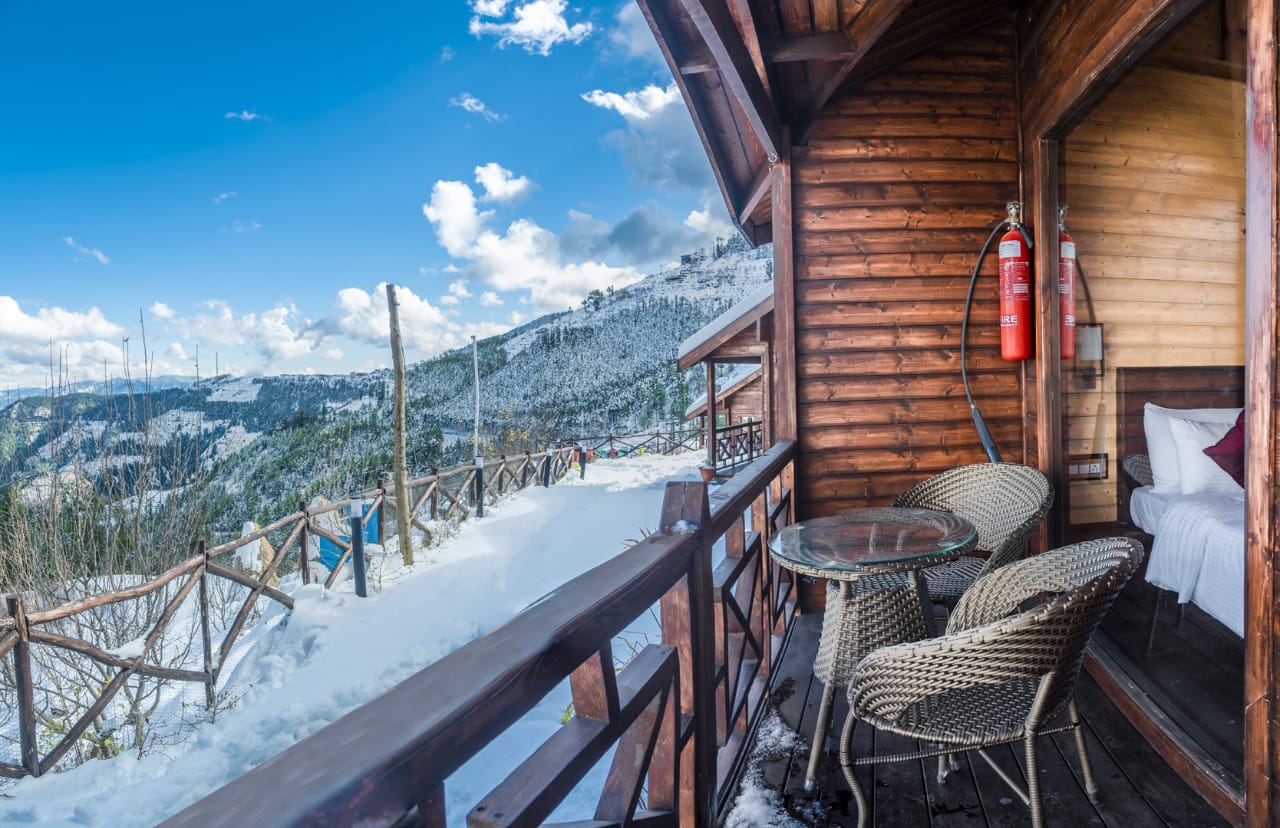 Q. What's that one thing no one tells about entrepreneurship?
That it's a plunge and once you have taken the plunge, you can't do a retrial. Practically, you can't defy Gravity!
Q. How much support your family has been when you decided to work on Woodays?
Although the perspective of Indian middle-class families has changed for better over the years, there was reluctance and backlash initially by our families.
However, they soon realised where our happiness lies and from thereon, they have been supportive and stood tall with our vision.
Q. How important is mastering the "ART OF SAYING NO" being an entrepreneur? Can you recall a similar instance?
Art of saying NO is a Generic element that I believe must be imbibed into a professional.
But, the definition of how to put a NO on a table in any discussion with a partner, Cross-functional teams, Reporting managers, and various other stakeholders is the key epicentre.
A "NO" should sound more like a mere difference in insights/opinions which can be figured out through various permutations & combinations, and it should always be backed by data and logic. It can't be just subjective.
So Yes, I believe that " The Art of Saying NO' should be there in any professional /entrepreneur but it has to be backed by objectivity & logic, and NO should lead to solutions rather than ramping up the problem statements.
Q. Have there been any days when you regretted taking the decision of being an entrepreneur? How do you still manage to carry forward after it?
For any decision that you take, the buck stops at you, so there is no scope of regret. introspection is a constant element, but it should drive you forward, rather than taking you backwards.
I will always cherish my entrepreneurial journey though I am back again into the corporate ecosystem and learning every second. The Equity has been transferred to the family.
Q. How important it is to have a co-founder?
It's as important as your vision. Everyone has a different perspective on the market's internal/external environment, so a team is what drives an idea/product/business. Working solo doesn't make much sense to me!
Q. If you had the chance to start your career over again, what would you do differently?
Before starting my entrepreneurial journey, I had decided that I would be part of the entire vision from the incubation to GTM stage, and I have already come back to my corporate life giving my 100% to the organization I am working for!
However, I can feel a certain change in the way I approach things now. My entrepreneurial journey has taught me to hold my horses and to be patient during bad times. It has taught me how to build something from scratch and to keep looking for new windows if the opened ones have closed.
Hit & Trail will always be there but you need to keep your hunger intact and wait for the right time to click.
Q. What entrepreneurial tricks have you discovered to keep you focused and productive in your day-to-day busy schedule?
I believe there are no tricks or magic wand. It's just about being focused, doing your maths and logic properly, keep walking with your vision on express highways and bumpy roads, and just cherishing the journey.
Q. What key activities would you recommend entrepreneurs to invest their time in?
Be confident, not over-confident. There is a very thin line between confidence & overconfidence. I "Can" do this is confidence. "Only I" can do this is over-confidence
Try to be like a catapult, sometimes you have to take a step back to hit again with full thrust
Be Logical and data-driven. Objectivity is the key
Try to gauge your competition properly
Keep walking aside the ever-changing disruptive market
Never lose your belief on your vision
Don't jump the gun. Be patient, persistent, and hit at the right time
---
Ideas are easy, Implementation is Hard, learn from the ones who knows how to start. A Publication by Tealfeed.
--- ---
Related Articles