Entrepreneurs, Is It Time for You to Resign?
After 13 years as CEO, I'm no longer running my company
Brothers Mark (left) and Brian Roland (right), 6x INC 5000 Entrepreneurs of Abenity.com
Earlier this year, I made a massive decision. After 13 years at the helm, I chose to step down as CEO from the company I founded. My entrepreneurial friends saw this as a benchmark moment — the end game! Passive income has arrived! But here's the truth: the needs of our business were no longer my areas of strength.
"We bootstrapped to nearly $10M in annual revenue."
Our Story
You see, in 2006 my brother and I founded a social enterprise with a radical "remote team" model that we bootstrapped to millions of members and nearly $10M in annual revenue.
Our very first customers included the U.S. Army, Oracle, and The Walt Disney Company. It was a lot easier in those days to get a SAAS product in the door with these big name companies, and there was a lot of momentum to leverage. My brother and I like to say that I was always the "idea guy" and he, as a software developer and graphic designer, would shape my crazy vision into reality.
I consistently had a new "big idea" every 15 months or so, and while my brother was developing these ideas, I'd launch the sales, marketing, and support infrastructure required to sustain them.
This rhythm produced a fast-paced and creative culture within our budding start-up where there was always something new to celebrate. This was a fun season for our business, but the demands of our continuous growth began to constrain our ability to innovate.
Understanding The Business Lifecycle
I like to refer to my entrepreneurial experience as a roller coaster. Without fail, a "win" in one area of the business was met by an obstacle in another area (tax requirements, compliance obligations, customer expectations, process limitations, etc.). Pretty soon, I was no longer creating or selling, just managing and maintaining.
An Entrepreneur.com article on the 5 Stages of Your Business Lifecycle outlines the hidden complexity that I didn't realize we were up against.
Stage 1: Seed & Development
Stage 2: Startup
Stage 3: Growth & Establishment
Stage 4: Expansion
Stage 5: Maturity and Possible Exit
In hindsight, we learned to thrive in Stages 1–4 and, when the business was ready for Maturity (Stage 5), I wasn't. As a result, I unintentionally ignored our need for Stage 5 leadership and plunged us into the pursuit of my next big idea.
In 2016, we made our first big mistake. We pursued an idea that didn't fit squarely within our brand. If we had already implemented Stage 5 leadership for our company, I think we could've pulled this new idea off. However, we decided to split my focus and develop a new product, with a new team, under a new brand.
Unlike previous creative cycles, within 24 months our team was less motivated. Our vision was less clear. Our team was more fragmented. Our resources were divided. Our newest brand was at odds with our original company. I was personally and professionally overwhelmed. It felt like we were on a 20-mile march to nowhere.
Recognizing Our Need for New Leadership
It was time for us to focus our growth resources on the products we'd already built and no longer support the things that weren't working, including the startup we launched in 2016. Our monthly goals needed accountability. It was time to invest more in professional development, expand our infrastructure, and audit our processes. Instead of regular check-ins, our team was asking for performance reviews. Our vision-driven meetings now required an agenda. Our diverse geographic footprint demanded state-specific policies and our insurance providers wanted to see an official employee handbook.
In short, we made it! We beat the odds that many companies don't. We were no longer a budding, bootstrapping, entrepreneurial organization. We were mature.
While this may sound like a dream come true to some of you, the following words literally make me cringe… schedules, insurance, accountability, audit, compliance, demands, handbook, performance reviews, and policies.
In an honest moment, I realized that I was no longer the kind of leader we needed. I was holding us back. It was time for a new CEO.
It was time for me to resign. And I did.
Today, I carry the title "Founder" and I'm #OnMission in a fully creative role with a focus on my greatest areas of strength. I work full time and I'm still 50% owner of our businesses. My relationship with my brother / business partner is healthy and I'm more involved in social entrepreneurship than I've been in five years. I'm happy, but in a surprise turn of events, I'm no longer running my company after 13 years as CEO.
"I'm no longer running my company after 13 years as CEO."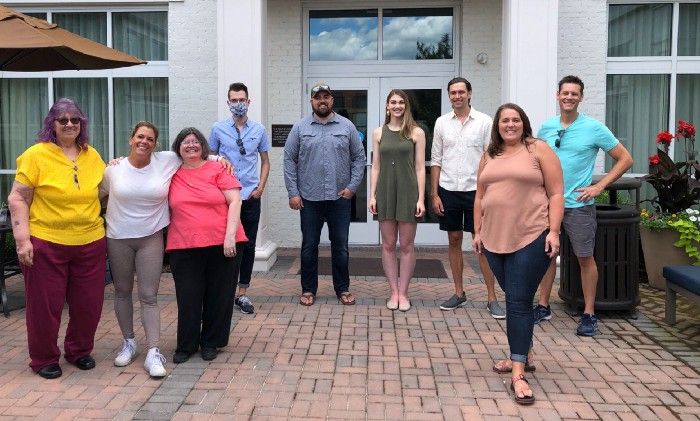 This photo features a few Abenity team members at our only "in-person" meeting in 2020 in Brentwood, TN.
Your company's needs probably aren't that different from mine. Ideally, your mission and vision remain the same, but growth requires change. What would it look like for you to examine your company's current needs? Are you willing to look yourself in the mirror and answer honestly, "Am I still the leader my company needs?"
---
--- ---
Related Articles