EQ & Empathy: Shaping boys into MEN
It is evident that emotional intelligence plays a vital role in our success in life, in both personal and professional spheres. Due to socialization and varying neuroanatomy, boys tend to show poor EQ skills related to empathy and building healthy relationships. While this is the price this gender pays for skills such as confidence, assertiveness, and competitiveness, it is important that we teach our boys how to become empathetic men who care for others in society. Clinical Social Workers play
---
Raheem Lay, DSW, LICSW, BCD
---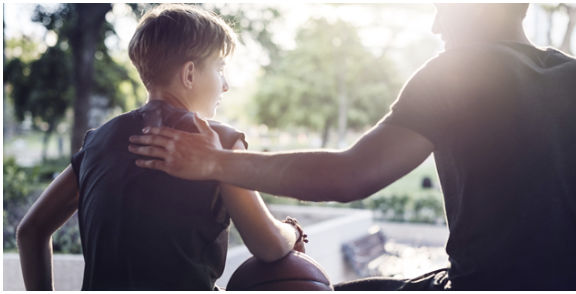 The Importance of Emotional Intelligence in Boys and Men
Emotional intelligence, often abbreviated as EQ or EI, has a significant impact on different areas of our everyday lives. EI is defined as the ability to process emotional information efficiently and accurately. This process entails the capability to perceive, assimilate, comprehend, and manage emotions.
EI is essentially a construct that encompasses one's capacity to monitor and control their emotions and those of people around them, the ability to distinguish between negative and positive effects of emotions, and the ability to use emotional information to monitor thoughts and actions.
Although everyone has intrinsic emotional intelligence, studies have shown that there exists a gender variance in how we demonstrate our EQ. This article seeks to establish the importance of emotional intelligence in boys and men and the role of medical clinical workers in improving intrapersonal and interpersonal competence skills.
Alaine Houston insists that men and women are hard-wired differently. Our neuroanatomy is structured differently, causing some variance in how we think and behave. Socialization, which is the process of learning how to behave in a manner that's acceptable to society, plays the role of shaping who we become.
Throughout our entire lives, we are bombarded with direct and indirect messages on how we should behave. Boy, are taught and socialized early in life on how to be more confident, competitive, decisive, assertive, and aggressive. They are taught that winning is the most important thing.
However, girls receive a different message during their early childhoods. The female gender is socialized to be more caring about others, nurturing, how to get along, and how to show and expressing emotions and empathy. Girls learn that the process is more important than the results and that relationships are key.
Therefore, boys, who later grow to become men, tend to outperform girls and women on EQ skills of confidence and assertiveness but fall short when it comes to skills such as empathy and interpersonal skills. The good this is that any gender can learn and build skills linked to the other gender.
Self-awareness is the first step towards introspective self-evaluation that will help you identify emotional and behavioral aspects of your psychological makeup, which you can then target for change. Emotional self-awareness will also entail recognizing what motivates you and what brings you fulfillment.
The Gender Difference in Emotional Intelligence
In essence, emotional intelligence (EQ) is your people's skills. Therefore, it will determine how well you get along with others at work. Though some might not have been aware of their emotional intelligence, we all know the skill involved because they are evident in our daily behaviors.
The most fascinating thing about EQ is that many scientific studies have linked it with success in life, work, and leadership. Individuals with higher EQs are often more successful than those with lower EQ, regardless of their IQ levels.
Research studies that try to measure the level of EQ in men and women have shown that both genders are equal in overall EQ. However, men and women have different gender-specific strengths and competencies.
As Alaine Houston notes in her book, The Power of Perception: Leadership, Emotional Intelligence, and the Gender Divide, men tend to score higher in areas of stress tolerance, assertiveness, and self-regard or confidence. On the other hand, women score higher in areas of intrapersonal relationships, empathy, and social responsibility.
One recent study revealed that these gender differences in emotional intelligence play a critical role in the leadership gender gap.
Values and Benefits of Emotional Intelligence
An all-rounded emotional intelligence compass will help boost personal and professional success. This explains why EQ is a vital competency skill in most vocations. It will also support one's advancement towards professional and academic success, boost communication skills, and improve relationships.
In 1997, Bar-On suggested that individuals with higher emotional intelligence perform better than those with a lower EQ, regardless of their IQ levels. There have been numerous discussions about the benefits of teaching emotional intelligence in schools. Emotionally intelligent boys will grow up to become emotionally intelligent adult men.
Proficiency in emotional intelligence continues to become a critical prerequisite in intense and prolonged areas of what's considered "emotional work" such as social work, nursing, management roles, and the service industry.
According to a study published in BMC Medical Education, professional interpersonal and intrapersonal competencies (IICs) are a vital part of medical expertise, but they are rarely given the attention they deserve during clinical training.
Expectations from healthcare professionals go beyond mastery of medical knowledge and facts. To practice medicine effectively, these professionals need to develop IICs in communication, management, leadership, and teaching.
Communication is such a fundamental clinical skill, and if performed competently and efficiently, it can help facilitate the establishment of a trust-based relationship between medical staff and patients — a truly therapeutic alliance.
IICs will not only help the medical clinical worker perform competently, but they will also pass on the willingness manifested during consultation, openness, kindness, and attention to their patients. We learn through observation, and if medical social workers can show higher emotional intelligence skills of empathy and IICs when dealing with boys and men, this demographic will learn, appreciate, and apply these competencies in their lives.
Research on the medical domain sector has also revealed that interactions between healthcare professionals and patients affect both the patients' satisfaction and their perceived quality of medical services. Communication in the medical field is an active process that involves the transmission and reception of information, and at least one of the parties must have active listening skills, comprehend the message, answer questions, interpret non-verbal language, and motivate the speaker to support the conversation.
Conclusion
It is evident that emotional intelligence plays a vital role in our success in life, in both personal and professional spheres. Due to socialization and varying neuroanatomy, boys tend to show poor EQ skills related to empathy and building healthy relationships. While this is the price this gender pays for skills such as confidence, assertiveness, and competitiveness, it is important that we teach our boys how to become empathetic men who care for others in society. Clinical Social Workers play an important role in shaping the intrapersonal and interpersonal competence skills of the society through how they showcase these skills in their service delivery.
References
https://journals.sagepub.com/doi/full/10.1177/2158244017725796
https://www.hrexchangenetwork.com/employee-engagement/columns/starting-from-scratch-emotional-self-awareness
https://www.tsw.co.uk/blog/leadership-and-management/daniel-goleman-emotional-intelligence/#:~:text=Daniel%20Goleman's%20emotional%20intelligence%20theory,happier%20and%20healthier%20working%20culture
https://bmcmededuc.biomedcentral.com/articles/10.1186/s12909-019-1748-y
https://www.thoughtco.com/socialization-in-sociology-4104466
---
Created by
Raheem Lay, DSW, LICSW, BCD
I write for Tealfeed, CEO at Raheem Lay LLC, EQ & Empathy Coach.
--- ---
Related Articles