ERP System in Healthcare: Advantages, Components, and Implementation Procedure
Automated operations and Optimization are the core part of every successful business. Integrating the latest solutions of software is significant for medical institutions or companies as it will boost their efficiency and solve the number of challenges which is being faced by this industry regularly.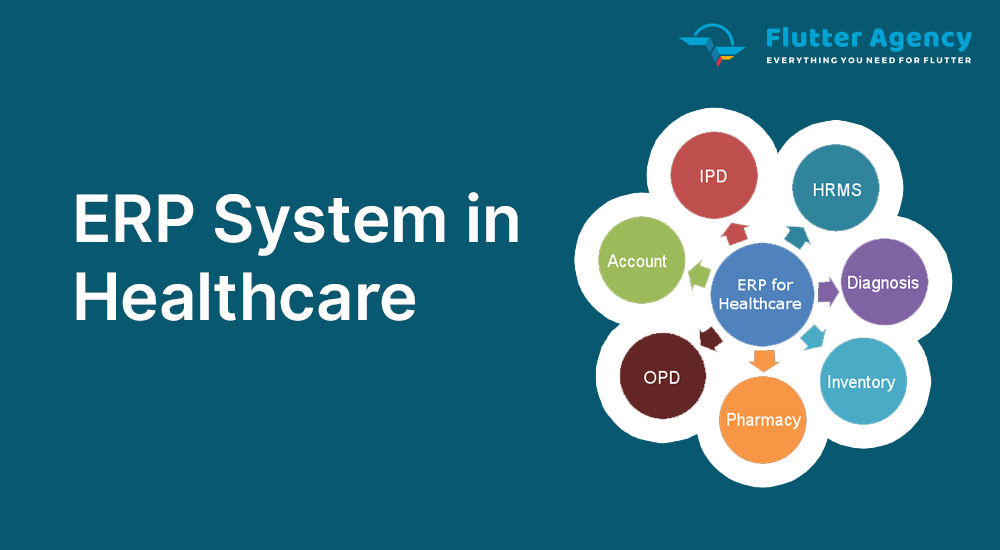 ERP System in Healthcare: Advantages, Components, and Implementation Procedure
Automated operations and Optimization are the core part of every successful business. Integrating the latest solutions of software is significant for medical institutions or companies as it will boost their efficiency and solve the number of challenges which is being faced by this industry regularly.
The most usual challenge the healthcare providers face is the difficulty in searching for patient and doctor management tools that facilitate them to lessen paperwork, improve efficiency and build up patient care by making it cost-effective.
More and more enterprises are beginning to adopt medical ERP software with exceptional functionality that suits the hospital best.
In this article, We will briefly describe custom healthcare software development of ERP solutions by adding their types, advantages, and integration peculiarities.
Define ERP and State why it is used for
Enterprise resource planning (ERP) is the modular software solution that centralizes organizations' information, optimizing the connections and providing the facility of sharing the data between the enterprise departments. With this, a company can also create the end-to-end connectivity of the business operations, which includes relations with consumers and vendors.
This system will bring the multiple modules together and facilitate cooperation between different company departments. In this manner, a specific business unit can continuously communicate, interact and share the data during the daily operations you deal with.
Additionally, the ERP system can store all relevant information, enabling the automation of collecting and using corporate data for the benefit of the business. In this respect, ERP systems harmonize a decentralized flow of work, adding some hurdles to the management process.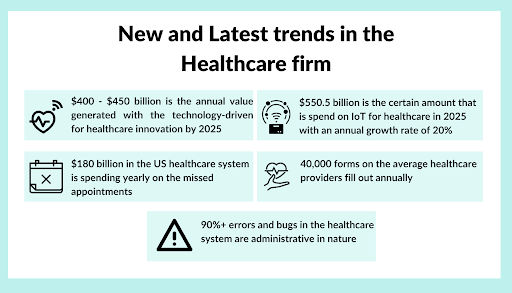 Ways an ERP software provides benefits to the healthcare business

ERP system is a multifunctional software tool that adds value to hospitals in several ways, including cost saving, improving efficiency, enhancing collaboration, and optimizing patient management.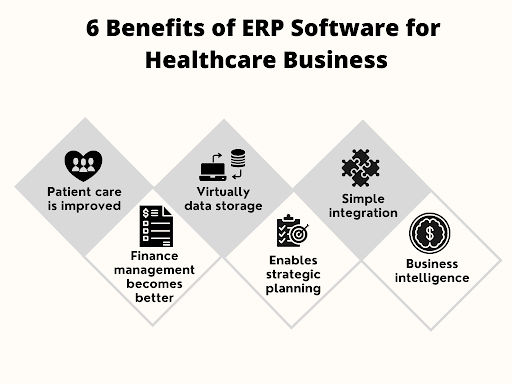 1.Improves patient care

A significant benefit of ERP systems in hospitals is the enhancement of the care of patients. This system will minimize paperwork for doctors and reduce the time spent on finding patient data. It will improve a patient's service quality as the doctors can focus on the patients rather than wasting time on unnecessary administrative tasks.
2.Better finance management

It is beneficial for managing the hospital finances. It is a straightforward process, and it controls all payments of patients and also hospital expenses. It will minimize administrative errors to avoid unnecessary costs.
3.Virtual data storage

A custom healthcare app development helps organizations to save all their strategic data related to their patients and business operations effectively. This system will enable privacy and confidentiality so that no data is leaked from any side. It becomes convenient for the employees as it permits easy access for anyone as whole information is stored in a single system.
4.Enables strategic planning

Healthcare software development services are helpful for owners and hospital managers to make well-informed strategic decisions. It is a simple way to analyze all the success indicators of the hospital to improve its overall results in the future.
5.Integration is simple

A medical ERP solution is the best way to compact all medicine operations. This software combines all the departments, including HR, finances, and inventory, to improve productivity in hospital work.
6.Business intelligence

A Medical ERP system is a crucial tool for those running hospital operations. It is a better solution that delivers better business intelligence, and it enables to generate more financial value for the organization by assessing hospitals' performance and detecting areas for potential improvements.
In short, it can be said that the ERP boosts productivity and efficiency, introduces the interconnection between the different departments, suppliers, and vendors, and offers the storage for data-driven insights.
A limitation of the healthcare ERP software, companies should be ready to address the following factors:
Price: Cover all the expenses of ERP consultants, in-house IT specialists, server providers, and software deployment.
Maintenance: As the technologies are developing, a system should be updated constantly and enhanced to maintain compatibility with the company.
Education and training: Teach your valuable employees how to use the system and notify departments about the latest tools and functions.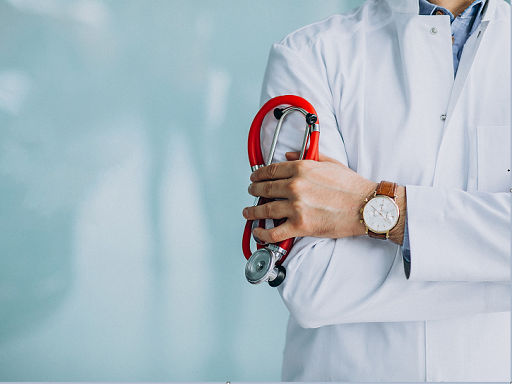 Categories of ERP systems in the Healthcare App Development


ERP systems have been developed for years, and it has been growing more recently. It has been classified as per the implementation process and the number of functions. There are three types of ERP analyzed by the implementation.
1.On-Premise ERP system


On-Premise software needs in-house maintenance and installation, which means it is available on the organization's computers and the presence of the internal IT team.
It does not require an internet connection to access the stored data on-premises. The organization owns most servers, and the IT team will take responsibility for the software and constantly update it. Large businesses mostly prefer this type of ERP software implementation, as having the license for the program means they have control over every module and aspect.
2.Cloud-Based ERP system


Companies can buy cloud ERP from third-party vendors annually or monthly. It permits access to data anytime and anywhere through an internet connection.
There is no requirement to assist the IT specialist; the vendor maintains a cloud ERP. It is vital to search for reliable tech partners. This type of software suits small businesses more.
3.Hybrid ERP systems


Hybrid ERP is the combination of on-premises ERP and cloud-based ERP. It is suited for those companies that have a specialized niche.
The price of hybrid enterprise resource planning maintenance is calculated on its sophistication. Probably, businesses turn into a hybrid ERP system when they are required to implement the cloud-based modules into the existing on-premise software as they progress. Hence, the data is divided into two parts — on-premises and on-cloud.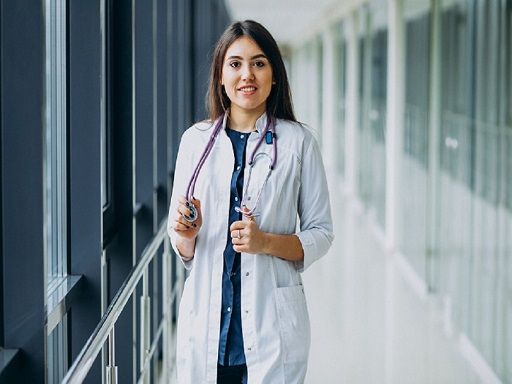 Healthcare ERP solution components

ERP systems merge the number of modules and sub-modules, which are interrelated and distinguished by serving a particular hospital area. Each module has various sub-models or tools which manage tasks and projects. By combining these, modules will capture all the organizational operations, internal and external.
ERP tasks are collaborative, meaning employees from different departments are added to manage and complete the request on time.
ERP systems consist of Human resources, Logistics, Inventory modules, sales, and finance. Another module is added to the system if your firm has specific requirements and is required to automate the operations.
Electronic health record: The ERP system is smoothly integrated with an EHR to boost operational efficiency. It will authorize you to control your hospital's supply chain and analyze and predict the needs of patients and suppliers.
Human resources: It operates the employee management tasks like offboarding, timesheets, enrollment, and benefits administration. HR components automate payment calculation by reducing human error and the time spent on monotonous tasks.
Patient Relationships management: CRM module stores and stacks the patient data generated. It will aid you in storing efficiently, accessing and managing patient information, health records, and payment.
Business intelligence: It supports you in solving hospital data collection, report delivery, and analysis problems.
Inventory Management system: This ERP element will keep track of all hospital inventory and automatically update the design for the employees to know whether medicines or other raw materials are out of stock.
Financial management: This element will examine and keep track of the organization's financial data. It will control the enterprise budget, receive payments and spend money.
Essential features of an ERP system


Centralized database: Needs to compromise the flow of data from all hospital departments and store it in one place.
Modular: Consisting of several interconnected modules.
Flexible: A system is upgraded per the organization's healthcare needs by replacing old tools or adding new modules.
Automated: The objective of ERP is to automate manual processes and delete the duplication of the data for healthcare administrative employees.
Real-time analytics: ERP system will support you in analyzing the organization's performance and financial conditions so that your team can make all the possible modifications in business. It visually represents your performance in identifying the problems and solving them.
ERP Implementation process

This procedure is complicated and has an all-inclusive process of planning, system deployment, data migration, and user training. These are the critical stages for the healthcare institution to successfully transfer into a new ERP system.
Mainly, there are two methods of integrating ERP software for your medical app development. The first consists of transiting to a new system at once, which means all data is switched to new software, and the employees will start using it simultaneously. This mechanism will take less time but be ready for the potential technical issues depending on the amount of data stored.
The second method is to shift the data in clusters by function or priority, and your assets will switch to the system gradually as needed. This process will take more time, but the chances of technical problems are low during the transition.
Algorithm

We leading Flutter app development company suggest this process to get the best from an enterprise resource planning implementation:
Define the desired output by understanding the business goals and its current process.

Not to reuse the old workflow automatically to ensure you are bringing the changes you require.

Map your business processes to design a clear business case.

Choose the right solution and partner who can implement the process till the end.

Define your long-term ERP that will move your business forward.

Ensure executive-level support, so each department is in the process and makes the perfect architecture for your business.

Assign the correct team for the project during your development stage.

Focus on achieving the correct data for a smooth and accurate migration process.

Standardize the procedure and minimize development to the primary functional suit, which you can add further enhancements to in the future.

Plan training to educate your employees and teach them how to utilize ERP.

Best Practices for development

1.Plan thoroughly

Few healthcare companies underestimate the importance of planning before considering the development of ERP systems. It is necessary to plan all the processes from the beginning to the system launch. It takes time, but it will go faster and more smoothly; there are minimal chances of failure.
2.Invest in support and training

After collaborating with external vendors, invest your resources in training. After deployment of the system, you have to provide technical support and fix potential issues and system updates. It is necessary to allocate a budget for tech support and proper employee training.
3.Arrange data migration

Not planning the data migration for the new ERP system will create some bottlenecks in the future. Be attentive that some information has become outdated, and there is no point in transferring it. It is an excellent opportunity to clean unnecessary data and have relevant data, which is helpful.
4.Communicate effectively

Healthcare business owners do not communicate through all stages of the implementation process. The team must converse with the software company to ensure everything is done per the business's initial requirements. A software development process is costly and time-consuming, so ensure everyone is aligned and no one gets distracted from the track.
Why Flutter Agency for Healthcare ERP Software Development Partner?

ERP solutions provide operational processes for healthcare businesses of any size. As it is highly flexible, ERP software is customized per the requirements and expanded when needed.
We suggest organizations use enterprise resource planning technology to reduce the time spent on daily operations, which increases revenue and enhances relationships with consumers and vendors.
We at Flutter agency provide the best modules and technologies for your healthcare business. Talk to our dedicated Flutter app developers to get an ERP solution from us!
Frequently Asked Questions (FAQs)
1. How to create a custom ERP solution for your medical organization?
An outsourcing partner is a cost-effective choice if you wish to design a custom solution for your institute. Amobile application development companyis a trustworthy and reputed partner with more than 10 years of experience developing different complexities in application development. Please look at some of the telemedicine app development we have delivered to our clients.
2. How much does it cost to create healthcare software development?
It isn't effortless to know the price of software development in the healthcare sector. It usually depends on the features and functionality you require in your app. If it is necessary to know about the precise figure, we recommend you to get in touch with our healthcare app developers who will assist you through the processes and give the estimation of your project.
3. Is developing the customized medical ERP system worth it?
Yeah! The investment in healthcare technologies is growing, and the importance of digitizing the industry is also increasing exponentially. Hence, allocating the budget for enterprise application development for the healthcare organization will help boost the efficiency of employees, minimize errors, maximize patient satisfaction rate, and deduct the paperwork so that your staff can give better care to all the patients.

---
--- ---
Related Articles