First Startup to reduce the wastage of water up to 70% during purification by RO: Aquvio.
Aquvio is a start-up which provides mineral rich water along with ensuring a high rate of recovery of potable water.
According to reports from various surveys, it was found that for every 1 litre water that is produced, 3 litre is wasted. With this amount of wastage of water, a huge change in the RO system had to be done. Read about the startup who reduced the water wastage by 70% during purification.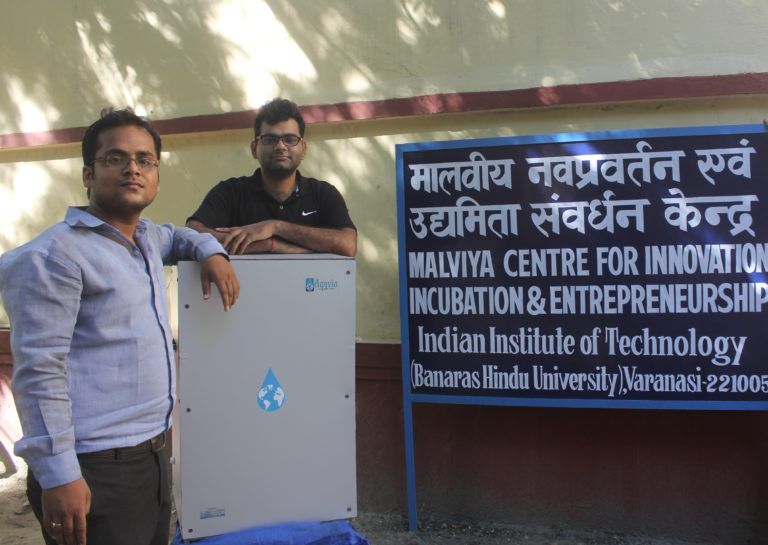 Aquvio is a start-up which provides mineral rich water along with ensuring a high rate of recovery of potable water. This start-up uses purifying technology of Reverse Osmosis(RO) to provide cost efficient solutions. It is Varanasi based startup, started by an IIT BHU Alumnus Naveen Kumar and Rohit Kumar Mittal in 2014. This startup is part of Malaviya Centre for Innovation, Incubation and Entrepreneurship(MCIIE TBI). This start-up aims at building cost and energy saving technology for minimizing the waste water generated during purification.
Aquvio:
Was awarded amongst TOP 50 Start-ups 2017 by AMRITA TBI at PITCH FEST and Industrial Innovation Awards 2016.

Was recognized by

#startupindia, Global Cleantech Innovation Programme(GCIP),India Innovation Growth Programme 2.0, United Nation Industrial Development Organisation (UNIDO), WWF. Other major recognition was by Kalam Centre For Innovation & Incubation of Start-ups, UK Government, MSME under ministry of Govt. of India.

been covered by Major Media Companies such as Times Of India, Zee News, Dainik Jagran, Amar Ujala, Hindustan Times, IIT BHU Chronicle, BHU Buzz and YourStory.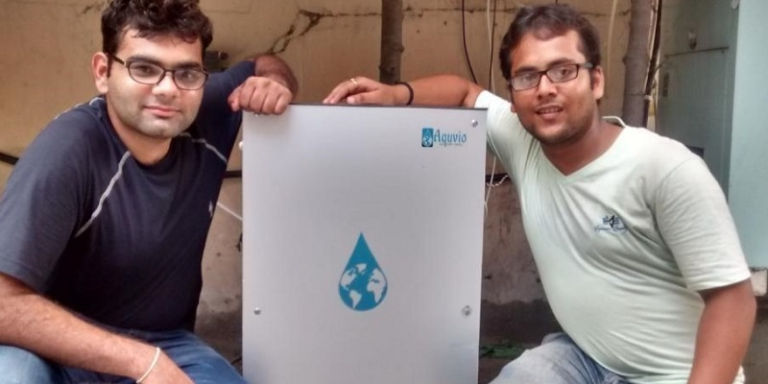 Naveen Kumar and Rohit Kumar Mittal, founders of Aquvio.
One of the founder, Naveen started the company, right after completing his graduation. He believed in bringing some change to the society, with the knowledge he had gained at IIT. Naveen did some research on the water purification system while his stay in Gurgaon.
Read Similar: This IIT Kanpur alumnus is using IOT for water resource management & fighting the water crisis in India
He came to a conclusion that water purification RO companies were wasting huge amount of water. The water was being depleted at a huge rate, due to these purification system. He decided to pursue the problem until he could reach to a constructive solution.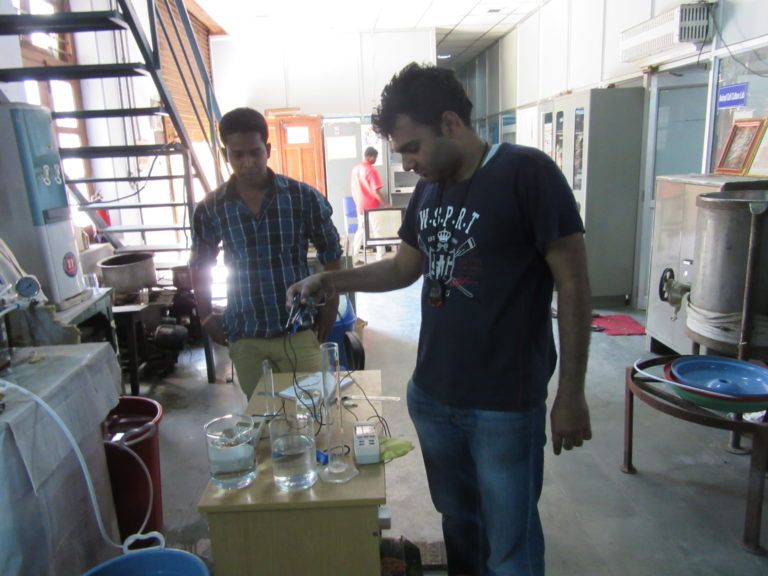 Naveen presented the idea to Dr. P.K Mishra Sir, coordinator at MCIIE. The idea was accepted and Rohit Kumar Mittal, the other co-founder joined him to take the product to the market. They worked for a period of 8 months on its technology. The enhancement was to be made in the recovery rate of water wasted in the purification.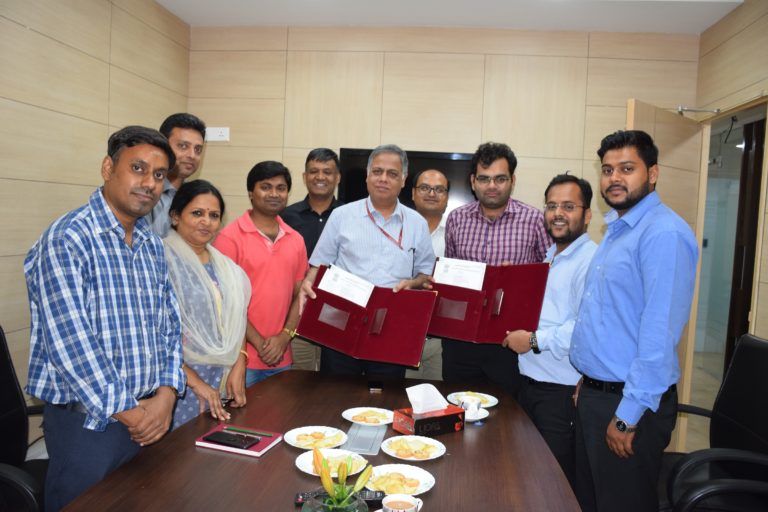 Naveen and Rohit were successful in raising the level of the recovered water from 30% to 70%. It was one of the major success, which led to starting the company, Aquvio. Currently, a team of 20 people are involved at the manufacturing of products at Aquvio.
Talking about the normal water purifier in household, every 3 litre of water is wasted on purification of 1 litre of water. For every person consuming 5 litre of water per day for drinking, 15 litre of water is wasted in the drain. Using Aquvio purifier, the wastage of water can be reduced to 50%.
Aquvio sold its first product in August 2015 in colleges and school at Varanasi. The purifier of Aquvio is of 100 litre per hour capacity, 1500 litre of water is saved per day. The saved water from one purifier accounts for 55 lakh litre per year.
Legally, the company name of brand Aquvio is 'iMinBit TechIndia Private Limited'. The name suggests 'I will do something from the minimum bit(the smallest character of data)'. This was how the company got its legal Entity, under which Aquvio is the brand name.
As far as Aquvio is concerned, it means 'Clean Water'.
Aquvio aims at providing the water purification system for all the types. Currently five types of purifier is offered under this technology. The products include 100 litre, 50 litre and 25 litre per hour capacity. Other product include Water cooler of 25 litre and 50 litre storage.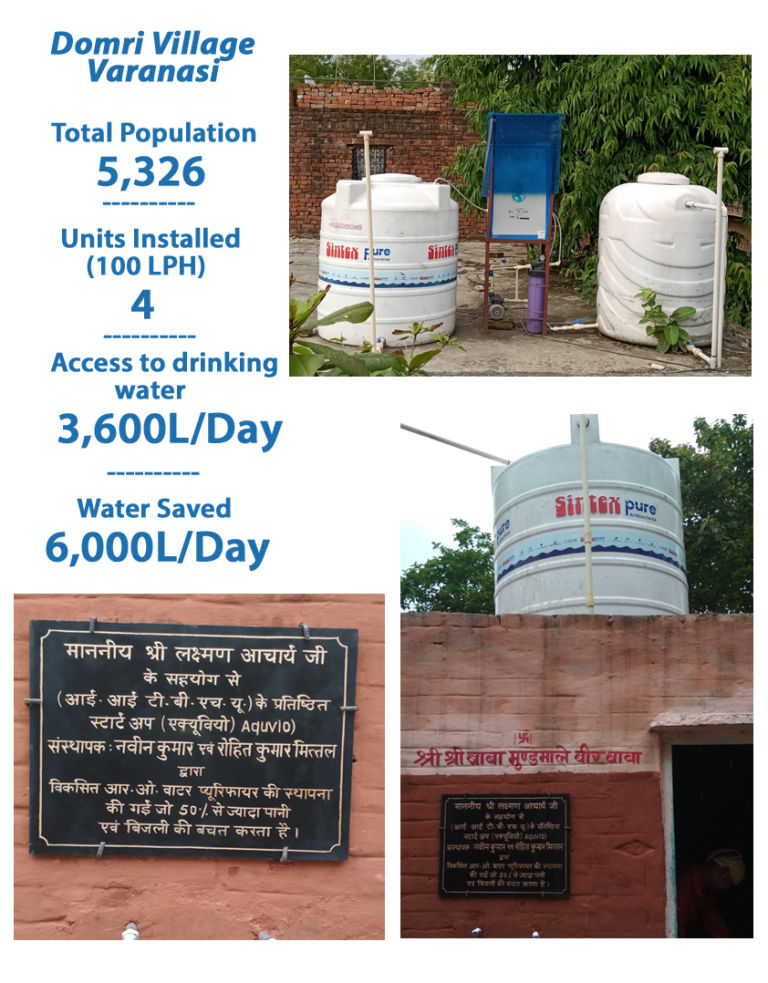 With 150+ installations across UP east and few in Delhi NCR and Haryana, the company aims at solving the problem at global level. As the founders believe, the problem of water wastage is not just limited to some geographical boundaries.
Aquvio started its product distribution from schools and educational institutes. Expanding the diameter, the start-up proceeding to hotel, restaurant and Corporate Offices. With continuous R&D, in next 2 year, the company is planning to launch its retail segment products for the household.
Aquvio stated with the basic funding from Friends and family of the founders. The technological support was provided by the 'Malviya Centre, the incubator of IIT BHU'. IIT BHU not only helped with the initial funding of 6.4 lakh for the company, but also helped it to bring the product to the market.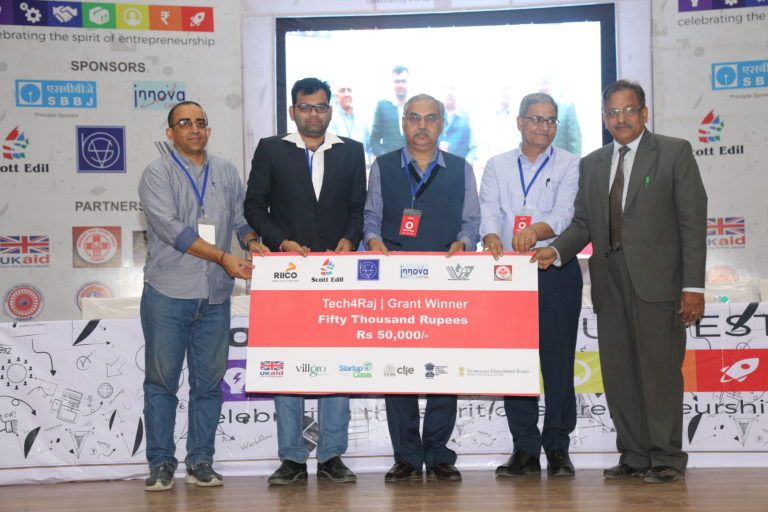 The Punjab National Bank has supported the startup a lot and sanctioned a Cash Credit Loan INR 55 lakhs under CGTSME for the working Capital in July 2016 which helped them to penetrate the UP east Market.Later in 2017, the founders got in contact with the Villgro's INVENT Program( a joint collaboration of the Technology Development Board (TDB), Government of India and the Department for International Development (DFID), Government of the United Kingdom) And SIDBI Innovation and Incubation Centre, run by IIT Kanpur. INVENT supported the startup by giving 50 lakh equity investment and 5 lakh for the technical assistance to expand in Delhi NCR with 'Go To Market' Mentorship."Aquvio is one of the prominent incubatee of INVENT, operating in low-income states of India. I am sure that they will give a minimum 5-7 times return in next 2-3 years to the current investors" says Mohammad Azhar, INVENT Program Leader, and Fund Manager.
Recently, Aquvio received 1.5 Cr from the Technology Development Board. It comes under the Department of Science and Technology, a body of Government of India along with 2 angel investors.
The founders belonged to complete engineering background and thus had no idea of the market. Like every start-up, the founders also had to deal with capital issues but thankfully the incubator provided all the support they needed.
Naveen told us that, "We did a mistake of handing over the product in advance, and did not take advance for it. It caused a major financial setback for us and was a huge lesson for it. After which, we decided to take 60% advance for anything we delivered."
ALL I CAN YOU IS FIND THE PROBLEMS IN THE SOCIETY AND START WORKING ON IT. IF YOU ALL FIGHT FOR THE JOBS THEN WHO WILL CREATE IT? EVERY ONE THESE DAYS ARE RUNNING BEHIND IT JOBS. THERE ARE SO MANY PROBLEMS OUT THERE, YOU JUST NEED AN EYE FOR IT.
---
Ideas are easy, Implementation is Hard, learn from the ones who knows how to start. A Publication by Tealfeed.
--- ---
Related Articles