Five Golden Rules of Marketing
Struggling with your marketing plan? Use these proven rules to structure your thinking and win approval from your bosses.
Photo by dorota dylka on Unsplash
1. Marketing is not about you and it never will be.
BRAND MANAGEMENT
Lester Wunderman, who founded Wunderman Advertising, told me this early in my career when he reviewed one of my press releases.
Like most well-intentioned PR people, I had made my company the subject of every sentence.
But as Lester advised, "If you make your buyer the subject of the sentence, they imagine themselves in your story, which makes them twice as likely to form a memory" (reminding me that memory is the crux of brand awareness).
If your brand falls into this trap, use a technique known as subject rotating to fix it:
"Fidelity manages the world's top mutual funds" becomes, "More people comfortably retire with Fidelity than any other investment manager."
"Coldwell Banker operates the nation's top real estate network" becomes, "Find your dream home … with Coldwell Banker."
"IBM is the world's number one eCommerce provider" becomes, "80 percent of our customers double their online revenues within one year of implementing our solution."
Once you've articulated the buyer outcome you can rotate back to you. Just try not to start with you.
2. What others say about you is more important than what you say about you.
MESSAGE MANAGEMENT
Use analysts, customers, professional associations, market research firms, journalists, celebrities, book authors … anyone but you, to reinforce your story.
You likely do this, but you're not doing it enough (I've seen your web site). Make sure you quote trusted sources, for example:
"5G phone models will account for 12% of global mobile phone shipments in 2020." -Gartner.
"We expect 20.8 million autonomous vehicles in operation in the U.S. by 2030." -US Department of Transportation.
"Research shows long checkout lines are the number one reason buyers don't return." -National Federation of Retailers.
"By 2027 the majority of workers in the U.S. will be contract workers." -Freelancers Union
If the last stat supports your marketing but you're concerned it's biased, keep looking. For example, the McKinsey Institute has some great research on the gig economy. And, you can always use multiple stats from multiple sources to show a trend. Try not to hook your wagon to one source.
3. Your highest performing sales people are free.
CUSTOMER ADVOCACY
You've seen the evidence: your best customers, also known as advocates, are hands down … your highest sales performers. I won't bore you with the mountains of data on this topic, rather share some of the most commonly quoted stats (from various Deloitte studies):
> A 12 percent increase in advocacy can drive a 2X increase in revenue growth.
> 92 percent of buyers trust recommendations from people they know.
> 82 percent of buyers seek peer referrals before making a purchase.
> Advocates are 2–3 times more effective than non-advocates when it comes to persuading others to make a purchase.
In a predigital world, our advocates shared their story with four or five people. Given the reach of today's social networks, buyers share their opinions with thousands, even millions of others.
And, buyers trust each other more than they trust marketers (something Edelman continues to illustrate with its Trust Barometer). When true advocates endorse you, they have no agenda other than to help people like them (and they don't cost you anything).
Advocacy marketing can backfire if advocates are mistreated, also supported by studies, which I won't get into here. Rather, I'll leave you with a few hard-hitting pieces of advice.
> Don't offend a buyer by requesting their advocacy too soon, i.e., after their first purchase or five seconds after they've bought.
This will vary by industry (e.g., professional services buyers are far more sensitive to this rule than buyers of fast-moving-consumer-goods), so use your smarts to figure out the right timing. Or, ask your own customers what they think.
> Segment your brand advocates since their level of enthusiasm indicates how far they are willing to go in their support (e.g., mavens versus champions ve evangelists), hence think about segmenting your advocates. Reserve the upper strata for your highest-impact marketing and sales activities (e.g., rewards).
> Follow the best practices of GE, Disney, and Microsoft by consolidating your existing advocacy programs under one executive or manager.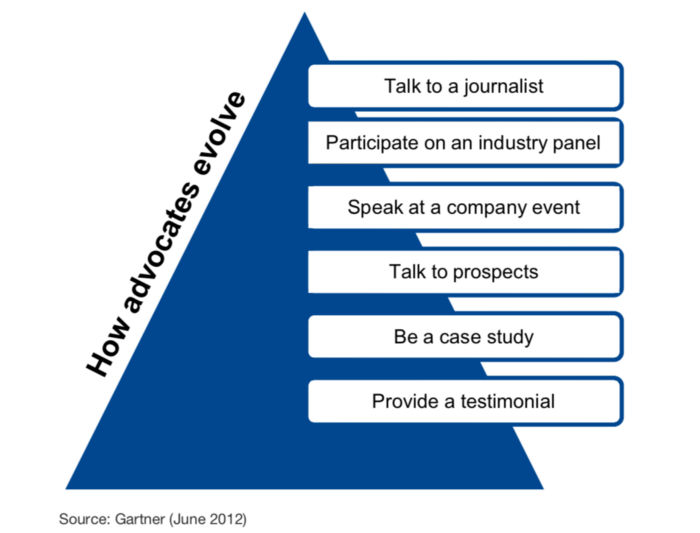 4. Do right by customers and you'll make your numbers every time.
SALES MANAGEMENT
This advice came from my first sales manager, who I might add, was hugely quantitative and a real stickler when it came to funnel management.
"Phil" tracked the stats to an excruciating level of detail to garner insight into how buyers journeyed — from tire-kicker to satisfied-customer to repeat-buyer to brand-advocate (knowledge which helped us make informed decisions about what actions to take during different stages of the sales cycle).
Sensing my anxiety after his one-hour tutorial on the science of buying he said, "Just do the right thing for customers and your numbers will be there."
This fascinated me. A quant guy who deeply subscribed to analytics and process kicked me out of his office with his parting gift, "Don't worry about the numbers."
I took his advice and exceeded my quota ever year and achieved the highest retention rates in the region. I still worried about my numbers (but I didn't obsess about them).
I remember telling one my prospects: "For you, our offering is overkill. Let me refer you to providers that can solve your problem more effectively for less money."
A year later, that prospect sent me a referral from the City of Los Angeles (which booked two million dollars over the next six months; the next year it booked five million).
5. Measure the right things.
SURVIVAL MANAGEMENT
Marketers that don't measure are the same ones that get fired when the going gets tough.
This golden rule is a function of organizational maturity (young companies might be more revenue and share-oriented than mature, profitability-minded organizations).
Keep it simple by naming 3 to 5 metrics — max. If this feels impossible, use subcategories to identify dependencies, for example, reaching your revenue goal might depend on an increase in time-to-market, acquiring new partners, or hiring more sales people.
You can measure a lot of things, but ideally — see if you can put your metrics into three buckets. As Socrates used to say, "Do a few things well."
Whatever your situation, where have you committed to make a difference? Those are your measures (likely the same things you committed to fixing in the interview that got you the job in the first place).
It's often revenue and/or margin, customer acquisition and of course, retention (never, ever overlook this one).
The most common mistake marketing executives make is not connecting the dots between metrics and business goals. While this sounds obvious, think about it.
Many marketers obsess about counting things (like email open rates or various web site analytics) without connecting the dots to the metrics their CEO cares about.
And believe me, nothing will get you kicked out of the board room faster than reporting on how many "things" you've counted.
That's not measurement. Real measurement connects the dots between what you do and how the organization is measured by its board of directors or investors.
In conclusion
By wrapping your head about the five golden rules of marketing you'll create a solid plan. Once you've articulated and quantified your commitments, tell management what you need from them to make it happen.
Senior executives understand dependencies more than anyone. Keep it simple (my favorite technique is to use the classic if , then, else model).
Another success factor: co-author your plan with sales, or at minimum, get the endorsement of sales before your present it to senior management.
If your organization subscribes to the chief revenue officer model this may likely be in place. But if not, make sure marketing and sales are joined at the hip.
---
I help organizations get their stories above the market noise.
--- ---
Related Articles