Five pillars of Cloud Sustainability and GreenOps solution design
Cloud GreenOps and Sustainability framework
---

Dr. Magesh Kasthuri
9 months ago
|
1 min read
---
Modern cloud operations move from DevOps to DevSecOps to CloudOps to AIOPs to NoOps and now getting managed with GreenOps. GreenOps andSustainability are often used interchangeably and the primary aim is to achievebetter carbon emission wastage (CO2 index) and improved waste tolerance.
Technically, GreenOps can be managed with Active implementation in infrastructure management and optimization and Passive implementation inapplication consolidation and re-architecting services (to make light-weightapplication design and improve cloud services usage).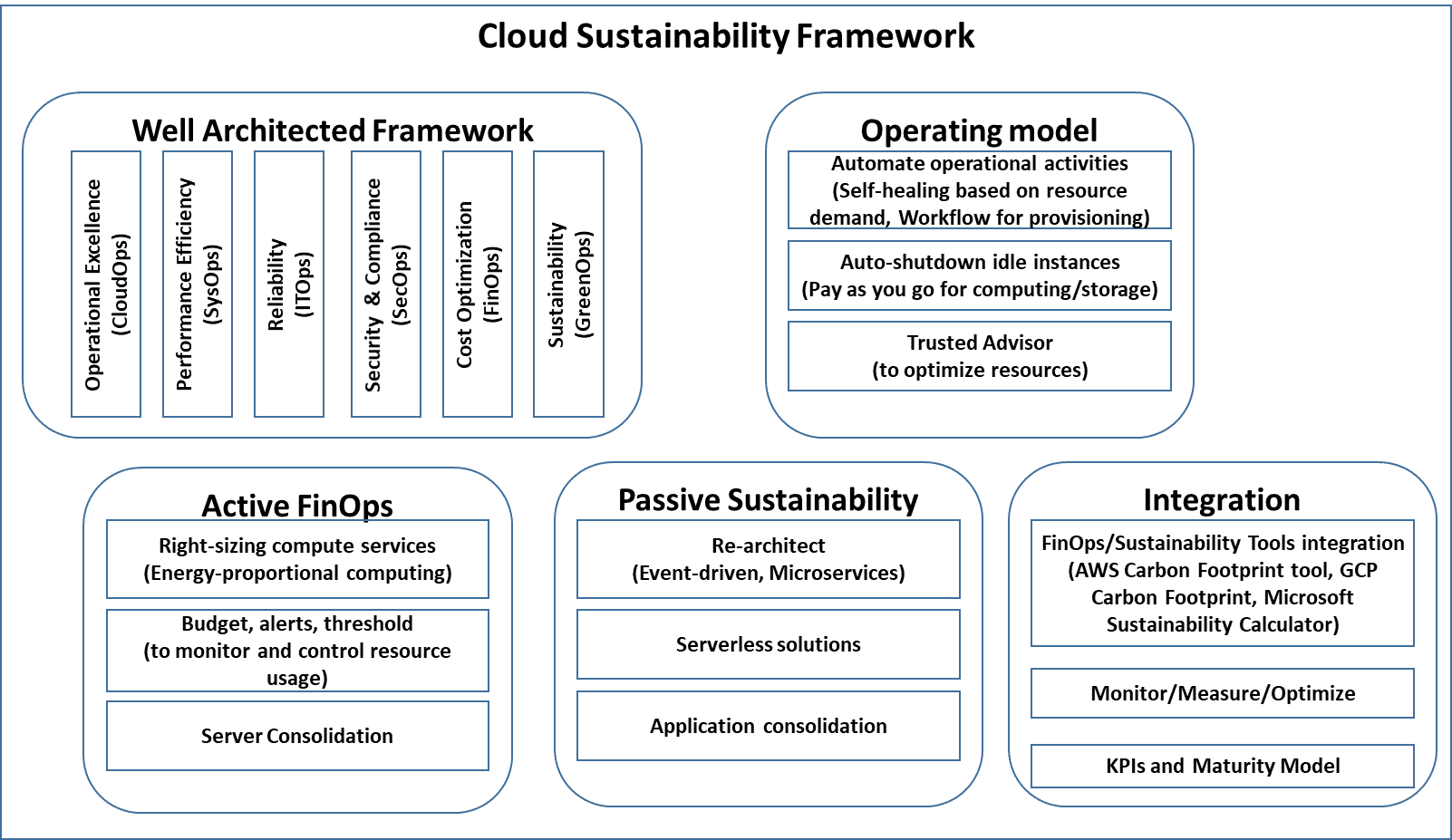 To design a Sustainability framework for an organization, we need to implement five pillars of components such as
Well-Architected Framework in AWS, Azure and GCP talks about Performance efficiency, Scalability, Security & Compliance, Reliability and Operational Excellence. Recently, AWS has introduced Sustainability as sixth pillar considering the importance of GreenOps.

Operating Model to introduce operational automation, manage and monitor cloud resources and control their usage patterns to save energy consumed by waste running resources.

Active FinOps to improve cloud resource usage and reduce overhead in usage patterns such as server consolidation and Right-sizing compute instances to save energy indirectly.

Passive Sustainability to introduce application level re-design and re-architecting to make them lightweight, self-healing capability and self-controlled resource usage patterns.

Integration services to integrate with various GreenOps and FinOps tool to automate various operational tasks, reduce manual operational activity, and measure the operational benefit through Business and Technical KPIs and metrics.
With this sustainability framework, we can have efficient capacityplanning (CapOps), Cost Management (FinOps), operational efficiency (CloudOps) and Energy management (GreenOps) for an organization and it directly helps society in reducing carbon footprint and indirectly help organization by controlling and optimizing billing and cost to cloud resources.
---

Created by
Dr. Magesh Kasthuri
Distinguished Member of Technical Staff
Dr. Magesh is a Ph.D in artificial intelligence and the genetic algorithm. He currently works as a distinguished member of the technical staff and Tech Partner in Wipro Ltd. He writes regular tech blogs in LinkedIn with hashtag (Shorticle means Short Article) where he covered AIML, Cloud, Blockchain, EA with more than 700 articles.
--- ---
Related Articles