Five Ways Infographics Improve Your Marketing and Increase Your Income
The overlooked, easy-to-use tool
Infographics Are Ages Old
Infographics aren't new. In fact, they've been around since prehistoric times when cavemen painted symbols on the walls so people could easily understand events like hunts and gatherings.
Over the years, putting concepts and figures into easy-to-understand visuals became a way to discover information. In the 1850s, Dr. John Snow was able to plot cholera outbreaks around a common water pump. President Abraham Lincoln used an infographic map that marked the hotbeds of slavery so he would know where to focus his forces. Florence Nightengale and her statistician friend, William Farr, put data on the mortality rates of soldiers into a visual map.
They called it a polar area map, but later it was coined the rose diagram because it looked like a flower. By studying the visual data, they determined that more soldiers died from unsanitary conditions than from battle wounds.
Why Infographics Work
People love visual data. Our eyes perceive images 60,000 times faster than words. Ninety percent of the information our brain processes every day is visual. No wonder that the visual power of infographics makes sense in helping readers understand the content of an article.
Every content writer should be able to create infographics. Knowing how to design visuals will help improve marketing and increase income.
It's never been easier to create infographics than it is now. Dozens of programs exist. I use Venngage because a company I worked for used it, and I like how the templates are organized and searchable. Canva, Pictochart, Visme, and Adobe Spark are others.
In the world of content writing, everyone can put words together, but not everyone can do simple infographics to improve the power of their presentations.
Infographics Improve Marketing
1. Better conversion rates
Doesn't everyone want more traffic to their website? One way to drive traffic is to post infographics, which have been proven to increase traffic to your website by 12%.
Did you know that color visuals can improve both attention span and information recall by as much as 82%? It's a proven fact that if a page has both text and images, a consumer will spend more time on that page than if it just has text. You get better conversion rates when people spend more time on your page. In a world where attention is a commodity that we're trying to grab, wouldn't it be worth some extra effort to increase it by 82%?
2. Branding
Infographics promote branding with eye-popping, attention-grabbing, easy to scan, understand, and remember visuals. Your company's mission, logo, tagline, and colors are imprinted on your customer's awareness. Not only do infographics make your brand memorable, but they also appeal to a bigger audience than pages with text alone would. Let's face it. People don't want to spend time reading the written word when they can absorb the message at a glance from an infographic.
Another way infographics help spread your brand is that they are shared on social media more than any other kind of content, reaching more people faster than wordy posts do.
Infographics Increase Income
3. Make yourself multi-talented and out of the ordinary
Everybody thinks they can write, and there are millions of writers out there. But there are far fewer who can write and also produce colorful, interesting infographics to accompany their text.
Did you know that more than 50% of marketers said that original infographics perform better in boosting engagement than other types of content? In fact, 30% of marketers suggested that they use infographics more often than other types of visual content.
Think about it. If 30% of successful marketers rely on original graphics, that means 70% aren't. Your ability to create stunning infographics puts you in the top tier of marketers with the talent for doing something above and beyond the ordinary.
The ability to create infographics not only improves your marketing, but it increases your income because you can do what others cannot.
Several times, I've been able to sell a brochure to a customer because they didn't have the graphic ability to make it look good. I've created all kinds of infographics — maps, charts, and tables — for self-published authors that they couldn't create themselves. Twice, I've pitched articles to publications, and because I could create compelling infographics to go with the articles, I got the gig.
I spend twenty bucks a month on my Venngage subscription. I've made ten times that amount back, and I have the ability to bundle services and increase my income. A customer might love the idea of getting an infographic for a bundled price that they may not order by itself.
4. Make your ideas easier to pitch
Yes. You could talk incessantly about why your prospective client needs to invest in an email newsletter. But how much would your customers remember? How irritated would they be if you took up the time they need to be running their business?
It's much easier to pitch and sell when you give a brief spiel and then hand them an enticing infographic. The facts are laid out, and they can ask questions, getting into what truly matters to them.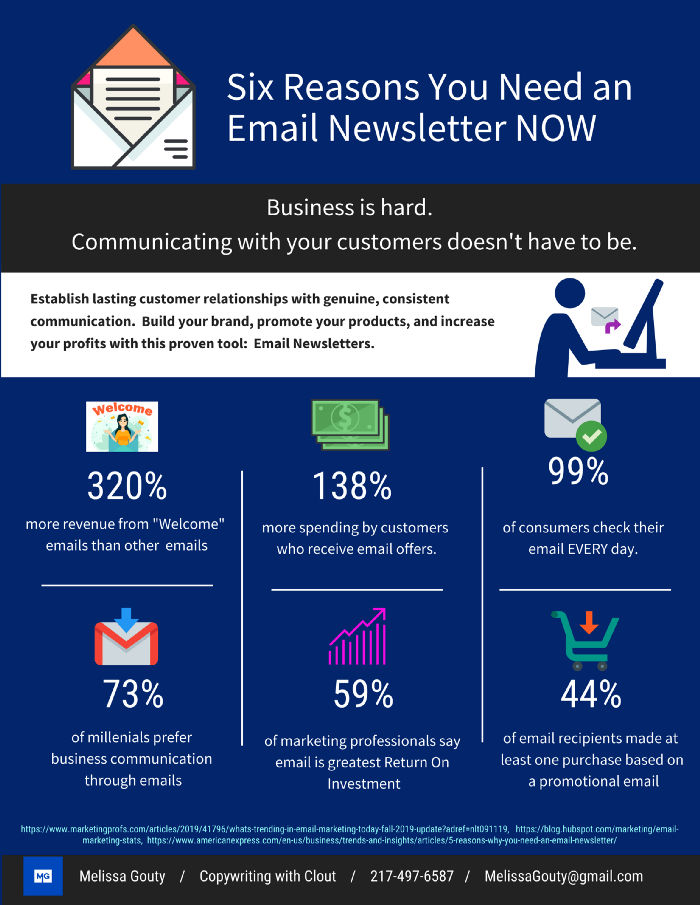 Example of marketing infographic: Melissa Gouty via Venngage
If you want your customers to feel like you'll help them, try giving them an infographic of ideas for their own marketing efforts. You'll be surprised how often that makes clients decide to seek out your services.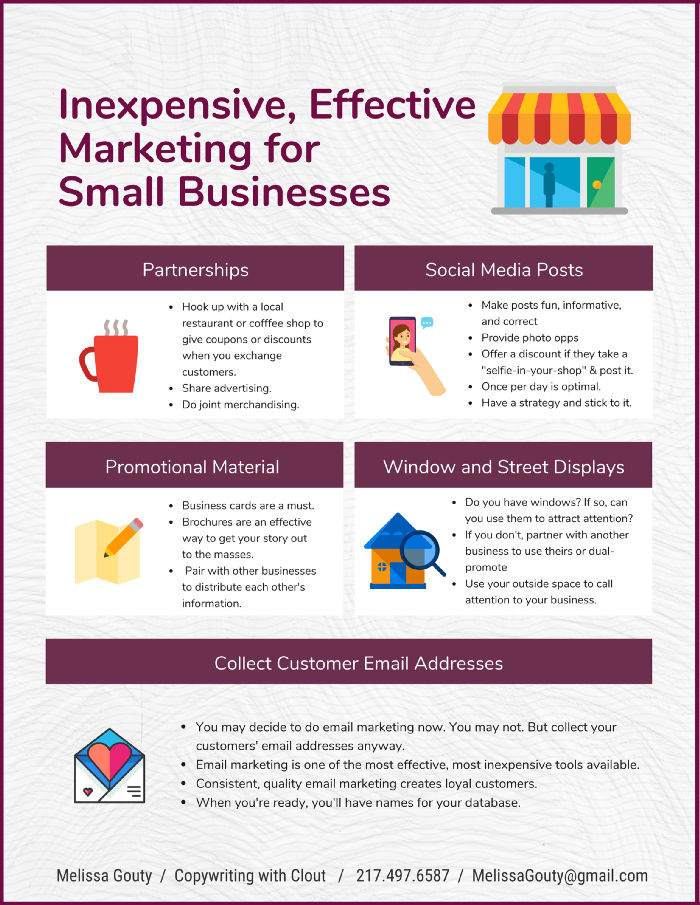 Helpful Ideas for Small Business Marketing. Infographics by Melissa Gouty via Venngage
5. Make your content stretch further
Every content writer needs to produce more work. Infographics allow you to do that. You can take old content and redo it into an infographic. Upcycle a post by recreating it in visual form, and then post it on your website. Some publications may be interested in an infographic as a filler instead of a full-length feature.
Infographics can be sold and shared. They have the potential to make money on their own.
It doesn't matter whether you need to drive traffic to your website, brand yourself, boost your value, improve your pitches, or increase your content. Infographics can do it.
Learning infographics is worth your time and your money. A picture, after all, is worth a thousand words and a lot more money than a paragraph.
---
Award-winning teacher, entrepreneur, and writer. Marketing manager in the HVAC and Plumbing industries. Author of The Magic of Ordinary, a memoir of a "Daddy," his daughters, and the power of one good man to change the world.
--- ---
Related Articles