Five Ways Leaders Must Communicate and Focus Their Teams During Covid-19
Here's a short list of recommendations for any leader on how to do this well
What if someone has tested positive for Covid-19 on an office floor 25-floors above yours? Or in the building next door. Do you want to know?
That's the question of the week in skyscrapers that house Fortune 100 companies. There, knowledge is essential to navigate the pandemic and secure personal safety, of course.
But what can leaders of companies "know" when critical facts are still evolving? And in that environment, what should leaders communicate?
Recently national health experts estimated that survival rates from COVID-19 were better than they had first assumed (the good news), but also that the virus was far more contagious than previously understood (the bad news), and mutating more rapidly than expected, which might affect vaccine development and effectiveness (the unknown).
And there's an excellent chance that we'll know something different in all of these areas in two or three months' time as the fight against this pandemic progresses.
Another area of concern around communication comes from a different time. Research conducted after the Boston Marathon bombings that showed people experienced more acute stress from repeated media exposure about the bombings than those who witnessed it in person.
And there was a similarly high level of stress surrounding 9-11 well outside of New York. There may be such a thing as too much traumatic information for our mental health, so there is an argument for trying not to scare those who are not subject to danger.
Last week, it was reported that some JPMorgan Chase traders were upset that they only learned about a COVID-19 case in their building from press reports.
When the financial giant discovered that an employee on the fifth floor of its Manhattan headquarters had caught COVID-19, it quickly told those who had contact with the worker to quarantine for two weeks.
The bank's policy adheres to CDC guidelines, so it informs those who have been on the floor or who may have had contact with a person who contracted the disease.
Goldman Sachs has a similar policy, in that it only discloses coronavirus cases to workers who had meetings with or who worked on the same floor as somebody who has fallen ill. And many other large companies do likewise.
Some ask, "Is that enough?" and there are as many answers as there are people that you ask. So for leaders, when compliance is a moving target, the better question might be, "How do we develop and communicate our policies, and adjust these policies when the situation demands, so that we are authentically caring for everyone in our organization?"
This is one of the most critical and timely challenges for leaders as workers are called back to the office. Critical information must be shared according to health guidelines.
Balance must be found between protecting employees and needlessly alarming them, between piercing their individual privacy and oversharing information that is not actionable. And somewhere in all this, leaders need to protect their staff's ability to focus on work for the rest of the day ... or week ... or month.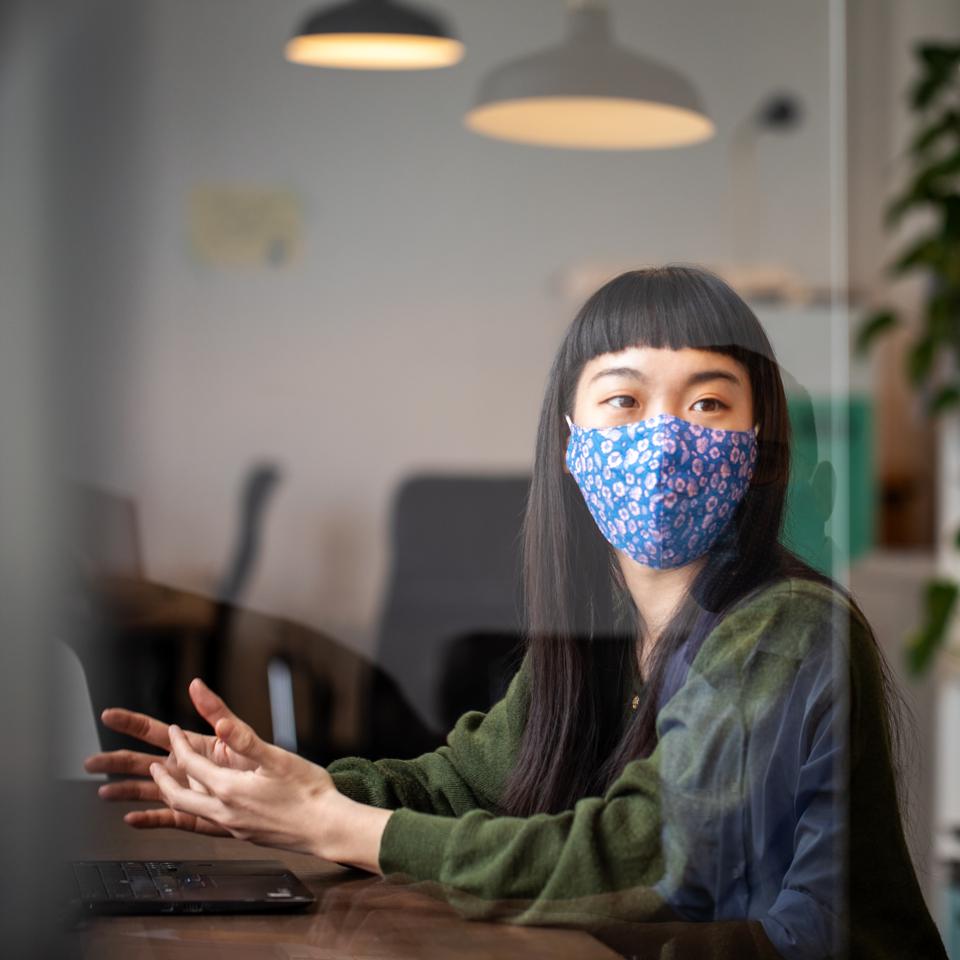 Leaders must recognize that regardless of facts, many people are afraid, and this reality should be ... [+]
GETTY
Confusing health and social distancing advice (wear a mask, don't wear a mask; deaths are high, deaths are low), human curiosity ("it's none of my business, but I'd like to know anyway"),
the right to truth and transparency ("I must protect myself"), human fear or anger ("Whatever happens here, I take home to my family"), HIPAA violations, the costs of not returning to work for the company and the employees … the leader must weigh it all.
So, as someone who studies how leaders focus attention and how they communicate to direct the attention of their teams, I wondered:
Where should leaders put their focus, and that of their teams, today?
How should leaders communicate responsibly as their employees migrate back to office life?
Here's a short list of recommendations for any leader on how to do this well:
1) Craft a policy based on facts AND human nature. Recognize that the first is more likely to change than the second. The CDC's recent report delivers some good news: if you have the virus between the ages of 0 to 70, you have a 99% survival rate. And if you're over 70, the survival rate is nearly 95%. Both of these facts are better than previously thought. And many companies, including those mentioned here, are taking extraordinary measures to keep those numbers positive and protect their employees through well-intended policies based on the best current information. As that information changes, those policies and tactics should adapt and change as well to suit the new information.
But people are scared, and that's part of being human. It has kept us alive for centuries. Fear focuses our attention; we are wired to zoom in on a potential threat, and once we do, little else receives our attention. Consider this when crafting a policy and sharing health information. By basing a policy on "just the facts" and hitting send, you risk ignoring real employee concerns, tanking morale, and eroding trust. Conversely, too much attention on minute details beyond anyone's ability to control can increase stress, erode productivity, and create a negative mental downward spiral for your team. So go for balance.
2) Once created, describe what your policy is, clearly and unambiguously. Give the source(s) of that policy, especially the medical advisors who helped create it. It is essential to broadcast the policy and the effort behind it in a human-centered communication that addresses real concerns and is written by real people. This is the wrong moment in history for a faceless bureaucratic document written in a way that suggests it exists to provide legal coverage. It should express care and empathy for those it seeks to protect.
Whatever may happen next, if your policy falls short or hasn't anticipated a new situation, acknowledge the frustration of people who are discouraged or upset.
Make a point of describing the constructive things your organization has done as soon as you are faced with a new problem or challenge, and show that you are already adapting if that is appropriate.
Provide support to anyone who has been affected directly, and for all others, share the context (but not excuses) for what you are doing so that your employees stay familiar with the organizations actions and plans.
That way, when something else happens and your organization reacts to it, it will makes sense to employees who see the organization as behaving fairly, proactively, and supportively.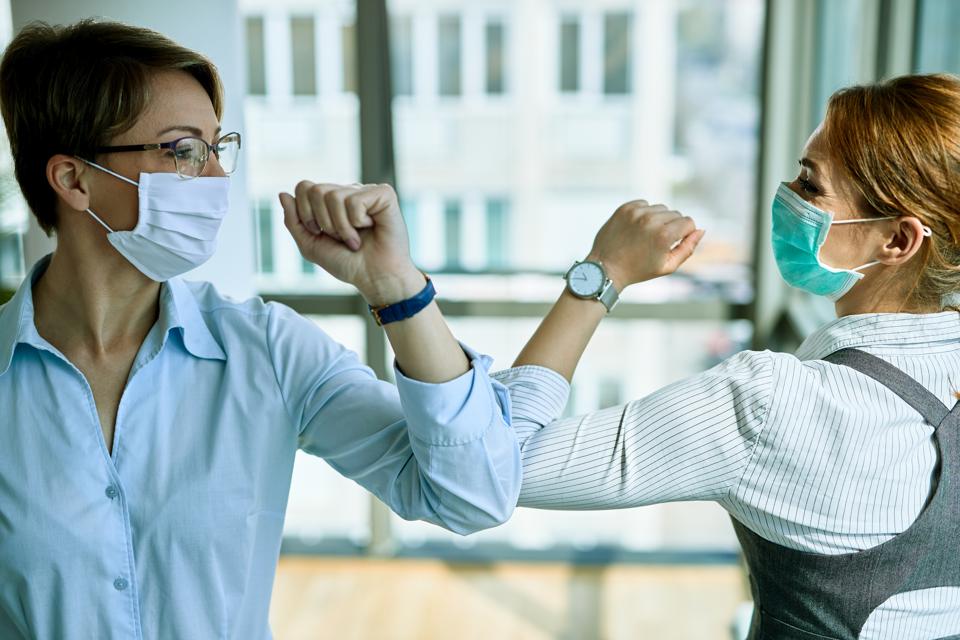 Leaders: These are the days for "look-me-in-the-eye" conversations.
GETTY
3) Decentralize communication and move to in-person communication where possible. Yes, your policy comes from the top. But in addition to the leader making his or her voice clearly heard directly to the whole organization,
leaders must also empower team leaders at all levels to go over the policy in-person (or as close to in-person as possible) with smaller teams. Arm these leaders with Q&As to help them listen to concerns and respond to questions authentically.
Upskill your managers so they know how to stay personally involved and connected with dispersed teams. Employees trust their organizations more when they feel strongly connected to the manager above them. (Increasingly, I'm using Loom to create the experience of more face time with my team and others.)
In the best companies, these efforts are buttressed by leaders who are making calls and joining video meetings two, three, and four levels down every single day. It's partly about talking and mostly about listening so that the organization can get ahead of any brewing concerns.
4) Make it a conversation, not a marketing announcement. Empowering and training managers is only part of the communications challenge. In a world where your staff can connect directly to Taylor Swift, they also need to feel they can see and hear from those making such important decisions in their own company.
Senior leaders can look to downline management to form the glue of the organization, but not to answer for the decisions C-level leaders have made. These are look-me-in-the-eye moments, and leaders must not shy away from them.
Clarity of message and authentic empathy for the confusing and complex situation will go a long way. But leaders, it is your face, your smile, your voice that are the real currency here.
Be as transparent as you can. If you have relied on the counsel of others, then bring those medical advisors and experts together with the CEO and other figureheads to share an open dialogue about what's going on.
A virtual town hall can show your employees the people behind the decisions and let employees get a first-hand read on their expertise, credibility, and intentions.
That personal knowledge can go a long way toward reducing tensions and bolstering trust.
5) Do the right thing. I'll be the first to admit this isn't the most precise advice, but it's the most honest and by far the most significant. As we pass through each new re-opening phase, leaders must daily ask themselves, "What is the right thing to do today?" Until the pandemic is gone, as leaders, whether it's fair or not, we are responsible for our teams' safety and the public health that surrounds them.
We also have to manage the survival of our organizations, the livelihoods of our employees, the individual privacy to which we're all entitled, and the integrity of our company's name on the door.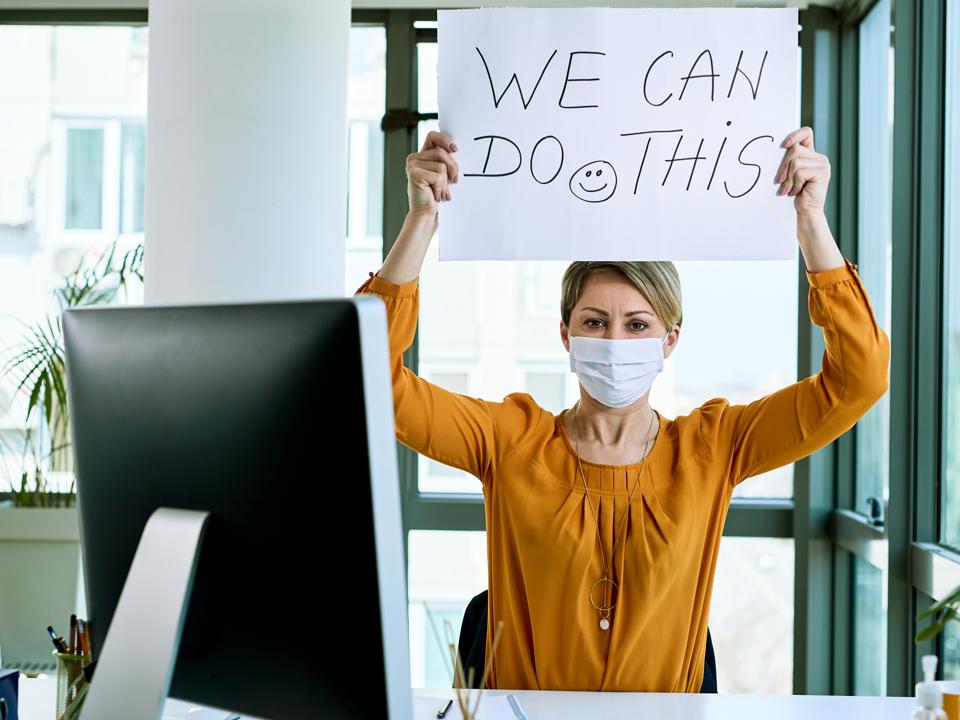 Do the right thing.
GETTY
It's a lot to have to get right every day. But figuring out the right thing, communicating it well, and living by it, may be the one thing that matters most to the survival of our companies.
One last thing: As a leader, if you've learned anything that will benefit others, or tried anything that works well, please share it now. We are all, by definition, in this together. Please use the comments to add your thoughts.
---
Created by
Curt Steinhorst
Curt Steinhorst is a focus expert, the author of the bestselling book, Can I Have Your Attention?, a global speaker, a regular Forbes contributor on leadership strategy, and founder of Focuswise, a consultancy that helps organizations develop focused and productive cultures.
--- ---
Related Articles