Food In Ladakh For Every Taste And Mood: A Complete Food Guide
From traditional Ladakh food to fusion cuisine, you'll surely find something that suits your taste buds and mood. We'll explore the various dishes in this beautiful region, from traditional dishes to modern offerings.
---
Chetan Bali
4 months ago
|
4 min read
---
Welcome to the ultimate food guide to Ladakh, India. This guide will take you through the amazing culinary delights that Ladakh has to offer. From traditional Ladakh food to fusion cuisine, you'll surely find something that suits your taste buds and mood. We'll explore the various dishes in this beautiful region, from traditional dishes to modern offerings. We'll also provide tips on finding the best places to eat in Ladakh so that you can make the most of your visit. So, let's get started!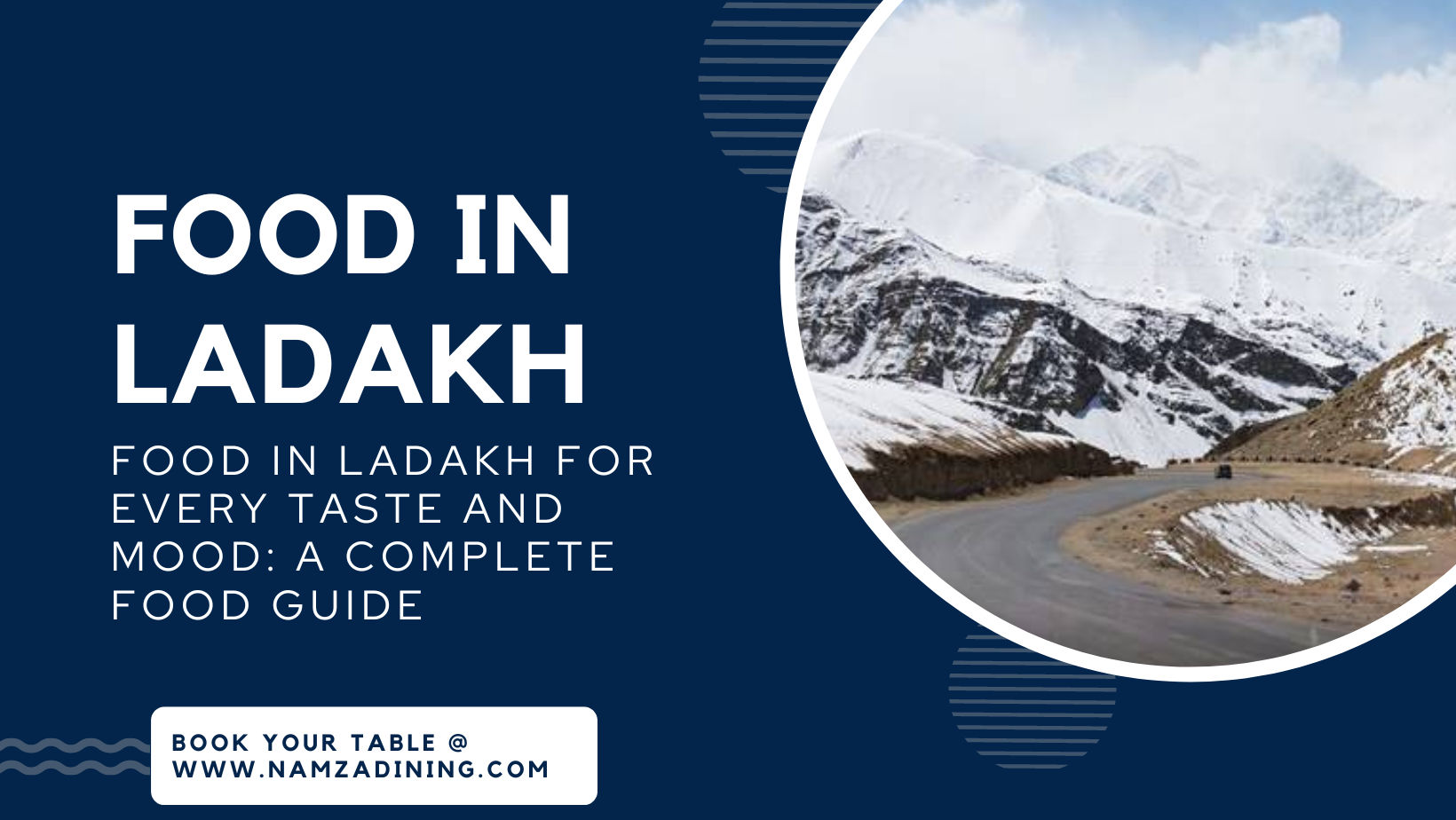 Tsampo - The Tasty Treat Of Roasted Barley Flour
Tsampa is a type of flour that gets made with the help of roasted barley.
It is a different type of Tibet food among all the foods. The main thing to know is that grain is so closely associated with Tibet culture that they are called tsampa eaters.
The most preferred way of eating tsampa is using the hand with the help of butter tea, parched cheese, and little sugar.
Thukpa - The Famous Ladakhi Soup Made of Noodles
The main meaning of Thukpa is that it is a type of soup that gets made with the help of mutton, noodles, and a little spice. Having a bowl full of thukpa helps keep the body warm during winter. Thukpa, as a dish, is mostly found in Tibet and Bhutan. However, it is also found in Ladakh and is an important part of the Ladakh food culture.
Thukpa has high nutritional value as it has vegetables and mutton. Therefore, it is usually preferred less spicy taste and is enjoyed by everyone, along with friends and relatives.
Thenthuk - A Hearty Soup to Warm Your Bones on a Cold Winter Day
Every main dish is incomplete without the use of noodles, and they are a crucial part of Ladakh food. For example, Thenthuk is a dish with noodles prepared by hand with several vegetables and Mutton broth. Thenthuk is a dish associated with Tibet, but like many places like it, it has kept traveling to many places and become an integral part of many regions in north India.
The dish is mostly preferred to eat during the winter season to keep the body warm. It is said that every house has its unique way of making Thenthuk.
Paba - The Perfect Lunch in Ladakh
Paba is a Ladakhi delicacy served in Ladakh during the summer months. It is a hearty, filling, and flavorful dish that is perfect for a lunchtime meal. It is made with dried fruits, nuts, butter, and spices. The combination of flavors makes it a unique and delicious dish. The apricots and walnuts provide the bulk of the flavor, while the spices add a layer of complexity.
The ghee binds the ingredients together and gives the dish its richness. Paba is usually served with roti (flatbread) or chapati (chapati). The dried fruits and nuts are first roasted in ghee to make Paba over low heat. Then, a few spices are added, the mixture is cooked until the ingredients are fully incorporated, and the ghee is melted. Paba is a great dish to enjoy during the summer months in Ladakh. It is hearty and flavorful.
The Paba is a Ladakh food that gets eaten with buttermilk and a combination of fresh coriander.
Momo - Savor the Delicious Dumplings of Ladakh
Everyone has heard about momos, and is the instant food to indulge in and enjoy. They are available in vegetarian and non-vegetarian. In vegetarianism, a mixture of vegetables and non-vegetarian mutton is stuffed inside the dumplings. So if you want to try authentic momos, Ladakh is the place to try them. The momos can either get steamed or fried as per preference. There are color variations that are available in Ladakh for one to try. So you can keep looking for various momos in Ladakh food and improve your experience of having momos.
Skyu - A Hearty and Healthy Soup For All Times of Day
It is another Ladakh food offering a unique specialty. It is a type of dough that is made with wheat and kneaded into flattened balls. The process Skyu is cooked with water and by adding mutton and vegetables. The Main part is that the dish is the favorite of villagers in Ladakh, and till today, the recipe has not changed for a longer duration. The dish is cherished during the winter season as it has a good number of calories in it. It is helpful for those who are into trekking once the temperature is below the freezing point.
Khati Gogji - The Famous Ladakhi Cuisine With Unique Flavour Combinations
Khati Gogji/Gogji Roti is an incredibly popular Ladakhi cuisine made from wheat flour, barley flour, and water. It is a flatbread cooked on a hot skillet and is usually served with various accompaniments like curd, pickles, vegetables, and even meat. The roti is usually round and has a thin and crispy texture. The unique flavor combination of Gogji Roti is what makes it so popular.
It has a slight sweetness and a subtle nutty flavor from the barley flour, while the wheat flour gives it a light and airy texture. The roti is usually served with various accompaniments that can get adjusted to suit individual tastes. Gogji Roti is a great addition to any meal and is sure to please everyone at the table. It is a versatile dish served as an appetizer, snack, or main course. With its unique flavor combination and simple preparation, it is sure to become a household favorite in Ladakh.
Conclusion
All in all, Ladakh is a food lover's paradise. Here you will find a diverse range of foods that embrace Ladakh's true spirit and flavors. Whether you are looking for authentic Indian food or are eager to try something new, this region offers something to everyone. So take advantage of the wonder of Ladakh and check out this mouthwatering Ladakh food while you're visiting!
---
--- ---
Related Articles