Freelance Writer Invoices: Why They're Essential and How to Create Them
As a freelancer, you need to find the easiest and most time-efficient way to be paid. This practical guide will show you how to bill for client work.
Invoicing is essential for getting paid as a freelancer.
When I started freelance writing, I didn't know that. I didn't have any systems in place — that includes invoicing. So, when a client first asked me to send over my invoice, I panicked.
What's an invoice? What do I put on it? How do I send it?
I went through that so you don't have to. :)
What Is An Invoice?
An invoice is a written document that outlines the services rendered and the amount due in return for those services. For freelance writers, the invoice itemizes the deliverables (e.g., 4x blog posts) and the amount due.
Why Invoicing Is Important for Freelance Writers
Invoices help freelancers get paid.
An invoice itemizes the services provided and attaches a value to each service or deliverable. The amount posted at the bottom is the payment owed to you by the client. Both you and the client can see at a glance the terms agreed in your scope of work or contract.
How To Issue an Invoice As a Freelance Writer
Follow the steps below to learn how to write an invoice for freelance work:
Choose an invoice template
Fill out the invoice information
Send the invoice
Follow up
Step 1: Choose an invoice template.
Following a freelancer invoice template simplifies the process of generating and sending an invoice. Also, many software come with brand invoices that position your freelance writing services as a professional business.
While many rave about invoicing software like QuickBooks, FreshBooks and Bonsai, these companies charge monthly fees on top of payment processing fees. If you're on a budget, here are some free invoicing software for freelance writer worth considering:
Here is a freelancer invoice example during the creation process in PayPal: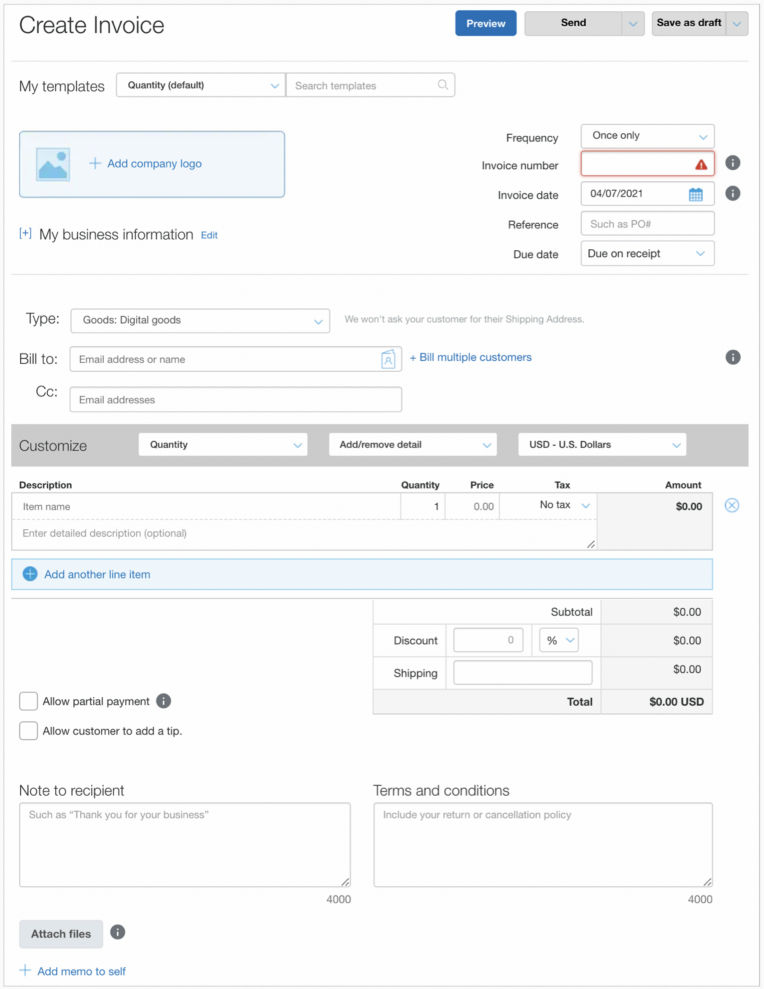 Step 2: Fill out the invoice.
Most invoices contain the following information:
Invoice date: The date you send the invoice to your client (not to be confused with the date the invoice is created).
Due date: Final day the client can issue payment.
Invoice number: This is a reference number you generate usually for payment tracking purposes. Each business uses their own system. My invoice numbers typically involve a letter, year and day. For example, creating an invoice number for Company X for services provided in March 2021 would look like: C-21–03.
Your name and contact information: Many digital businesses forego a physical address and just include their email address and phone number (this is what I do). If you plan to collect payment by check, include a physical or P.O. Box address.
Your client's name and contact information: Include their email address, business address and phone number.
Description of services rendered: Dedicate one line to each deliverable you provided. If I submitted four blog posts, I would write each one on a separate line with their respective headlines. Include the price for each deliverable.
The total amount being invoiced: Typically at the bottom, this number calculates the total amount the client owes you.
Invoicing software, such as PayPal, have fill-in boxes that make it easy to enter all the necessary software for your invoices.
Step 3: Send the invoice.
If you're using invoicing software, follow the steps for emailing the invoice. Typically, that would involve entering the client's email address and formatting the email body. Here's a real example of what an email through Invoicely looks like:
If you're using a template downloaded from Google Docs or Microsoft Word, save your invoice as a PDF. Then attach it to the email and send it to your client.
Step 4: Follow up.
I allow 10 calendar days for a client to pay my invoice. If an invoice is unpaid after 7 days, I send a friendly reminder — Gmail has a useful "Snooze" feature that helps you stay on top of follow-ups. Most clients (mine, at least) pay on time.
What happens when an invoice is past due?
Don't panic. Send the client a follow-up email notifying them that payment is late. Include a link to your invoice or re-attach it if it's a PDF. Instruct your client to issue payment by the end of the day or a late fee will apply, as stated in your contract (if you don't mention late fees in your contract, you should).
Generally, most clients will comply and admit forgetting to pay you was an honest mistake (I'd like to think so, at least).
Understanding Credit Card Processing Fees
Whenever you collect payment online, a card processing company will charge a processing fee to facilitate the transaction. The industry standard is typically around 2.9% + 30 cents (USD). So, if you sent an invoice for $100, you'd pay $3.20 in processing fees.
Here's an example from a recently paid (PayPal) invoice:
(The mathematics, if you're interested:)
Total: $875
$875 x 0.029 = $25.38
$25.38 + $0.30 = $25.68
875 - $25.68 = $842.32
Net: 849.32
It may suck paying a percentage of your revenue to the card processing company when you already have to set aside 20% to 30% for Uncle Sam. You want to keep more of what you earn after completing freelance writing jobs, after all.
But accepting online payments has its perks:
Make it convenient for clients: Online payments make it quick, easy and convenient for clients to pay you.
Get paid faster: Sending a check or setting up direct deposit creates friction that can cause clients to hold on issuing payment to the last minute.
Freelance writing has its pros and cons — processing fees are one of the tradeoffs. Yes, you lose in fees but gain in convenience and faster payments.
Freelance Writer Invoice FAQs
How do freelance writers write invoices?
Freelance writers will need to include key information on the invoice, including an itemized list of services provided, due date, and the total amount owed. Downloading a Microsoft Word or Google Doc template or using software, like PayPal, can streamline the process.
How much does it cost to send an invoice?
Card processing fees are typically 2.9% + $0.30 per invoice. Some invoice software services may also charge monthly fees (e.g., $15 monthly plus 2.9% + $0.30 per transaction).
Can I invoice as an individual?
Yes, an individual can send a freelance invoice. Many freelance writers don't formally register as an LLC or corporation and send invoices while operating as a sole proprietorship.
---
Dan is a freelance writer specializing in small business and personal finance. He works with FinTech and B2B companies and has written extensively about small business, from startup guides to payment processor reviews. Hire him to write for YOU at danmarticio.com.
--- ---
Related Articles