Freelancing from head to toe!
Here are some insights to freelancing as a profession.
Is freelancing the best way to make money?
According to Eker's paradigm, a person is paid proportionally to the value the person is bringing to the market. Hence, the core paradigm of freelancing disqualifies it from being the "best" way to make money online.
That said,
Unlike any other type of online or offline business, freelancing requires extremely low to none overhead to start making money by delivering your service to one giant market that just keeps expanding.
Among everything that's been marketed as the "best" way to make money online, freelancing is arguably the only one that really does guarantee income since it's not based on any type of gamble but on real work.
At the same time, no matter how "free" we all are, we still have a limit to what we can physically deliver and charge for inside a single day, week or month. That's the second factor that disqualifies freelancing from being the best way to make money online.
For a business model to be considered as the "best" way to make money online, it has to deliver its solution directly to the end market. Freelancing, by definition, delivers solutions to a Tier-1 client without ever reaching the end market. It's playing safe; ergo, the "safest" way.
It's that Tier-1 client that uses the best way to make money online because he or she is selling the solution to the end market.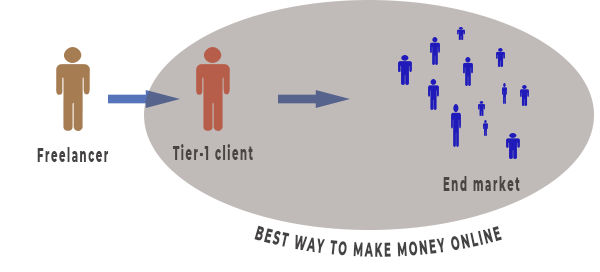 Tips for struggling freelancers:
Learn. If you are struggling (to secure the regular influx of contracts and thus, the revenues); you are most likely doing two things wrong:
You're not pitching your services successfully
You're pitching for the projects that aren't fit for your core skills
That said, as the rule of thumb, the number two is frequently causing the number one. It's the common scenario where a freelancer is trying to land a contract for which he or she can't show clear proof of expertise.
If, however, you are a hundred percent confident that you are, in fact, "reigning supreme" in that particular area; then your cover letters are not optimized. In other words, you are not instilling confidence at the client that you are the best possible match for the project.
To fix both issues with a single take…
Before pitching your service(s), make sure that you have a portfolio sample closely similar to the project of your imminent interest.
Once you have it, build your cover letter around it. In other words, focus your entire pitch on a solution to a problem in a broader sense and attach the sample as the proof.
On the other hand, if you don't have anything similar; you are most likely pitching for something you've never done before. In that case, imagine how would you do it and focus your cover letter around the imagined solution. If possible, create an ad hoc bogus project (at least partially) and attach it.
Without clear proof, in the form of a past work closely similar to the project, you are radically decreasing your chances of winning a particular contract. That's just the way things are in every area of life. Nobody buys before establishing at least some level of trust in a seller.
---
--- ---
Related Articles