The future of AI in the 2020s- in conversation with Ankit Prasad
Let's hear out his thoughts about the future of AI in the 2020s!
The past decade will be remembered as the time when machines that can truly be thought of as "intelligent" – as incapable of thinking, and learning, like we do – started to become a reality outside of science fiction.
Artificial Intelligence has certainly been the technology star of the 2010s and the possibilities of what the future can make it worth the hype. And who can tell that to us in a better way than the person who has used AI to build a successful startup?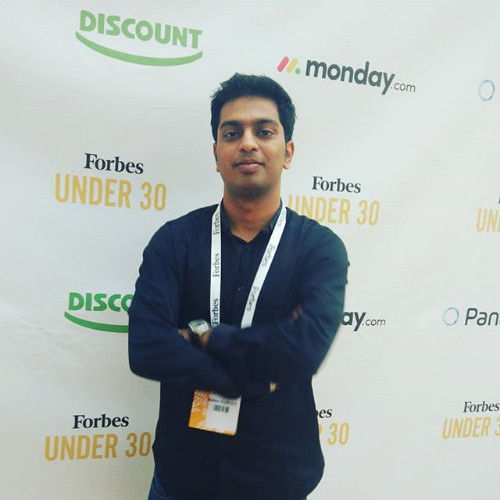 We have with us the founder of BobbleAI to tell us about how the future of AI looks like this decade. Founded by Ankit Prasad in 2015, this Gurugram-based startup has already recorded more than 10 million installs on Play Store and have been backed by some of the most celebrated names in the Indian startup ecosystem.
Let's hear out his thoughts about the future of AI in the 2020s!
How much Artificial Intelligence has evolved in India in the last 5 years?
With aggressive initiatives like Skill India, Make in India and Digital India, the Indian government is making extensive efforts to establish AI industries in India.
India ranked the third biggest AI-focused startup hub among the G20 countries in 2016. The market for AI is exponentially growing since 2011 at a CAGR of 86% higher than the global average.
In 2017 India registered 368% growth with an investment of USD$ 529.52 million in the applied technology sector and AI, Machine Learning and Data Science are the major domains and subdomains.
Which industrial sectors have been the primary areas of focus (for AI) in the last decade?
While for India to entirely evolve as the AI industry is a long way to go, but they are few who are clearly way ahead in the race. Healthcare, logistic, FinTech are few who are leading.
Bobble AI started in the year 2015 was one of the few who took the AI and machine learning ahead in India, with it's cutting-edge AI technology around input methods. Bobble AI is making communication a lot more expressive and personalized.
Which new industrial sectors are expected to be the major benefactors of AI this decade?
Nowadays AI has become a part of our life, for example, the chatbots in bank and e-commerce websites that communicate with us for ease and better communication.
While AI has become relatively common, there are still industries where there is immense potential. India with vernacular needs has multiple opportunities for growth and development.
AI can be heavily adopted in Agriculture, entertainment, transportation, and education industries.
Are there any major challenges the evolution of AI is facing in India?
Our delayed start is because AI thrives on data.
With the absence of historical data, it is extremely difficult and time-consuming to build an AI model. Presently the government is still centralizing data. However, now with the proposition of Data Protection Bill, it is even more challenging to build a successful AI model in India.
The prime challenge for Bobble AI was to find people who had relevant experience. Due to the age-old incompetent curricula followed in most of the educational institutes in India, there's a lack of adequate talent to build and deploy AI systems at scale. We had to bring back talent from the USA, which came at a huge cost. We also had to hire people from Academia, we reached out to professors and area experts.
Do you believe that AI is not being used to its maximum potential in India? If so, what can be the reason for the same?
A large section of our population is illiterate, the major section is not tech-savvy. In industry, many companies are not even net-enabled. So, it is extremely unfair to expect AI to operate at its maximum potential.
India as a country is very diverse and unique. In a multi-religion and multilingual country, it is extremely challenging to build a successful AI model that understands its disparity. Whereas on the contrary, building AI technology in the USA and China is much easier due to limited differences and organized structure.
However, we are getting there at a very fast pace, Bobble AI is committed to building a cutting-edge technology that is expressive and understandable to all. We presently have catered 37 Indian languages, and we are constantly working to establish AI technology that is the right fit for all vernacular regional languages.
With all the hype, do you feel that the startups which are using AI have a better chance of attracting the investors than the rest?
Unfortunately, India lacks thesis-driven investors, we have particularly observed hunt in a pack culture over here.
As a result, Investors are mostly influenced by the successful thesis of China and the USA.
With the intensive technological boom and the sudden rise of AI and machine learning as buzz words; having AI-run technology definitely helps in taking conversations forward.
If any organization is planning to use AI for its products and services, what's the most important thing they should keep in mind?
For any organization planning to use AI, the first step is to have a clear vision of what you want from your dog (i.e AI), followed by ways to train your dog, that is creating the source for data training,
The algorithm needs to be tweaked in a creative way to ensure that the desired outcome comes out.
In a country like India, where the internet is not accessible everywhere it makes more sense to devise a system that does not necessarily need the internet.
Keeping into account present data protection laws, not just in India, but all over the world, it is more futuristic to have an on-device AI engine.
Many people believe that technology (AI in particular) has been the major reason behind many employees losing their jobs. What do you feel about this notion?
Ever since the existence of man, we have been evolving in every way. Be it the creation of wheels or automation with AI, it has only made life easier for the man. So, the only way is to adapt and evolve.
While we fear this technology, AI is evolving our databases. It is making our education system more effective, personalized and smarter. The future is enigmatic, no one knows what lays ahead of us.
But right now, rather than fearing technology- that is for own good, we should focus on getting updated with the new technology. If we really wish to control the capabilities and strengthens of AI, we should regulate only those models who are making people lazy, dumb and emotionless.
For anyone who's aspiring to make a career in the field of artificial intelligence, how should he/she start! Can you provide some helpful resources?
There are a few requirements for AI professional:
Coding skills- coding can be attained with formal educational training. Nowadays, it is expected that one would get acquainted with coding during high school itself.
Data Science skills- Data science skills require practice playing with a large amount of data, for that the primitive step is to find an internship or training opportunities in similar interest areas, observing and practising will make an individual understand insides of data. At Bobble, we have industry experts. Working closely with them can help aspirants develop Data science skills. We often have internship opportunities available throughout the year.
Algorithmic skills- Algorithmic skills can be attained with specialized training. For that, there are some really wonderful courses available online.
https://www.coursera.org/learn/ai-for-everyone - AI for everyone on Coursera is one of the best courses to start with.
Developing an AI model required special training, being around a righteous mentor will help develop the required skills. Experience plays a crucial role when it comes to AI, therefore for an AI engineer focus should be on to grab experience worthy opportunities.
What would be your advice to every such aspirant?
Developing a successful AI model requires a huge amount of patience, after multiple failures, there comes a system that serves the purpose. Individuals who are aspiring to venture in the AI industry must have a strong will. It will require a great deal of time and sweat, for that one must always be enthusiastic, and ready.
Because of the ever-changing nature of work, it requires a high level of commitment. With expertise in coding, engineers should also keep their imaginativeness and creativity alive.
All these behavioural skills only come with time and training with experienced AI professionals, so the best thing is to do relevant internships, participate in discussions and debates with like-minded people.
What do the next 5 years look like for Bobble AI?
Presently our objective is to create a system that works for all sorts of people despite their differences, We are developing technology that is for real-India. With time we'll keep increasing our horizon, starting from Asian Pacific regions.
While partnering with smartphone manufacturers our objective is to win the largest keyboard space in India and then the world. As we move forward we'll be adding more input method solutions, such as voice, camera, and gestures.
Through our data intelligence, we understand the needs of people, With our technology, we aspire to serve all those needs of people. At the same time, we dream of keeping the fun essence alive. With our personalized, fun, and expressive model, we'll make this world a better place.
---
Ideas are easy, Implementation is Hard, learn from the ones who knows how to start. A Publication by Tealfeed.
--- ---
Related Articles