The future of the customized clothing sector in India- in conversation with Litesh Gumber
Litesh Gumber, the co-founder of QuadB, talks about the future of customised clothing this decade!
If you own a t-shirt e-store, you might have an experience of selling t-shirts and the knowledge about the kind of t-shirts that sell. But what makes you different?
Customised clothing is fast growing in India. Reports suggest that the total size of the market for customised merchandise is 110 million customers. Of these, 20 million are college students, 40 million are corporate employees at mid and senior levels, and the remaining 50 million belong to the middle class.
Litesh Gumber, the co-founder of QuadB, talks about the future of customised clothing this decade in an exclusive interview with CoFoundersTown!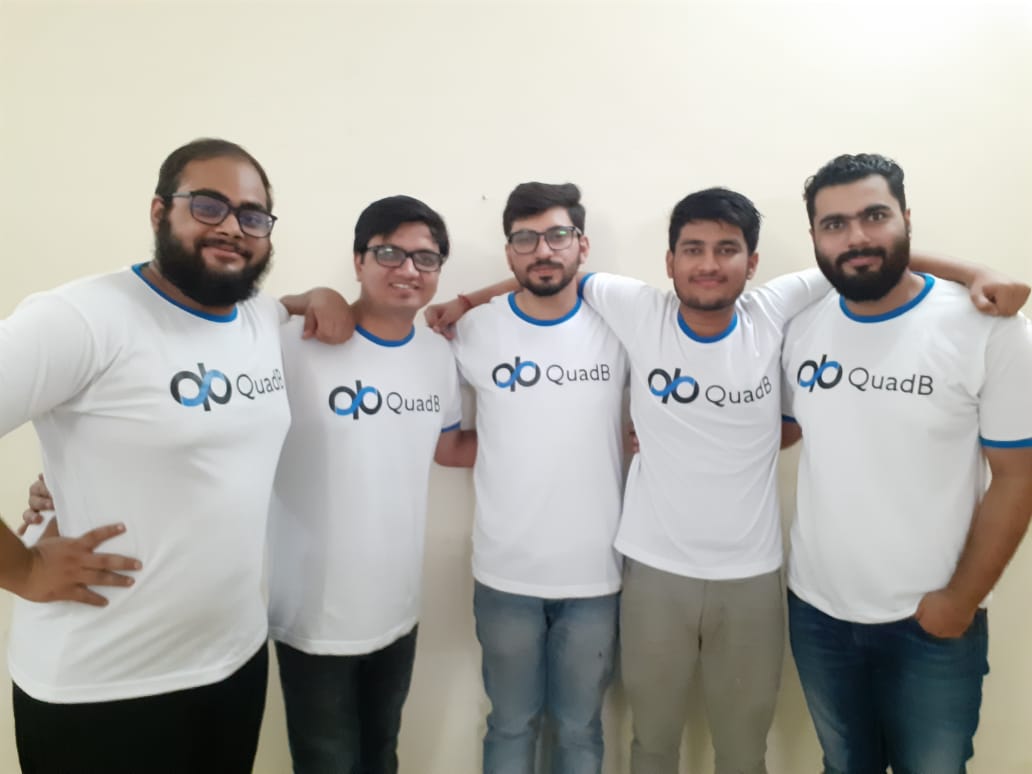 Q. What has been the major reason behind this rapid rise in the last decade?
The world is not the same as it was a few years ago. Times have changed drastically and the same can be said about the apparel industry. Ten years ago, the market for customized clothing was not as popular as it is today and I believe a major reason for this has been the rapid progression of the India apparel industry from a local market to an emerging one.
Brands have been growing rapidly, giving a huge boost to various businesses. This has led to trades becoming increasingly aware of their singular identity. Business owners, whether big or small, are proud of this newfound status they have created for themselves and remain quite keen on showcasing it in front of the entire world.
Another reason why this sector has seen a rapid development is the increasing demand for it from the education and corporate sector. Over the last couple of decades, there has been a lot of focus on Employee Satisfaction, with companies providing their employees with the best services available to them.
Designating a premium-quality uniform to their employees not only boosts morale but also helps build rapport amongst their staff. It is also worth mentioning that the trend for custom merchandise had already been a very popular trend in the western market for quite a few years which has finally marked its debut in India.
Q. What were some major trends that ruled the customized clothing sector in India in the 2010s?
The customized clothing sector has seen some of the most famous fads in the 2010s.
Printing: This has always been an inherent part of custom-made clothes. This is because one of the many allures of this sector is being able to give a more physical form to your imagination. There are various forms of printing options available, each with its own list of appeals like screen printing, water-based printing, DTG, vinyl printing and many more. This gave a huge boost to the personalized clothing industry as it gave manufacturers a lot to work with, in way of customizations.
Colour recognition: This is another vogue that has been ruling the clothing market lately. As is evident from its title, it refers to a specific colour being given a unique identity as a result of extensive branding. For example, when you see red and yellow together somewhere around you, your mind might immediately think of the multinational food chain, McDonald's. This trend has quickly amassed a lot of popularity for itself as a reliable method of passive marketing.
Contrast collars: Coming out as a rather orthodox style for shirts, contrast collars are another major trend that ruled the last decade. It is quirky, it is gutsy and honestly, a great addition to your regular shirts. A big reason why QuadB offers complete customization is that we understand the fickleness of the fashion industry and want to fulfil the wishes of our customers to the best of our abilities.
Q. What new trends are expected to benefit an organization in getting an edge over their competitors in 2020s (this sector)?
Since the clothing industry has only continued to grow in quality as well as quantity, I see no reason why it should stop doing so now. The ruling trend of the 2020s will be the increasing technological advancements in this field.
So far, this industry has seen a lot of developments that have only given rise to businesses that have kept with the times and the same can be said for this decade as well. Another demand customers have from manufacturers is variety. With increased competition in the market, buyers always have something new to look forward to and this is not going to change any time soon.
This decade belongs to the businesses that offer their customers an assortment of styles and apparel. Speciality clothes are going to be another popular trend this year. This is because everyone likes that one-of-a-kind, singular feeling of owning something that isn't mass-produced for an entire country.
There have already been a lot of stores dealing in speciality clothes who are already on the brink of success (or are well beyond it). QuadB remains the only brand in India that caters to not just huge orders but the smaller ones as well, while never compromising on the quality of our products.
Q. The talks around AR/VR have been doing the rounds for quite some time now. Do you believe the next 5 years would witness AR/VR taking over?
The technology surrounding AR/VR has been quite disruptive from the very beginning. This technological advancement has already led to some of the finest inventions of the last decade which only cements its undeniable presence in our future.
We understand that AR/VR is going to be largely responsible for shaping our future and so, we are trying to understand its real-time implications in order to fall in step with changing times.
Q. How is this going to affect the fashion industry?
The arrival of any new technology in the world has a distinctive impact on the fashion industry and the same is true for the technological advancements surrounding AR/VR.
Fashion is a statement synonymous with an individual's status and ideologies. It is an excellent form of expression and with AR/VR disrupting the market in the coming years, the effects are bound to be seen in the fashion industry as well in the f orm of innovative styles and fads.
There is a lot of scope for further changes in this industry which are going to be considerably aided by augmented and virtual reality. In fact, currently, we are trying to focus our attention towards the creation of an application which will let someone scan t-shirts that are made by us and provide them with all the information about the business of our respective client.
Q. With so many big players already existing in the apparel industry, how are the new entrants still able to take out a small piece from this big pie?
In order to understand the fashion industry, we need to study it from its very core which is 'production'. If you have an immense production line, making minor changes is impossible since it would result in a huge loss for clothing giants.
However, for a small-scale business making minor changes is very easy as their production line is also modest. This makes it reasonably easy for small players to keep themselves in line with the current fashion, a virtue of significance in this world engulfed by fast fashion. This is especially easy for us as we employ the use of Virtual Assembly Line (VAL) which is a fairly new production method and that helps us immensely in making changes to our production line.
It also helps the small manufacturers to experiment a lot with their merchandise and note the responses of their targeted audience about each one of them. This difference in the ability of the two players to modify their products is what helps the new entrants get a well-deserved share of this market.
Q. It would be tactically better to look at India after segregating the tier-1 and tier-2 cities from the tier-3 and tier-4 cities, rather than looking at it as a whole. How much relevant this statement is in the context of the online clothing industry?
I believe the above statement holds a lot of significance in the setting of the online clothing industry. The business model more prevalent in tier 3 and tier 4 cities is O2O (Online-to-Offline). In fact, they have only in recent years started to catch up with the trend of online shopping that has prevailed in the top tier cities for quite some time now.
While the online clothing industry has only just begun making its mark in these cities, tier 1 and tier 2 cities have witnessed the rise of giant online shopping platforms like Amazon and Myntra which have already advanced a lot in their respective fields and now look forward to further technological advancements.
These companies have matured to their limit and now have complete governance of the online market in the top two tiers. These companies have successfully exhausted the online market to its limits and now look overseas for emerging trends and innovations in order to further expand their empire.
Q. What are QuadB's plans for the next 5 years?
We are working on several projects presently with the vision of accomplishing them in the next five years. First on the agenda is having our IPO in the next two years in order to increase QuadB's market value. In keeping with this, we are also in the process of increasing our product range which will help us cater to an expansive client base.
This includes the likes of speciality clothes such as mosquito repellant and water-resistant merchandise. We are also experimenting with the advancing technologies of augmented and virtual reality and working towards including this disruptive technology into our products.
With the help of AR/VR, we hope to be able to produce a line of clothes which can be scanned to facilitate their visualization in augmented reality. This will promote flooding in of real-time information with a minimalistic approach. Additionally, we are also working towards developing C-VAL (Cloud Virtual Assembly Line). It is a concept that is focused on virtualizing together the various manufacturing and assembling tools which make for a unified and premium-quality transaction of our manufacturing process.
In simpler words, we will be able to keep a real-time track of our various production departments and the entire process will be fully automated. QuadB has already been employing VAL in its production and with the introduction of C-VAL in our operations, we will stand to be the first-ever company to successfully do so.
Q. Since you have already started expanding beyond India, will the focus be more on expanding internationally or locally in the next 5 years? Why?
We have been operating extensively in and around India and have garnered a lot of love and appreciation for our products from our customers overseas. The reason for this is our premium cotton clothes, the quality of which remains unmatched by our competitors.
However, the Indian market makes for 80% of our revenue and the remaining 20% comes from other countries we operate in. Since India is an emerging market which is growing rapidly, it is going to be our focus for the next few years.
This does not mean we would not be interested in taking up opportunities to expand our business in the international market; but being a proud "make-in-India" company, our first priority will always be our country.
Q. For anyone aspiring to become an entrepreneur in 2020, what's the most important thing to keep in mind?
For all the aspiring entrepreneurs, I only have three words for you: Persistence, Hardwork and Passion. These are the three key ingredients necessary for making the concoction of success.
If you have the persistence to follow your passion and work consistently towards achieving it, there is nothing and no one who can stop you from realising your dreams.
---
Ideas are easy, Implementation is Hard, learn from the ones who knows how to start. A Publication by Tealfeed.
--- ---
Related Articles