The future of freelancing in India- in conversation with Vagisha Arora
Vagisha Arora talks about the future of freelancing & the challenges faced by freelancers!
An increasing number of individuals are choosing to work according to their preference: where they want, when they want and the work of their choice. A study by McKinsey shows that around 20% to 30% of professionals in developed markets are engaged in freelance or gig economy.
In India, the freelance industry is estimated to grow to $20 to 30 billion by 2025.
In this exclusive interview with CofoundersTown, Vagisha Arora talks about the future of freelancing, the challenges faced by freelancers, and also shares her journey of becoming a freelancer.
Continue reading to find out more!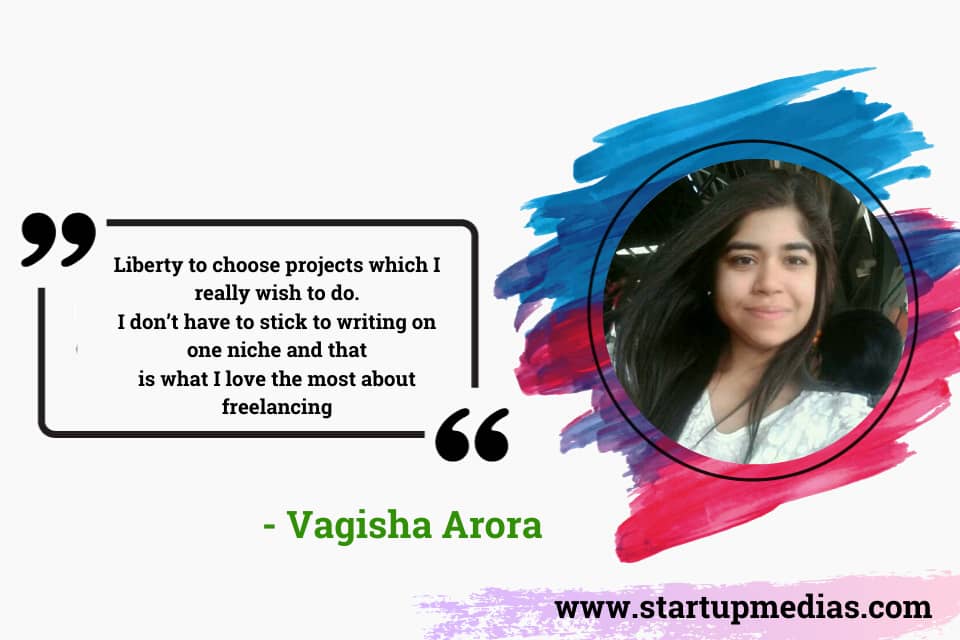 Q. While freelancing is a relatively new thing in the Indian sector, what has led to such a rapid rise in the number of Indian freelancers last few years?
Jobs tend to dismantle work-life balance due to long working hours and increasing work pressure. I think freelancing takes away that burden of working in restricting environment without many monetary incentives, especially during the first few years.
Apart from that, freedom to work at one's own pace is the best thing. Personally, the ability to take projects of my own interest and working according to my timelines has turned out to be a blessing as a freelancer.
If I were to sum up the benefits of working as a freelancer, then they will be :
Fewer Working Hours
Flexible schedule
Independence – Work from anywhere
Freedom To Choose Clients And Projects
Opportunity To Earn More
Reduced Time and Resources
Multi-Faceted Exposure
Better Work-Life Balance
Q. Which sectors saw more freelancers working in that particular industry? Why?
Few promising sectors which are creating opportunities for freelancers in the gig economy are Content Writing, Digital Marketing, Financial Advising, Data Analytics, Web Development and Designing, etc.
Q. Which new work profiles are expected to see a positive spike in the number of freelancers this year? Why?
Undoubtedly, the IT Sector is bound to become the largest employer of freelancers in the upcoming years.
With online social media marketing taking over traditional forms of marketing, new opportunities are bound to be created in the fields like digital marketing, content writing and web designing.
These integral services can play an instrumental role in making or marring the online reputation of a business or a startup. Hence, the companies and startups are more than willing to invest their precious money and hire the best minds for their businesses.
Q. India has the third-highest number of startups. To what extent has the growth in the number of startups fuelled the freelance industry? How?
It won't be wrong to say that during the initial stages, startups lack funds to run their operations properly. They need to invest their monetary resources judiciously to be able to reap the rewards. Hence, hiring employees can be a tedious task in hand for promising startups. Therefore, giving opportunities to talented freelancers turns out to be a win-win situation.
Undoubtedly, startups are always on the lookout to hire the right minds who can help them grow their businesses by leaps and bounds. Hence, hiring freelancers turns out to be a viable cost-effective alternative for startups. Thus, it can be concluded that growth in the number of startups has fuelled the freelancing industry.
Q. Speaking about established organizations, In the U.S., 66% of large companies are working with freelancers because it allows them to access skills and expertise, which the in-house workforce no longer possesses. Will this decade be the one wherein we would witness the same trend in India? Why/Why not?
Yes! The trends are shifting and the freelancing wave has already hit eastern countries as well. There is going to be an exponential increase in the number of freelancers this decade. The reason behind this is simple.
Due to the widening gap between demand and supply when it comes to employment, more than 50% of the workforce is dissatisfied with their job roles.
According to interviews, jobs restrict creativity, demand long working hours and hamper the work-life balance. The paradigm shift towards freelancing from 9-5 job seems to be luring many people who hold the potential to work on their own terms and conditions.
Hence, it won't be wrong to say that India would soon be an integral part of the gig economy in years to come.
Q. 2020 is predicted to be a year of economic slowdown which would witness many people losing their jobs. How would this affect the freelancing industry?
Undoubtedly, the competition is bound to increase in the upcoming years. It will be a real challenge to make ends meet as a freelancer if you are not capable enough to offer the best.
I personally feel that branding is the first and foremost important thing when it comes to freelancing. You can easily survive all the odds as long as you are good in what you do and know the right channels to showcase your talent.
This reminds me of an amazing quote by Ren Jones which is "Marketing is the equivalent of asking someone on a date. Branding is the reason they say yes." With thousands of freelancers in the competitive market, you have to make efforts to stand class apart in the crowd.
Q. What's the biggest challenge a freelancer faces in India?
The biggest challenge for the newbies in this industry is working with unreliable clients who don't offer timely and regular payments.
You will be surprised to know that even signing contract doesn't guarantee timely payment.
Hence, non-regularity of payments is the biggest challenge for a freelancer working in India who solely relies on freelancing income to pay the bills.
Q. Despite these challenges, you choose to leave your well-paying job to take up freelancing. What made you make this decision?
Life is all about taking calculated risks and I was able to take this fulfilling decision once I was sure of earning a stable income through freelancing. Freelancing is intriguing for me as it gives me the liberty to work according to my own timelines on projects I am really interested to work upon.
Apart from financial incentives what motivates me to do better every single day is direct appreciation from the clients. I think the goal is achieved when you can actually make a difference to business through the power of content. That feeling is fulfilling and gratifying at the same time.
Q. You have been featured in the list of top 10 content writers of India for two straight years. For the individuals who want to make a career in the field of content, what's the most important thing to keep in mind this decade?
The most important thing as a freelance content writer is building credibility in the competitive market. Rising high in the ladder is easy if you are actually wanting to add value with your work.
The growing client base is like a cakewalk as word of mouth marketing can do wonders for you as a freelancer.
---
Ideas are easy, Implementation is Hard, learn from the ones who knows how to start. A Publication by Tealfeed.
--- ---
Related Articles