Global Accessibility Awareness Day 2022
My work in accessibility (designing for the disabled community) in the past 1 year.
Global Accessibility Awareness Day is celebrated on May 19 in the year 2022.
This is a day that is intended to celebrate work done by individuals and organisations to help Persons with Disability in their daily lives, whether it is. navigating in public or being in productive in a education/office environment. This day is also intended to raise awareness about accessibility so that those who may not be familiar with it can learn about it and bring it into their workplace setting.
So thank you to everyone who have worked in the accessibility space. The community is better off because of your efforts!
I also try to use this day to share work in accessibility that I have been doing, if applicable. In this past year, I have taken a great interest in advancements in computer vision technology. Big Tech companies out there have made great strides in getting a computer to recognise parts of the body accurately, like hands, fingers, eyes, mouth, nose etc. And this opens up alot of possibilities in accessibility.
I have used these latest advancements to create educational experiences in sign language. In these experiences, the user has to pick a word or a name and do the sign with their hand in front of the front facing camera and they will be told if they are right or wrong. This. is a great way for people who take an interest in sign language and get better at it. Eventually more people will be able to easy communicate with deaf people.
I started designing these educational experiences on the Snapchat app. Over the past year, I have become a heavy Snapchat user and I have now designed over 40 Snap 'lenses' for sign language and the responses have been great. People have responded that they have learned sign language through these lenses and and collectively all the lenses have been played nearly 1.5 million times!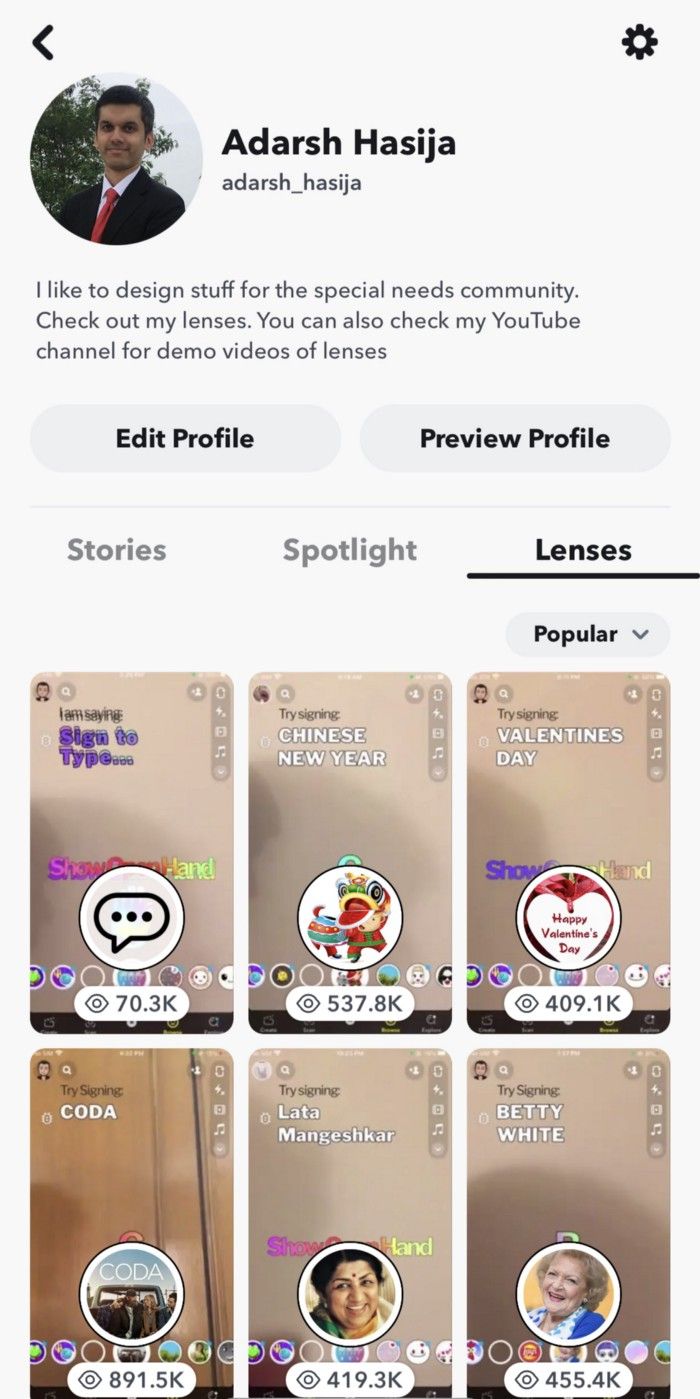 Here is a demo video of a Snapchat sign language lens being used
I started with Snapchat, but I discovered a late last year that. Apple also had technology in iPhones to recognise the body. As a result I set about designing an iPhone app as well to teach sign language and raise awareness of sign language. I released the app in mid February 2022 and that has also received a good reception. Over time, I hope to improve the library of words and phrases in the app to make it more useful.
I hope my work can play a part in getting more people to take an interest in sign language. And heres to an equally exciting year ahead. Hopefully more advancements in technology will lead to exciting new experiences in accessibility.
Happy Global Accessibility Awareness Day!
---
--- ---
Related Articles