This is a great moment to look for a new job in Artificial Intelligence
There is a shortage of artificial intelligence professionals, and here are some things you should know about it.
Artificial intelligence (AI) is essential because it allows the software to perform human capacities such as understanding, reasoning, planning, communication, and perception in an increasingly effective, efficient, and low-cost manner. In most business sectors, automating these skills opens up new opportunities.
With the significant evolution of algorithms, AI is already a reality. Deep Learning algorithms such as Convolutional Neural Networks (CNNs), for example, have significantly improved computers' ability to recognize objects in images. In addition, Recurrent Neural Networks (RNNs) algorithms produce voice recognition systems that outperform humans.
AI and the Digital Transformation's Challenges
One of the most significant challenges on the path to a successful digital transformation is the scarcity of talent with Artificial Intelligence skills. This is compounded by the increasing complexity of data under the domain of organizations.
The recent explosion in data volume has created an ideal environment for Artificial Intelligence and Machine Learning solutions to find their way. Professionals with the skills to develop AI solutions, on the other hand, are still in short supply, and the trend is for this gap to widen.
Where are the opportunities for Artificial Intelligence today?
The pandemic has altered how businesses interact with their customers and employees and how various sectors of the economy have identified AI as a significant competitive advantage.
Artificial intelligence solutions have found a home in a variety of fields and projects. Recently, companies have increased their focus on customer service due to the pandemic, followed by process automation and security.
Also, as businesses continue their digital transformations, investments have been focused on the three main features that define AI for business:
Automating IT and processes.
Increasing confidence in AI results.
Understanding business language.
These investments will continue to accelerate as customers seek new and innovative ways to drive their digital transformations by leveraging a hybrid cloud and AI.
AI professionals are in high demand.
With all of these changes going on, it is easy to imagine how much the job market will demand artificial intelligence specialists in the coming years.
LinkedIn's annual survey, Emerging Jobs Report 2020, places AI professionals at the top of the list of the most promising jobs in 2020.
The hiring of AI specialists in the United States has increased by 74% per year over the last four years, and the salary of a Machine Learning Engineer is estimated to have increased 344 percent in just three years.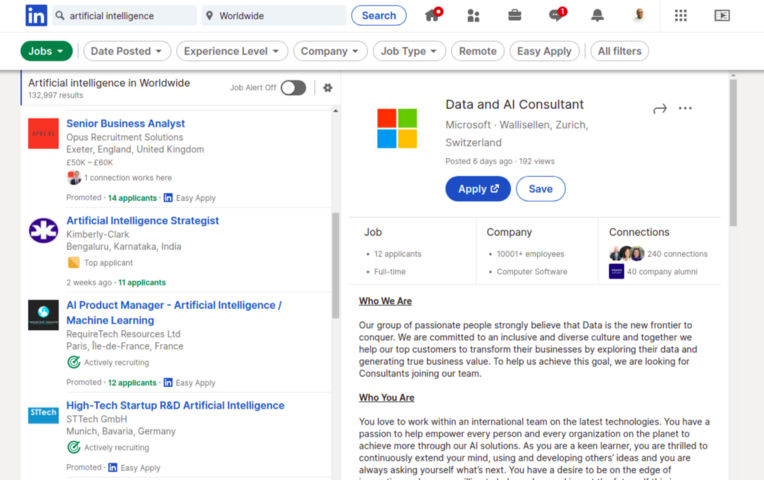 Too many job offers, too many job descriptions, and a talent shortage
I did an informal search on Linkedin the other day for AI-related positions, and I found today more than 132.000 job offerings for Artificial Intelligence worldwide.
Of course, the names and descriptions differed so much that sometimes it is hard to understand and interpret what positions and activities are offered. Anyway, it gives a clear idea of how things are going.
In my opinion, the most evident trend is that AI is not eliminating positions. Still, it leads to a reorganization of more transactional and repetitive functions that machines must replace, consequently opening for many new opportunities.
On the other hand, new or revised functions should focus the so-called professionals of the future — who are practically already professionals of the present — on jobs that require human skills, such as problem-solving, communication, and interpretation.
What are the most in-demand AI skills?
According to the most recent Fast 50 report from Freelancer.com, which maps the quarterly movement of the 50 fastest growing and decreasing professional categories in Freelancer.com's online marketplace, which today includes more than 34 million people in 247 countries, regions, and territories worldwide, jobs related to machine learning and artificial intelligence are in higher demand.
In the Fast 50 Report 2021, AI (artificial intelligence) and machine learning developments are filtered through to mainstream use, with the number of jobs requiring the Deep Learning skill set up 23% to 1,307 jobs.
Customer Service, Transcription, Accounting, Academic Writing, Data Processing, React Native application development, Statistical Analysis, Machine Learning, algorithms, and Virtual Assistance are the top ten jobs this year.
In addition to these skills, freelance jobs in Statistics and Mathematics, and Mechanical Engineering are the rising stars of the second quarter. During the period, all three categories saw significant gains.
Also, according to a recent survey by O'Reilly, entitled AI Adoption in the Enterprise 2021, other than confirm a real and persistent AI talent gap, the survey presents the three most relevant areas that technology professionals need to develop in the era of AI:
ML modeling and data science skills
Tools of the trade: scikit-learn and TensorFlow
Data preparation and collection
How to Become an Artificial Intelligence Expert
AI necessitates advanced knowledge of mathematics, statistics, and programming.
But in addition to technical skills, I always emphasize that AI professionals must increasingly know the business domain to interpret data appropriately and provide relevant recommendations and experience in software engineering to develop solutions that work in the real world and deliver real value to companies.
AI developers are twice as likely as other professional developers to have a master's degree and seven times as likely to have a doctorate. As a result, converting a Java developer with little mathematical background into an "ML engineer" is not easy.
Learning to write Python code does not qualify you as an ML engineer; instead, it qualifies you as a Python developer.
On the other hand, a good AI talent does not wait for clear definitions, as we frequently see in the development of traditional systems. They look for solutions and alternatives that no one has ever seen before.
Add a mental experiment with new challenges: how would the candidate solve a problem under less-than-ideal conditions? What if there are significant gaps in the available data, or if the quality of the data varies? What if the company required a 50% increase in processing speed?
The competition is fierce, especially in more advanced AI markets such as the United States. The technology and financial services sectors are absorbing sixty percent of AI talent.
To be considered an AI professional, in general, is required to master a variety of practical activities like analysis and forecasting, detection of anomalous events, such as fraud in bank transactions, image processing to detect objects/people, analysis of feelings from texts, and simulation of scenarios using AI to help in decision making and chatbots, for example.
AI Professionals should also learn how to use popular tools such as TensorFlow, Sciki-Learn, Keras, Spark, Hadoop, Hive, BigQuery, Tableau, and PowerBi.
Python is considered the primary programming language for AI development.
Conclusion
Companies need to train personnel and attract talents to face the enormous challenge represented by a talent shortage.
At the same time, the more companies in all segments adopt AI and robotics technologies, the more they see benefits and realize how much their functions can be redesigned.
The demand for AI talent is increasing. There is a gap between supply and demand, with several functions available to each truly trained AI professional, the ones who can help companies capitalize on AI's potential.
We must arm our tech professionals with the knowledge they need to secure AI jobs.
To close the AI gap, we should focus on the most in-demand skills, most popular tools, and relevant techniques.
---
A highly engaged and innovative AI Strategist. Passionate about communication, with a broad I.T. Management and AI background.
--- ---
Related Articles