Growing online products: The four most important learnings
Here are the top four of my learnings while growing online products-
Being fortunate enough to work on a diverse set of products over the past few years, which include a recruitment platform for flexible jobs, a women-only online community platform (SHEROES), a grocery e-commerce (Grofers) and an FMCG brand budding within Grofers, there have been a lot of learnings while we tried to grow these products and businesses.

Among those learnings, there were a few key learnings which looked so obvious when we talked about them in retrospect. But these were still missed in day to day execution. Here are the top four of my learnings while growing online products-
One
At SHEROES, we were trying to grow the number of new users on the platform. The numbers that were being pushed were- installs per day, first time user on-boarding conversion and first time post creators per day.
Problem: People working on different parts of the funnel, like digital marketing for installs, UX for user on-boarding and community managers for getting users to post, all focussed on their respective conversions.
The play store screen, user on-boarding and home screen content spoke very different languages. It was like a different app was being pitched to the user at each step.
Fix: All team members working to get new users on the platform started focussing on one metric: first time content creators per day. All the communications across the funnel were updated to trigger new users to create content on the platform.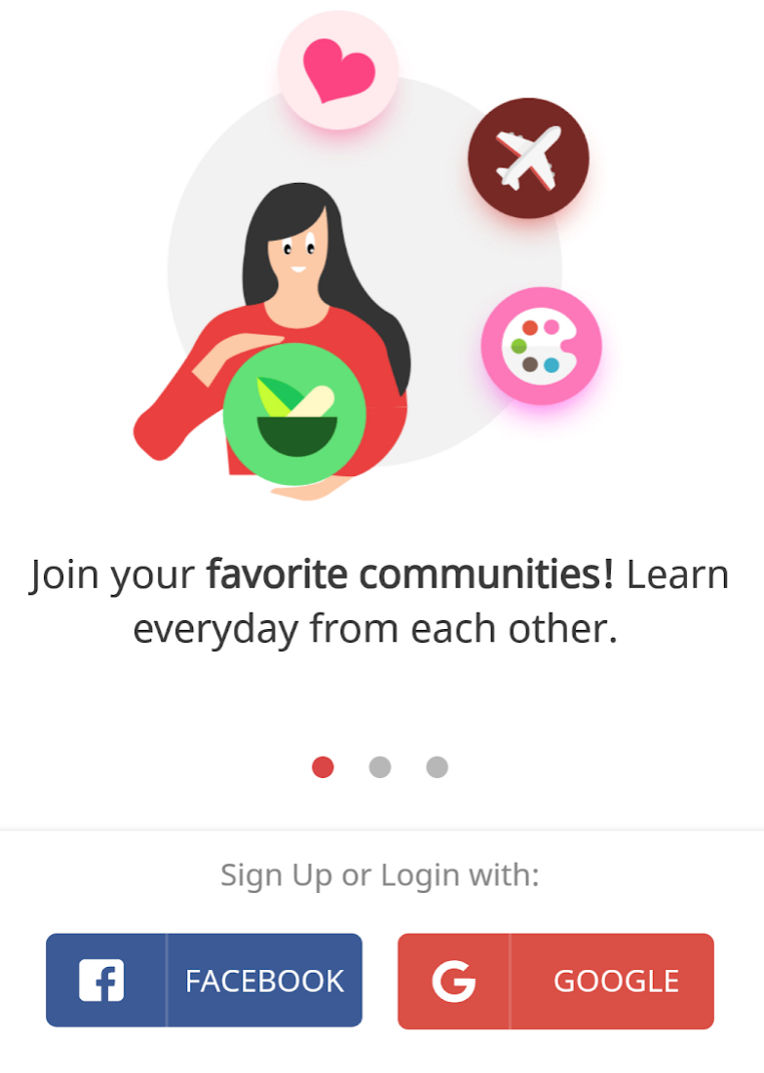 Results: Digital marketing campaigns had better install conversion. User on-boarding conversion went up from 72% to 91%. Home screen content engaged users better.
Over three months, first time content creators per day went up by ten times. (10X growth in 3 months).
Key Learning 1: Focus on one (non vanity) north star metric.
Two
While we were growth hacking at SHEROES, some of the quiz apps were getting real popular. Major attraction for the users was the high value prize money which the winner used to get.
Users played these quizzes with their friends to increase their chances of winning. We wanted to ride the trend wave and get our share of the traction created by such contests.
Problem: The quiz apps had been built over a period of time and replicating the same was both effort and time intensive. Building such a feature within the SHEROES app would have taken at least 2 sprints (4 weeks).
Fix: One of the engineers, Anirudh, came up the proposition of using Google sheets to skip server side development. We brainstormed together and finally came up with this:
1. Used Typeform to create and score questions
2. Used Android web view to avoid delay in roll out and app adoption
3. Used Google Sheets and Redash exports to dynamically update the web page (no new API)
Results: The quiz feature was out on SHEROES app in 3 days. The UX was not the smoothest one, but it served the purpose for the user.
Session time went up by 20%. We optimised our digital ads by pitching the quiz prize which reduced our cost per install to 1/3rd. Later on we added user referral to the feature which boosted user growth even further. We went way faster than before and achieved our ambitious growth goals just in time.
Key Learning 2: Done is better than perfect. Speed is your best friend.
Three
When I joined Grofers in July 2018, the product and engineering teams were trying to innovate and discover the next big thing that would bring the next wave of growth for the company. We decided to go big on three acquisition opportunities, namely, referral, group buying (now share deals) and acquisition via incentivising users to sync their contacts.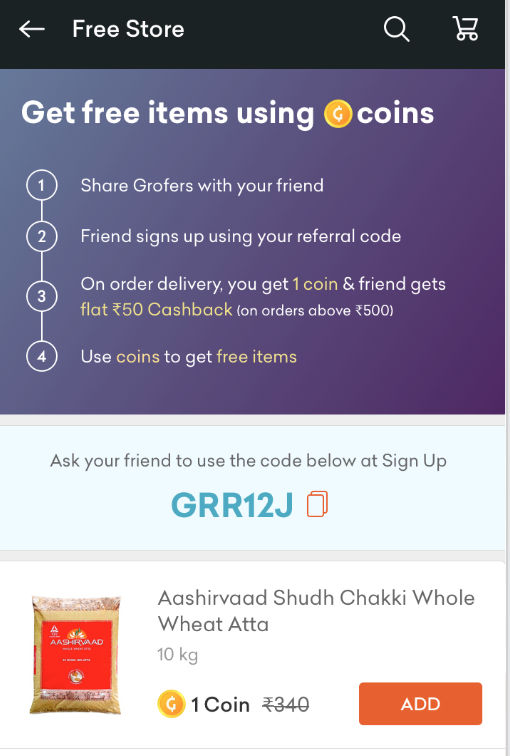 Problem: We went behind these opportunities and relentlessly worked on to make them work and thus dedicated an entire quarter on these. We skipped validating our hypothesis at each step and just went on to build the features.
At the end of the quarter, we saw we have invested a whole lot of effort and resources without producing much impact. We knew each of these opportunities had huge potential which we could not harness.
Fix: The next two quarters that followed, we made sure to run off product experiments, create MVPs for each of our hypothesis and scale the ones that showed positive results. In addition to these, we also added a lot of small enhancements to our existing constructs that help us with small incremental growth.
Results: While running the smaller experiments, enhancements and MVPs, we hit big on 4 opportunities that are producing massive impact even in their most simplistic versions. We are scaling these opportunities and are still adding smaller features/ enhancements to the existing features to keep the incremental growth going.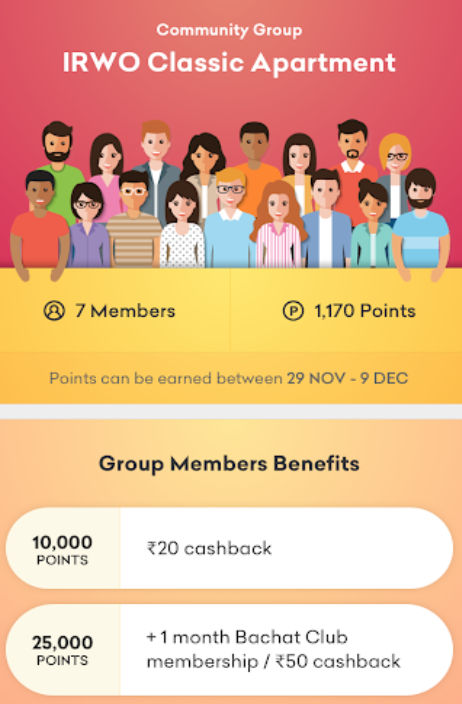 Key Learning 3: Growth doesn't come from just one big thing. It also comes from a numerous smaller things which lead to that big impact.
Four
Group Buying (now Share Deals) was one of the big bets that we took in Jul-Sep 2018 quarter. The construct was simple: Get a product at a significantly lower price if you get a friend to buy it with you.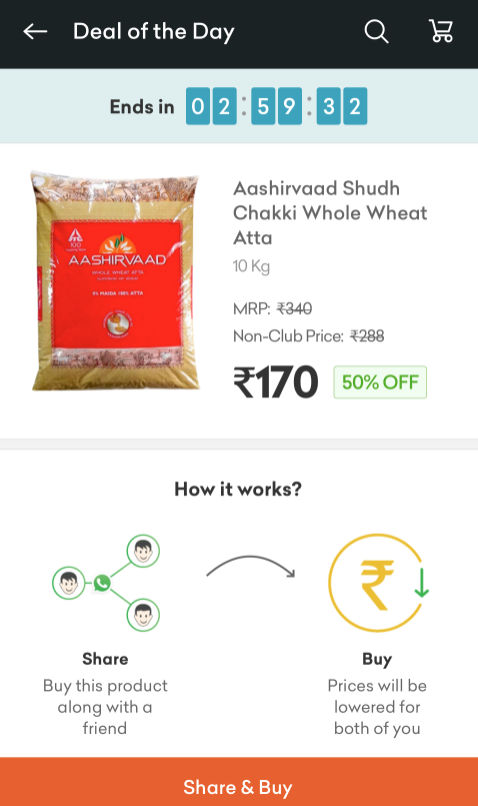 A lot of tech effort had gone into the feature but we still struggled to get traction on it.
Problem: While we kept building on the tech side of the feature, we did not have the expertise of how the products and their prices might help us with the traction. We did not have the expertise of communicating the construct in the simplest of ways.
Fix: One of our veterans, Pavitra, came up with the idea of experimenting with top selling products with prices less than Rs.50 and selling them at Re.1 under Group Buying. Our marketing team made it easy for the user and replaced Group Buying with 'Share to Save' which immediately clicked with our customers.
Results : The product & prices along with the simpler communication, excited our customers beyond expectations. The scale of the feature literally went from X to 10X overnight with just 2 tweaks. We could not have imagined reaching this scale all by ourselves.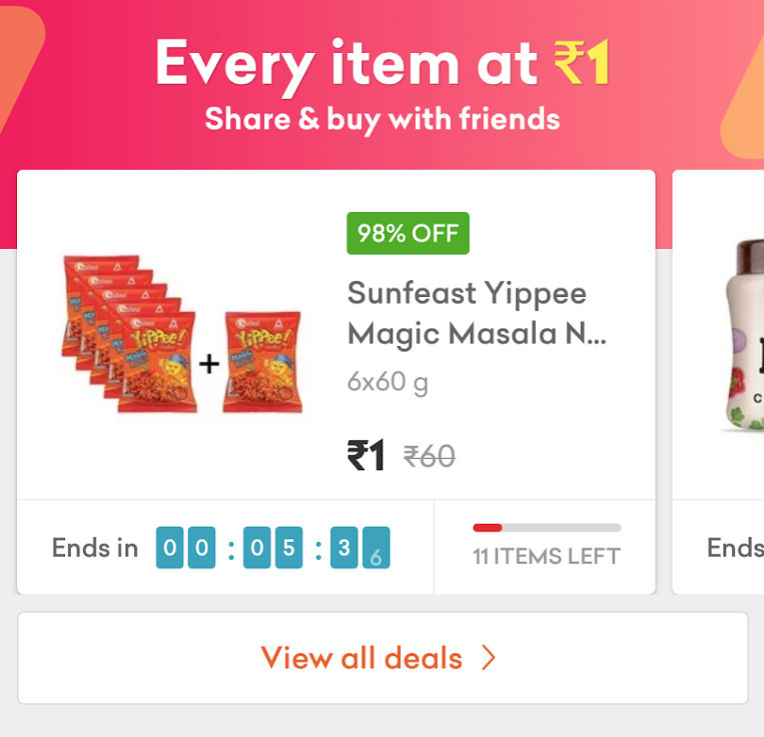 Share Deals feature is now a leading contributor to business growth at Grofers. We are building further on the insights we learnt from the feature.
With all teams working together, we are achieving 10X more than what each of the teams was achieving individually.
Key Learning 4: Growth is a multifunctional project. Together and only together, we create the BOOM.
---
--- ---
Related Articles