Home Buying Without Intimidation: A Zillow UX Case Study
For this project, Thomas Birle and I focused on how we could increase the number of tours being booked on Zillow with effective user interface changes.
How often have you toured the homes you've looked at on Zillow? We imagine not many have, but maybe it doesn't have to be this way. Many use Zillow to browse, both seriously and for fun, but booking a tour is a different story.
For this project, Thomas Birle and I focused on how we could increase the number of tours being booked on Zillow with effective user interface changes.
User Research
First, we talked to users from all different perspectives on Zillow: adults who have bought homes both in-person and online with lots of experience, college students with very minor experience with homeownership and renting, and those who look at Zillow for fun, but have never bought a home.
We conducted non-directed interviews to get a sense of their feelings towards buying a home, going on tours, and interacting with agents. Then, we conducted ethnographic interviews to see how users naturally interpreted Zillow's web app interface when deciding to tour or not.
From these interviews, we discovered that many users are intimidated by touring homes with agents, as it feels like too much commitment, and many have a lack of trust for real estate agents.
Here are some quotes that stuck out to us:
"It's awkward to have someone follow you around while exploring a home. It makes you feel pressured to buy…"
"I would not want to enter my personal information to meet with an agent."
"I need to know I can trust the agent to have integrity and not try to pressure me."
Journey Map
To capture our primary use case and how the typical user feels during the process, we created this journey map. This shows the user searching for a home they may be interested in, browsing the listing page, deciding to book a tour, and going through the booking process.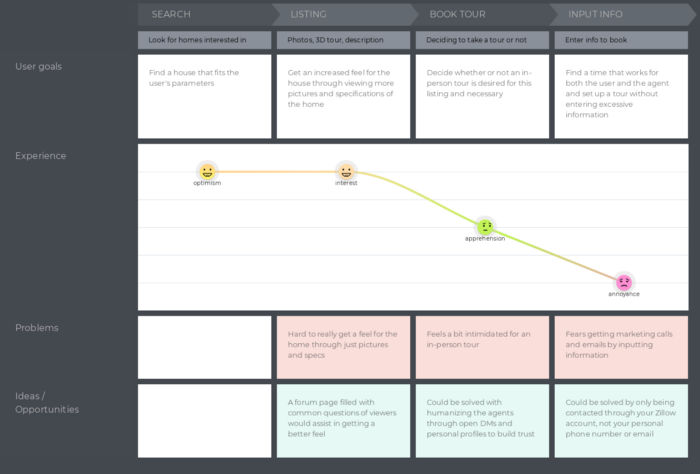 Based on our interviews, we noticed that they start off optimistic, but begin to get apprehensive about booking a tour as they consider the fact that they would be meeting an agent who they've never met before in person.
The tour booking page also requires the user to input their personal contact information, which makes users worry that they will receive marketing calls and emails.
Design Solutions
According to our research, the main barriers keeping users from booking tours on Zillow are intimidation, too much commitment, and lack of trust. To break those barriers, we kept in mind three goals when designing our solutions: make the interface foster approachability, transparency, and humanization of the agents.
Wireframes
Below shows our outline of the main design changes we came up with to solve our problem.
Direct messaging feature to create a more casual way of communicating
Detailed agent profiles to build trust at a glance
Question & Answer page to get tough questions answered that would normally be hard to ask in-person
A more clearly low-stakes tour booking page (through reassuring copy and removing the need to input personal contact information)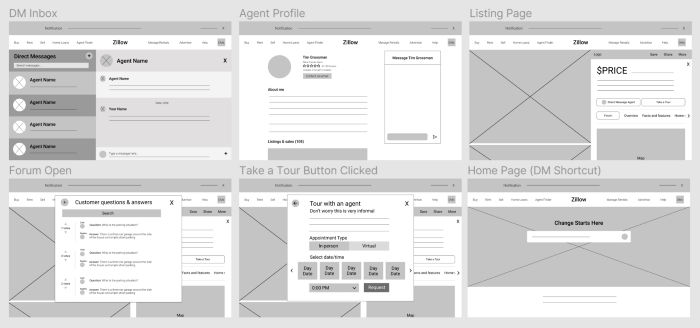 Usability Testing
After creating our initial prototype from the design shown in our wireframes, we had users perform basic tasks related to our changes and recorded what we observed.
The main points of feedback we received in our initial testing stages were that the pop-up DM box on the agent profile should be moved to a more intuitive spot than on the right, our text bubble needed added contrast for readability, our Q&A pop-up needed a more noticeable way to differentiate between questions and answers, and many users looked for a way to expand a calendar view on the tour booking pop-up, so we added a button for that.
Prototype
After learning what changes needed to be made to the prototype, we were able to create our final mock-ups with the feedback we received.
Direct Messaging
In order to create a more casual communication environment to quell intimidation, we designed a GroupMe-inspired direct messaging system to speak with agents. GroupMe is a popular messaging app, so by modeling the system after this app we can create a familiar experience for many Zillow users.
The existence of this in-app DM feature also allows users to be contacted through the app itself rather than providing personal contact information that many fear may be used for marketing messages.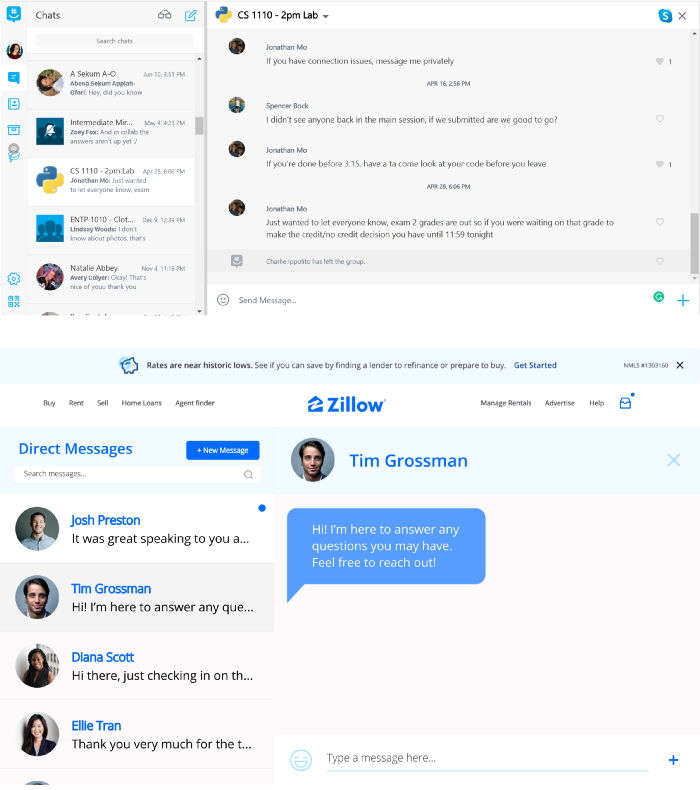 Agent Profiles
The current Zillow UI includes agent profiles, but we wanted to make them better. With the additions of a bright verified badge to build trust that it is a real person, a LinkedIn shortcut for more information, a quick way to send a DM, and their bio/reviews more easily readable, users can determine if they're comfortable meeting this agent faster than ever.
The direct message box comes up in a pop-up in the corner, so the user can easily pull from information on the profile when sending a message.
Our usability testing indicated that this would be the best format for a message box attached to a profile. The first image below is our redesigned profile page, and underneath you can compare it to the original design Zillow uses.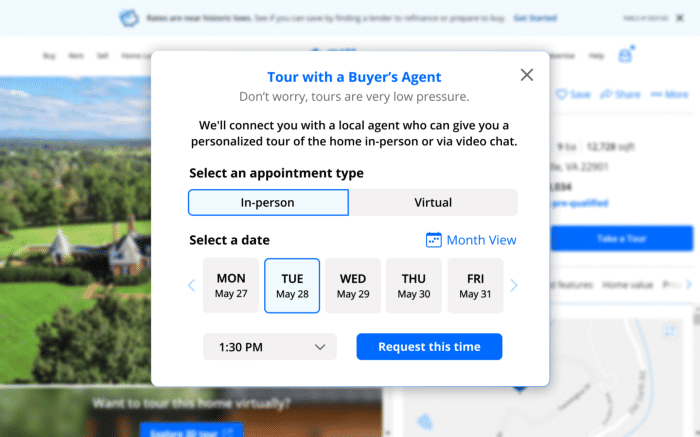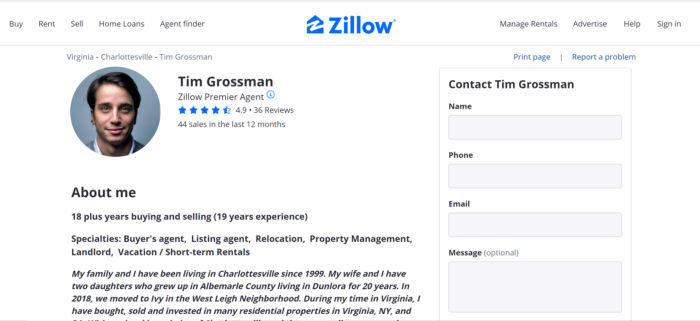 Question & Answer Page
Inspired by the recognizable Q&A section of Amazon, we implemented a similar function for Zillow that allows users to get tough questions answered without having to ask face-to-face. The familiarity of the Amazon version makes this feature more intuitive out of the box.
This helps to avoid users clicking off before booking a tour because they don't feel like they have enough information to determine interest. Also, this makes the listing appear more transparent and trustworthy, as it shows the agent is willing to display the answers to tough questions.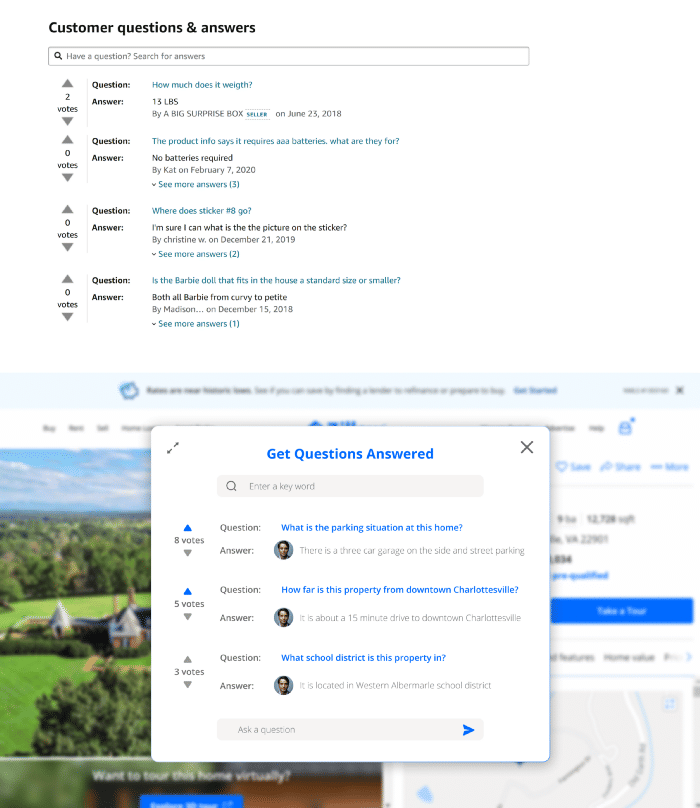 Approachable Booking
The original Zillow tour booking interface shows up as a skinny pop-up, so our redesign opened it up to make it more inviting and easy to click. Also, since the addition of the DM feature allows for a way to be contacted without email or text, this process no longer requires adding in your personal contact information.
In order to make booking the tour feel less committal, we also added some copy to assure the user that tours will be low pressure, so fear of pressure does not deter the user from booking.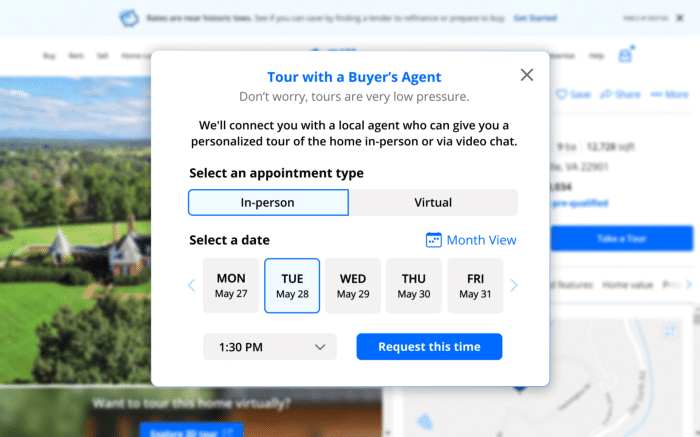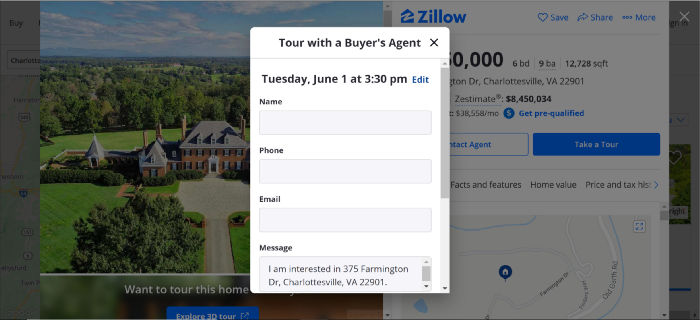 Live Click-through
Conclusion
A less intimidating approach to UX for a real estate site wouldn't just benefit the introvert homebuyers out there. A more approachable, transparent, and humanized Zillow app that encourages booking tours could lead to increased sales for agents, and therefore a more successful Zillow.
---
A creative marketer, UX designer, and minimalist. Connect with me @averycolyer on all platforms.
--- ---
Related Articles