Hotel booking app development cost and Key Features
In this article you will know the cost of hotel booking app.
---
Anita Basa
5 months ago
|
4 min read
---
The travel business has grown since the turn of the century, and expectations of travelers for customer service have significantly altered. With smartphones becoming increasingly popular, people find it much more convenient to look for hotels and vacation rentals on them.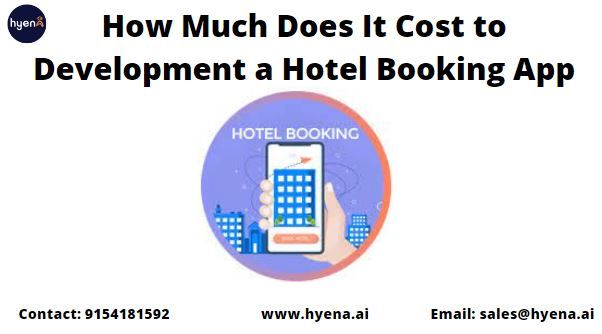 Travel agencies, aggregators, and hotel websites must respond to today's multichannel customers who flit between desktop, mobile, and online apps. As a result, developing a hotel booking app is a wise move to enhance customer service, make it easier to book flights and rooms, and more.
Note: If you wish to develop a hotel booking app in the future then here is the list of top mobile app development companies in Saudi Arabia
Online Hotel Booking App
Many people long to be free of the monotonous employment and the cycle of life. The longest part of such a plan is frequently selecting a place to stay. Additionally, the process is made much more realistic by using an app.
Over the past few years, the travel and hospitality industries have expanded quickly as more individuals look for alternatives to the tedious daily grind. Applications for booking hotels are very popular since they make the challenging process of looking for and booking hotels easier.
Related Article: Top mobile app development companies in egypt
Advanced Features.
Social Login/Signup:
With the aid of this function, the user may swiftly complete the registration process. Simply providing their email addresses, contact details, and other login information allows users to create accounts. They can also sign up using their Gmail or Facebook accounts from other social media platforms.
Push Notification:
Users receive a variety of updates about their reservations, check-in and check-out times, new offers, and discounts.
GDS Integration:
This is the element of mobile applications that is most important. The Global Distribution System (GDS), a global computerized reservation network, is used by travel agencies, online booking services, and large companies as a single point of entry for booking hotel rooms, vehicle rental services, and other travel-related items.
Recommendation Engine:
Based on the user's most recent searches, the hotel recommendations are customized by the app creators. The recommendations for the hotels can say "Recommended for you." This makes users feel more personalized, which raises in-app engagement.
Estimated hotel costs:
Users can get a ballpark estimate of the cost and make plans based on it because hotel costs are always changing. The best deal can be simply catered to with prior investigation.
Integration of Metasearch
A web search engine's data is used by a metasearch engine, an online information retrieval tool, to create its own results. Metasearch engine integration makes it easier for users to compare prices across many websites. The lodging rates from various online channels (OTA) are compiled onto a single platform by a metasearch engine.
Experience with virtual reality:
Users can explore the 360-degree or static photographs that are available on the application to receive a full, dynamic perspective of the hotel and its rooms.
Currency and Language Converter:
The application automatically modifies the language and the currency based on the user's location.
On-the-Go Support:
The programme includes intelligent travel assistants that work around the clock to improve client service, such as chatbots, Google Assistant, and messaging. They can assist you in navigating common problems.
Dashboard for Analytics
The administrator can view the hotel dashboard and customer dashboard, which supports real-time decision-making. For instance, low booking prices can be provided in any city where there are fewer reservations owing to various factors in order to attract more customers.
Loyalty Programs:
Through reward and referral programmes, users are encouraged to spread the word about the app and use it more regularly in order to earn more reward points that may be converted into enticing discount offers. One really helpful element of the hotel booking software is its capacity to increase approach from potential customers.
Marketing Tools:
Chatbots, paid social media advertising, email marketing, push notifications, and many other marketing methods can be utilized to connect with the target audience.
CRM Integration:
A hotel booking application must integrate CRM in order to give customers the greatest possible experience and make them feel at home. In order to improve customer relationships with the app, a CRM should be added.
Integration of CMS:
A content management system is the most important tool for administrators. Through this technology, the content of the entire programme may be monitored and controlled.
The application's interaction with a CMS makes it possible to swiftly and effectively execute tasks like giving offer-related notifications and booking management.
Behavior Monitoring
When a user uses the application again, the application remembers their most recent search criteria and always displays the relevant results. This facilitates the development of several client personalisation techniques.
Related Article: Best android app development companies in jordan
Internal App Navigation:
In order to ensure that users have no trouble locating sites when traveling, Google maps and Apple maps have been integrated into the programme.
Weather Prediction:
Users may check the weather forecast and make plans for the day thanks to Google Apps integration.
City Guide:
It guarantees that users enjoy their experience and are inconvenience-free while they move throughout the city.
Review-Rating API:
The TripAdvisor API, for instance, can be incorporated if you want to allow users to browse the ratings and reviews of other users on any other website.
Financial API:
Payment APIs of various modalities, including PayTM, net banking, and debit/credit cards, are used to ensure simple payments.
Areas Close By:
Customers can quickly search for local establishments including restaurants, movie theaters, malls, and tourist attractions using the geolocation tracking tool.
What Is the Price of Developing a Hotel Booking App?
The price of creating a mobile app for a hotel company depends on a number of variables, including:
The company structure

MVP attributes

Project difficulty

Platform of preference

Development strategy (native or cross-platform)

Stack of technologies

Group size

The deployment and support costs

Using in-house resources or contracting with a

hotel booking app development company
The quantity of resources you will need will depend on the type of application, the number of features, and the complexity of the project, so keep that in mind as well.
Related Article: Hotel booking app development cost
---
I am Anita Basa, a charming technical content writer currently working for "Hyena Information Technologies". I would like to know about technical updates. Connect with me on Linkedin for content related to mobile app development, IoT, artificial intelligence, machine learning, IOS and technology.
--- ---
Related Articles