How to become a video creator on Youtube- in conversation with MN Hemant Mahto
The journey of a small-town boy, MN Hemant Mahto, from a 2MP phone to 20k Youtube subscribers
There has been a noticeable uptick in video usage over the past three years. A few stats evidencing this include that video consumption on mobile devices rises a whopping 100% each year.
In addition, 78% of people report watching videos online each week while 55% of those watch daily. More than half (54%) demand more video content on top of what they already consume.
Can you be a part of this video revolution and make a mark? Do you need a professional camera to start making videos? How can you become a professional video content creator? Why does your organization need to create video content?
In today's interview, we have with us MN Hemant Mahto, who started creating videos 3 years ago with a 2MP camera and has close to 200K subscribers on his Youtube channel today!
In this exclusive interview with CoFoundersTown, MN Hemant Mahto shares tips on starting out as a video creator, talks about building a brand on Youtube, and shares his opinion about the growth of video industry!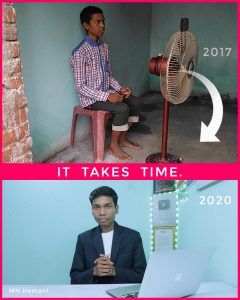 Q. What has been the primary reason behind the sky-rocketing rise in the video industry in the last few years?
The very first reason is the accessibility of the Internet to most of the people. Earlier, people didn't have high internet speed so the videos they tried to play used to take a lot of time in just buffering. But nowadays, videos can be easily watched online even in very high resolution.
Another important reason is the understanding capability of people through videos. Whenever we watch the video, our mind grasps the information very easily in comparison to text content. These two are the primary reasons behind this bombarding growth of the video industry.
Q. Which trends dominated the video marketing industry last decade?
If you try to look at the video marketing trends of the last few years, you will notice a very dynamic up-gradation in the choice of people who are demanding video content. People now not only seek information, but they also prefer edutainment i.e. information with some entertainment.
With the advancement of technology, simple videos are not liked as much as high-quality videos with a lot of graphics and animations. Audio in your video plays a vital role in today's time and is crucial for the success of your video.
Nowadays, longer videos don't perform that better. And, the reason behind this is the short-attention-span of people. People nowadays prefer to watch short videos. That's why many short-video platforms have come a long way which, if we look back a few years ago, they had no market. So the industry of video marketing is very dynamic and you have to be updated with it all the time.
Q. Which new trends would help brands to get an edge over their videos through video content?
As I talked about short videos, every brand should now focus on creating shorter videos and should strategically plan how the videos can provide value to their target audience even in that short span of time.
Nowadays everyone is available on social media, and social media is all about sharing content, be it your own or other's content.
So focus on making shareable videos, that will really help you in reaching more people because the ingredient of shareability will intrigue your viewers to share it with their friends and followers.
Video content is the future. And, almost all social media platforms are now boosting video content. If you want to grow your brand through video marketing, be present on all social media platforms and try to optimize your videos according to their algorithms and the people's behaviour.
Q. With the rise of ephemeral videos, how can the B2C brands use it to boost their marketing strategy?
Be consistent with valuable video content, and be updated with the trends. People also don't want to watch monotonous content, so always try to give value to your consumers seeing the contemporary market state.
Don't think like a company or a brand while making your videos, think as a friend of your consumers. This will help you in understanding their pain points and what content should you make so that they love it the most.
Keep educating them and eventually, they will stick by your brand leaving all your competitors behindfor.
Q. If you have to convince an organization for investing in video content, how would you convince them and how an organization should go about deciding the budget for their video campaigns?
With the rising demand of video content, no one needs to be convinced externally. Everyone knows it.
The only reason why many people and organizations aren't investing in video content is that it's a new thing for them. They haven't tried it so they are not aware of it.
You just need to understand that our mind thinks in the form of pictures, and videos provide an indelible visualization power to the same. That's why people prefer watching videos.
If your target audience is in the video industry, you also need to be present there. That's the simple marketing strategy, that's it.
Q. With the rise of so many platforms to effectively run a video marketing campaign, how should an organization go about deciding the best platform for creating and marketing its content?
First, you need to understand every platform out there. Then choose the one which matches with your target audience.
One more thing, put your content on that platform which suits best for your niche and industry. But don't leave the others, be present on all social media platforms to some extent.
For example, my primary video platform is YouTube. I upload most of my content on my YouTube channel, but at the same time, I'm also active on Instagram & LinkedIn with the same content altered to some extent with regard to the platform I'm using. You need to implement the same strategy in order to take advantage of holistic marketing.
Q. If someone aspires to grow on Youtube, how should he/she start?
If you wanna start making videos on YouTube, there are certain things you first need to specify on your mind.
At first, decide what's your niche, what positioning you're trying to establish in people's mind, and what type of content will you make?
If all these points are clear to you, just start.
Don't make excuses about not having a high-quality camera, microphone, editing machine and video setup.
Whatever you have, and however you can start, just begin making videos. No matter you're making it through your phone or with a high-quality professional video production setup.
If you will start today, then after a few months you'll surely have some results to show for. But, if you keep thinking that I'll start after this week or month, then you'll never start and after a few months, you will have nothing.
So don't think much, just start because the beginning is always NOW.
Q. What're some key things to keep in mind when creating content on YouTube?
The very first thing to keep in mind is consistency. If you are starting to make videos, then be regular. If you decide to make a video daily, then upload daily. If you think 3 videos in a week or just one video per week, whatever periodicity you specify that must be followed.
Be engaged with your viewers, and never try to cheat them. Whatever be your positioning, make videos which help you in establishing the same. In the greed of some views, never opt for those topics which are contrasting that.
I've compiled a blog about some common mistakes new YouTubers make most of the time, you can read that also in order to get success on YouTube.
Read Here: Some Mistakes a New YouTuber Should Avoid
Q. It's predicted that the number of videos crossing the internet in 2022 would be 1 million/second. Which industry has the best chance to grow and evolve if this prediction gets true?
Video marketing is not restricted to any specific industry. Everyone can leverage one's brand through video content, one just needs to brainstorm how to implement it wisely and effectively.
But if you are asking to name a few, then the media industry has the highest growth future preceding digital marketing, business development, IT, telecom, entertainment, pharmaceutical and so on and on.
Q. Many people/organisations complain that they don't have enough resources to put up videos. Your example is of someone who literally built everything from nowhere. What would you like to tell to all such people/organizations?
We all think that video is all about gadgets, but in reality, it's all about storytelling. When I started to make videos, I had just a smartphone with a 2MP camera.
So never make excuses about resources, start with whatever you have and however, you can do. Throughout the time, you will grow and your video quality will also get upgraded.
But, you need to begin and that's the hardest part for many people. Whatever you want to share with the people, start making videos without considering views and likes in initial days.
Q. What would be your advice to anyone who's planning to succeed as a video marketer in 2020?
Whatever videos you are putting on the Internet, it is building your brand.
People perceive you the way you position yourself. So before creating any content, think a hundred times whether it suits your brand or not? Never choose any other topic only with the thought of getting some views. And the most important thing is be consistent and to engage with your audience.
About MN Hemant Mahto
MN Hemant is an online entrepreneur and content creator from Bokaro, Ranchi of Jharkhand who is on a mission of instilling people towards success.
Started his wonderful journey as a YouTuber, now he is engaged in multiple platforms sharing his knowledge and experience to boost brands and entrepreneurs.
Website: www.mnhemant.com
LinkedIn: www.linkedin.com/in/mnhemantt
Instagram: www.instagram.com/mnhemantt
YouTube: www.youtube.com/mnhemant
---
Ideas are easy, Implementation is Hard, learn from the ones who knows how to start. A Publication by Tealfeed.
--- ---
Related Articles