How To Grow On LinkedIn in 2021
Everything you need to know to get noticed on LinkedIn
"LinkedIn did nothing for me. Huh, it's bullshit."
"I'm creating content on LinkedIn. But why am I not getting internships like my best friend?"
Why?
Are you one of those frustrated social-media bee who wants their career to blossom on LinkedIn?
Then just stop. Put brakes on your frustrations and question marks right now!
Growing on LinkedIn is a nurturing process, where you put a seed and vouch for it growing slowly. If you have known LinkedIn as a job-seeking platform and have set up your account because your friend or colleague or your teacher told you it's a good place to groom your profession, just let me ask you a few questions:
● Have you put a profile picture with your best friend, or that of your favorite actor, or of your favorite art?
● Have you written down just a two-line detail about yourself in the summary section or left it blank?
● Have you listed down your skills?
● Have you been using the LinkedIn default headline for yourself?
● Have you listed all your achievements and volunteering experience?
If you have said 'yes' to any of the above questions, then this is a red alert for you and this tells that you need to improve extreme on LinkedIn. To improve, let's take baby steps that help you grow and blossom on the platform.
Taking Baby Steps To LinkedIn Growth
The first step to LinkedIn is crafting an elegant LinkedIn profile. Before jumping to creating, let's know the anatomy of a LinkedIn profile:
● Profile Picture
● Cover Picture
● Headline
● Summary
● Work Experience
● Featured Section
● Skills
● Endorsements
● Recommendations
To create an all-star LinkedIn profile, focus on writing each of these sections. But, writing a compelling profile requires a few elements, of which the first and foremost is SEO.
LinkedIn SEO
LinkedIn is a search engine. Just like Google uses SEO to rank your articles, LinkedIn uses SEO to increase the visibility of your profile by ranking them on the first few pages of LinkedIn search. When you appear on the first few pages, your chances of getting seen by potential leads, hiring managers and business increases.
So how do you optimize your profile?
By sprinkling your keywords in the right place. Your keywords are the skills that you want to rank for. Let's say, I'm a Content Writer, so I would want to be ranked for top keywords like Content Writer and Copywriter. These two skills are your keywords that you have to sprinkle into your profile.
Places to sprinkle your keywords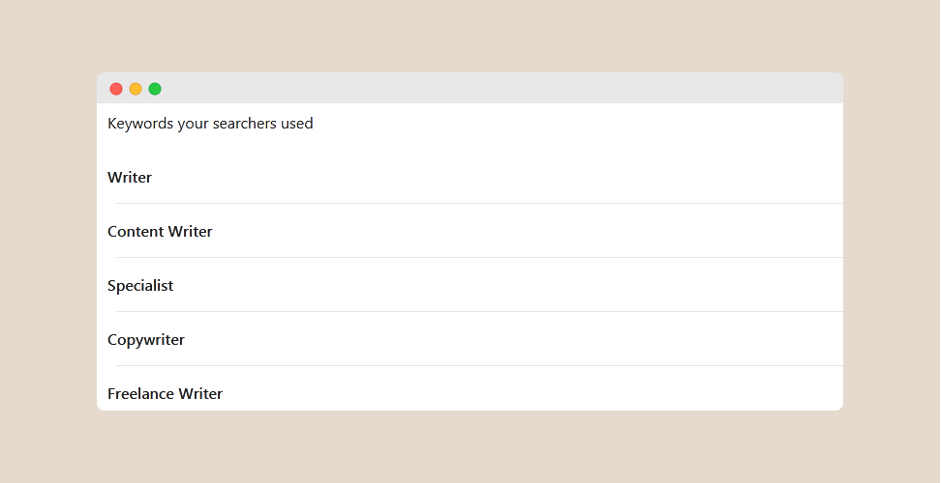 There are 4 places on LinkedIn that you have to sprinkle your keyword in:
● Headline: Make sure your headline has your top skill that you want to be searched for. You might have worked on multiple projects or jobs and have acquired new skills, but make sure to use only 1 or 2 primary keywords to rank for.
● Summary: Write an elaborative summary and check the number of times you are using your keyword. Target for at least 6 times.
● Work Experience: Add your keyword in both your designation and description of the work experience. When you do this, you are creating a strongly optimized profile
● Recommendation: If you are being recommended for your specific keyword by someone, it increases your visibility. So target for recommendations. Find your friends and colleagues who have worked with you in the past. Send then a recommendation request on LinkedIn and ask for a genuine feedback
Create a Striking Cover Picture

Your cover picture is the second psychological element that anyone sees on LinkedIn after your profile picture. A cover picture ensures an overview to the visitor about you in just a few minutes. To make an effective cover picture, you should focus on 4 things:
● Write a tagline that creates hook: The tagline should contain a strong message or solution that you want your audience to know you for, or one main service you want to be identified for. Keep it simple but make sure it clarifies your message to anyone who visits your profile.
● Include your roles, positions and services: Highlight your job role, your position and the company you work at. If you offer multiple services, highlight the top three services that you offer
● Add images: Adding an image on your banner adds up to the effectiveness of your banner. While it is not a rule of thumb to include your picture, you can also add pictures relevant to your business and a logo that defines the services you offer.
● Include links: Including the most relevant link on your banner adds to the credibility of your work, business and services you offer. This also helps people to search for your website on google by this simple yet important information about you. For example, link to your website
Write a Detail Rich Summary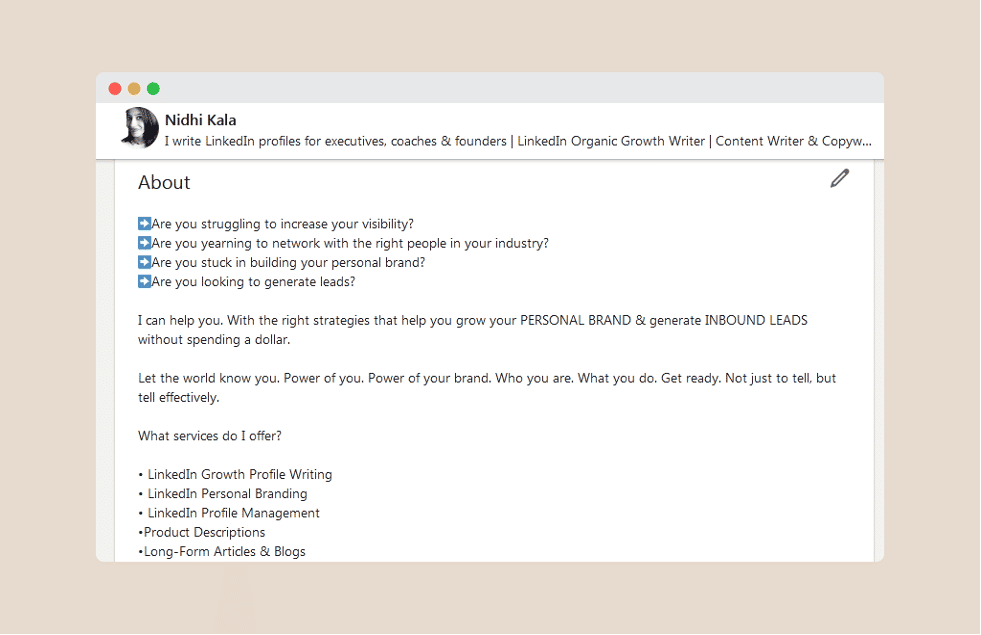 "I'm Nidhi, a content writer, and copywriter. I have experience creating content for multiple niches like fashion, health & wellness, business and Human Resources..."
If you think starting your summary section this way is good, then stop. No one wants to read a generic and boring opening line. When someone visits your LinkedIn profile, only the first 3 lines of what you write in your summary appear. If you write an eye-grabbing opening line, only then will the visitor click on the "more" option.
Creating a hook can be as simple as pointing to your target audience's pain point or telling an intriguing story about you. While writing your summary, here is a set of things you should ensure including:
● Services you offer
● Past projects you have worked on
● Clients/ companies you have worked with
● Your achievements/ features
● What drives your passion to work
● Your hobbies or interests that are interrelated to your skills
Write a story in your summary. Connect the dots of your profession with your hobbies if you can. But make sure it should not be boring. Your summary should tell everything to the visitor, whether it is about knowing the services you offer, what you do or how you became passionate about what you do right now.
LinkedIn gives you 2000 words to write down your summary. So when crafting your summary, target on writing at least 300 words.
Writing Work Experience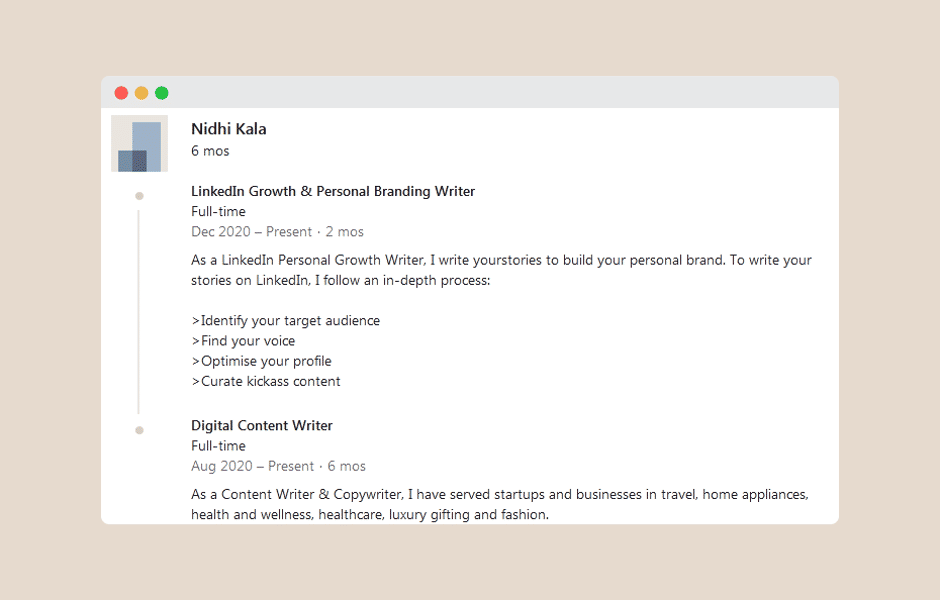 When filling in the details about your work experience, don't forget to fill the description. Your work experience contains keywords that help you in ranking. So, write down the details and the responsibilities that you performed. For writing the detailed description, use white spaces and bullet points.
Using Featured Section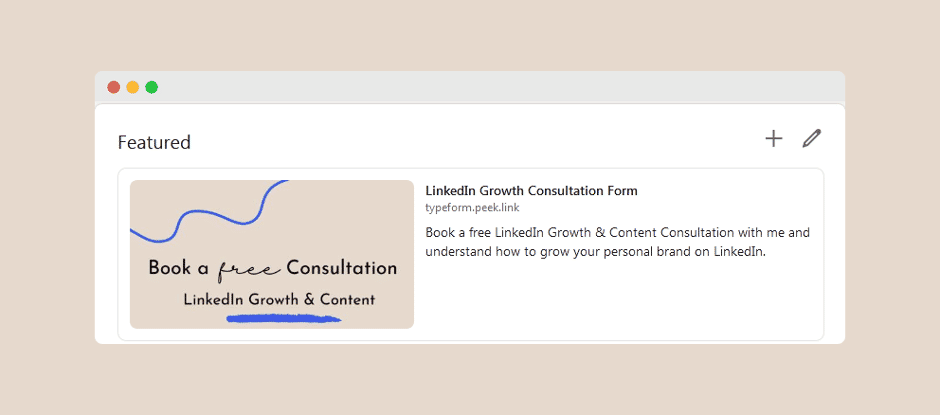 Last year, LinkedIn rolled out this interesting feature called the featured section. This section lets you add your most important links, posts and LinkedIn articles to your profile. With this section, you can be your own PR.
So how can you use this section to your advantage?
You can add links of your important features and achievements in this section. You can add your portfolio link or website link as well. If you have courses, workshops, webinars or consultation forms, you can add them here for easy navigation.
Connecting with Target Audience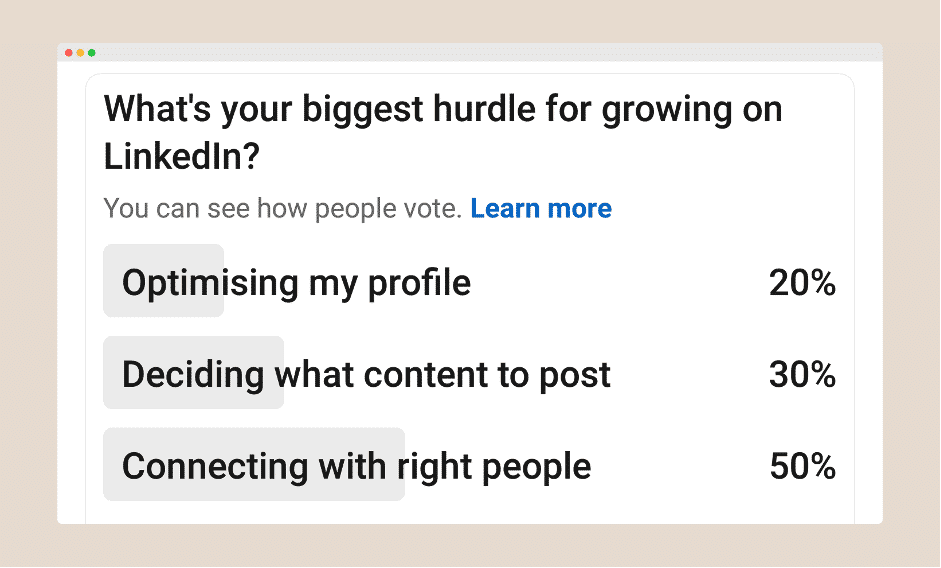 Did you know according to statistics conducted on LinkedIn, 50% of LinkedIn users find it difficult to connect with the right people on the platform?
Once you have optimized your LinkedIn profile, you are all set to send connection requests. For sending a connection request, you need to find the right set of people. For this, keep an eye on the designations of people. Your target audience is someone in your niche and someone who resonates with your skills. Keep at least 2 to 3 target audience persona fixed to connect with.
Now fill up the first target audience persona.
"My target audience resembles my skill: ______________."
Let's say I'm a Content Writer and Copywriter, in this case if I fill this blank, it would look something like this: "My target audience resembles my skill: content writing & copywriting ."
So, now you know your first set of the target audience.
The second set of target audiences includes the people you want to work with. The mutual target audience everyone can target is Founders, Co-Founders & CEOs. If you are a fresher or intern or someone who is starting to explore the professional world, your target audience would be hiring managers and HRs. If you want to work with a specific company, then your target audience would be the company's CEO, founder, co-founder, business owner and HR.
So now, you are ready to fill up your second target persona.
If you are a fresher/intern or full-time professional: "I want to work with (people) __________ of (company)_____________ ."
If you are a freelancer/ service provider/ business: I want to work with (people) ______________ for (services) ____________."
For example, I want to work with Executives, Coaches, Founders, for writing their Linkedin profiles ."
Now you have your target audience identified. Connect with them and start building professional relationships.
Creating LinkedIn content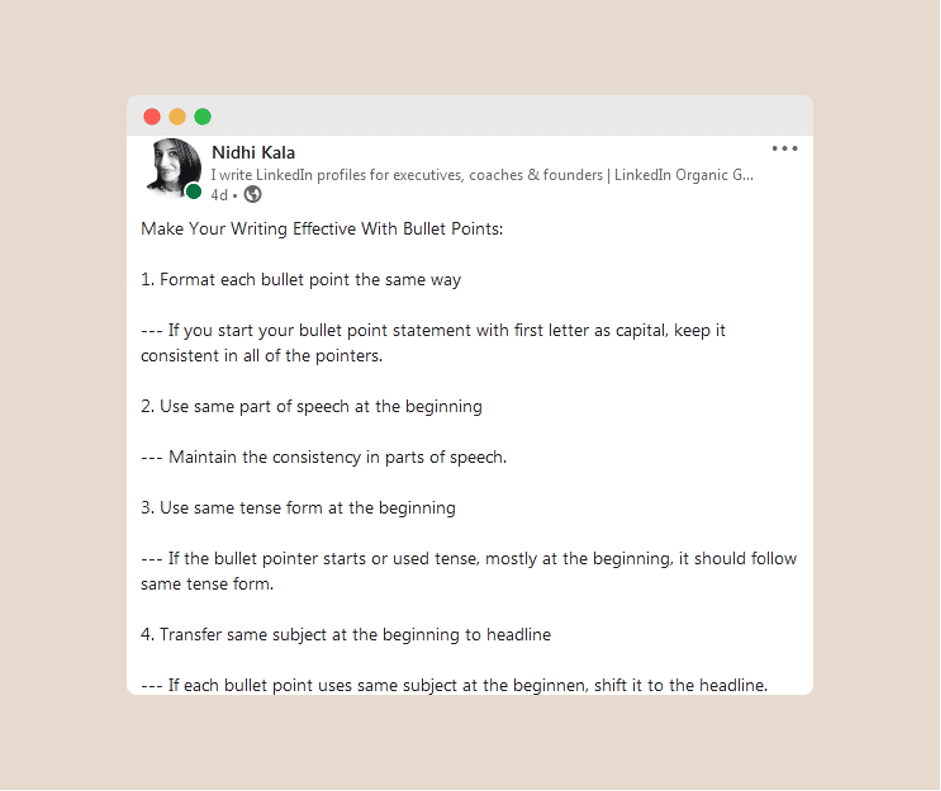 Don't be silent on LinkedIn if you want to get visible and grab opportunities.
"Should I only post about the achievements I have received?"
No. Start by writing stories. About you. About how you made an achievement. About your expertise. About your skills.
"But how do I write?"
While creating content on LinkedIn, you need to follow a structure:
● Create a Hook: Just like the summary, LinkedIn posts also show only the first 3-5 lines. This makes it important for you to write an attention grabbing line to make the reader pause on your post, read it all through and engage.
● Use White Space: LinkedIn hates big blocks of paragraphs that ache in the reader's eye and makes them skip posts. While writing posts on LinkedIn, write a line, then use break and write again. Just one line and white space is the key to ace LinkedIn posts. If you don't like writing one line and using white space, limit yourself to using 3 lines and then use break
● Organise With Bullet Points: Highlight and bring attention to your most important information with bullets points. Whether listed or unlisted bullets, both are great for keeping your posts clean and organised
● Use Less Emojis: Emojis are always good to add to bring life to your post. But do not overdo it. Using 2 to 4 emoji in a post is the best way to keep it simple, effective and interactive (with emojis). If you want to add more emojis, you can use them as listicles just like bullet points, to highlight the most important information
● Use Call To Action: What should your reader do when they have read through your post? Ask them a question or give them an instruction to perform a task. Ending your post with a CTA is must
● Add Hashtags: LinkedIn is not the same as Instagram, and so is the application of hashtags. When ending your post, only add 3 to 4 relevant hashtags to your niche or to the topic you are talking about.
Engage
Through Comments
Above all, engaging is the greatest key to growing on any platform, be it Instagram, Twitter, or LinkedIn.
LinkedIn has an intense power of comments. It forms a chain. When someone engages/ comments on your post, it shows up on their feed because they took out the time to comment on your post. When this happens, there is the highest chance of their network to see your LinkedIn post. If they like and resonate with your post, they will engage too. And this engagement chain continues.
To engage with people, don't write generic comments like "thanks for sharing", "thanks for posting", "awesome". It's a big no. If you want to grow and stand out through comments, add your two cents on the post. Write your opinion. If you resonate with the post, tell how you resonate with it. If someone has shared their personal experience or personal story and you resonate or have experienced something similar, tell them how it made you feel.
Through Messages
Just engaging with people's posts is not right. Start a conversation with them. "Hey, I read your XYZ post. I had a question. I wanted to ask ____________ ." And boom! You have started a conversation. You have taken a step towards networking with people.
One thing you should keep in mind is to start the conversation to talk and learn, not selling yourself or your business. When you start talking to them and ask about them, they will definitely ask back to you, about you and about your work. This starts building your network with them. You won't get a project or reference for a job by them instantly but it will come at the right time because they remember.
Through LinkedIn Stories
LinkedIn rolled out the story feature last year. Recently the feature has an added swipe up option. This means you have great chances of showing up along with the CTA. So how can you engage?
By sharing your work process. By sharing any new feature or achievement you received. By linking your new youtube video in stories. By sharing a testimonial story. By sharing how you made your day productive. By sharing a new project you worked on.
Leveraging stories is a great way to connect with your network and start a conversation.
So now you know the key elements to growing on LinkedIn. What do you need more to start on LinkedIn? Execution, execution, and execution.
Using all these ways will help you accelerate your growth. Maybe a new internship knocks at your door, maybe a potential lead, or a new project --- who knows what LinkedIn gets you! But remember, this will take time. So all you have to do is nurture your skills and LinkedIn to help you grow.
---
From the silliest reason to polish my writing skills, I started writing on LinkedIn and built an audience of 66K+. Sounds crazy, right? Yep. Call me crazy but I'm a headstrong person who restarted her journey after mutiole breaks in her life at the age of 24. I rebuilt my career and wore the wings of successful projects and collaborations with my dreamiest brands like ClickUp, PepperFry, Mio, Netcore Cloud, HackerEarth and many more. And that's what I want you to help you with. On Tealfeed, I write about my personal experiences as a freelancers and golden nuggets on polishing your writing skills. Are you in for it? Then hit subscribe and let's move ahead in this journey💪
--- ---
Related Articles