How to master the art of selling yourself in the digital age
And how to stand out from the crowd of 600M+ Linkedin users
You are going for an interview? You are selling yourself.
You are pitching a business idea? You are selling yourself.
You are going on a date? You are selling yourself.
No matter what you DO, you are in SALES! Now let me start with asking you a very interesting question!
Have you ever used Tinder, OkCupid, J-date, or any other dating applications? Now most of us will say "YES"!
Imagine you're set to go on a first date with someone new—now what? Checking out their social media, of course! You do background CHECK.
According to the research, 77 percent of people said they've researched a potential date. Thanks to the Internet and social media, it's easier than ever before to get to know someone without actually knowing them.
Similarly, imagine you applied for a job and waiting for a call. HR receives your CV and does some research but for some reason, you don't get a call. What went wrong?
On average, each corporate job offer attracts 250 resumes. Of those candidates, 4 to 6 will be called for an interview, and only one will get the job. Now HR has to filter so many candidates and select a few for the in-person interview with the hiring manager.
Did you know on average, 70% of HR will look at your LinkedIn profile before they decide to contact you.
Getting a job or sitting in front of the hiring manager is secondary, the first goal is to get a call and be in that 4-6 candidates who will be called for an interview.
So, what do learn from these two examples?
People DO judge a book by its cover.
Let me repeat, people DO judge a book by its cover. Specially in the DIGITAL AGE! Now, let me give you some tips to fix your BOOK cover!
I mean your online reputation.
Do you know there are over 600 million users on LinkedIn? Do not get lost in the NOISE! 90% of your LinkedIn efforts depend on the quality of your LinkedIn profile.
Standing out from the crowd and grabbing attention with an eye-catching and high-quality LinkedIn profile is IMPORTANT than ever!
Let's talk about how to fix it.

1) Profile picture
This one is the first thing a recruiter or anyone will see. Make sure your photo is up-to-date and reflects you how you look on a daily basis.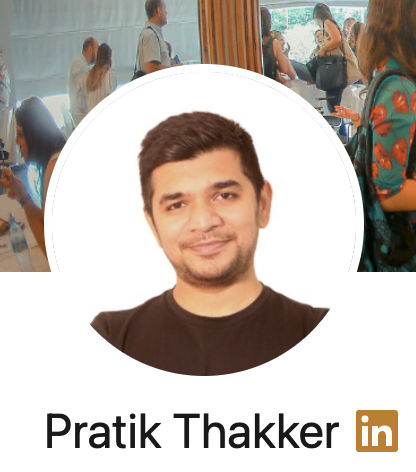 2) Headline
Make sure you write a catchy one here.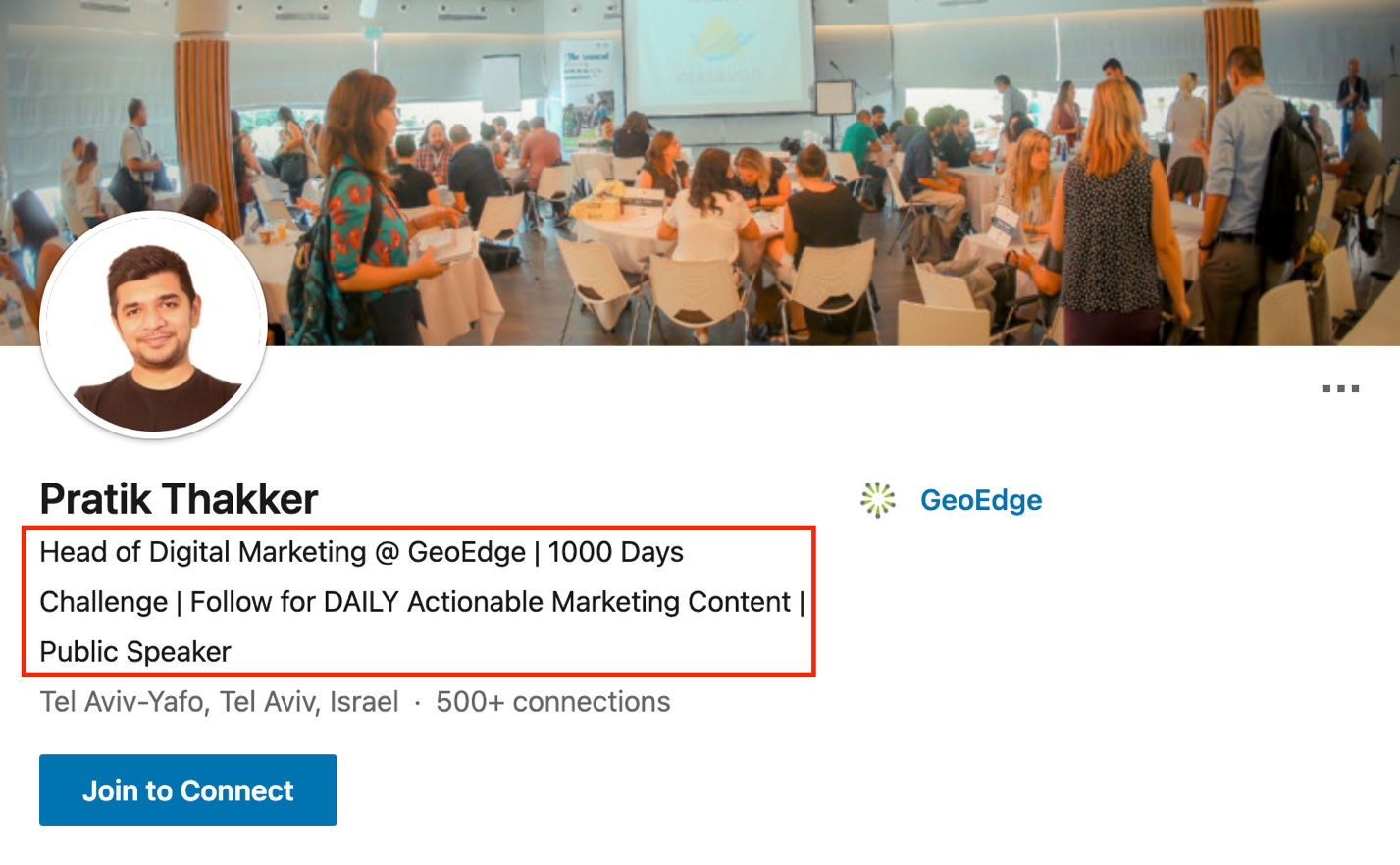 Your LinkedIn headline is going to help you do two things:
Show up in LinkedIn searches performed by recruiters, prospects, etc. via keywords
Sell yourself, your value, and/or your services once people are on your profile
Remember don't let LinkedIn choose your title or this is what you might see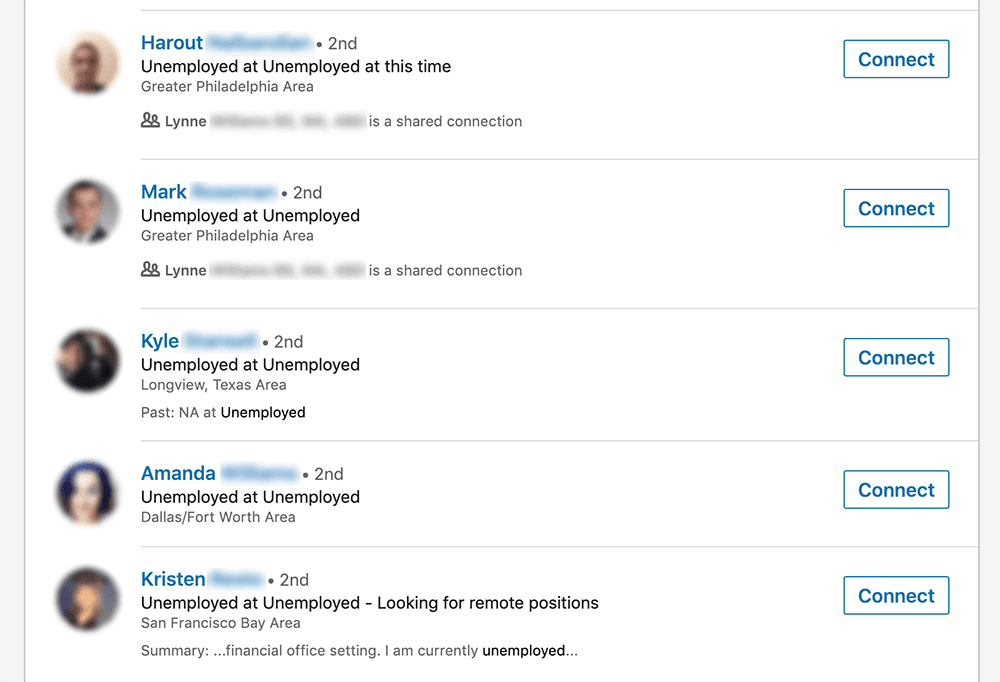 If you are looking for a job with experience, you can try titles like this…


If you are fresher, you can try this…



3. LinkedIn Summary
I personally feel that this is where you connect with the person who is visiting your profile. Be as authentic as possible and share your personal story.
Now you also want to be as factual as possible. Use data to back up your results and have a clear call to action. It's also very important, that your summary is keyword rich, so it's optimized for search.
4. Encourage Endorsements & Recommendations
This gives big credibility to your profile. People see that you have authority in the field, and you can be trusted. People only buy from people they trust. This is super important!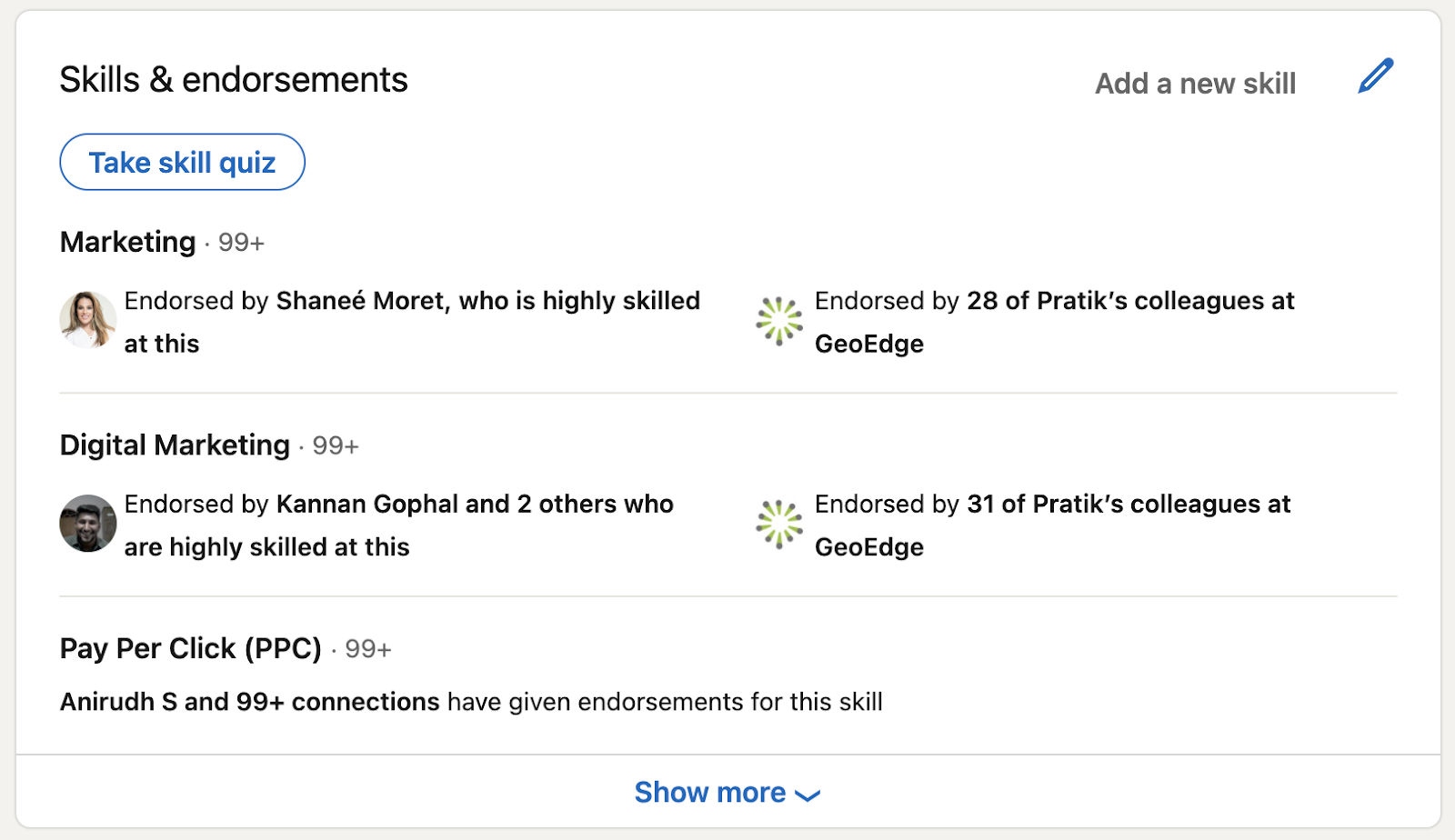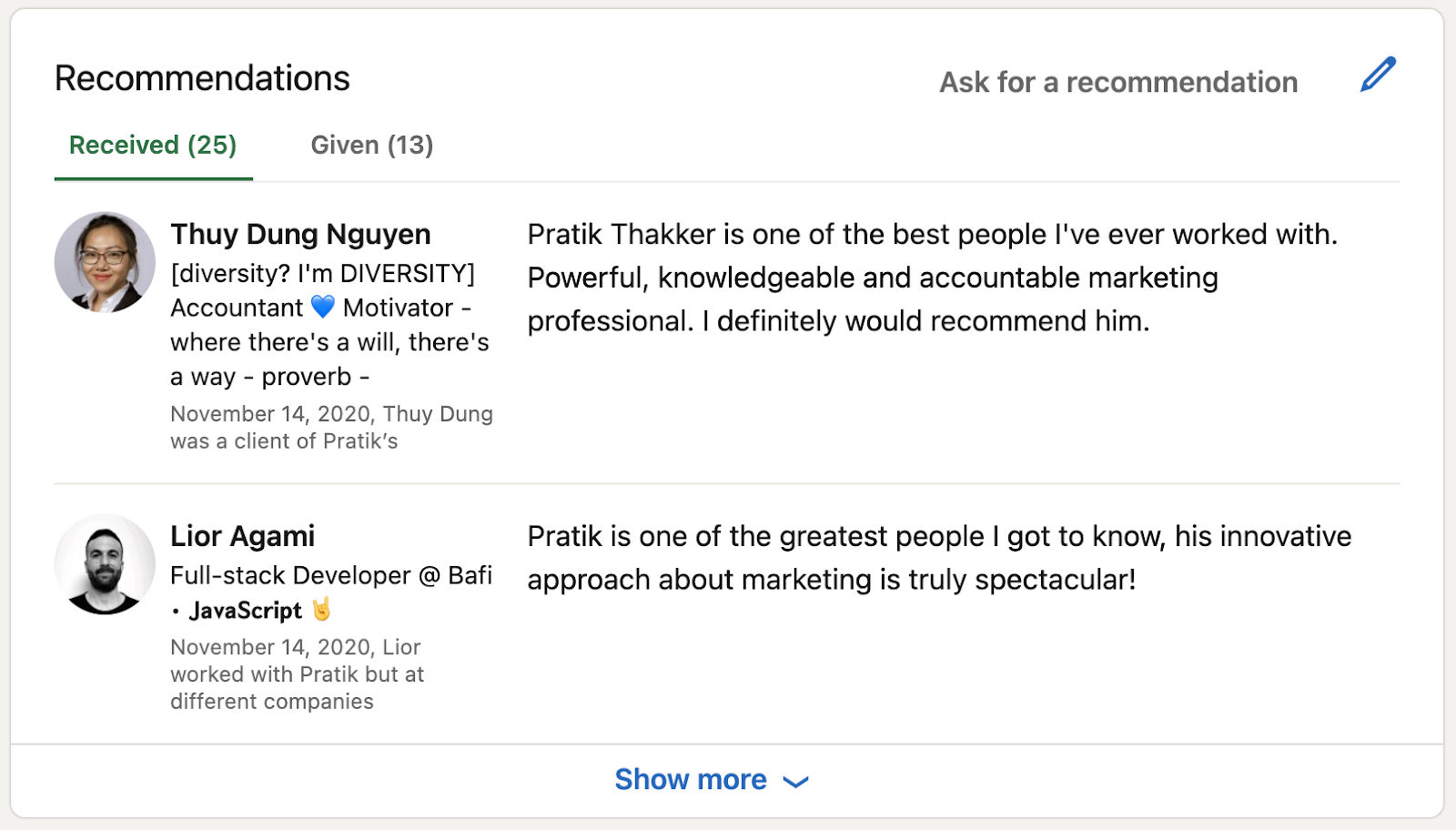 Start with endorsing and writing recommendations for people who you know and ask for mutual help in return.
Once you endorse them, simply message this…
----
Hey David,

I have endorsed your top-3 skills, which I believe would help you in building your credibility.
Can you please help me by endorsing my skills?
As mutual help is in the best interest of everyone:)
Cheers,
Pratik
---
Trust me, it works!
Remember, we are in the digital age where we buy everything online, we shop online, we learn online, we play online, even our jobs are going online.
Now let me ask you a question. Do you buy anything online without checking reviews?
No right?
Remember you are the Product! People will JUDGE you by your online reputation. Now let's talk about how you can sell yourself when you meet in-person.
The first seven seconds in which you meet somebody, according to science, is when you'll make a "first impression." In this short time, the other person forms an opinion about you based on your energy, your attitude, your manners, and how you are dressed.
Making a Great First Impression should be on top of your list.
Next is to CONNECT and build rapport with them! USE "N.I.C.E" Analysis. Every person has their own Needs, Interests, Concerns, and Expectations (N.I.C.E)
Don't try to be interesting, be interested.
AGAIN
Don't try to be interesting, be interested in their needs, interests, concerns, and expectation. The moment you get interested; person starts feeling connected with you.
Before fixing the level of dealing, you need to fix the level of feeling. Once the feeling level is the same, your dealing level will automatically go higher.
Remember, although business deals are logical, the people you deal with are emotional.
Now let me tell you the secret to selling…
The secret to selling is not selling at all
How many times have you received a phone call or email out of the blue from someone you don't know who wants to sell you something? They might have the best product or service in the world, but because you don't know them you don't know if you can trust them.
As a result, you won't buy it!
People buy from people they trust. Don't start a conversation trying to sell anything. Know their likes, dislikes, needs, and wants. Then connect and build trust. Sales will follow!!!
Finally, Be authentic. Be honest. Be yourself. Selling yourself the journey of life-long learning!
Now you know that I am a marketer, and I can't leave without a call to action! My 1000 days challenge!
Connect with me on LinkedIn and follow my 1000 day journey where I post content every single day!
See you on LinkedIn!
---
Pratik Thakker is a Marketer by profession & Entrepreneur at heart. With more than a decade of experience in marketing and 1.5 Million content views - he still continues to pursue his 1000 day challenge: a pledge to post content on LinkedIn every day for 1000 days!
--- ---
Related Articles