How to Raise Your First Fund
Part 1: Ecosystem, Network & Team
Keys:
Leverage your reputation and network to show early investors that you know enough people in the industry and have access to strong, proprietary deal flow.
Show any traction including previous investments or high-quality deals you scouted or helped investors close. Track key metrics and convert them into pitch decks.
Anchor your commitment to raising your first fund with a clear personal motivation. Why you want to raise a fund will help explain why you are the right person to raise a fund.
Surround yourself with great people building great things. The best teams bring together partners that may have very different backgrounds but aligned values.
Over the past decade, early-stage deal count and value has more than doubled. According to Crunchbase, the number of "Nano" and "Micro" VC funds have grown rapidly in the last 3–5 years, with 295 venture funds of $100M or less reported in 2018.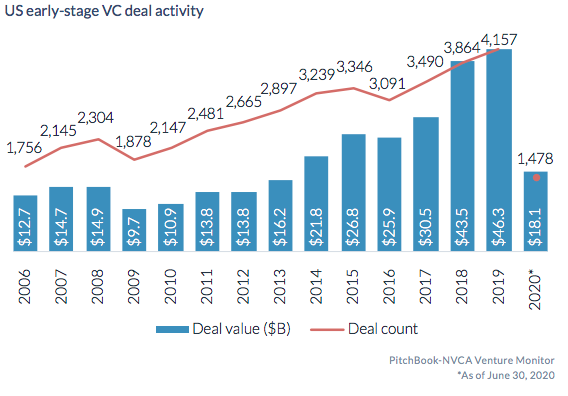 https://pitchbook.com/news/reports/q2-2020-pitchbook-nvca-venture-monitor
The pandemic has presented considerable setbacks so far, especially to early-stage VC investments. Despite these obstacles, Kauffman Fellows reported that, as of late June 2020, there are "358 emerging and micro-VC managers actively raising a new fund, which in aggregate represent about $6–8Bn in capital demand." As a result, it is even more crucial than ever that emerging managers gather all the advice and guidance they can.
Stay tuned for further articles in the series on developing your fund and thesis, building relationships and converting leads, and managing your fund.
Why you shouldn't start a venture capital fund.
Because direct investments in early stage companies can be very time intensive and picking winners is hard to do.
If you are a new fund, you are competing with more established funds with track records. Your losses to those competitors, especially in the beginning can be greater than expected and frustrating at times.
Hot companies with interest will be hard to score. In addition, the horizon for many of these companies is 7+ years and with the IPO goal posts moving to a median age of 11.5 years, you have to be willing to be in it for the long haul and plan ahead. However, there are still substantial upsides to investing in this asset class.
And if you get in early, possibly with pro rata, you can expect outsized returns. Focusing on what value-add you provide will be paramount here.
On the emerging manager side — prominent LPs have reported that
emerging managers and smaller funds tend to outperform larger scale, established funds.
Established VC funds hold the advantage since they can present a track record of consistent past performances. As a first-time or emerging manager, how can you convince investors to commit to you and your fund?
The Ecosystem
There are over 500 venture funds in the US. So what makes you unique enough to stand out and show startups they should align with you? Hint… it takes more than money.
"if you don't have a strong anchor, it's hard to get momentum." — Jason Lemkin
A basic way you can anchor yourself is through your passion and commitment to the venture. Are you all in on starting a venture capital fund? Can you devote a significant amount of time and energy into doing the job right?
More importantly, why are you taking this on? In his article on Emerging Manager 'Must-Dos", Arjun Arora stressed the importance of a clear personal "why". Why do you want to raise a fund? Your motivation is the secret sauce that makes you the one worth betting on.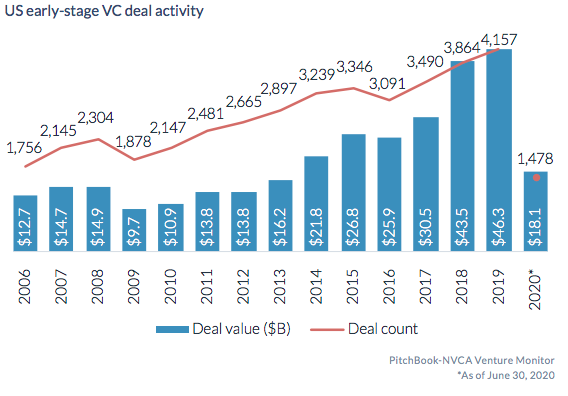 Photo by Amie Johnson on Unsplash
The Secret Sauce
It all comes down to being a good human and being passionate about making the world a better place through what you do. This is success no matter what industry you're in.
An emerging manager must have an intrinsic desire to enrich the startup ecosystem and help founders, investors, and everyone they help in turn. Bring this passion, your industry knowledge, and your experiences to your thesis and you've got the key to success.
"the heart of every venture business is people." — Arjun Arora
The Network
How can you show traction as a first time manager? As an emerging manager, your fund won't have a reputation, but you can still leverage yours.
Start with your network.
If you are new to investing, start investing in a syndicate. Get on a website like AngelList, start making investments, and connecting with other angels. A syndicate is an easy gateway to investing and gaining traction because it can be as passive or active as you want.
You can start by watching, asking questions, and building clout before ramping up your activity. The syndicate lead could even become your champion, making introductions to other investors or investing in your fund themselves.
Spin up an SPV.
If you are worth your weight, convince people to give you cash to make investments through an SPV. More on this in an upcoming post.
Build proprietary deal flow.
It helps to gain experience on multiple sides of the table. Another way you can build traction is by finding high-quality deal flow as a mentor at a top accelerator, venture partner, or scout.
Start bringing deal flow — not just any deal flow — high-quality, deal flow.
What makes deal flow "high-quality"?
Make sure the deals you bring to funds and investors match their parameters and investment theses; check size, revenue threshold, team size, stage, life of startup and sector. It's better to bring 5 investable companies that match a fund's criteria perfectly than 20 misaligned deals.
Make sure you track CRM fundamentals like last contacted, and document what deal flow was received and when, which companies you sent to which investors, and whether they invested. We track these stats with our tools on fiifi.co.
Pro tip 1: track key metrics and convert them into pitch decks.
Attribution is an underrated proof point and a fund manager can easily lose track. Collecting, referencing and looking back on who brought what deal, and if you invested in it, is part of your proprietary flow.
Show early investors that you have the inside loop on the right deals because you have 1) strong relationships with industry players and 2) an essence of proprietary deal flow or your track record and relationships with industry players.
One day, instead of passing high-quality deals onto other funds and angels, you're going to invest in them yourself.
The Team
Not only can your network help you understand and connect with founders and investors, but it will help you build a team that's right for the job. That means assembling a fund operations team that is balanced in terms of skills and experience.
A novice team?
In nearly every industry, it's hard to break in when you're viewed as new to the game and inexperienced. Young teams can beat the odds by concentrating on how their freshness is a benefit rather than a problem.
For example, the founders of Prototype Capital used their age "to understand Millennials and Gen-Z minds, fund and build companies aimed at that market, and find under-the-radar founders." How can your age and experiences be an asset to how you run your VC fund?
Emerging managers and Micro-VCs are valuable pathways to more diversity in venture capital. In a recent report, only 9% of investment decision makers in VC are women and just 2% are Black.
On the other hand, 16% of micro-VCs include at least one female investment partner and over 50% of firms include at least one minority.
VC funds with homogenous teams have been shown to yield poorer outcomes than more diverse teams with greater deal-flow and decision-making capabilities.
Pro tip 2: leverage your investors and have a robust set of advisors. Beyond just a check, investors can be invaluable advisors. Take advantage of them and their brand to attract other investors and review deals.
I believe in bringing great people together to build great things.
During my time at Acceleprise, we found ourselves investing in a greater proportion of female CEOs and more diverse teams than the industry standard by looking for and backing people with the right values.
The end result was a terrific, balanced team that was found through our collective experiences to invest in great, diverse teams.
Great people building great things. That's all it takes.
---
Created by
Theron McCollough
--- ---
Related Articles