How you can use LinkedIn to land your dream job during Covid-19
This job-search strategy can help you land your dream job
---
Jonathan Javier
2 years ago
|
10 min read
---
There are millions of jobs out there in the job market. You apply to over 100 of them. "The more I apply to, the more chances I have in getting a job" you say to yourself.
You wait and wait some more. It seems like an eternity. Then you hear back a few days later with a generic, email response:

No feedback to make your next application or interview better. Sometimes, there's no response at all.
You feel defeated. "Why didn't they at least interview me? I would've nailed it!".
It's times like these that make us doubt ourselves in regards to our careers. Sometimes, our dreams are shot down because we are rejected.
However, it ultimately doesn't mean the end, but it's only the beginning, and we weren't rejected; we were simply redirected. I remember sending hundreds of emails to professionals and applying to numerous roles; to never hear back or receive any help was one of the worst feelings.
However, by utilizing LinkedIn effectively and strategically, it can help you land those dream internships and opportunities that you once thought were unattainable.
I've had the privilege of not only working at companies including Snapchat, Google, and currently at Cisco in non-tech fields, specifically Operations & Strategy, but also helping others get their foot in the door with top companies. It wasn't easy; I've never taken any opportunity for granted,
and I'm thankful to share my words of wisdom through Wonsulting and #JWoW which I hope will continue impacting future generations and bridge the gap between those trying to get into their dream careers.
How did I do it? Here is one of the strategies I used on a high-level to get my foot in the door with these different companies:
LinkedIn Messaging
What is LinkedIn Messaging? You can define this as simply reaching out to someone through the platform. However, how do you effectively utilize LinkedIn Messaging with those in your desired industry/position to learn more about what they do, establish rapport/organic relationships, which could possibly lead to your dream job?
The structure I use is as follows: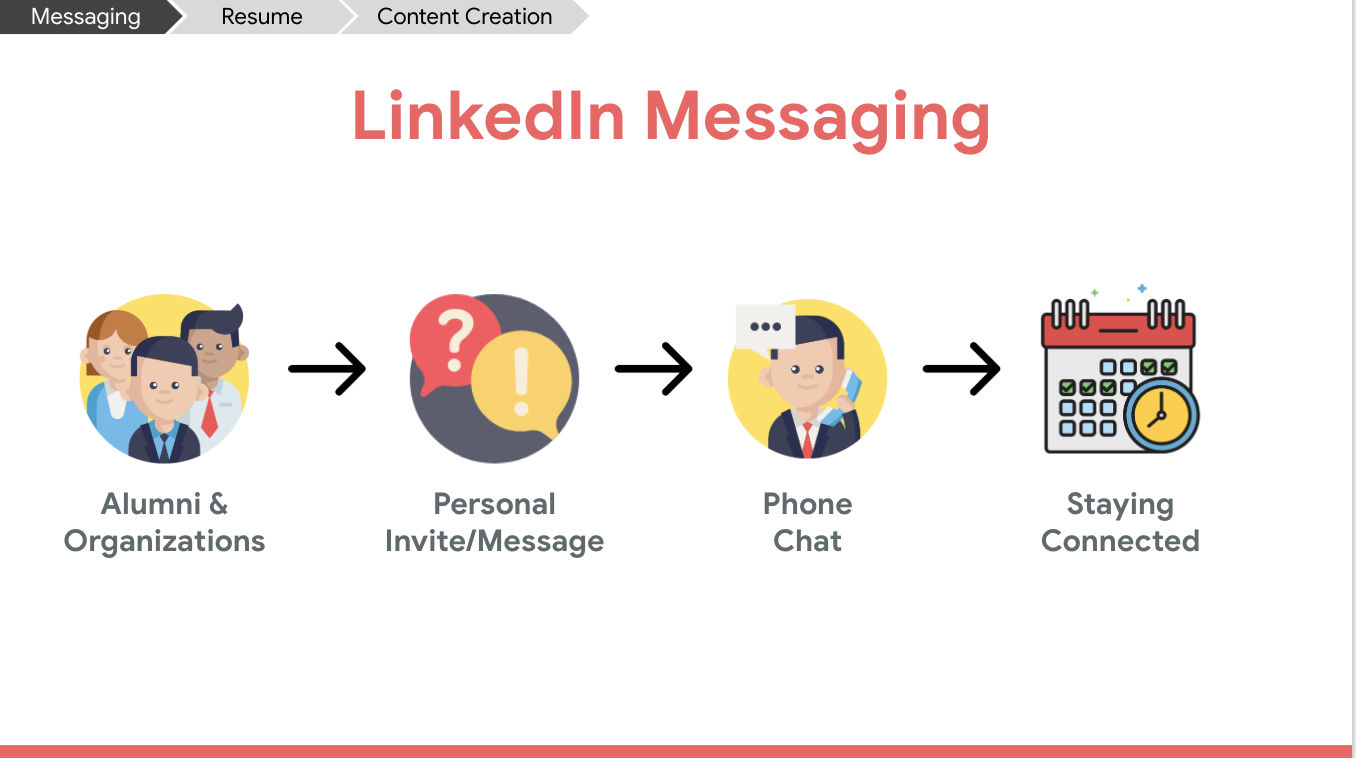 I'll go into detail of each section and how each one is used.
Alumni & Organizations
First, identify what university and organization(s) you are/were a part of. These will identify the two target markets if you are trying to network/connect with professionals in your dream job/industry: Alumni and Organizations.

Why these two target markets?
Share something in common: More inclined to add you back since you are both from the same university or organization.
LinkedIn Pages: LinkedIn search on these pages make it easy to identify professionals in your desired company, position, and industry as well as seeing their career journey.
Let's go through an example: Suppose you currently attend San Jose State University and are part of the Association of Latino Professionals For America (ALPFA). You can find alumni people both from San Jose State and ALPFA working in the specific jobs/industries you are interested.
LinkedIn gives you an easy access point to find alumni/people who fit the exact criteria you are looking for.
Go to "Alumni" or "People" (see red boxes from previous image). You can then search which company, position, and also see the background behind who they are. Let's say you want to work at Google.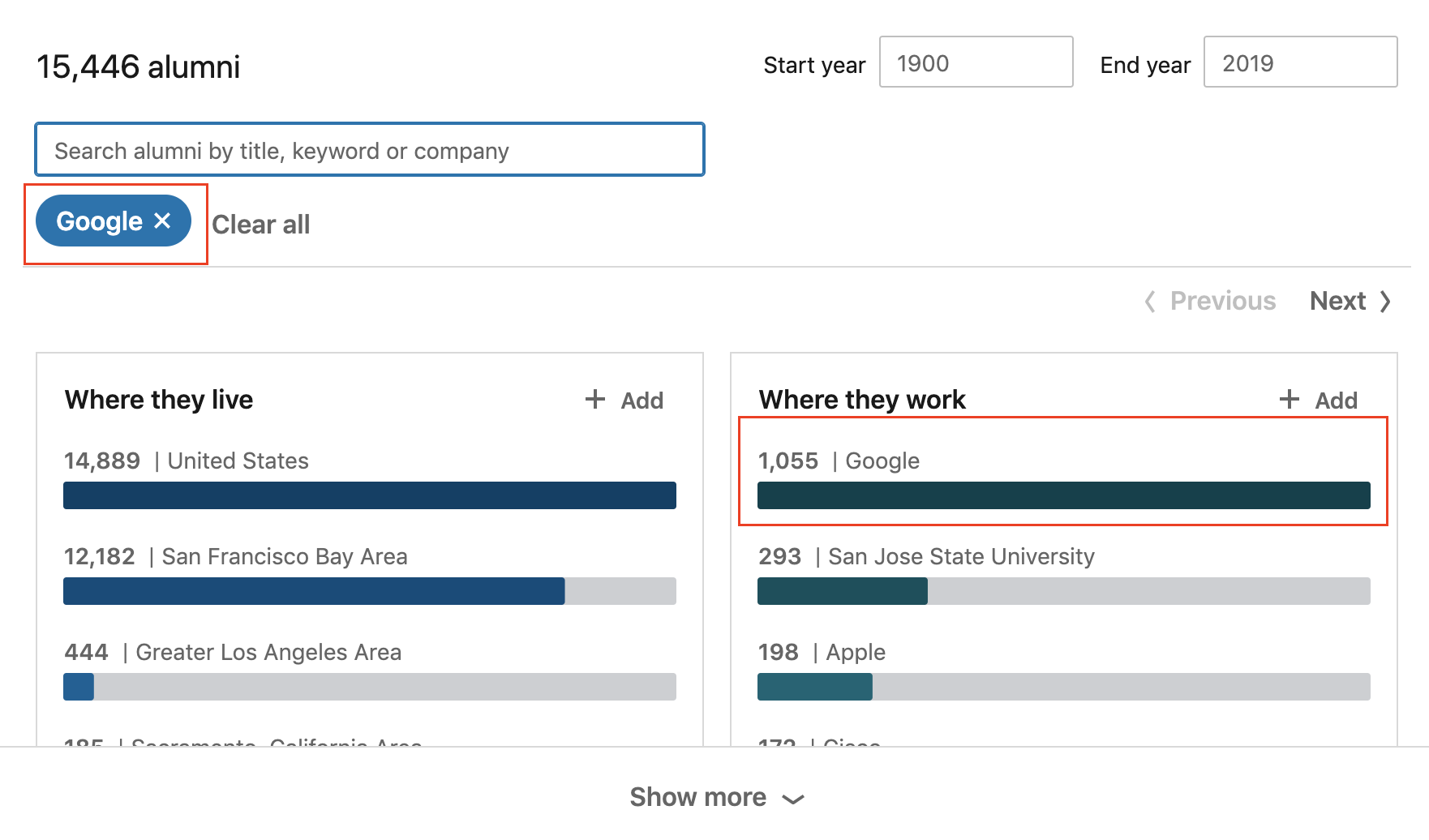 By searching, we find that 1,055~ alum from SJSU work(ed) at Google. That's almost 1,055 chances of you getting a genuine connection to learn more about your dream job!
Then let's say you're interested in People Operations, or HR. Go through the listing of alumni and find one that pertains directly to your field of interest: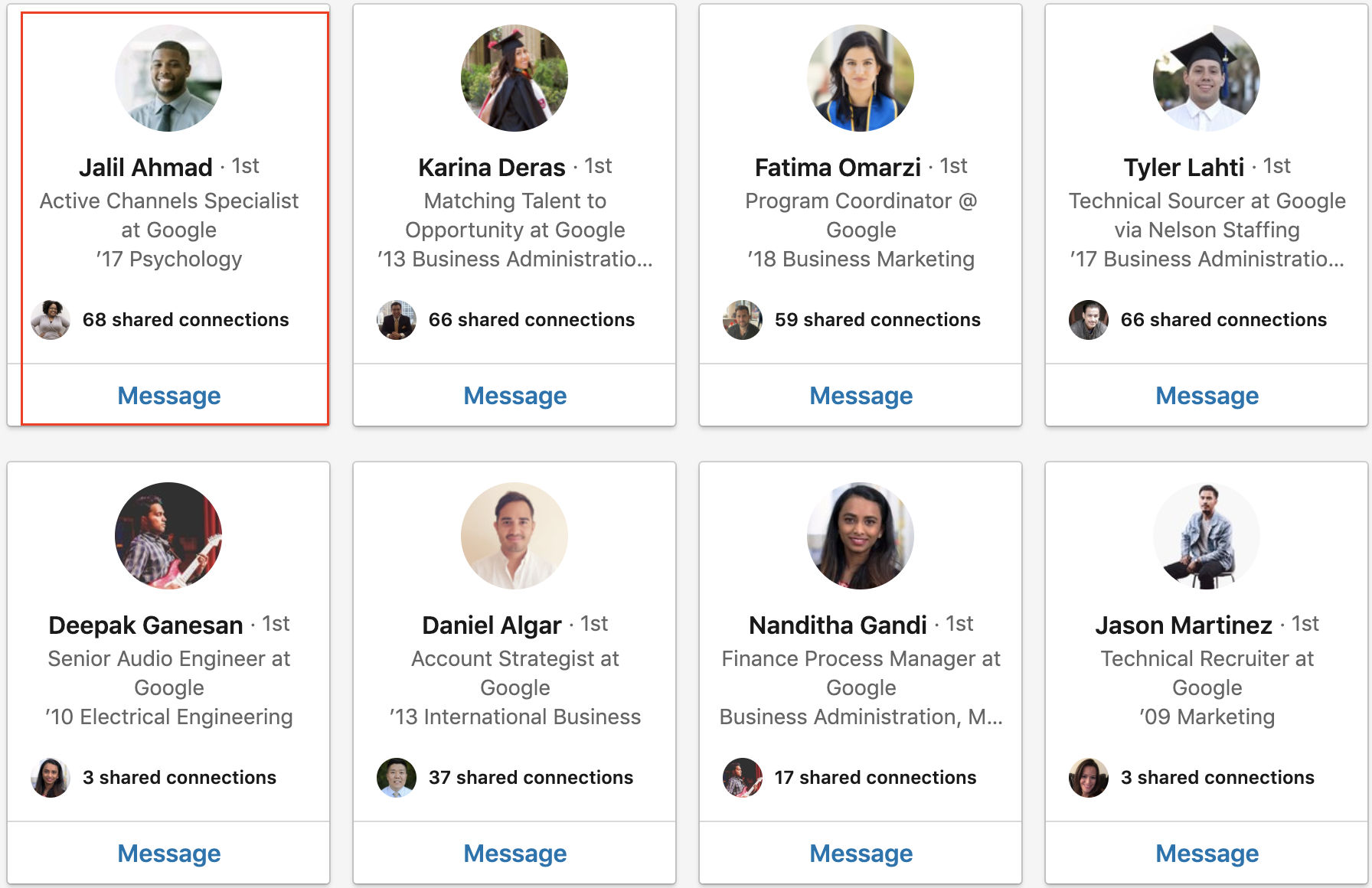 After looking at the alumni, you find that Jalil Ahmad works in the particular field you're interested in. Do a profile analysis: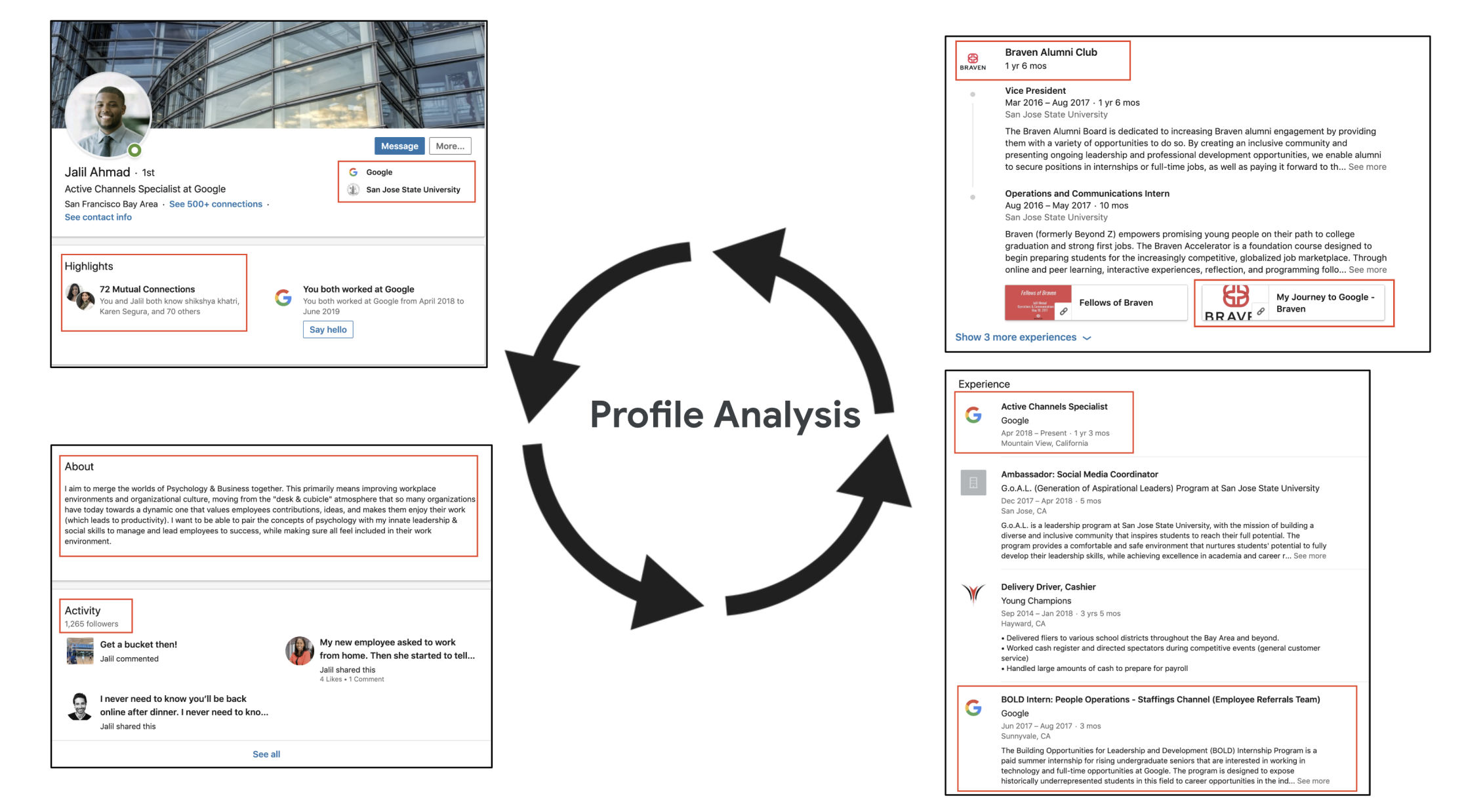 1. Check out the person's company, education, and highlights. Make sure that they work at your desired company and graduated from your university/organization. In this case, Jalil graduated both from your university, San Jose State, works at Google, and has mutual connections.
Mutual connections can be utilized for a warm introduction instead of a cold one (in this case, 72 mutual connections); for example, if you know of a close friend or connection that knows the person, you can ask them for an introduction or further background of the person before going into the conversation.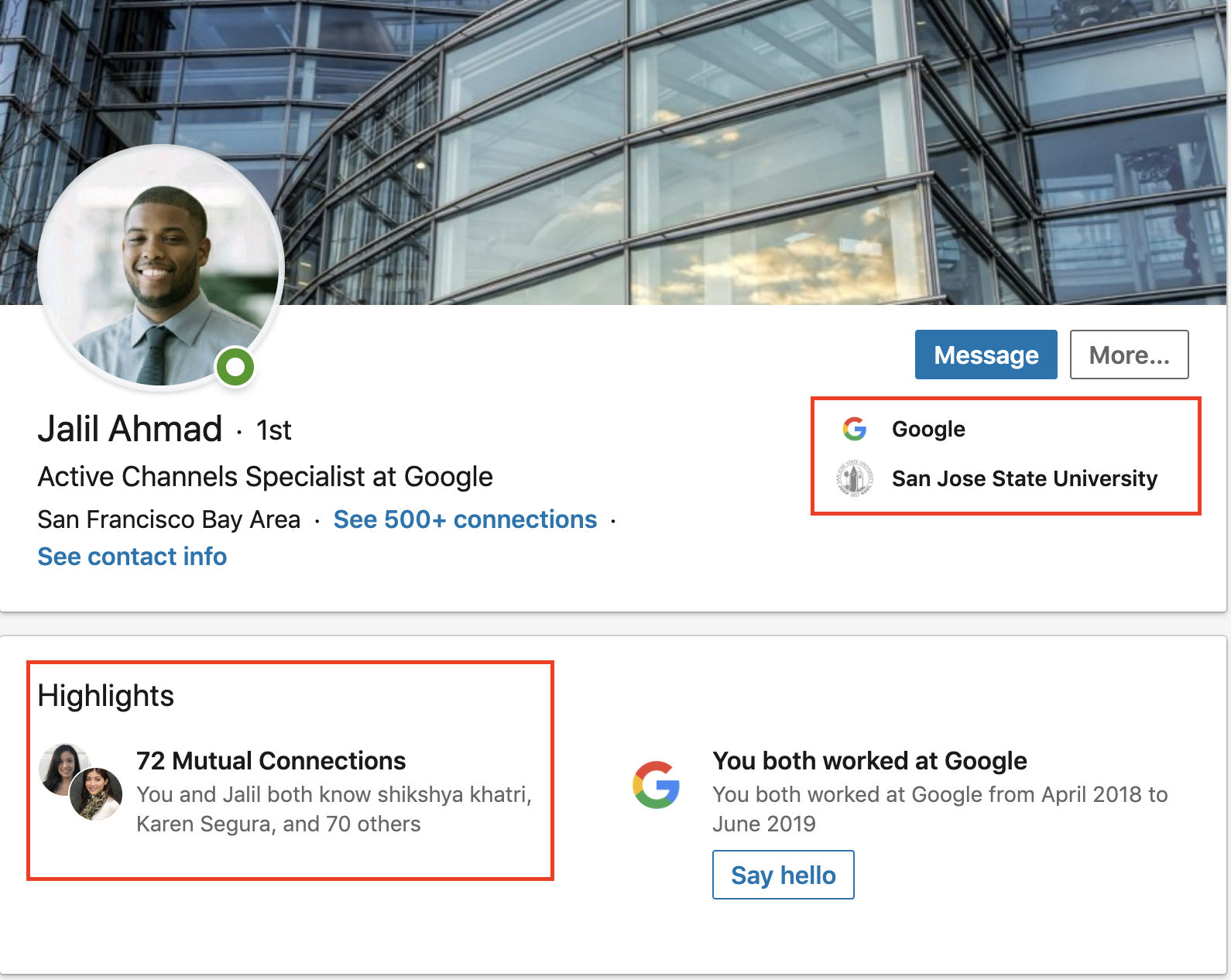 2. View the person's summary and activity. In the "About" section, you can see different topics that the person is either passionate about, has the skills pertaining to, and other criteria.
In this case, Jalil loves both Psychology and Business, which are two conversation topics you can use when conversating with him. Also, activity is important because you want to see if the person is active on LinkedIn so they can add you back as a connection.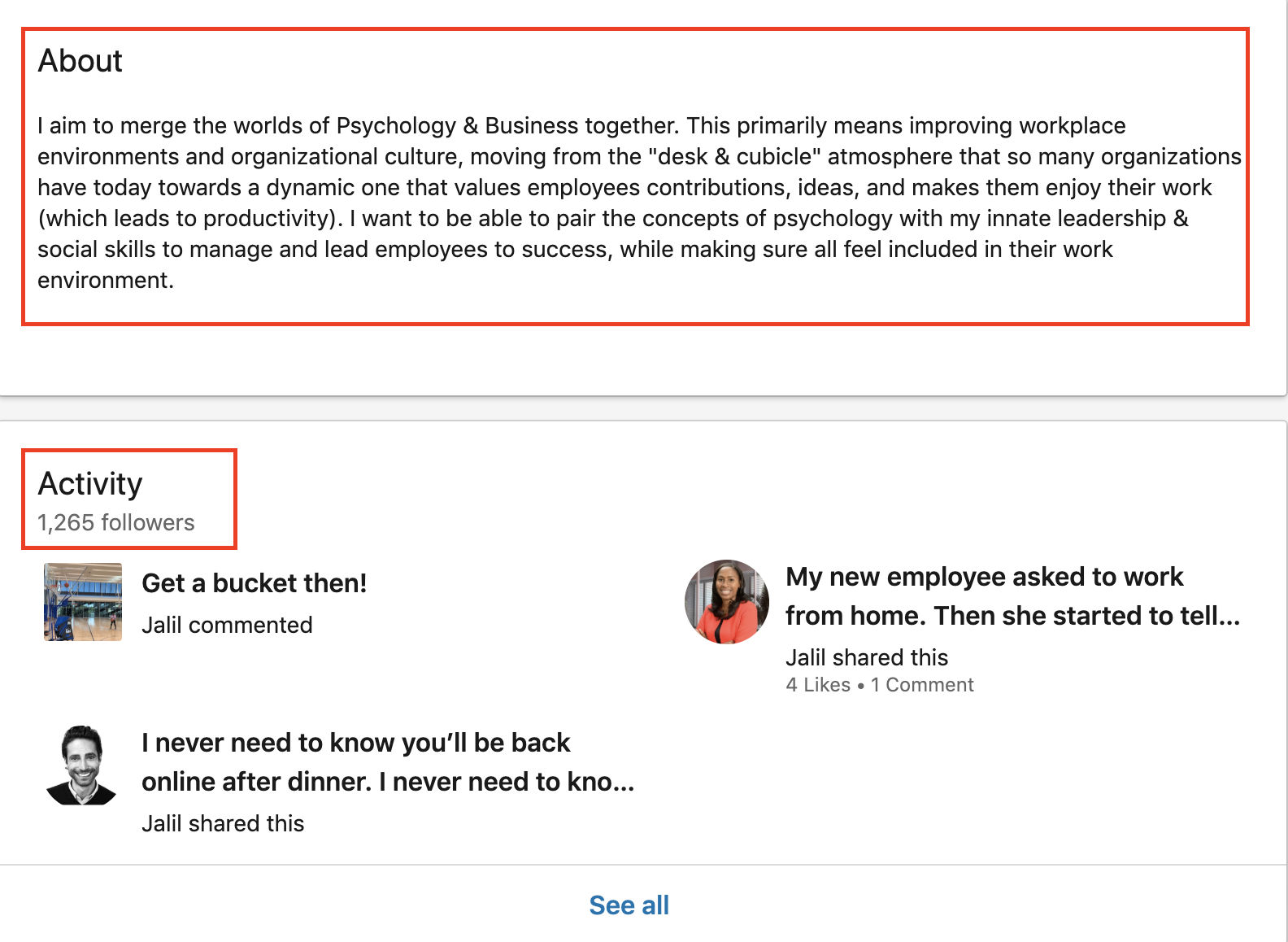 3. Analyze the person's experience; in this section, you can see a general overview of their career story. In this case, Jalil did an internship at Google which then transitioned to his full-time role as an Active Channels Specialist. You can use this as a talking point when reaching out via message.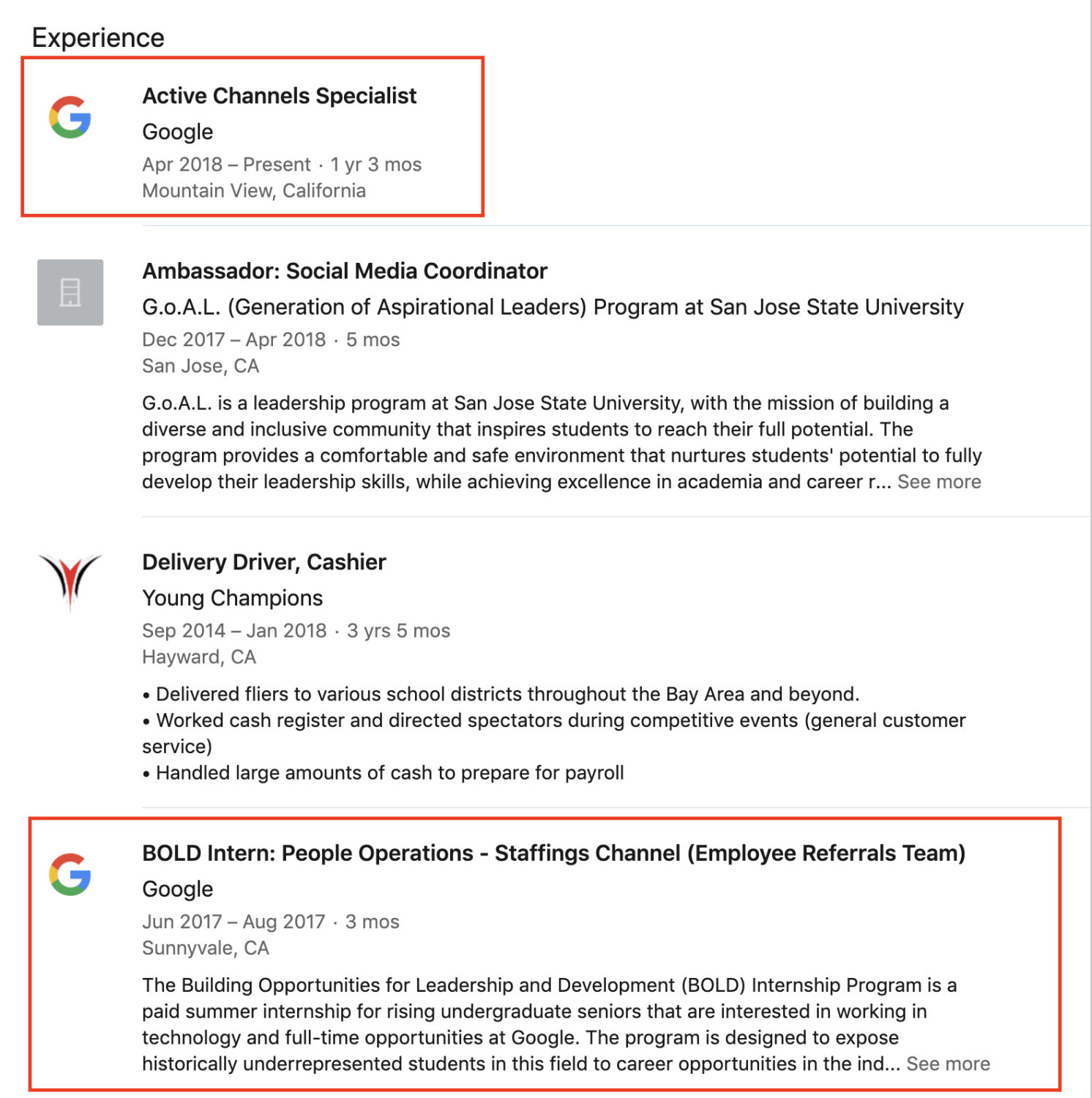 4. Lastly, look for anything else that would be a great talking point such as volunteer experience or organization involvement. In this case, we can see that Braven had an impact on Jalil, specifically his role at Google, through the media on this section; thus, another talking point in your conversation.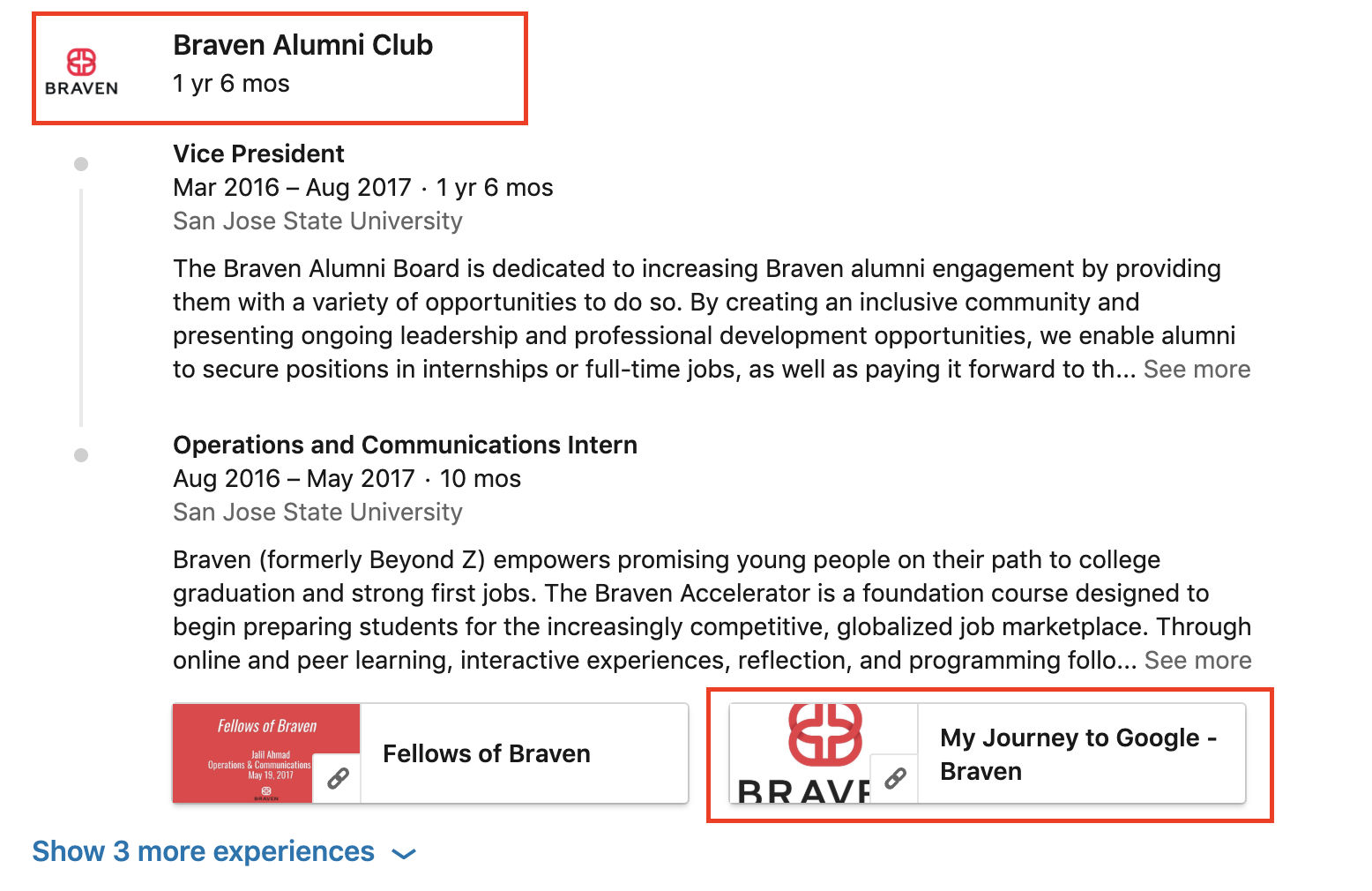 After doing a profile analysis, we know the following about Jalil (all from just looking at his LinkedIn):
Currently an Active Channels Specialist at Google (in People Operations) for over a year
Graduated from San Jose State University
Did an internship at Google before moving into his full-time role after graduation
Loves both Psychology & Business
Was involved with organizations including Braven and G.o.A.L both as a student and a professional (On the Alumni Board)
Braven helped him get his foot in the door with Google
All of this information will then be used in the next sections.
Personal Invite/Message
After doing a profile analysis, reach out to the professional via Personal Invite. It is important to send those you are trying to connect with Personal Invites,
especially those who don't know you so you can introduce yourself to them. I personally will add most people who send me a Personal Invite, and professionals really appreciate the effort in sending an introduction as such. Here is the structure I use as follows (let's say I'm a 3rd year at SJSU):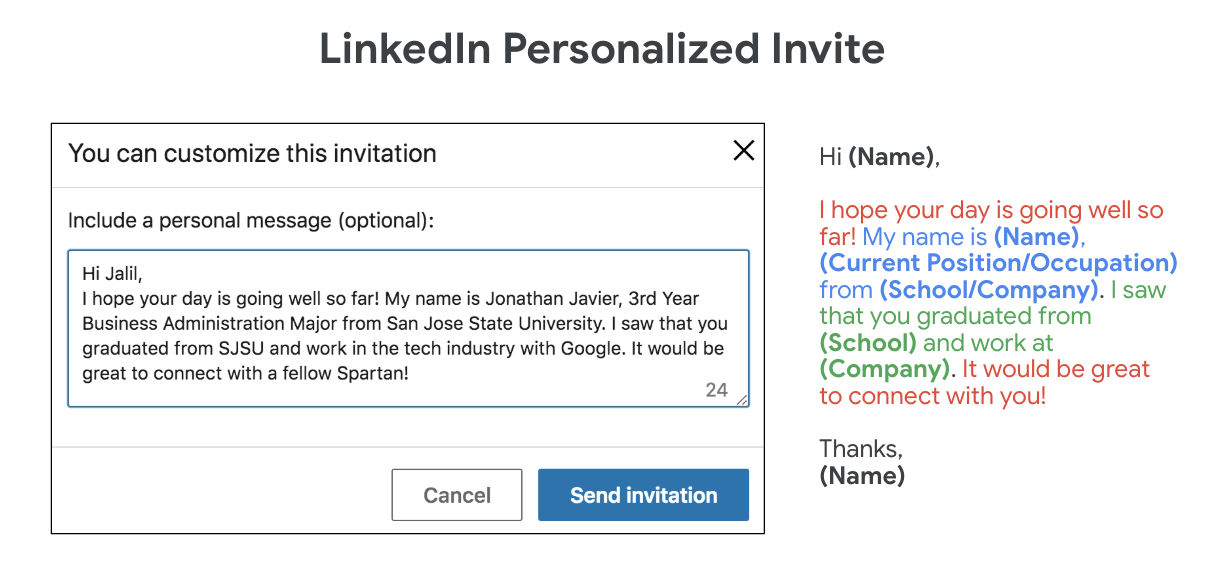 To how and why it's important to send personal invites, check out this post
After sending a Personal Invite (or some variation of it), the person will connect with you 80% of the time (from my experience). Now, remember the information we got from the profile analysis? You will include it in your message to the person as follows: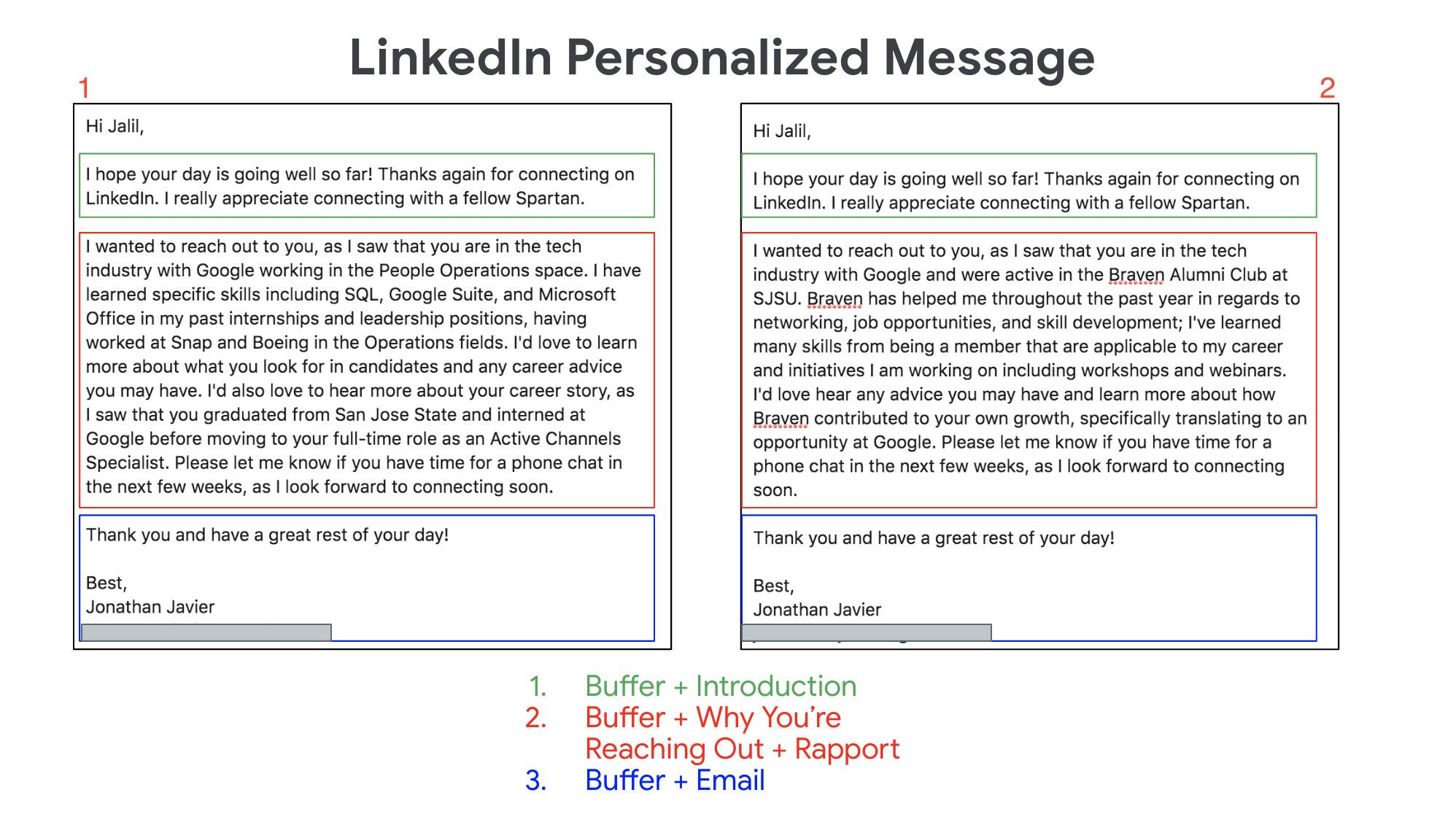 Do you see how I took all the information we analyzed through the person's profile and implemented it into here?
We are reaching out in the perspective of being a student/alumni from the university. You are showing that you not only have done research on them and their background but also know the different skills required in the x industry. You're inquiring both about opportunities but learning more about how their role is and its responsibilities.
We are reaching out in the perspective of being a part of the same organization. In this case, we talk about the impact the organization has had both on you and the person you're reaching out to.
Phone Chat
After sending the message to them, the next steps can go one of 3 ways:
Response with Phone Chat 😊
Response in which they're too busy to talk on the phone 😔
No Response 😢
If they agree to a phone chat, schedule one with them in a few days/week in advance for 30 minutes. During those days prior to your call, accumulate questions through your profile analysis. Here's what questions I'd ask and why (let's say we're talking to Jalil):
Questions
Question: I saw that you graduated from San Jose State University where I am currently attending. How was your experience there and how did it prepare you for your current role?
Why: Reiterates that your commonality, builds rapport, and is a good starting point to learn more about his career journey outside of what is on his LinkedIn profile.
Question: When looking at your LinkedIn, I saw that you first interned at Google before going into your full-time role as an Active Channels Specialist after graduation. How did you first get your foot in the door with Google?
Why: Shows you did your research on his career progression. Also, this question gives you a perspective on how you can get your foot in the door with x company by following in the person's footsteps.
Question: It seems that different organizations have played an important part of your career, two of them being Braven and G.o.A.L. How involved were you with these organizations and how did they help develop you into the person you are today?
Why: Shows that you did research on his LinkedIn profile regarding his involvement with organization/volunteer opportunities; if he shares a story of how it's impacted him, you can briefly share your own story as well.
Question: I saw that you are currently an Active Channels Specialist at Google, a position I am interested in. What are your day-to-day responsibilities and what do you look for in candidates?
Why: Gives you a glimpse of what he does for his job, which can give you a perspective on whether or not it's something you'd like or dislike doing. You can also utilize his advice and apply it to your resume; for example, let's say he uses Excel a lot for analyzing data. You will then know that Excel is a critical skill that is necessary to be in a specific role, thus add it to your bullet point sections.
Question: Google is known as being one of the best places to work. Throughout your time at Google for over a year now, what do you love the most and what do you find most challenging?
Why: Acknowledges that you did research on not only Google but how long he's worked there for. It also gives you a better perspective of the culture at x company.
Question: What is the motivation behind your passion for both Business and Psychology?
Why: Information pulled from his "About Me" that can start a conversation regarding his passions and ambitions; you can share a story relating to his answer as well if it pertains to it.
Question: As a student, I am currently trying to put myself in the best position possible to work for a company like Google. What would be the best piece of advice you could give me into pursuing that goal, and would you recommend anyone else I could speak to?
Why: Advice can be used to get your foot in the door, possibly be referred to a position, or referred to another point of contact at x company.
Overall, the questions you ask should be in regards to their career journey, what their current role entails, and advice/recommendations.
Also, questions should be asked in a way where you can answer their answer with your own answer (to show off your skills/experience) as well as sending a thank you the next day for their time; check out this post to know how to do so
Staying Connected
This is vitally the most important step in the process because it is the one that most people will not do. Out of the hundreds of phone chats I've had, I only have 1-2 people follow-up with me regarding their careers consistently. Here's how I organize my follow-ups/connections: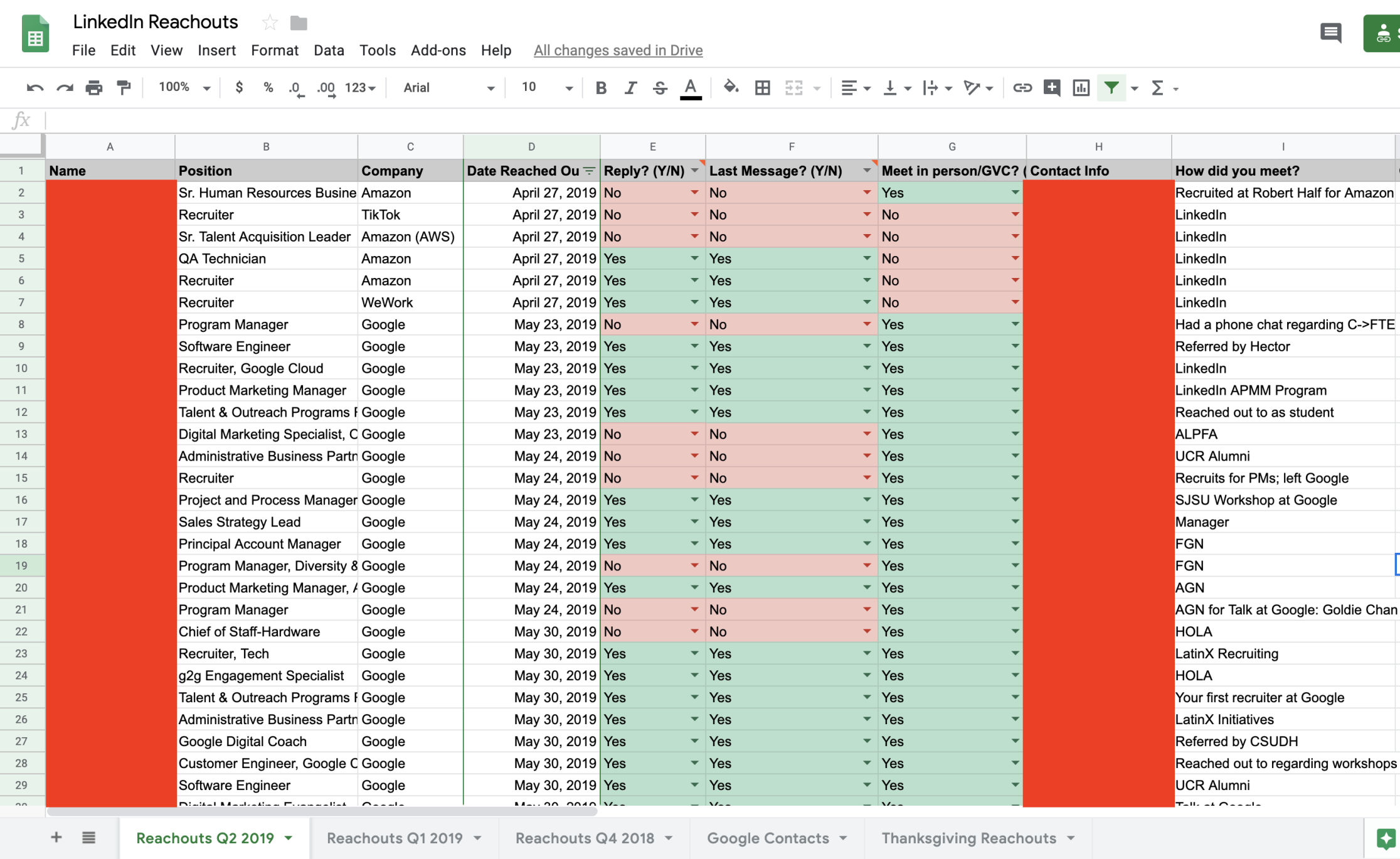 I created an excel sheet with everyone I've spoken to/reached out to so I can stay connected with them. I'll update each connection every 3 months/quarter on what I've been up to and also inquire how they've been as well.
This creates a stronger relationship, builds rapport, and helps us stay in touch regarding our careers.
Side note: Feel free to comment your email and I'll send you the template 😊
Due to you being connected, let's say you run into a job opportunity at your dream internship. Let's say it's working for Google in Operations.
All you have to do is go back to your Excel sheet, filter it with those who work for Google, and then find who would be the best person to reach out to that can help with the opportunity.
Then reach out to the professional with a message (or one similar to) as follows:
"Hi _____,
I hope your day has been going well so far! Thank you for always staying in touch with me regarding my career and yours as well. I really appreciate your help regarding _____, which has helped further my career and development.
I wanted to inquire and see if you had any advice to make a career transition into your company.
I recently saw an opportunity for an Operations Analyst role at _____; I believe my experiences qualify for this role and am looking to apply to it in the next few days. Would you have any advice or recommendations on applying so I have the best chance to receive an interview? Any advice would be greatly appreciated, as I look forward to hearing from you!
Thank you and have a great day"
Most professionals, if all of this has been done correctly, will do either of the following:
Refer you to the role
Put you in contact with someone who knows more about the role/better POC
Give you advice specific towards the role/company
By taking this information, you're able to apply it not only to your application/resume but also to have a better chance of getting an interview because you can be referred and know about opportunities. Once you land the interview, it is all up to you to nail 😊
In conclusion, I've utilized these techniques from LinkedIn Message to connect with professionals and senior leaders in prestigious companies.
Remember that people on LinkedIn are people just like you and me: they're human. Don't get discouraged if a person doesn't reply to your message.
I've sent hundreds of messages throughout the past few years, and some won't reply to you due to various reasons; maybe they're busy, maybe they don't want to lend helping hand, maybe they just don't use LinkedIn.
However, there's always one person who will reply to you and be willing to help, and that one person will always make the difference.
---
Created by
Jonathan Javier
Jonathan Javier is currently the CEO/Founder of Wonsulting, which mission is to "turn underdogs into winners". He's also worked in the Strategy and Operations team at Snap, Google, and Cisco coming from a non-target school/non-traditional background. He's conducted 150+ speaking engagements total!
--- ---
Related Articles