I'm Still Recovering From What You Did to Me
A Letter to the U.S. School System
I gave you all I had for the better part of my life.
My love for you was pure and unrelenting.
While others dreaded the mere mention of your name,
I was the devoted soul who awaited our encounters eagerly.
Every moment we spent together,
I was fully immersed in your presence,
and even when we were apart,
thoughts of you lingered on in my mind.
I was your poster child,
smiling giddily at honor roll ceremonies.
And what do I have to show for it,
after all this time?
The lies you told.
The hope you sold.
The false sense of superiority you instilled in me.
You promised to prepare me for the world,
but instead you enslaved me to it
and left me to deconstruct my miseducated mind.
School, my unrequited love, though these words are my own, my story is not an anomaly.
65% of students who matriculate through the school system from K-12 to higher education incur an average of $40,000 in student loan debt and these rates are even more staggering for first-generation college students and minorites. Across the board, the national student loan debt amasses to a whopping $1.68 trillion that grows more than 6 times faster than our economy each year.
To add insult to injury, 53% of college graduates are unable to make headway in paying off their loans because they are either unemployed or working entry level roles with modest salaries. And to date, 53% of millennials have deferred purchasing a home because their student loan debt puts mortgage out of reach.
Even if we actively make payments, by the age of 35, statistics show that interest will have driven our student loan debt 287% higher than the original balance, making our dreams of home ownership and other assets less attainable.
Essentially, we are drowned before given a chance to leave the shore.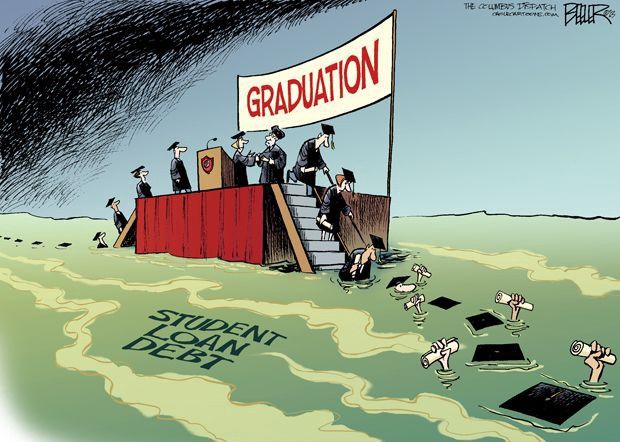 Photo from Robin Hood Tax
As if the financial strain you impose on us isn't enough, we are further suppressed by your outdated framework. You spend years grooming us for a world that we no longer live in.
"Walk in a straight line."
"Make straight A's."
"Keep your eyes on your own paper."
We ingrain this ideology into our psyches only to realize that the economy demands that we do the exact opposite in order to succeed.
"Set yourself apart."
"Embrace failure!"
"Collaborate and you will go farther."
Studies show that 48% of students feel insufficiently prepared for the modern workforce. These sentiments are particularly grounded in their experiences in K-12. Irrelevant curriculum, bleak, industrial-age buildings and a bureaucratic system that prioritizes compliance over creativity, make school a confining conduit of mediocrity.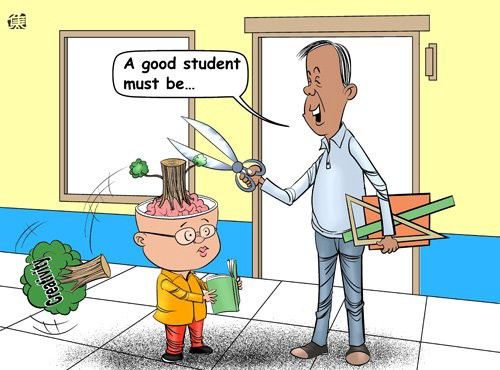 Photo from Education World
These argument for education reform are hardly new developments. Nearly every year another issue arises legitimizing their urgency. From the No Child Left Behind Act, to the School-to-Prison Pipeline to our modern-day clash with COVID-19, this plea for change should sound very familiar to you. But what may not be as familiar is this message rooted in tough love.
I was once a student, but I was also a teacher and now I build educational technology to fight for social good. Though your system has hurt me in the past, I have seen your power in its purest form and the immense opportunity you provide to those who actively leverage you. Shortcomings aside, I still believe your intentions are inherently good.
I criticize you because I believe in your ability to change for the betterment of our nation. So here is some advice for moving forward:
Colleges & Universities: Look to Google and Coding Bootcamps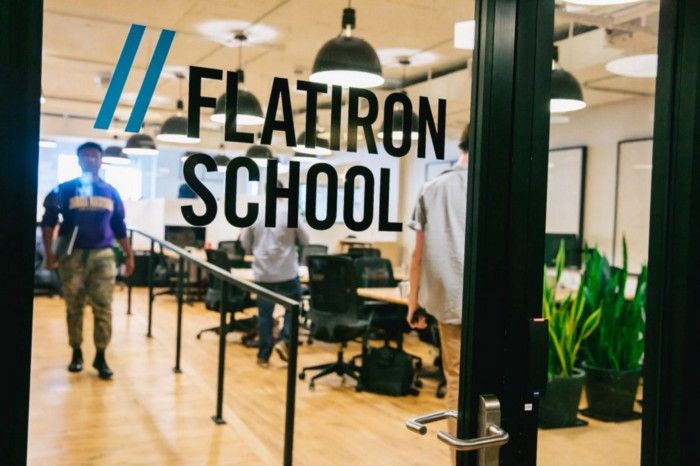 Photo of Flatiron School by Technical.ly
As a Flatiron student, though I may be slightly biased, the fact remains, coding bootcamps represent an ideal model of higher education for the future.
They present a clear pathway to modern careers like software engineering, data science, and cybersecurity. The classes are taught by instructors who have relevant career experience that afford students invaluable insight and the educational emphasis is placed on building a portfolio rather than attaining perfect grades.
Not only do you walk away from these short-term programs with tangible projects that you can present to employers, but bootcamp graduates generally obtain faster employment and more lucrative salaries than many of their college graduate peers. Not to mention, they end up investing a lot less financially in order to yield a higher return.
Earlier this year Google announced their upcoming Career Certificates program that operates under a similar premise. Preparing students for roles like Data Analytics, UX Design and Project Management in six months will open the door to unimaginable opportunity.
Before even launching the program, Google has already established relationships with a consortium of over 50 employers, creating a strong career pipeline for certificate holders in the future. Now more than ever, it's important for higher education to produce outcomes that make student's investment worthwhile.
K-12: Look to The Ron Clarke Academy and Big Picture Learning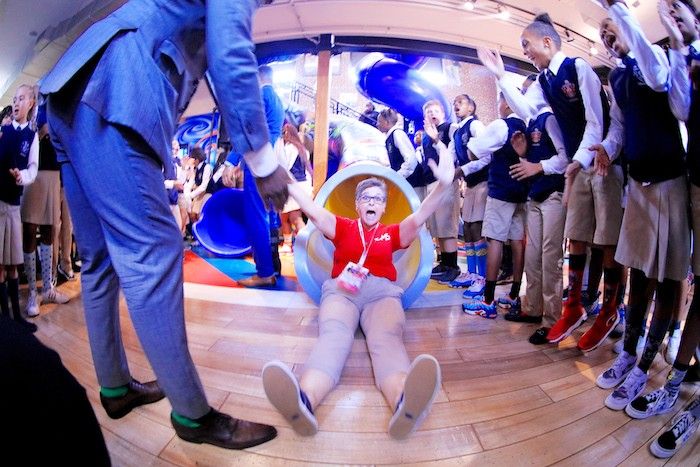 Photo by The Ron Clarke Academy
School serves no purpose if it is mundane and ineffectual. Highly engaging, active environment are necessary for learning to thrive. The Ron Clarke Academy for 4th-8th graders curates these exciting environment like no other. Dancing, sliding and bungee jumping on trampolines are just a few of the methods they use to appeal to the interests of their students and keep young minds engaged.
Rather than force students to conform to rigid policies that inhibit creativity, the teachers work to establish a student-centric environment that prioritizes diverse learning needs. There is much to learn from their extraordinary example.
Big Picture Learning is another model our schools should strive to emulate. Their mission is to empower students to "live lives of their own design, supported by caring mentors and equitable opportunities to achieve their greatest potential." Their tri-fold model is simple, yet brilliant. Each student is a member of a small cohort called an advisory, and each advisory is led by an advisor who serves as a guide for individual goal-setting and personalized learning support.
The second component involves an internship in a real-world setting under the supervision of a mentor and the final pillar is held up by the student's family who provide ongoing support. This form of K-12 education affirms students for who they truly are, prepares them for the real world and cultivates their unique, intrinsic aptitude.
Early Childhood: Look to Harlem Children's Zone and Dr. Sarah K. Jandrucko Academy for Early Learners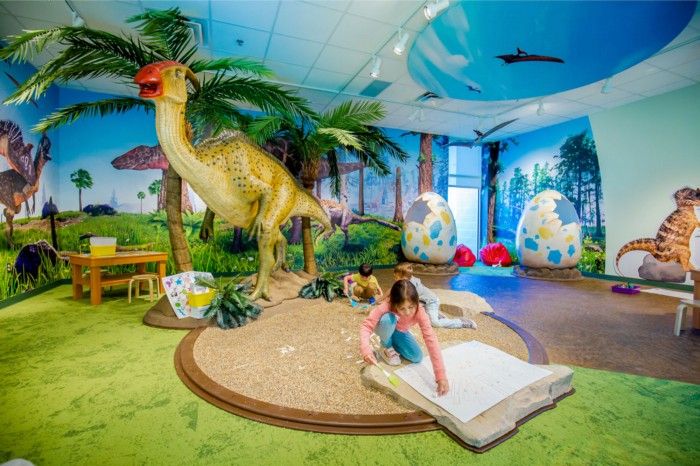 Photo of classroom at Jandrucko Academy for Early Learners by Huckabee Inc.
Though this sector of education is historically overlooked, research has consistently shown that quality early childhood education plays an instrumental role in growth and development and this has been substantiated by the movement for Universal Pre-K. The Harlem Children Zone's Baby College and other early childhood programs have been tackling this issue full force for nearly a decade.
From the womb to the classroom, they work with expecting parents and their children to ensure that each child is immersed in a healthy, literacy-rich environment from their very first breath. Through workshops and home visits, this program fosters a sense of communal learning and circumvents misfortune with their cradle-to-college pipeline.
My final and favorite recommended design is the Dr. Sarah Jandrucko Academy for Early Learners. This is the most innovative school I have ever laid eyes on. There are no desks or chairs, simply unbridled imagination for children to explore. The campus has sixteen literacy and numracy-based classrooms that encapsulate the following distinct experiences:
Navigation — Let's Get Going; Space; Wonderland; Journey in Time
Investigation — Wonderful, Amazing Me; My Greenhouse; Pet Central; The Zoo
Exploration — Tropics; Ocean; Savanna; Polar
Interaction — Savvy's Market; Construction; Our World; Community
- Dr. Sarah Jandrucko Academy for Early Learners
These models prove that early childhood education, at its best, can open the door to a whole new world.
In the end, U.S. Schools, the path to change is up to you. Though you have a few remarkable examples among you, students as a whole are suffering and as education becomes more accessible through technology, traditional schools are becoming obsolete. Look to the best among you and rise to meet the need.
Students shouldn't be encumbered by futile knowledge that they already have at their fingertips. They need individualized experiences that empower them to thrive.
Personal grievances aside, I know you can do better, and quite frankly, you have a responsibility to.
---
Created by
Terranie Clarke
--- ---
Related Articles