The Importance of Asbestos Lead Testing
The best way to determine if your property contains lead-based paint is to have a lead-safe certified renovation contractor test your property.
---
Amelia Smith
10 months ago
|
3 min read
---
Performing Asbestos Lead Testing is a very important step to take if you have any suspicions of asbestos in your home. This test will check for lead-based paint, and it will also help to detect symptoms of asbestos-related disease.
Test for asbestos
Whether you're building a home or remodeling your current one, it's essential that you test for asbestos and lead before you start construction. These materials are incredibly hazardous and could endanger you, your family, and your neighbors.
Tests can be conducted on the site, in the lab, or by a professional. But no matter how you go about identifying these materials, you should keep in mind that asbestos and lead are still prevalent in older homes.
In fact, if you're doing any renovations on a home that was built before 1978, you should consider having your structure tested for asbestos and lead.
The government mandates that contractors work on homes built before 1978, and testing for lead and asbestos is one of the requirements. Aside from the obvious need to know if your property has these substances, testing for asbestos and lead can help you save money.
Asbestos and lead are considered hazardous materials by the Environmental Protection Agency and removing them from a home could be covered under your insurance. It's important to find out whether your home is contaminated with these substances before you start renovations or make plans to sell your home.
Test for lead-based paint
Whether you're a homeowner or a landlord, it's important to know if your property has lead-based paint. Lead-based paint can cause serious damage to the nervous system and may have been used in buildings constructed before 1978.
The best way to determine if your property contains lead-based paint is to have a lead-safe certified renovation contractor test your property. There are several companies that offer lead-based paint testing services. A good company will be able to identify any potentially lead-based paint issues, including whether your property has been repainted or if the paint has deteriorated.
Depending on the age of the building, there may be several layers of paint over lead-based paint. This makes lead-based paint difficult to find. A lead-based paint inspection is particularly important when renovating or painting a home.
The XRF (x-ray fluorescence) machine is a good way to measure the lead content in paint. XRF tests for the lead on a variety of surfaces and provides results at the time of inspection.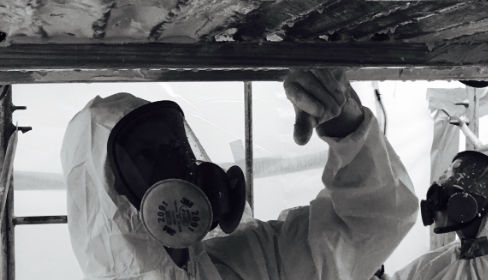 Symptoms of asbestos-related disease
Symptoms of the asbestos-related disease may appear within a few years of exposure or it can take several decades to develop. Regardless of the level of exposure, you should seek medical advice if you experience any of the following symptoms.
Asbestos-related lung diseases include asbestosis, chronic obstructive pulmonary disease (COPD), and pleural effusion. The symptoms of these diseases can include chronic cough, shortness of breath, chest pain, and difficulty swallowing. These diseases also affect the lining of the lungs and the abdominal cavity. Symptoms may occur without any other obvious cause.
Chest x-rays are often used to detect early lung disease. However, they are not 100% accurate. Asbestos is not immediately detectable on x-rays. Therefore, it is recommended to undergo chest x-rays every three to five years in people with asbestos-related diseases. X-rays are the most common diagnostic tool for asbestos-related diseases.
Asbestos-related diseases also include lung cancer. Lung cancer is a cancerous tumor that forms in the parenchyma of the lung.
Getting rid of asbestos
Getting rid of asbestos is a process that should be conducted by a professional. The fibers released from asbestos-containing materials are very hazardous and can lodge in the lungs. It can cause several health problems, including mesothelioma and lung cancer.
The fibers can be released when the material is damaged or exposed to extreme vibrations. It is best to limit access to the area and use wetting agents to decrease the release of fibers.
Asbestos has been used for many years in various products, including floor tiles, thermal insulation, attic insulation, pipe lagging, and roofing materials. These materials are generally safe when in good condition, but exposure to asbestos can lead to disease.
Asbestos can be found in many types of homes, including single-family and multi-family units. Getting rid of asbestos in your home requires the proper disposal methods and procedures. The materials must be handled and disposed of in accordance with the federal Toxic Substances Control Act, the Clean Air Act, and other applicable laws.
---
Hi, I am Amelia, born in California, United States. Now I'm working with a software company as a marketing executive.
--- ---
Related Articles