Indian Ocean, Present Day: Cocktail for Top Gun Movie Night | Jocelyn Sage Mitchell
In celebration of the Top Gun: Maverick movie, here's the Indian Ocean: Present Day cocktail, with two rums, blue curaçao, & fresh lemon!
---
Jocelyn Sage Mitchell
9 months ago
|
1 min read
---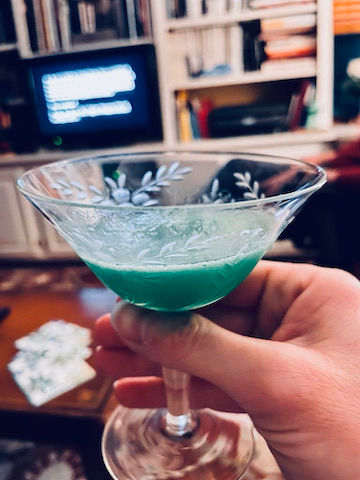 With the new Top Gun: Maverick movie out this summer, we decided it was important to rewatch the original 1986 Top Gun movie first! But I realized I couldn't rewatch it… because I had somehow never watched Top Gun. In my defense, I was seven years old in 1986 so… Tom Cruise was a little out of my league. However, I was still exposed to other amazing '80's classics like Patrick Swayze in Dirty Dancing and Ghost. I'm not sure how I missed this gorgeous movie — but it sure was fun watching it for the first time, along with a special cocktail we made in honor of Top Gun: the Indian Ocean, Present Day cocktail!
Before we continue with the cocktail recipe, can we just discuss how great the scenes between Maverick and Charlie are? If they stared piercingly at each other any longer, I think the movie reels would shred themselves to bits. Of course, the quote of the movie is Goose's wife Carole (a young Meg Ryan), who kills it with the line, "Take me to bed or lose me forever." But the whole scene at Charlie's house is peppered with simmering tension, with lines like, "Do you always get what you want?" and "You are direct, aren't you?" I just love Charlie's smile at one point, when she admits, "This is gonna be complicated," as the chords of "Take My Breath Away" pound in the background for the umpteenth time.
Luckily for us, the cocktail is not complicated! It's just delicious! Here's our recipe for the perfect Top Gun movie cocktail.
Indian Ocean, Present Day
Ingredients (for four small drinks—or two large ones!)
2 oz Malibu rum
2 oz Jamaican rum
1.5 oz blue curaçao
2 oz mango juice
1 oz fresh lime juice
1 oz fresh lemon juice
Method
Combine all ingredients in a cocktail shaker full of ice. Shake, strain, and serve in Nick and Nora glasses!
Originally published at Jocelyn Mitchell's blog on August 7, 2022.
---
Created by
Jocelyn Sage Mitchell
Jocelyn Sage Mitchell is a political researcher, public speaker, educator, and author. Jocelyn loves collaboration and team projects that solve real-world problems! Her work focuses on hearing the voices of individuals and understanding how people engage with one another as well as their governments to have their voices heard and their needs met. Jocelyn's interests include cooking, meditation, mixology, and volunteering in her community.
--- ---
Related Articles