Itaú Unibanco's Lead of Data Scientists discusses the Importance of ML Models in Banking
Banks should capitalize on the immense potential of AIML
---
Wow AI
9 months ago
|
2 min read
---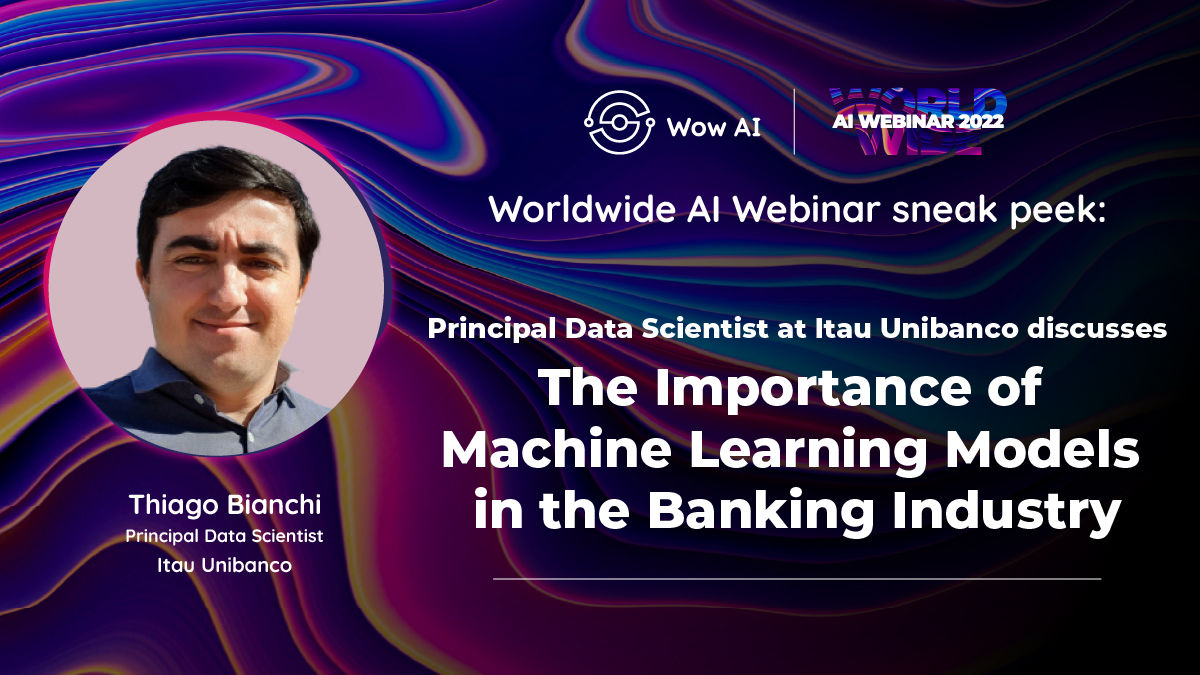 Machine learning and deep learning models have brought about tremendous changes to major industries as they enable faster, smarter, and better business decisions.
Banks are among the institutions that have witnessed these changes first-hand.BCGestimated that businesses and banks that implement AI can add 15-20% to their bottom line in one to two years. According to McKinsey, machine learning technologies in banking could add up to $1 trillion in value to the global industry each year.
However, the new technologies' direct impact is still minimal as only a few financial institutions have capitalized on the potential of AI/ML.
Thiago Bianchi, currently the Principal Data Scientist at Itaú Unibanco - the largest bank in Brazil and Latin America, has a few things to share on this matter.
In a brief interview with Wow AI, Mr. Bianchi addressed the importance of machine learning models in the banking sector as well as the latest AI strategies banks need to implement to scale their businesses.
Watch the whole conversationhereand read on to learn more about his insights.
About the speaker
Previously a software engineer for 13 years at IBM, Thiago Bianchi is now the Principal Data Scientist at Credit Recovery Community at Itaú Unibanco. He is leading the development of machine learning models and guiding his team in implementing a data science development methodology based on CRISP-DM.
Thiago Bianchi's interest in AI/ML started in 2010 when he was taking a Master's in software engineering. Seeing that machine learning model developers didn't care about the software constraints of their solutions and software engineers didn't know anything about AI/ML, he began researching this gap, which ultimately became one of the main topics in his Ph.D.
On the importance of machine learning models in the banking industry
Understanding the industry's current concern for fraud detection and creditee-related applications, Thiago's team is researching different segments of the bank not only to classify or predict behaviors but also aiming to suggest the best financial product configuration to their clients. Considering the huge client database Itaú Unibanco has, machine learning model solutions and optimization models are crucial, especially in the retail financial segment.
Regarding the latest AI strategies for banks to start adopting, Thiago outlined two main practices.
The first one is to ensure that the business has a common machine learning development process and that all the basic techniques are being adopted.
The second work is transforming the development of machine learning models into a software development process, mostly by embracing some MLOps practices.
He went further and added a third guideline, which is investigating the best approach in terms of space topology to recommend the best machine learning technique to infer the models.
"We are not just using blindly and testing random weekly machine learning techniques. And this is a trend as I can see in some areas of machine learning as well."
Addressing the reason why not many banks have made use of the immense potential AI/ML holds, Thiago shared that it's because there's a surprisingly large number of executives and business teams who don't have the basic knowledge of AI. He believed that many people still see AI/ML as a silver bullet solution. However, it's been proven that without any knowledge, businesses cannot come up with a solid solution to their problem.
"To achieve our wider adoption of AI solutions, we need for sure to evangelize and spread the basic stuff to business teams, especially the executive positions."
Thiago Bianchi will be talking about The Trust of Machine Learning Models for Credit Recovery at the Worldwide AI Webinar.
Reserve your spot to engage directly with our speakers:https://wow-ai.com/event
Watch the whole interview here
---
Wow AI is a trusted partner that provides high-quality data for AI training in different languages at a large scale. We are experienced professionals with a track record of success in numerous types of data collection. With a crowd of over 100,000 project contributors all over the world, we can provide massive, scalable, high-quality data across data types. We also provide off-the-shelf data and tailor-made data for your AI/ML projects.
--- ---
Related Articles