My Journey to Becoming a UX Design Intern at Microsoft
I applied for Microsoft's User Experience Design position, and my interview process was solely based on my own personal experience and may greatly differ from others' interview experiences.
---
Justine Du
2 years ago
|
18 min read
---
Me playing The Serpent's Kiss at Carnegie Hall
Background
Funny fact: I came into UCLA as a Piano Performance major (I know, crazy right?). As a senior in high school, I didn't have the slightest inkling of what I wanted to study for the next 4 years let alone knowing what I wanted to do in the future.
So naturally, I chose music because I knew I loved creatively expressing myself through each note, and it brought me genuine happiness (and also because I've been playing for AGES).
After coming to college, I discovered UX Design through UCLA's Alumni Network and met my amazing mentor, Faith Jin, where I was first exposed to a rapidly emerging field that really fascinated me.
User experience (UX) design is the process of creating products that provide meaningful and relevant experiences to users — Interaction Design Foundation
I knew I was always interested in tech, so this seemed like a promising and very inviting opportunity to explore for myself and my yet-to-be-discovered interests. After several long discussions with my parents, teachers, peers, and self-reflections, I chose to switch majors into Cognitive Science with a Specialization in Programming where I could have more flexibility in deciding what path I want to take.
Similar to playing piano, UX Design served as my medium (haha, pun intended) to showcase a product that reflected my character and intentionality through my own creativity expression. I fell in love with the work, but more importantly, the wonderful community I'm now a part of.

Microsoft
Since my very first essay in 6th grade to Benchmark project research papers in high school, Microsoft has always been held dear to my heart.
From learning the kinks of Word to whipping out Excel formulas, I wouldn't have had the necessary resources to experience technology firsthand if it weren't for Microsoft products. And as hard as it is for some of you to believe, I still Skype my parents back in the Bay every day in college (I know, I'm a momma's girl).
I also remember reading an inspiring article on Microsoft Design's blog regarding how 4 designers from drastically distinct backgrounds were shaping Microsoft's products into new and improved human experiences and thinking.. what do I have to do to get there?
With the advent of the new CEO Satya Nadella and the shift to a more cloud-based company, Microsoft has been changing the way we use technology. My curiosity drove me to want to discover and explore various technologies and how they all came together as a cohesive experience.
Coming into my 2nd year of college, it was my dream to land an internship at a company where I could grow professionally, learn from mentors, and collaborate with like-minded people that also wanted to change the world for the better. And Microsoft seemed like the perfect place for just that.
Recruiting Season!
Ah yes, my favorite time of year…
Around mid-Fall quarter, I was busy sending out my resume, constantly reaching out to recruiters, going to career fairs, applying to companies big and small, and I was also going through a few interviews and onsites. I'll be real — it's difficult as a budding, 2nd year undergrad designer — so I was in shock when I received my first email from Microsoft:
Hello Justine!
A Microsoft recruiter reviewed your resume and we invite you to interview with us! This is a first round interview, via phone or skype, that will last approximately 30 minutes.
I was in utter disbelief. After many rejections and ghosted emails, I actually had the chance to interview with Microsoft! I was locked and loaded, ready to get this bread.
First Phone Screen
Up until this point, I've already finished a couple interviews and had a general idea of what to expect in an initial interview — typically some behavioral, technical, and problem solving questions assessing my fit for the company as a whole.
I only had a day and a half to prepare, so I spent most of my time researching Microsoft's products and values, updates on their design and engineering blog, and going on Glassdoor to find potential interview questions.
On the day of the interview, I made sure to reserve a quiet study room in our residential hall and spent 10 minutes just (embarrassingly) smiling to myself to make sure I felt comfortable and confident.
Some tips I found really useful preparing for my phone interview are linked below, and they genuinely helped me feel more positive and assured when I was speaking to my interviewer.
I interviewed with a senior designer at Microsoft, and I had a really enjoyable time talking to her and learning more about the company! Time seemed to fly by so fast. She first asked me to talk a bit about how I got into design and my background, and a brief conversation later, I was asked to describe my design process through a past project.
Contrary to a lot of my past interview experiences, I felt so much more at ease talking to her because it felt like a conversation. I was openly intrigued by the work and vision she had for Microsoft, and she reciprocated the same amount of excitement when I was talking through my project and what I was looking for in terms of an internship.
The chat ended positively, and I felt good for the first time. The next few days pretty much consisted of me nervously refreshing the Gmail app and waiting for a follow-up email (haha oops).
After 3 days. . .
I received the follow-up email from another recruiter inviting me to go to Seattle for the final round of interviews!
Hello Justine,
Congratulations on being selected for final-round interviews with Microsoft. We're excited to have you interview for a position at Microsoft and I will support you in arranging your interview day in Redmond, WA, US.
Just my luck, the only onsite date available was the weekend before finals week, but I knew this would be worth it. I excitedly accepted the invitation in a heartbeat and was generously offered full arrangements for a round-trip flight and 4-star hotel accommodation — I'M GOING TO SEATTLE! :)
On the Grind
"Your onsite interview will consist of a portfolio review showcasing 1–3 projects in the morning for 45 minutes and 4 additional interviews in the afternoon."
Upon reading this preparation email from my recruiter, I was overwhelmed but felt a certain excitement inside to actually have the chance to show others who I really am as a designer and what I'm truly passionate about.
I stumbled upon 3 immensely helpful articles from past Microsoft UX interns that really encompassed the entire interview process:
I actually reached out to Aditi Khazanchi on LinkedIn asking more in depth of how her interview and internship experience was, and she was kind enough to provide so many useful tips and eased my nerves quite a ton.
"The key to any interview or presentation is just being yourself and being confident in your skills. They will evaluate your skills through your portfolio and the presentation. But they will see who you are as a designer, what is important to you, what are your passions, through the interviews" — Aditi Khazanchi
I cannot begin to explain how thankful I am to have met such a down-to-earth, intelligent designer, and from then on I was more motivated than ever to ace this interview and show Microsoft who I was.
Constant Feedback
I'll admit it — one of my biggest fears before undergoing this whole process was public speaking.
With that said, I made sure to push myself to present to as many of my peers, mentors, and past instructors as I could. Even with finals coming up, my main priority was getting as much feedback as I could so I would be fully prepared to showcase my best.
Microsoft wanted to see the work I was proud of — the explanation behind every design decision, evidence to actively integrate feedback, ability to problem solve, and experience with cross-functional collaboration.
A HUGE thank you to everyone who willingly gave up 45 minutes of their lives and provided me with moral support and advice up until now! As the interview day neared, I continued to improve upon every subsequent presentation and made sure to educate myself on current updates on the company and its products as well.
First Time in Seattle!
A quick 2-hour flight later, I arrived in the land of rainy days and Starbucks. It was a lot colder than I expected, but I was basically too excited to even notice the goosebumps. I spent the first night catching up with an old high school friend near UW then Uber'ed back to the hotel in Bellevue where the entire street was covered in Christmas lights and bright neon signs — it was so beautiful.
After I checked in, the receptionist kindly told me that Microsoft would cover all costs for the room service and meals and that I could even order delivery from outside if I wanted to (I was in heaven).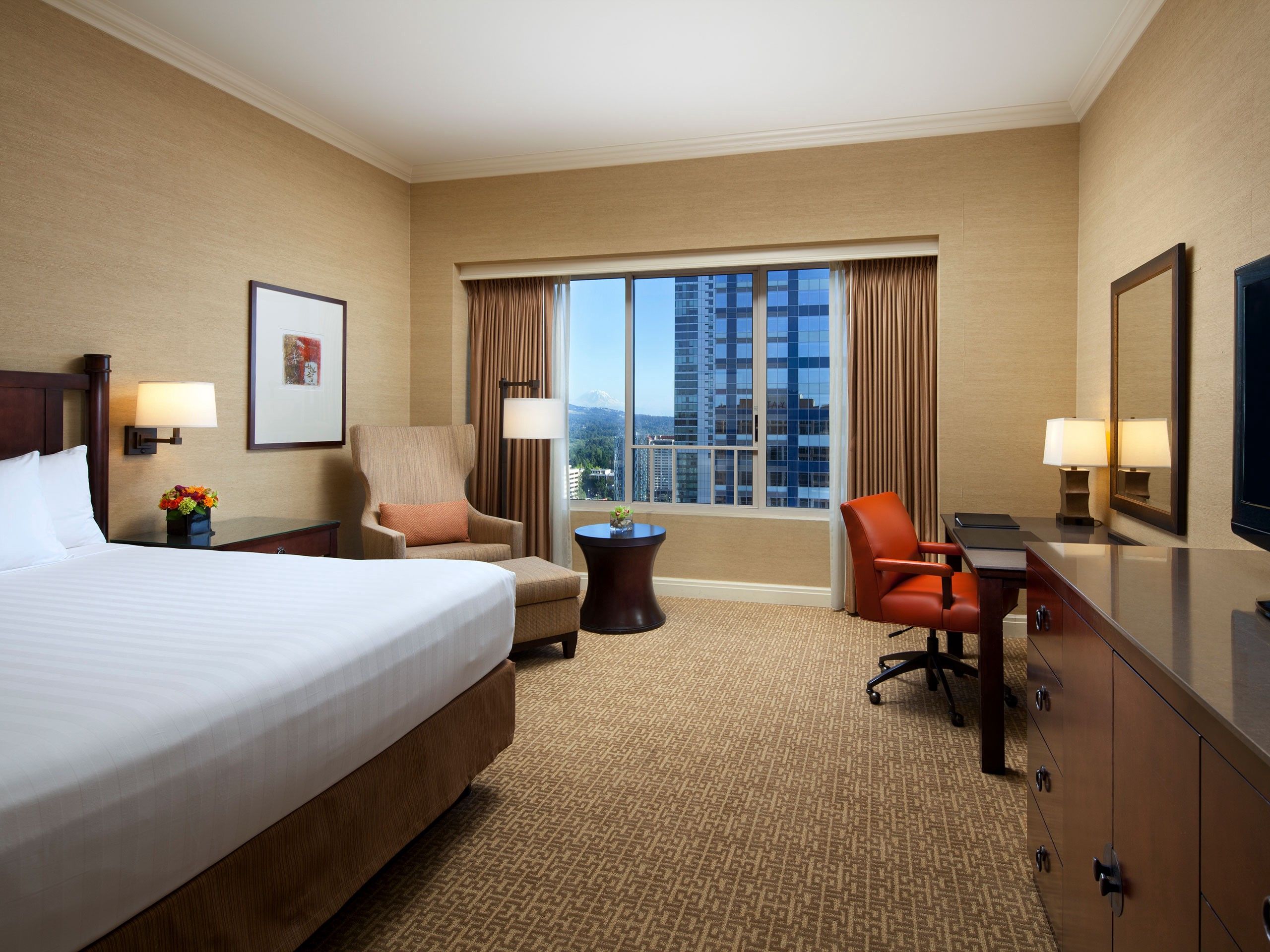 It rained for basically the entire day the next day, so I just stayed in, ordered a nice breakfast, and practiced going over and defending my design process in preparation for tomorrow.
Cheese & Spinach Omelet With Hash Browns and English Muffin! :)
For dinner, I ordered delivery from a Thai place across the street with the budget Microsoft gave me, and it was amazing! Feeling super full and satisfied, I took a quick shower, ran through my presentation one last time, and called it a day.
The Big Day
I woke up bright and early at 5:30 AM and practiced my presentation one last time before checking out of the hotel and heading over to Microsoft. I called an Uber Pool, and it just so happened that the driver picked up 2 other people also heading in the same direction.
They were both from Microsoft India, and it was both their first times in Seattle about to have their first days of work — how exciting! As they wished me good luck on my interview, I stumbled out and stepped foot into Building 111 where many other applicants and employees were waiting.
The check-in process went very smoothly, and shortly after I received my badge, I went to go get some breakfast Microsoft set up for us (huge assortment of pastries and exotic Starbucks blends!).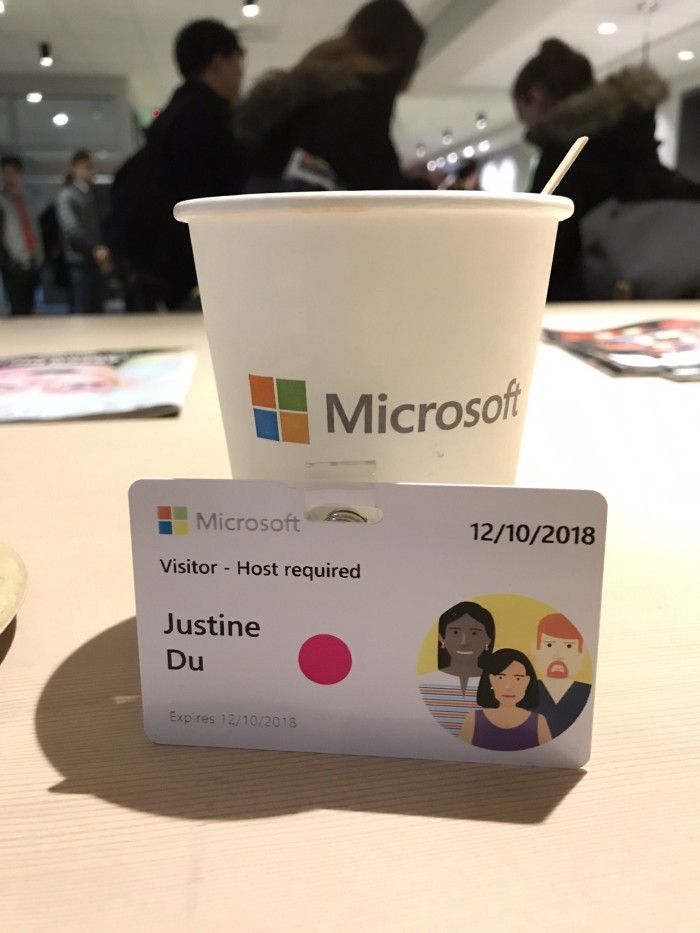 I remember reading other Medium articles that said onsite interviews are great opportunities to network and meet like-minded innovators in the design community.
I spotted some other applicants with the pink dots on their badge as well and introduced myself. Some of them participated in the Garage Internship program just last summer, improving upon new features for Hololens and designing for mixed reality; it was amazing to learn about their past experiences!
Around 8 AM, the recruiters started coming out and explaining the rundown of the day:
Portfolio Presentations
Lunch
4 Individual Interviews (1 hr. each with 15 min. breaks in between)
Goodbyes & Passing Out Microsoft Swag!
Making New Friends
I think the best part of interview day was the chance to meet so many other UX designers with the same aspirations, goals, and even personalities as me!
The UX community is still relatively small and emerging, so I don't have much opportunity to meet other designers at school or back in the Bay.
I met one girl who lived right in Seattle (she even had a final right after interviews!), a couple from Rochester, Georgia Tech, Canada, and even overseas! Even with such diverse backgrounds, it was an amazing and eye-opening experience bonding, laughing, and getting all excited by the idea that we might all be working together next summer! My nerves slowly whittled away, and I was ready to rock this presentation.
Portfolio Presentation
This was it.
At 10 AM, my interviewer came out and called me in to present to a panel of 4. They told me I had until 10:45 to present, and this was no surprise to me since I made sure to always consistently present for 35–40 min. As I plugged my Mac into the TV, I could see my hands and voice were visibly shaking, but after I started my presentation with a light intro, I managed to calm myself down (phew).
I started out with a short, 5 minute About Me that walked through my transition from a musical background into design, why I'm passionate about UX, a few fun facts, and a brief explanation of why I want to work at Microsoft.
Then, I gave an overview of 3 projects I would like to present:
Balance (Solo Project — UX Research, UX Design, Interaction Design)
Genie (Collaborative Project — UX Design)
B.Hive (Collaborative Project — Web Development)
I spent most of my time (20 min.) talking about my solo project because I felt it encompassed all my skills and who I was as a designer the best. It was also the most comprehensive project I've completed, and for me it successfully displayed the sense of independence and responsibility I'm able to bear when working alone.
In talking through my design process, I always made sure to follow these guidelines to keep myself on track and allowed me to answer any questions that the interviewers might have had:
Purpose — overview, role, project duration, problem statements
Research — interviews, surveys, competitive analysis, feature prioritization maps, card sorts
Ideation—research synthesis, personas, user flows
Design — sketches, wireframes, prototypes
Iterations — usability tests, feedback integration
Conclusion — results, what worked/didn't, learnings, reflections, what you'd do differently if time permitted
It's important to showcase yourself as a well-rounded designer. Whether that's through just 1 project or 3–5 projects, have a good balance between all your skills.
One of the key aspects of my presentation that my interviewers pointed out was my constant drive for feedback. I didn't grasp this concept until late into my General Assembly course, but ultimately, we are designing for others and not for ourselves. The ability to integrate others' inputs into your own designs shows human complexity and user empathy, and one of the most rewarding parts of being a designer is being able to own up to past mistakes and improve yourself upon them.
To my surprise, the interviewers didn't really ask any follow-up questions after I finished presenting (I assumed they were saving them for the individual interviews). But regardless, I was super thankful the presentation ended positively and on time! I walked back to the lounge where my new friends greeted me with high-fives and happy, relieved faces — time for lunch!
Lunch!
After an exhausting hour of presenting, I was definitely ready to EAT. I spent more time chatting and meeting new people, and I felt so at home. I quickly found out that I was one of the youngest applicants there, but everyone was incredibly down-to-earth and more than happy to share their past UX experiences with me that I didn't feel disadvantaged or intimidated.
I just met these people, but I felt like we've been friends forever.
After lunch, we were walked back into the lounge where we would soon be meeting one-on-one with the same interviewers we presented to during the portfolio presentation.
Since the questions asked were all specific to my case personally, I will not disclose any specifics because it wouldn't be fair to the interviewers and for the other applicants for this role.
1st Interview
I was definitely the most nervous for my first interview, and this was one of my most challenging ones yet. Right off the bat, I was asked a few questions regarding my 2nd project (Genie) and my process for designing desktop apps.
Since I didn't talk about my 2nd project as comprehensively as my 1st during the presentation, I dived deeper into how I collaborated cross-functionally within a team atmosphere and what I wanted out of a UX internship.
The second part of the interview consisted of a whiteboard challenge regarding designing an on-boarding experience for a particular Microsoft product. My mentor Faith sent me this really useful guide in how to tackle any kind of whiteboard challenge, and it definitely helped me get in the zone and plan my process:
Nothing else comes close in demonstrating how a UX designer thinks and behaves than a whiteboard challenge, and your demeanor directly shows how well you'll work in a team setting — what your interviewer is evaluating.
My process
Before diving into anything, I made sure to write the challenge on the board just to keep me in check and not lose focus.
I came up with a persona for this particular situation, jotted down a few use cases (different situations in which a user will have to interact with my design), issues that a user might encounter, and asked a bunch of clarifying questions in between.
After designing some key screens and flows, my interviewer would intermittently throw unexpected curveballs at me.
She made it clear that it's okay if I didn't have an answer right away, she just wanted to see how I approached a problem and my ability to be flexible with changing situations. Instead of panicking (on the outside haha), I talked aloud and stated what assumptions I would make and asked even more questions to:
Give myself time to think.
Allow myself and my interviewer to be on the same page and avoid any misconceptions or confusion about the problem.
In general, don't be afraid to continuously ask questions — in fact, it's highly encouraged! The interviewer isn't looking for a perfect solution (there really is none anyways), she just wants to see how I react to challenges, adapt to curveballs thrown in, and how I deal with high-stress situations.
After being intellectually challenged (my brain was already fried at that point haha), she asked if I had any questions for her. I've always loved this part — being able to learn about how they got into UX, what inspires them, and what they see their own selves doing in the future.
The stress quickly disappeared as I became engrossed in learning about her journey from CS into UX and eventually into Microsoft! First one down, three to go.
2nd Interview
This interview was also fairly technical like the previous one and probably the most challenging, and I was asked to pull up my first project (Balance).
We spent most of the time going through my slide deck, and my interviewer asked me about my design decisions and also questions relating to definitions of certain design terminology, just to see if I really knew what I was talking about.
I remember being asked if I thought I was equipped with the necessary skills to enter the industry despite only being a 2nd year, and I confidently responded that I couldn't have asked for a better time to make my mark in the corporate world.
The mere fact that I'm only a novice designer gifts me with the ability to constantly absorb knowledge from others and channel that feedback into my own to make myself a better designer.
Showing your drive and passion to take risks — regardless of age/experience — is what differentiates between a good and great designer.
3rd & 4th Interviews
My last two interviews were a lot more conversational and focused more on what I wished to get out of a UX Design internship and how Microsoft could provide that for me. We also briefly glossed over one aspect of my project and discussed some alternatives and whether I considered certain scenarios.
Despite the common notion of interviews being daunting and intimidating, at the end of the day, the interviewers are human too. They genuinely want to learn more about you, how you interact interpersonally with others, and if you're generally a decent person to talk to.
Overall, I really enjoyed my interview experience and I'm so grateful to have been given this inspiring opportunity to come to Seattle. Not only did I come home with a super cool and soft Microsoft jacket, but I left Building 111 with a smile and even more confidence, enthusiasm, and drive. I also made incredible friends that I hope to keep in touch with and someday work with!
Back to Reality
My amazing weekend in Seattle was over, and the waiting game ensued. In all honesty, I wasn't completely sure of how I did in the interview — whether I did well enough, how many applicants they were going to accept, random what-if's that floated in my mind for the next few days.
Microsoft notified us that they like to make decisions quick and would get back to us within 1–2 weeks, but exactly 3 days later, a friend from Seattle told me he got the offer! Within the next week, a couple additional congratulatory messages were sent and even a few rejections popped up.
But still no update from Microsoft for me.
I didn't want to lose hope, and my friends and family were still rooting and praying for me. I've heard of other people having similar experiences, so somehow some way, I wished on a lucky star that I could still be expecting some good news.
Winter Break
Break rolled along, and I continued going through a couple other interviews and onsites with a few other companies I've been actively going through the process in.
I still gave every interview my all and even saw myself improving upon each subsequent presentation — I felt so much more confident in myself and started anticipating and enjoying talking to recruiters, hiring managers, and designers all around. It felt good.
Until one Wednesday, a week and a half after my Microsoft interview, I saw an incoming call from Seattle, Washington. I jumped.
I braced myself and immediately picked up the call: Hello, this is Justine!
From the other end came:
"Hey, this is Mackenzie!
I know this is a bit out of the blue, but I just wanted to let you know that Microsoft loved having you and we would like to offer you a position as a UX Design Intern, congrats!"
I was ECSTATIC. I couldn't believe months of preparing, reaching out to as many people as I could, interviewing, and rejections culminated to this moment.
Immediately calling my parents to tell them the good news, I thanked them for supporting me all this time and for never ceasing to believe in me. I gladly accepted the offer later that night, and I can't wait for the summer to come! :)
Key Takeaways
Preparation Makes All The Difference
Some people are naturally gifted with pure eloquence and public speaking skills and I — am not one of those people (curse my genes).
I started doing interviews the beginning of October and so I've already spent approximately 9–10 weeks presenting my portfolio, revising, and repeating it over and over again. I hit up my instructor and TA from General Assembly, alumni from my high school, friends and peers from UCLA, and my parents for mock interviews and constant feedback.
I definitely would not have gotten this far if it weren't for the endless support and constructive criticism from those people.
During my breaks in between classes or free time at school, I'd also read the tech and design blogs from the companies I would be interviewing for. It's super important and very relevant to understand what the current trends are and what the company's mission and vision for the future are.
As I continued researching on Glassdoor or Google, I would get more and more interested in learning about the companies' new/recent products or activities. This frequently became a great point of discussion during interviews and definitely helped showcase my interest in the company!
Be Yourself
As cliche as it sounds, I truly believe I had such a great interview experience because of this saying. One huge lesson I learned from my previous interviews was to never pretend to be someone I'm not — own up when you don't know or need clarification.
No one's perfect, and it's okay to not know the answers to every single question. Being able to be receptive and learn from others even during interviews exemplified as one of my strengths and made me a lot less nervous.
Embrace Rejection
Rejections suck. Trust me, I know the feeling as well. But instead of binge eating ice cream or sulking in my disappointment, I used these opportunities as a chance to grow and do better next time. It's important to pick yourself back up and ask how to improve. I remember reaching back out to a company I interviewed with and asked how my portfolio presentation could've been better.
They really appreciated the fact that despite not being able to offer me a position, I didn't take it as a blow to my skills or character. I used the feedback they provided and continued improving on all my subsequent interviews, and it genuinely made me stronger and hungrier for success.
What's meant for you will never pass you by.
These are words I hold dearly to my heart every day, and although I'm extremely grateful to have been given this opportunity to intern at Microsoft, I definitely will not be taking it for granted.
This has been an amazing learning experience, and I'm determined to continue being proactive in everything I do from now until the summer and even beyond that. I'm so excited!!
---
--- ---
Related Articles