Latest Updates on AI in Healthcare
How is AI changing this major field?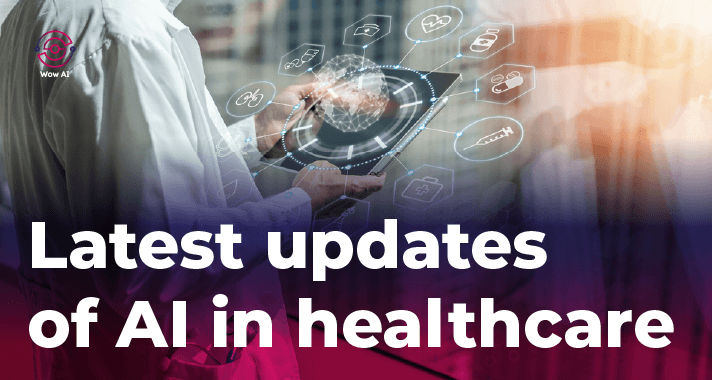 The advent of new-age technologies has influenced and affected several sectors and healthcare has also received its share of transformation. Today, the healthcare sector looks much different than it did just a decade ago. While this sector was already going through a digital transformation, the Covid-19 pandemic worked as a catalyst in this process. Healthcare providers across the world had to adopt new technologies like Artificial Intelligence (AI) and Machine Learning (ML) to serve the growing number of patients amid a global health staffing crisis and widespread shortage of resources.
The pandemic has accelerated the adoption of new-age technologies, with AI and ML being experimented with to harness their full potential. Machine Learning is a subfield of AI, broadly defined as the capability of a machine to imitate human behavior. These technologies simplify the lives of patients, doctors, and hospital staff or administration by performing tasks that are usually done by humans, but in less time and at low cost. In fact, AI has provided a fillip to the emerging digital health concept in India, under which new health technologies like wearable tech and telemedicine are changing the landscape of the country's healthcare system.
As healthcare systems across the world continue to adopt AI and automation, hospitals and healthcare providers seek to deliver more personalized care. Here are some latest updates about healthcare that is based on AI and ML!
New microbiome-based predictive models to forecast human health outcomes
A new approach that uses artificial intelligence (AI) shows how to use the body's microorganisms and molecules found in cells to predict health outcomes in people, say researchers at Penn State College of Medicine and the University of Texas Southwestern Medical Center. They say this could improve the accuracy of predicting the development of human diseases such as inflammatory bowel disease and diabetes.
The present study proposes to learn useful features from datasets that measure both the microbiome and metabolism and use them to significantly improve risk prediction accuracy for datasets that only measure the microbiome. The results demonstrate a statistical learning and artificial intelligence-based non-invasive approach that uses the gut microbiome to identify individuals at increased risk of disease.
Non-invasive approaches based on deep learning have enormous potential to improve the diagnosis and risk prediction of human diseases. Combined with high-throughput technologies such as DNA sequencing, this provides a cost-effective approach to identifying patients at risk and rapidly advancing precision medicine.
Mayo Clinic ML Can Predict Pancreatic Cancer Earlier Than Usual Methods
A Mayo Clinic-led study published in Gastroenterology shows that radiomics-based machine-learning (ML) models may help diagnose pancreatic cancer at an earlier, more treatable stage than standard diagnosis methods.
According to the American Cancer Society (ACS), pancreatic cancer accounts for approximately 3 percent of all cancers in the US and about 7 percent of all cancer deaths. ACS estimates that 62,210 people will be diagnosed with pancreatic cancer, and 49,830 people will die of the disease this year. Pancreatic cancer is slightly more common in men than women, but the average lifetime risk of getting this cancer is about one in 64.
Mayo Clinic's overview of pancreatic cancer states that it is rarely detected in its earliest stages when it's most curable because it often doesn't cause symptoms until cancer has already spread to other organs. In a recent Mayo Clinic press release, the research team who led the study noted that early detection of pancreatic cancer improves the chances of successful treatment, but early detection is almost impossible using standard medical imaging. Up to 40 percent of small pancreas cancers are unlikely to show up on standard imaging, meaning that most patients present with advanced and non-curable pancreatic cancer, according to the researchers.
Deep Learning Effective at Predicting Cerebral Palsy in Infants
Researchers have developed and validated a deep-learning model capable of accurately predicting cerebral palsy using spontaneous movements in high-risk infants.
In a prognostic study published in JAMA Network Open, researchers described the development of a deep-learning (DL) model that can effectively predict cerebral palsy based on infants' spontaneous movements at nine to 18 weeks of age.
The DL method achieved 90.6 percent accuracy compared to the conventional machine-learning method, which achieved 72.7 percent accuracy, indicating a significant performance improvement. However, there was no significant improvement in accuracy when the DL model was compared with the GMA tool, which achieved 85.9 percent accuracy.
Additionally, the DL prediction model had higher sensitivity among infants with non-ambulatory cerebral palsy compared to ambulatory and among infants with spastic bilateral cerebral palsy compared to spastic unilateral.
These findings indicate that it is possible to develop a DL model for predicting cerebral palsy at nine to 18 weeks of age that achieves significant predictive accuracy on external validation, the researchers stated. This suggests possible avenues for DL–based software to provide objective early detection of cerebral palsy in clinical settings.
---
Listen to top-industry AI speakers about building AI in healthcare at the Worldwide AI webinar
Artificial intelligence (AI) is transforming biomedicine and health care. AI technologies are being leveraged to support clinical decision-making, guide diagnosis, and treatment, and provide patients access to real-time support and guidance. Machine learning techniques, including deep learning, are used to develop these technologies by training models with a variety of datasets.
How to build a practical, applicable AI model in healthcare? Listen to top-industry experts from Google, IBM, SAP, and AWS at our Worldwide AI Webinar!
Join us at: https://event.wow-ai.com/worldwideAI2022/
🔸 Event details
Time zones: 9:00 AM — 6:00 PM New York Time
Date: 29–30 September, 2022
Language: English
Fee: Free & open to everyone
Follow us on LinkedIn, Twitter, Facebook, and YouTube to receive daily industry updates!
---
Wow AI is a trusted partner that provides high-quality data for AI training in different languages at a large scale. We are experienced professionals with a track record of success in numerous types of data collection. With a crowd of over 100,000 project contributors all over the world, we can provide massive, scalable, high-quality data across data types. We also provide off-the-shelf data and tailor-made data for your AI/ML projects.
--- ---
Related Articles