Learn The Uber Way!
If you've been thinking to make something like Uber, this article is perfect for you!
Last Saturday, I booked an Uber to drop me to the railway station and guess what? The Uber drivers cancelled my rides 2-3 times! And when I finally found one, that goddamn driver, stopped in the way for tea and I missed my train!
This negligent functioning of Uber these days has cheesed off many customers.
But this way, there's something for those who targeted this market. Do you know what?
It's an opportunity to take over and perform better than UBER!
No! Not Kidding!
This one may sound like a dream but once you learn the Uber way, tracing more loopholes and finding ways to fix will then be an easy quest for you.
So, why not to learn everything about Uber right away with this better-to-be-bookmarked blog post:
WHY THE UBER WAY?
I could have gone for many other ride-hailing apps, but Uber proved itself over the others! Here's how:
Careem - a Dubai based app is facing a major threat from Uber.
Easy taxi - though claimed in five countries, conspicuously, was beaten by Uber in its home country, Brazil.
Gett - this Israel based app, after a tough battle with Uber, took the second position in the UK.
The local apps that still has somehow managed to retain their first position, may soon be looking in the rearview mirror as the Uber installs are increasing day by day.
In fact, they all could have won only if they knew the Uber Way!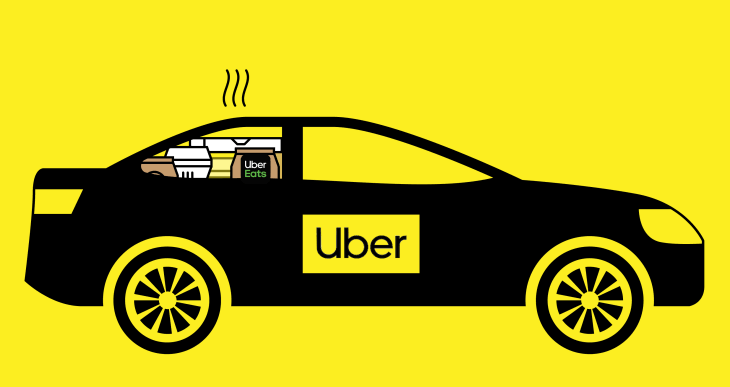 Uber always has optimised its services with time according to the needs of its riders. It introduced UberBlack where one can choose to ride on a large variety of luxury cars. Later, it introduced the Uber X making a promise to charge what's right and now, it's dwelling as a default ride-hailing app across the world!
Moreover, it's working hard enough on more services like the UberPool and Ubercopter to keep its customers closer before they get out of its zone.
Simply, Uber is ideal in its market.
So, convinced? Or still...convinced? (haha...because I knew you will be!)
Okay then, just enter this guide on Uber-like apps and you won't even realise when your dream startup went life!
WHICH ONE'S THE RIGHT LANE TO CATCH?
First things first, take a leap into the industry with a primitive approach. Structure out a sustainable model such that, it's able to aggregate all the possible demands in the form of mobile apps for both the service providers and the customers.
Just work your ass off to make this approach a success!
And to put all these into action, again, the Uber Way will be your ultimate saviour. But what's its secret?
Well, your next few minutes are going to be an open sesame to Uber's latent secret!
LET'S RIDE UBER (into the secret!)
Uber is a blend of three mobile applications:
i) The admin app,
ii) The driver app and
iii) The customer app
These three applications are designed keeping the needs of all groups in mind. Hence, each application has a unique set of features. For better insight, let's categorise the features into two:
a) Most viable features and
b) Advanced features
Now, it's time to postmortem the customers' and the drivers' app one by one!
THE CUSTOMER APP FEATURES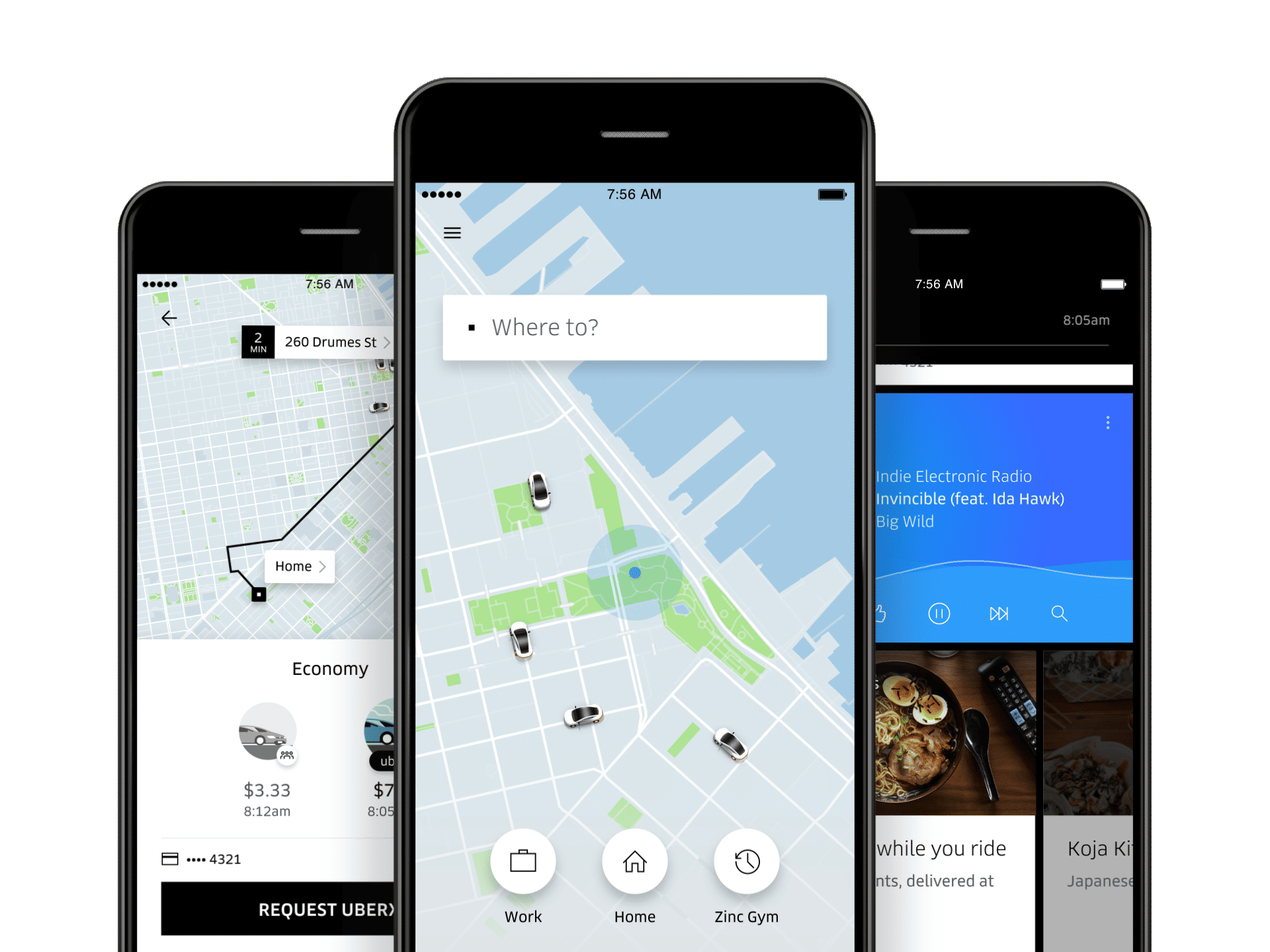 Track a ride:
Once you have clicked to the book ride option, you can simply track the exact location of your driver. The map system that's already integrated into the app itself, makes you track your driver's path from the moment he accepted your ride till he reaches to you. Uber-like apps are perfect for monitoring the journey and in turn, this boosts its value proposition.
Fare estimation:
This depends mainly on three things:
i) The pickup and the drop location.
ii) The type of car you chose to ride in.
iii) If you stopped multiple times in between your journey.
A well-planned Uber algorithm calculates the final fare for you taking all of the above aspects into account. And you are assured that you didn't pay an extra penny.
Multiple modes of payment:
The Uber has tried to create a more or less user-friendly ecosystem and offers you the flexibility to make payments through any mode.
Credit card, debit card, cash, mobile wallets or any other mode; Uber presents a huge range of payment gateways.
Track the service history:
For the customers who travel on a regular basis, Uber offers a feature named 'track history'. With this, the passengers can get details about their rides.
The passengers can tap to any date and they will get the complete service history details in the form of a report.
Book your ride now and you can ride later:
Being an advanced feature, it allows passengers to book their ride prior to the actual time of the journey. Aimed at providing convenience, it sends a confirmation message to the rider. Also, updates them with all the details of the driver before an hour of their ride.
Book for others:
Again an advanced app and by using this, you can book rides for your family and friends through your own Uber account.
Once you make the bookings, all the details of this ride will flash onto your mobile screen in the form of an SMS. You can also track this journey using the link provided in the SMS.
The Smart Wallet service:
Uber consists of a smart wallet for its customers. The customers can sync their bank accounts with this wallet and directly pay the fare without suffering the mess of a handful of loose change or empty paytm wallets.
Panic Button:
Safety ought to be a major concern in any app!
Uber has a panic button which activates once you are into the cab. This feature ensures your safety and security in every way possible.
If at any moment during the ride, you feel threatened or sense danger; tap the panic button. The moment you press the button, your family, the nearest police stations and the Uber authorities get notified.
Uber, thus, takes responsibility for its passengers' safety and you can enjoy the ride, without any fear.
Favourite destinations:
Do you frequently visit a particular destination? Or is there a place that's a part of your daily routine? So, why to enter the location again and again. Uber is there to list your place among your favourite destinations. Then a single tap will make you reach your place!
Splitting up the charges:
This is a much needed advanced feature of Uber. While travelling with friends, you can split the charges based on the charge of the ride and the individual pick up and drop locations.
In fact, if all have leveraged mobile wallet, the fare automatically gets deducted from the wallet. And, I say, this one is honestly the most needed because once you are home, you don't have the nerves to apply the math and split charges, that too precisely!
DRIVER APP FEATURES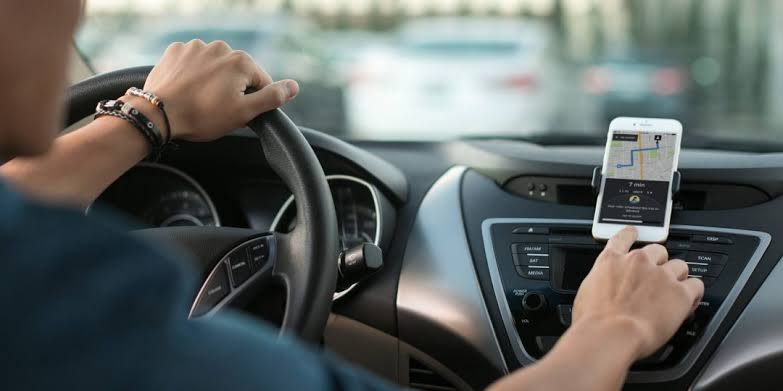 Driver delivery report:
If the driver drives rash, it can be dangerous. So, in order to manage safety, Uber has a driver report feature. This report is basically a complete analysis on the driving style of the driver during an entire week or month.
If the driver continues to drive harsh, he can be fired. However, if the driver's performance is remarkable, he becomes an instructor for the newbies.
Route optimisation:
This feature helps the driver to decide an efficient route and reach the destination in the shortest time possible. The driver can enable this feature, reroute the whole journey and can navigate aptly.
Driver destinations:
This one is an advanced feature. With this the driver can choose to take a ride to his preferred destination. This feature can be helpful when the drivers want to make some extra pennies.
Quest earnings:
This feature is just like a task chasing game! The quest asks the driver to complete a pre-defined number of rides to win and earn an additional amount. Thus, the drivers chase to complete the tasks and gets a bonus for the day.
Shorter two minutes cancellation window:
Being an advanced feature, this bounds the passengers to be on time and in turn, saves the driver's time. From the time the driver arrives at the pickup location till the next 2 minutes, no extra charge is counted.
However, if the rider turns up late, an extra charge is added along with the base fare.
Heat maps:
It's an advanced feature of the app and absolutely for the drivers' convenience. This is basically a map view of demands. It tells the drivers, where there is a high customer density so that, they can ride to those locations to get more requests.
Forward dispatch:
By using this advanced feature, the driver can accept another ride while still completing his current ride. Thus, earning some extra bucks for his favourite à la carte dish!
THE POSSIBLE NICHES TO TARGET UPON?
After learning about Uber a bit, either you want to focus upon on-demand taxi services or introduce a new niche with the Uber like application, depends on you. Below are a few niches, you must consider:
a) Healthcare services
b) Beauty or salon services
c) On demand transportation services
d) On demand food delivery services
e) On demand gas delivery services
f) On demand mechanic
g) On demand tailoring services
HOW TO FORM YOUR PLAN As AND PLAN Bs?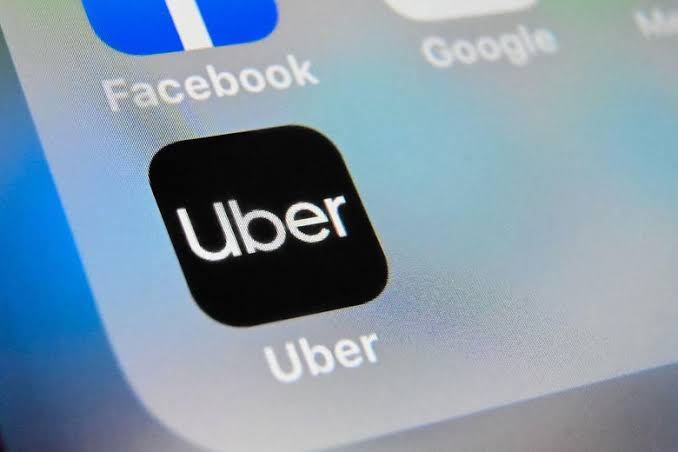 Planning out for your application and then stepping into the market needs a strong commitment and dedication. Until the release of the beta version of your app, you need to hustle day in and day out, keeping some alternate plans with you. After all, if a plan B has always been a must in television fictions then how come not in real life!
What can be the basic plan?
Before jumping onto the advanced features, a careful carving is needed for the most viable features. We had already discussed the three different groups of people connected to this app. So, there are three categories to start your development; the admin, the customer and the driver.
Talking about the advanced features; this can be easily worked upon later, once you make a strong grip on the market. But remember, you must ensure convenience for all the three stakeholders through your advanced features.
What to keep in mind to go ahead?
First of all, build a basic version of your app and then go through the market carefully. Figure out, what can be the possible unique features that can be beneficial for the riders' as well as the drivers' app. Keep a hold on the customers' perspective and design everything accordingly. All the features and functionalities really need to be worked upon perfectly, avoiding any possible glitch.
Other important things to keep in mind:
i) The user-friendly ecosystem on the platform.
ii) Attractive UI/UX designs.
iii) Beautiful visuals and graphics.
iv) Real-time functionality.
The best way for your Uber clone:
Prioritise your USP! Because, after all, this one will make you stand out of the crowd. Ask yourself, why you want to build an Uber clone? What better features are you going to have? Then proceed.
The features are the face of you and in no way, they are to be compromised!
After creating your thing, release the first version with a few of the most viable features. With time you can level up your market. Keep on promoting your application any time and every time among the audience. Welcome all sorts of feedbacks from them and get it implemented soon after. Do everything to make it a blockbuster!
One last thing: this is just the tip of the iceberg, there's a lot that you need to sort on your own!
HAPPY MAKING SOMETHING NEW!
---
Created by
Aishwarya Mahapatra
--- ---
Related Articles