A Legacy Brand's Guide to Navigating the New Luxury Market
Connect, inspire, innovate. Repeat.
The following is based on a 2019 report published by Any Studios, given as a lecture by Any Studios' Co-Founder & ECD, Roee Lotan, at Parsons School of Design and Saluto Tel Aviv.
The age of relying on brand name recognition, unmemorable models in magazine spreads and a shiny Fifth Avenue storefront is over.
Young brands are more about fitting into consumers' lives than projecting an aspirational world in airbrushed campaigns. Similarly, modern consumers want something real, something they can relate to — something they're excited to share on Instagram.
Being conscious of this shift in consumers' brand relationships is a necessary first step in staying relevant (and profitable) as a legacy brand in the new luxury market.
In this article, we'll consider how a legacy brand can work its status to its advantage, using proven methods to connect with & inspire audiences.
1. We're not in Kansas anymore
Acknowledge the changing market.
Before shifting their strategy, legacy brands must first understand the intricacies of the new market.
The global luxury market is expected to hit~$1.5 trillion in 2025. Millennials currently represent about 32% of spending in the personal luxury market, and that's predicted to grow to 50% over the next five years. Appealing to the growing market of Millennials sporting Balenciaga track pants with deep pockets is an important focus in the coming years.
While older generations traditionally seek products that exude a sense of luxury, Millennials and Gen Z search for meaning over price point. The younger generation supports brands with keen social awareness — with sustainability & responsible manufacturing becoming increasingly important — and sharp sensitivity to culture.
Brands must develop a forward-thinking approach that speaks to these interests through modernizing design, communication and the shopping experience.
2. Adopt a consumer-first mindset
Brand storytelling.
To stay relevant, luxury brands must shift from a traditional, showcase-type client communication to a conversational, consumer-centric social strategy.
The content itself should be a mix that speaks to your unique product and offering. Here are a few core ways to approach social with a consumer-first mindset:
Looking to Telfar for inspiration.
Offer exclusive BTS content. Today's consumers are more aware of industry happenings than ever before. They want to feel close to your brand: engaged, hyper-informed, in-the-know. Give them something to talk about.
Use AR filter product placement to let followers "try on" your product virtually. In a post-COVID 19 atmosphere, consumers might not be able to head to a brick-and-mortar store—plus, it makes your product feel accessible & offers content worth a follow, even for those who might not have "luxury market money."
Leverage user-generated content. Notice how Telfar (to the left) showcased a product video next to a follower's FaceTime featuring her baby in the newly released chain. Reposting assures followers that you're listening, and makes your brand more relatable.
Earned media.
Partnerships in 2020 and beyond will hit harder when more discreet than a paid product placement or obvious influencer marketing. Consider how our team at Any Studios elevated a traditional ambassador relationship. R&B artist and Samsung ambassador, Jhene Aiko, had just released a collection of poetry—and wanted to open up to her fans in a unconventional way.
Leveraging the brand partnership naturally, we weaved footage shot on a Samsung Galaxy into an interactive platform that allowed fans to click through the poems, offering glimpses into her past and influences.
Jhene was excited to share something so heartfelt on her social channels. This type of earned media is your most trusted form of content: it's when your advocates, fans and customers willingly talk about your brand. Creating content that includes sponsorships, while allowing genuine content to take the front seat, is a low-key way to ignite that buzz.
Any Studios incorporated Samsung footage into an interactive platform for Jhene Aiko, resulting in content she was proud to share.
3. Experiment and innovate
Experiential retail.
Taking that idea into "the real world," Off-White and Louis Vuitton Men's Artistic Director Virgil Abloh recreated his home studio on the main floor of SSENSE Montréal: curating personal design artifacts and working materials, and showcasing them among photography books and back-issues of magazines that provide a glimpse into his influences.
Of course, prints, limited-edition t-shirts and personalized Air Force 1s were available for purchase—but the focus was more so providing an unprecedented journey into the mind of the creative, enabling fans of his brands to relate to his design work on an even deeper level. Igniting this sort of IRL hype is just as important as creating virtual buzz.
Luxury brand collabs.
As consumers do more and more shopping online, retail experiences must offer something out of the ordinary to entice shoppers. Let's look to Korean sunglasses brand, Gentle Monster, for inspiration.
The favorite among fashion-conscious millennials partners with high fashion brands like Alexander Wang to create awe-inspiring "art-meets-retail" store experiences that offer a multi-sensory environment—complete with a unique fragrance and soundscape.
Gentle Monster and Alexander Wang collaborated on a line inspired by Wang's 2019 FW collection that celebrates the American hustle.
Branded lifestyle occasions.
Adding your luxury brand's spin to a lifestyle occasion outside of your normal scope is another way to offer consumers a rich experience that they wouldn't get online.
Consider Chanel's beauty bar pop-up, Cafe Coco, where shoppers could sip coffee from Instagram-worthy pink cups, preview new products and snap photos in a branded photo booth. Or Hermès' NYC laundromat-inspired shop, where guests could give their scarves (Hermès or not) a bright dip-dye treatment, then return to scoop up their creation from a branded washing machine.
These sort of one-of-a-kind personalization experiences keep your luxury brand relevant—and trending.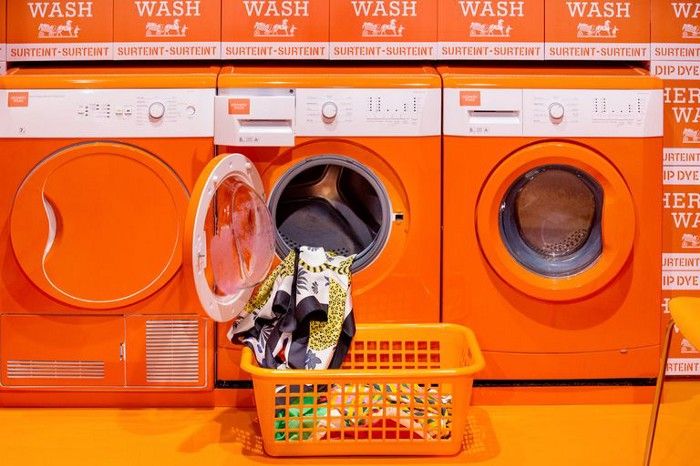 photo by Alain Benoit for Hermes
The future of luxury is personalized, authentic and transparent.
To stay relevant in the new and evolving market, legacy brands should focus on creating genuinely shareable content and developing innovative experiences with a consumer-first mindset.
The generation that grew up on social media's buying power is rising—your brand's methods of connecting, sharing and communicating must shift to stay ahead of the curve.
---
--- ---
Related Articles