Lessons learned as a school leader during remote teaching
How to become a better leader just by listening.
When remote schooling first began, I was upbeat.
As an Assistant Principal in a New York City middle school, I thought my only challenge would be to become an expert in new technologies and workflows.
I just had to search for the latest tools available for internet instruction and offer teachers proper learning opportunities. "I can do that!" I figured.
So, whenever I heard of a new EdTech tool, I jumped to learn it myself and introduce it to others. As teachers started getting used to the intricacies of our main platform, Google Classroom, I rushed ahead to show them how to use other interactive digital tools such as Padlet and Kahoot!.
To be more useful, I shared other resources, like instructions on creating screencasts, designing rubrics, and transferring grades from different places to a centralized system.

I expected everyone to be happy. I was in for a rude shock. Teachers seemed overwhelmed and frustrated. I turned to a trusted teacher and asked her the reason. She said, "What you are trying to do isn't helping me… and perhaps others too. This isn't what we need right now."
My defense mechanism kicked in and I found reasons to justify my apparent disconnect. I refused to listen and acknowledge that I was in a resource and training overload mode. I believed the whole situation with being in a pandemic was probably getting to everyone. Eventually, they would recognize how valuable my help was.
Then a teacher unexpectedly took time off from work. I right away volunteered to substitute for her. "How hard can this be?… I can take this on… I am a teacher at heart — if I could do it seven years ago, I totally can do it now," I reasoned.
My load of sixty students was less than half that of most middle school teachers in NYC Public Schools. Yet, within a few days, I was beyond exhausted.

At this point, I slowly began to understand the problem from a teacher's perspective.
I (virtually) ran between the two sections in Google Classroom posting lessons that were created overnight. Both classes were at unique spots in the curriculum, so materials could not be transferred over.
Some children were ahead of others in their grasp of the content being taught, so materials had to be differentiated within the section. Having lead workshops in the past, on meeting individual student needs, I was initially confident that I could easily apply the same strategies to adjust process and, product.
However, the application of those exact principles in the first few weeks of online education was very different.
Some days it felt like all I was trying to do was to douse fires.
Student questions and comments deluged me, popping up everywhere: Stream, Private Comments, Emails, Phone Calls. Making sure that peer-to-peer conversations were relevant and respectful was a 24/7 concern.
Students too faced a lot of technical issues as the interface was unfriendly. There was no single location to see all comments, announcements, assignments, and resources. Many completed their work but did not get credit since they submitted incorrectly, or accidentally submitted blank or half-completed work.
Long hours went into assessing work and providing individualized feedback. The system was time-consuming, requiring too many clicks for even offering simple suggestions.
I scrambled to find time to take part in all mandated meetings: those with administrators, professional developers, district officials, and my common planning peer group.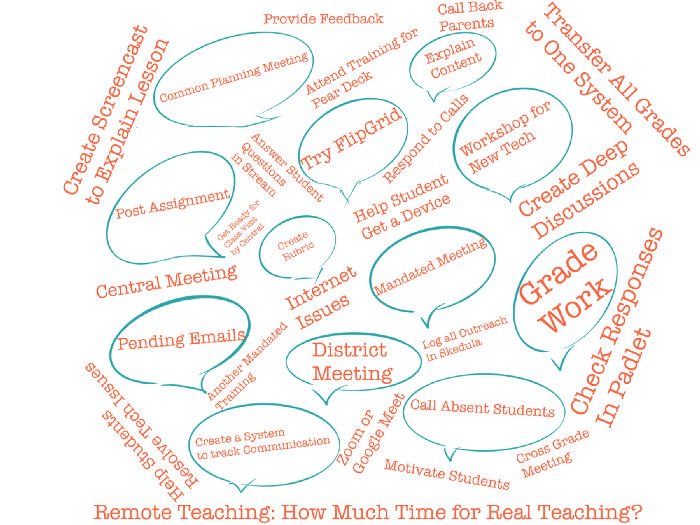 Remote Teaching: Competing Priorities (Image by Primal Dhillon)
However, my biggest challenge was yet to come.
Some students did not log in at all. They either needed calls for tech troubleshooting or motivation. I had always insisted that the teacher should be the one making calls to create a meaningful connection with children. So now, why was I struggling?
As I started reaching out to absent kids I got frustrated as many calls went into voicemails, and some numbers were wrong. Once when a parent I had been trying to contact for many days finally picked up the phone,
she seemed in an immense hurry to leave while I intended to walk her through the steps needed to assist her child join the online class using the correct code. I later realized that she was an essential worker.
Another parent explained that their child did not have a laptop. I wanted to order a DOE device for them, but the father said they did not have a permanent housing situation so he could not give any address for now.
After hanging up that call, I felt low. I was also late for a workshop on deep discussions. I tried to shut down a nagging sensation inside me that said, "This coaching is not what I need right now."
My disconnect became clear to me. As an administrator, my top priority had been the use of varied tech tools, but as a teacher, my top struggle was to make the content accessible to all students. My push for many of the EdTech solutions was wrongly timed.

A realization then hit. I had been out of the classroom for too long.
Traditionally, it is a long route from being a teacher to stepping into a leadership position in the K-12 world. Also, the higher the rank, the longer it has been since one has taught in a real classroom.
Since the last few weeks, I've been changing how I think about my role as a school leader in distant learning. Some takeaways:

Teach a class. It does not matter if you are an Assistant Principal, Principal, or Superintendent. Being inside a web class is the only way you will understand the dynamics and the logistics of online school. Do away with excuses. A common understanding is that we have more important things to take care of.
There is nothing more important than being aware of how our children are being asked to learn. Another belief is that our role is not to teach but only to help teach. My experience taught me otherwise: You are not equipped to support others if you have never done it yourself.

Timing is crucial. Prioritize and sequence professional development activities depending on where your community is at in the remote learning spectrum.
I made the mistake of focusing on everything simultaneously. I should have structured a meaningful sequence, something like — get everyone online, easily deliver content, tailor lessons that engage and differentiate, create deep online discussions, improve assessments and feedback, try additional digital resources.
Clarify mandatory versus optional meetings and training sessions and strive to limit the number of mandatory obligations. Teacher time is precious and is primarily for planning, instructing, and grading. Limit feel-good meetings. Meet to get input through discussions, don't meet to offer one-way information, use emails for that.
Don't ask teachers to use every educational app or digital strategy that you hear hype about, instead, concentrate on quality over quantity.
Harvard Graduate School of Education researchers Reimers and Chung state that "Good professional development must be tactical. It should focus on teacher autonomy and professionalism, but it should also give educators specific tools to draw from and adapt to their particular context."
To avoid going down the rabbit hole again, I sought a framework to test the usefulness of new tools, methods, and resources. Two factors stood out to me:
Outcomes for Students: Consider how much the tool or initiative will improve student outcomes. Will it raise the quality of learning? Will it increase the amount of learning?
Usability for Teachers: Will training and implementation be time-intensive? How easy or hard will the learning curve be? How much money will be needed for the new initiative? Everyone prefers tools that don't need too much time, effort and money to adopt and use.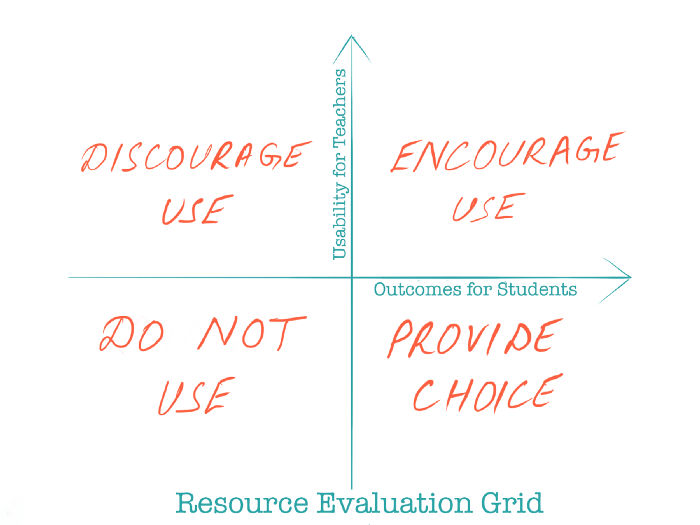 Encourage initiatives that create high returns for students and are teacher-friendly, but stay away from gimmicks that are draining and do not create value for students.

Listen sincerely to what the team members think and amplify their voices. If I had been more sensitive to the feedback I received, I would have been able to make things more effective for teachers.
Encourage teachers to choose and experiment with digital tools at their own pace. Support them, but don't stifle them.
Let them hone in on teaching. Help them by shifting non-teaching tasks to other staff members.
Be the voice of your staff and students to higher-level leadership and push back on initiatives from the top that you disagree with.
Leading requires being in sync with one's teams to provide them with meaningful direction and support. Leaders don't know better than their teams, they know with them, because of them.
And I am upbeat again, excited to learn by doing, listening in, and working as a team.
Originally published on medium.
---
--- ---
Related Articles