What Is Link Building And What Benefits Of It For SEO?
Link building is one of the essential parts of SEO; if people say link building is the backbone of SEO, it's not wrong
---
Shahmeer Akram
10 months ago
|
4 min read
---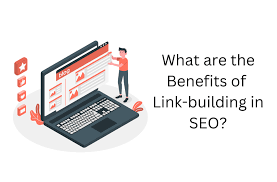 Link building is one of the essential parts of SEO; if people say link building is the backbone of SEO, it's not wrong. Many companies and brands get SEO services because they know the importance of SEO for their online presence and the advantages of having SEO work done for them. There are 12 different types of affordable SEO services, including off-page SEO, on-page SEO, white hat, technical SEO, and others that help top-ranked your website on google.
Link building is the leading part of search engine optimization. You can lose out on future revenue if your marketing strategy does not incorporate link-building tactics. Using link-building techniques, you may develop successful SEO marketing campaigns that support your company's growth. It would be best first to comprehend what it is and how to use it.

Follow this guest post to understand link-building and the benefits of link-building for search engine optimization.
What Is Link-Building?
As explained, link building is obtaining backlinks from other websites to your own. All marketers and business owners who want to increase referral traffic and their websites' authority should prioritize building links.
Why create links? Although Google's algorithms are complicated and constantly changing, backlinks significantly affect how each search engine chooses which websites to rank for which keywords. One of the many SEO tactics used is link building since links inform Google that your website is a trustworthy source deserving of citation. Therefore, websites with more backlinks frequently produce better outcomes. Below I describe the few benefits of link-building.
Increased Exposure and Visibility
Link building can help with credible lead generation and improve search rankings. By raising awareness, link building, for instance, can help you connect with a new audience in a new location. This can benefit your company and help build your reputation as a reliable brand.
Better Connections within Your Niche.
Following Google's recommendations and concentrating on link-building with your industry specialists will help you forge stronger connections with important figures in your field and produce relevant links. This might open up new possibilities for collaboration.
Links Increase Your Credibility.
Link building services lend credibility to your website because they serve as outside indicators of the authority of your domain. Google works hard to give users the most pertinent results. It takes into account "authority" to accomplish this. Your credibility factor increases with the quantity and quality of links pointing at your website.
What Benefits of Link Building for SEO?
There are many benefits of link building for search engine optimization. SEO almost depends on link-building because it improves the website on search engine results; link-building is necessary to get organic leads. Blogs, Articles, Guest posts, MT, MD, and other things are used back linking to get maximum exposure. Below I describe the main benefits of link-building for SEO.
Expanding Traffic.
You might anticipate a boost in traffic if an authority website with many visits links back to your material. If your link appears in an article in a Search Engine Journal, readers will likely click on it and visit your website.
They know our website only links to reliable educational
resources because they believe SEJ. Link building is one of the most effective
and cost-effective ways to attract targeted visitors because of this. However,
remember that even while a website with authoritative links offers significant
traffic, not all users will convert. Some people will make purchases or sign up
for your service, while others will spread the word.
Developing a Brand.
In your niche, strong link building can help you develop your brand, grow it, and enhance its visibility. There are a few highly effective link-building strategies that I'll discuss in more detail later, such as guest blogging and content production, which demonstrate your company's competence to readers and can significantly improve your brand.
For instance, there is a probability that if you post a piece of content that you wrote using industry data, it will be read and shared.
Link building Raises Site Metrics and SEO Scores.
Your website's health is based on a variety of variables. Therefore, you must be aware of your domain rating (DR), domain authority (DA), page rank (PR), and Alexa rank to assess its health (AR). All these indicators will increase due to link building, which will also enhance the general health of your website.
You can remove harmful links if your website's health and backlink profile can be improved. Although the sources that choose to link back to you are out of your control, you can use Google's Disavow Links tool to get them off your website.
SEO Ranks Websites Using Links.
It would be best if you accounted for more than half of Google's ranking variables with link building. Even if your website has excellent content, Google will not rank it highly if no links point to it. Links are crucial to Google's algorithm. It would be best if you had more backlinks than your rivals do to rank higher than them.
Increases Brand Awareness
Link building can improve your brand awareness in addition to helping your site rank higher and generate traffic. Most websites and businesses have become household names as their ultimate long-term objective.
According to Emily Garner of Blue Claw, who specializes in content, "Running link building campaigns works to raise brand awareness and make it more likely that you'll become the go-to site for many clients searching for dependability and convenience." Finding external websites that will link back to you, or in the words of LSEO, "link back to our client's site," is the entire point of link building.
Conclusion
Link Building is the best strategy to boost your business drastically. In this guest post, I briefly describe link building and its benefits for SEO and business. Most internet searches begin with a search engine, and most users choose one of the top three results.
It isn't easy to score highly with search engines without obtaining backlinks in some fashion because of how meaningful connections are to them. After reading this guest post, I hope you understand the importance of link-building in the digital world.
---
--- ---
Related Articles