The love/obligation dilemma in companies
The love/obligation dilemma can haunt us forever; losing enthusiasm in things we love shouldn't be a stopper to accomplish our dreams; we can adjust the perspective, the environment, or the industry. The best weapon we can use is to stay true to ourselves no matter what; If we do this, we will be on the route to find our professional nirvana, our call.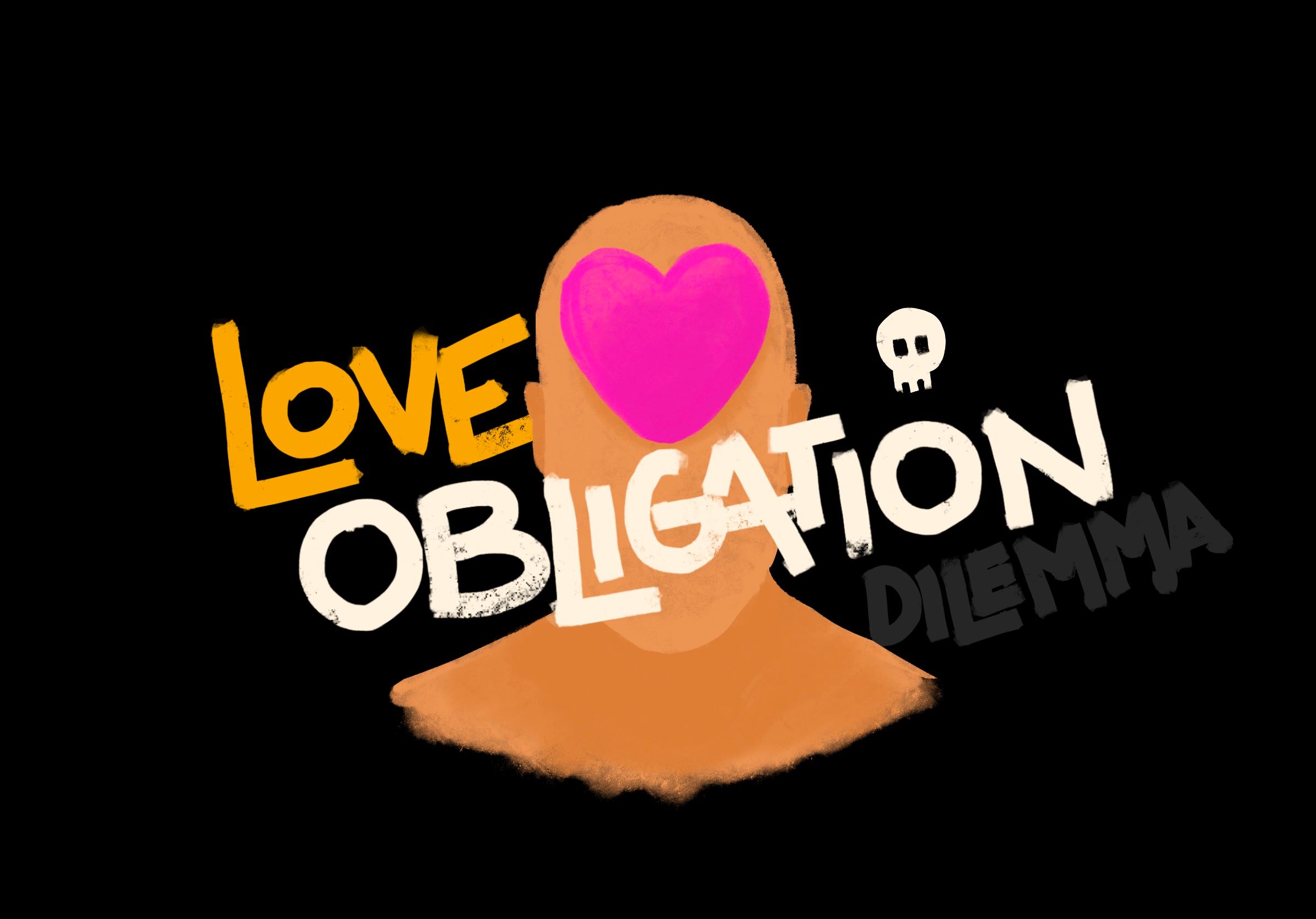 Have you ever felt that you start a new position in a dream company, and for some reason, that thing you love to do now feels like a heavy burden to carry? Why do we lose interest in something we love? It seems pretty standard nowadays; at least, I get the notion when I see many people resign from their positions because they are no longer satisfied with their jobs.
In my case, I realized this issue when I was a kid. Here, a short story. I used to play basketball, and I remember that maybe I wasn't that good as other players, but one thing for sure was that I enjoyed playing a lot. I was happy because I was playing for love to the sport. Like many others, my passion for basketball started on my neighborhood court; no sophistication at all, only a bunch of friends, me, and the ball. What good moments!.
Given time, I had the opportunity to join my school team, the college team, and a private club in Bogotá named "Piratas"(pirates). The excitement I felt being part of those groups was indescribable; since then, I have developed a unique sense of team effort and belonging.
Today, I remember those moments as a manifestation of pure passion, fun, and love, but at Piratas, everything started to change; basketball was no more a game of friends but a job, routine, and responsibility. We needed to complete training hours in the gym, follow a diet, and stick to our rank within the group. In addition to this, some players didn't get along with each other.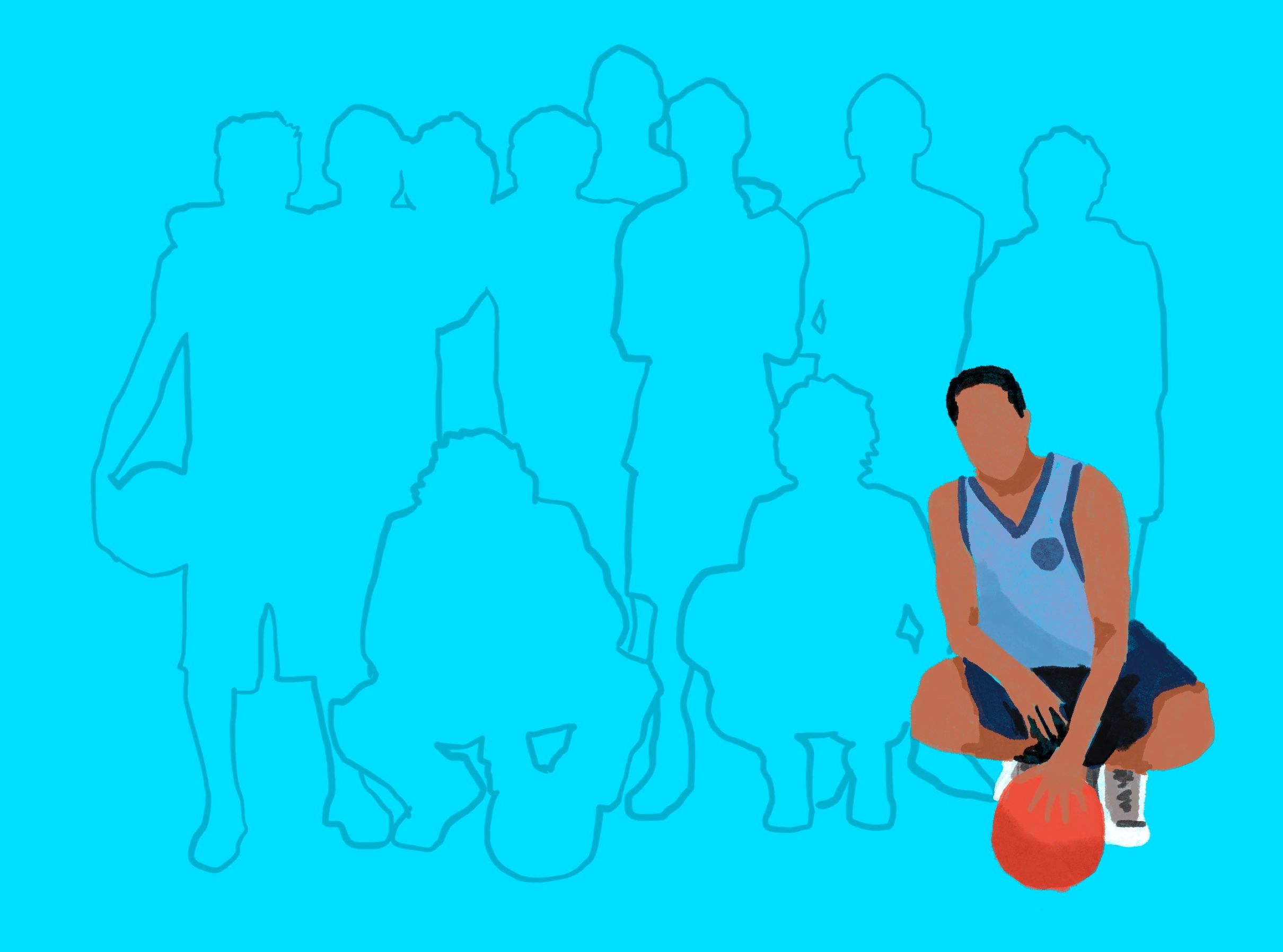 I'm not saying that to make some progress in something by just loving it is enough. Discipline, concentration, and sacrifices are required, especially in sports. But this was enlightening to me; days of laughing, freedom of failing, and stories with friends late at night now were just a memory. After many years, I decided to quit basketball for many reasons: I was "old" to build a career in sports, It was not my life plan, and above all, It wasn't fun anymore in the way it was when I was a little kid.
My brief basketball career was a significant self-learning about the difference between "the love of doing something" and how that can become "the obligation of doing something." Unfortunately, I think this is pretty common in life, and sometimes, we face these two opposites situations daily.
The action of doing something driven by love, I think we all agree on calling it passion. When we do something we're into, we don't feel any obligation in doing so. On the contrary, doing something that we don't like is called stress, and we will carry the burden of getting up every day to accomplish that thing that we don't even care about.
Is this a reality in our day-by-day work routine? In principle, I would say yes, but it depends a lot on our professional vision and how we define ourselves in two groups; those that settle and continue or those that stick faithfully to our expectations.
In companies, Amy Wrzesniewski enunciates in the creative confidence book that people follow three attitudes toward work: A job, a career, or a calling.
A job is an act of responding to what's required, basically is what brings money and helps pay more obligations, is not relevant being happy, or not being part of something. On the other hand, a career is a checklist of accomplishments to aspire to promotions, salary, and make yourself a name in the industry. My doubt about this attitude is that, are you entirely happy doing the work? I mean, you can be, but in my opinion, sometimes we fall into some career mirage, so we put aside some aspects that matter above others. The final attitude is the calling; this is the nirvana (in my opinion) of our professional lives; here, there are no more jobs to do, obligations, and burdens to carry out. Whatever you do in work fulfills you as a person; This is the state where you feel you're part of something bigger than you.
When I found this, I started to ask myself if these attitudes can be a consequence of my initial thesis of losing the passion for something that now feels more like an obligation rather than a joy. Then, using a typical example of getting a new position in a company, we can see how sometimes we face different stages of recognition, from acquiring a new job to a final judgment.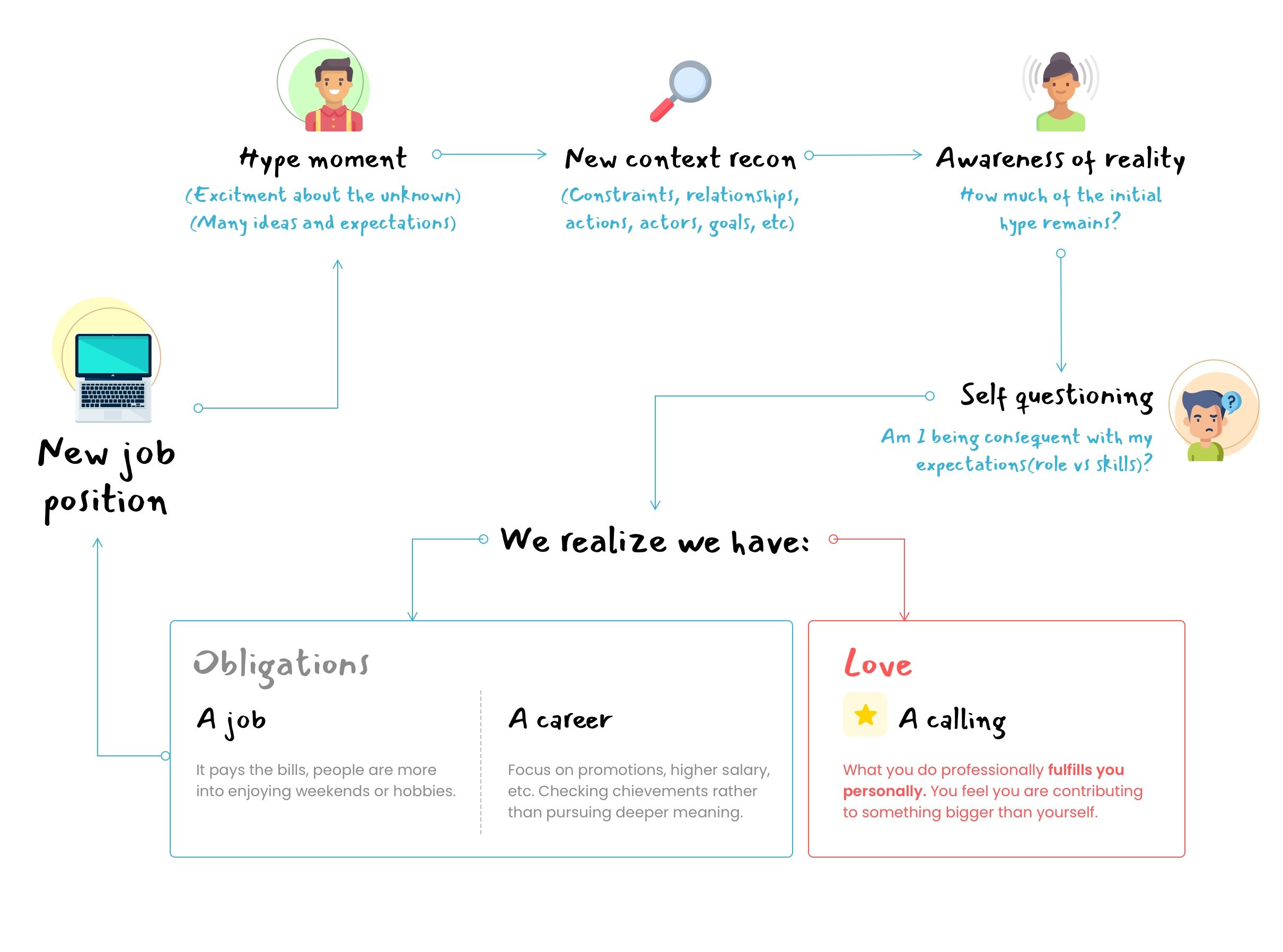 How to anticipate this? In my opinion, there's no formula, but you should appeal to basic questions to identify some alerts or key points before making a decision. Here, some ideas:
A reputation
Maybe some basic notion of environment will give us a clue about how things work around the new position or company. For example, asking someone or reading reviews about the new place will set expectations for the journey. How do people respond to conflict? Is there bureaucracy? Am I be autonomous in the decisions making? How's the company's health? So many questions to ask in the early stages can be a strong filter before making a move.
Role and expectations
This part is essential; how will things end well if we don't know what the company expects from us and the role? Knowing boundaries will determine the range of activities we will have once we start the new position. Sadly, sometimes it is not about what we consider the best way to proceed but how the company allows it. Here, adaptation is critical; maybe we can't change a whole system, but we can also take this constraint as an opportunity to build some stepping stones to something revolutionary within the company.
Stay true to your convictions.
If it does not make you happy, then it is not the place. When adaptation is not the way, we can always turn our career vision. Staying true to ourselves will create new paths, whether in the company or a new place. History has proved that some people initially were discarded from a company because their ideas were "misfits." Now, we have Facebook, Amazon, and much more.
Starting over is not that bad.
Reinvention is the key. Sometimes ideas can echo in unexpected places; maybe all we may need is to change the focus of our intentions.
Seeking results by repeatedly applying the same process without proper enthusiasm will generate frustrations and desertion. Maybe the answer is in the following area, project or a different industry.
In my opinion, as employees, we assume that the company's name measures the level of success in the career, and at some point, this can be true. Still, it is also true that we can succeed by taking risks in new fields where we can be happy and excited every time we refer to our jobs.
The love/obligation dilemma can haunt us forever; losing enthusiasm in things we love shouldn't be a stopper to accomplish our dreams; we can adjust the perspective, the environment, or the industry. The best weapon we can use is to stay true to ourselves no matter what; If we do this, we will be on the route to find our professional nirvana, our call.
---
Colombian (samario). Sometimes I write short stories about my life as a designer.
--- ---
Related Articles