Majima Everywhere AR Mobile App, a case study
Case Study: Majima Everywhere AR Mobile App
I was playing Yakuza Kiwami and commented with a friend that the Majima Everywhere feature was entertaining. He did not believe me.
— You will get tired of him.
— No, I won't. Even if that extended to real life, I would still have fun.
I don't know when to stop a joke, so I just decided to transform this statement into a design exercise: an app like Pokemon Go, but instead of catching pokemon, you will be caught by Majima. Everywhere. Literally.
So this is the video presentation of the final Case Study:
Video presentation of Majima Everywhere
If you don't know what Majima Everywhere is or if you want to learn more about the process, here it is:
Yakuza Kiwami & Majima Everywhere
What is Yakuza Kiwami?
If you noticed my stories, I have published reviews of Yakuza 0.
Yakuza Kiwami is another game from the Yakuza series, the remake of the first game: Yakuza. It's the second one I played. I'm currently playing the Yakuza series following the story chronological order.
Yakuza Kiwami (2016) is an action-adventure game developed by Ryu Ga Gotoku Studio and published by Sega. Follows the story of Kazuma Kiryu, an ex-yakuza who has left prison after 10 years and is searching for his friends.
What is Majima Everywhere?
Majima Everywhere was a feature added to the remake. Kiryu left prison and isn't in the fighting shape he used to be. His rival-friend Goro Majima decides to fight him everywhere — to make him relearn everything he forgot during the 10 years in prison and get him in good shape.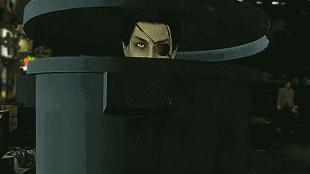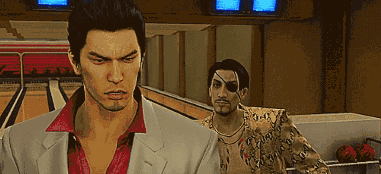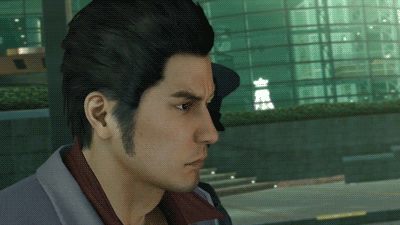 Images 1: Gifs from Yakuza Kiwami. As you can see, Majima can appear everywhere.
During the game he can appear everywhere except on the main story scenes (well, he does appear but as part of the story): when you are walking on the streets of Kamurocho, when you are playing mini-games, when you enter a shop and look at the magazine stand, etc.
Nishida (Majima's lieutenant) will also send you warnings or invites via e-mail — sometimes forced by Majima, other times just because he is a bit concerned about Kiryu's safety.
Majima knows how to have fun, so he came up with a lot of excuses to fight Kiryu and costumes to roleplay some weird story to force Kiryu to fight him.
Case Study: Majima Everywhere AR Mobile App
What is the Majima Everywhere App?
I came up with this idea that even when you turn off your console, Majima would still try to fight you. So the random encounters you have inside the game, the game will extend to the app — to real life. As you walk around, Majima will appear, and you need to fight him. If you don't, he will use your phone to bother you.
On each fight you can win stuff just like in Yakuza Kiwami and, if synched with your game account, you can win rewards in the game (items and weapons) and your Majima Everywhere rank, HP and heat would synch with the game.
I will be as brief as I can to explain the process until the final prototypes you can see on the video.
Research
As in any other project, I did my research.
The beginning of the research was to understand what already exists on the market — more specifically, these four types of projects and how they work:
Location-based apps with AR (Pokemon Go, being the main example)
Apps that complement the console/PC game (Grand Theft Auto: iFruit, being the main example)
Cross-platform games (Destiny, the main example)
Of course, Yakuza Kiwami visual design and gameplay of Majima Everywhere + more Ryu Ga Gotoku Studio games and SEGA mobile games.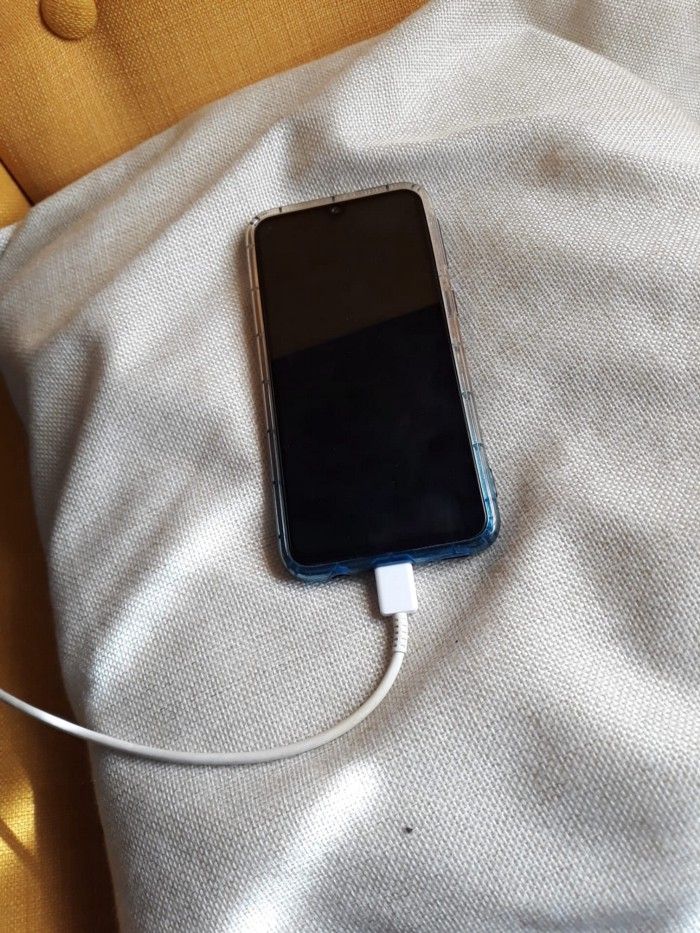 Image 3: My phone trying to survive the battery sponge, try to guess which one of the apps was. Pain in the name of research.
The second step was to define for whom this app was and to understand the personas. I came up with two personas — someone that is currently playing the game (and will finish the console game somewhere close in the future), someone that never played the game but it's curious about the app (most likely someone that likes gaming).
Based on this, I had to think about these two personas journeys and how they would interact with the app.
Someone that is currently playing the game: download the app to benefit from synch. Grind to earn Majima Everywhere rank (unlocks fighting bonus) and XP.
Someone that is not playing the game: download the app to explore. Wants to freely understand how the app works and thinks it's a small peak to the game itself.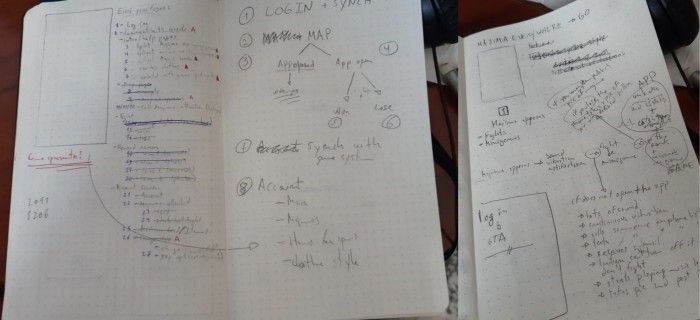 Image 4: Some app functionalities ideas while analysing personas. And other ramblings.
Now the functionalities where key: how to translate these two personas needs and wants to functionalities? This where the selected functionalities:
Synch with Yakuza Kiwami that would require:
— Log in with Xbox Live or Playstation Network accounts.
— During fights use the same controllers as the console used in the game.
— Visibility and upgrade of HP, Heat, Fighting Style and Majima Everywhere rank (and synch!).
— Synch of items and weapons.
Location-based map:
— Try to call Majima's attention.
— Possible to try to "run" from Majima if you see him somewhere close.
Majima encounters that mimic the ones on the game (with identical sound and visual cues).
Fights that mimic the ones in the game with the same controllers but without animation — instead of animation, use of a "chat" that describes the fight:
— Possible to change the fighting style.
— Items and Weapons available to use during a fight.
— Turn AR on during a fight.
— Take a picture of Majima if the player wins, of players if Majima wins.
— Possible to share the picture online.
— Win and lose gives rewards: up the Majima Everywhere rank, items, weapons and clothes (lose only 1 item or weapon).
Storage of rewards: items and weapons.
Extra funcionalities like:
— Mini-Games
— Store Majima's cards after fighting a new type of Majima.
— Use the clothes from the unlocked types os Majima on Kiryu.
The validation of ideas and conclusions on interviews and tests was very tricky, I wish I had more people that played the game itself but couldn't find more than 1 person with time to help. People that did not play the game were a lot easier to find, inside my house I already have 5 potential victims.
Design
I knew my personas, what they would do and how the app will help them achieve what they want. So the design phase begins.
Generally, I use online tools to create low-level wireframes. Still, this app was something entirely new for me, so I used a pen and paper. It's much easier to explore and make mistakes on paper. And funnier.

Image 5: Low-level wireframes.
I tested them and tried to understand what else they needed and what was going to be deleted (erased, sorry) — after some iterations, they were good to go.
Next, the visual design.
This was probably the most challenging part. First, I made the decision not to copy the game visual design. For two reasons. First: the platform was different — the visuals should also be.
Second: it was about a specific Yakuza Kiwami feature, so my goal was to be visually closer to Majima Everywhere mood. More colour, more contrast, more Majima factor.
The functionalities and extension were there, but the app needed to stand on its own visually.
I took inspiration from the fonts, colours and UI components from Yakuza Kiwami and built the most chaotic styleguide ever. It had so many iterations I can't even remember how many.
Even when the high-level prototype designs began, the styleguide kept changing as I experienced with the components and colours.
The result, in 4 prototypes: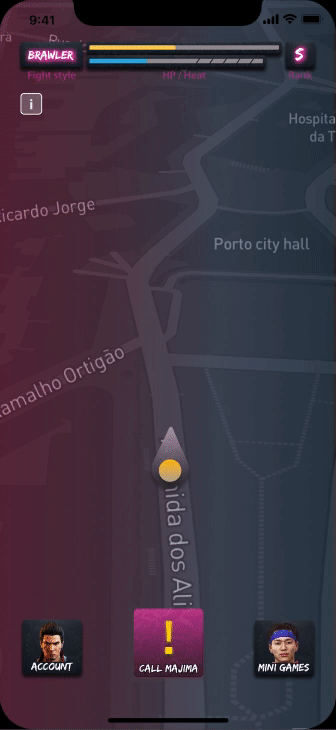 Image 6: On the above, gif of the map + Majima Encounter. On the below, account exploration.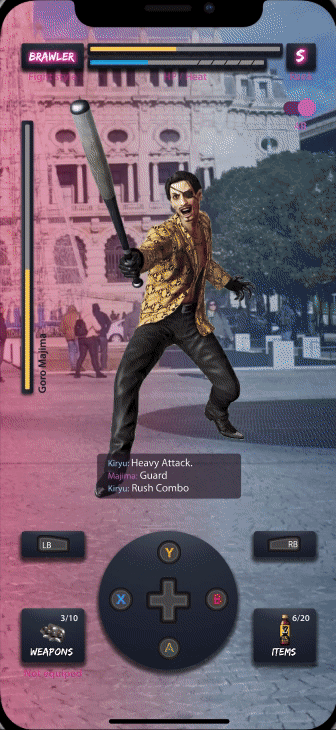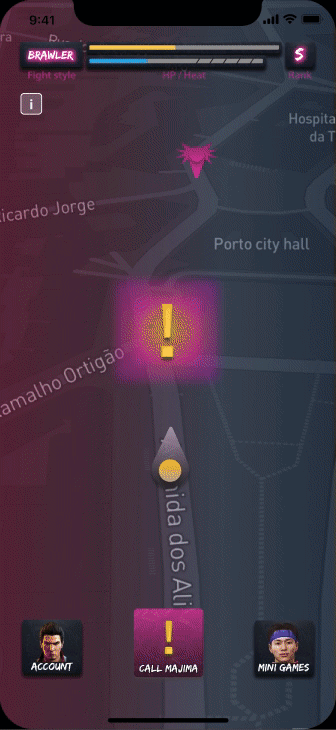 Image 7: On the above, fight and lost. On the below, fight and win.
Final Thoughts
I really had fun doing this. It was an opportunity to learn and experiment with something I never did before. Especially understand how to connect with the game but without losing its own personality. And to remember video editing skills I used to have (not very successfully).
The sad part is that I kind of wish this was real.
---
--- ---
Related Articles