What makes MSBI Advantages Over Other Tools?
MSBI Online training is one of the trending course nowadays, due to its high demand in the market.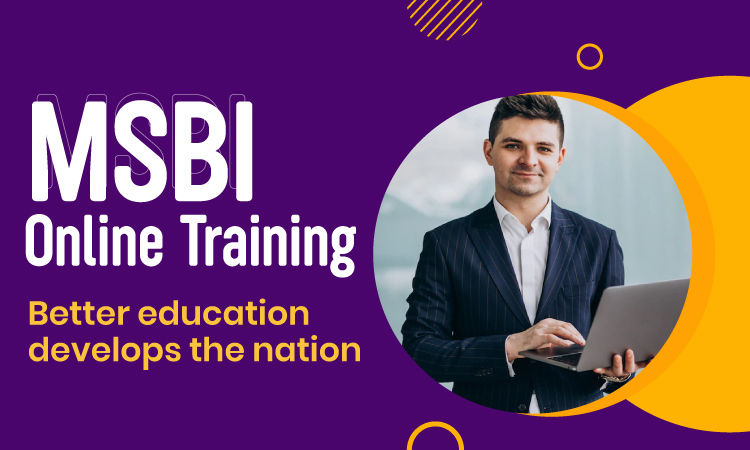 Introduction
At the current point, you can see a rapid rise in data, and in such a scenario, business intelligence is essential for firms to manage such an exponential increase. However, MSBI is the most prominent business intelligence tool available in the market. It is a set of technologies that provides solutions for Business Intelligence and issues related to data mining. However, MSBI, in conjunction with Visual Studio and SQL, assists individuals in making sound business decisions. Therefore, to know more about MSBI and how it is advantageous over other tools, we suggest you either refer to this article till the end or enroll in the MSBI Online Training from any reputed institute.
MSBI (Microsoft Business Intelligence): Meaning
MSBI is an abbreviation for Microsoft Business Intelligence. It is a data extraction, transformation, and loading tool. Also, you may use this tool to organize and show multidimensional data. Essentially, MSBI converts raw data into valuable insights. However, the MSBI stack comprises three essential tools for completing various tasks:
SSIS stands for SQL Server Integration Services and is an integration tool.

SSAS stands for SQL Server Analysis Services and is an analysis tool.

SSRS is a reporting tool, which stands for SQL Server Reporting Services.
Top Advantages of MSBI over Others
Below are the top advantages of MSBI, which make them advantageous over the other tool:
Simple Data Exploration and Visualization
In today's environment, having the ability to examine and visualize data is a great skill. Obtaining accurate data visualizations is not urgent but is critical. However, MSBI tools are excellent for data visualization. Compared to other Business Intelligence tools, this solution excels at data visualization. For business intelligence, MSBI uses pie charts. It is a circle chart with several slices displaying numbers and amounts. Moreover, MSBI makes excellent use of 3D diagrams.
Oversee Self-Service BI Tool
MSBI provides self-service Business Intelligence solutions. One such prominent example of a self-service BI application is Microsoft Excel. Employees in every organization use Excel daily to generate reports and Data Analytics results.
Initially, only data professionals, managers, and experts with extensive knowledge can operate business intelligence technologies. When employees had problems using BI tools in firms, they had to contact the IT department for assistance. People had to wait months for the IT department to answer their questions. You can resolve this issue by introducing self-service business intelligence tools.
Complete use of native MS Excel Features
MSBI relies heavily on Excel for data analysis and reports on it. Excel makes it simple to collect data and utilize it to create eye-catching reports, dashboards, etc.
However, with the help of Excel, you can perform a wide range of operations, from data gathering to creating reports. Thus, to obtain the data in the Excel sheet, MSBI leverages the SQL Server table and its analysis functions. Also, you may use Power Query to aggregate and improve data from internal and external data sources.
Support Web Services
Microsoft BI explanation affects your active technological investments in .NET and SQL Server to develop well-off integrated treatment and analytics practices that allow clients access to precise, up-to-date data for well-organized decision-making. It also expresses well-built skills with many years of quality expertise and provides several benefits to clients while achieving higher value-to-cost ratios.
Provides Complete Business Solutions
MSBI provides excellent Business Intelligence solutions and is an excellent source of business decisions. It also offers complete business solutions. When used with the BI, this tool provides exceptional deployment solutions. Moreover, MSBI employs Visual Studio and SQL Server to power high-quality business applications. It contains various and fully independent tools for each service. Furthermore, you may use MSBI technologies for several business applications, including online transaction processing, data warehouses, data marts, BI semantic models, and data mining.
Data Warehouse Applications
Business Intelligence has an answer for all data analytics requirements. Here, SSIS helps in collecting data from disparate sources for the data warehouse. The data warehouse is appropriate for extracting various information to carry out the analytics process. Moreover, SSIS is an MSBI tool that conducts the ETL procedure. You can classify the ETL procedure into three steps, i.e., Extract, Transform and Load. During the extraction procedure, you may source the data from the source. After that, you must translate the data into the format required by the target database in the transformation process. At last, in the load process, you can convert the loaded data into the target database.
Conclusion
Hopefully, you may find this article informative. We have compiled the major advantages that make MSBI a compelling technology vs other business intelligence tools. By looking at these advantages, if you desire to have a career in this domain, we suggest you enroll in the MSBI Online Training in India.
---
--- ---
Related Articles