Making as Daily Practice
An everyday challenge to create something results in delightful rewards, ideas, and skillsets.
I admire artists and creatives who are able to post one concept every day. I am particularly inspired by a fellow designer, Fed Rios, who is an industrial designer that posts a sketch every day. I met him a few months after he challenged himself to post one sketch each day and nearly two years later, his sketches, work, and the number of followers have blossomed.
I attempted to craft a strategic launchpad to start posting every day. For the sake of my Strategic Making assignment of making something every day for 14 days, this felt a bit meta. So, I also took on the challenge of sewing, which is a bucket list item of mine (along with my wife) and a skill set that I need for a project I'll describe later.
First, I created a method of post formats, which is a 1080x1080 with a themed footer. Here are class sketch notes formatted into my daily post format.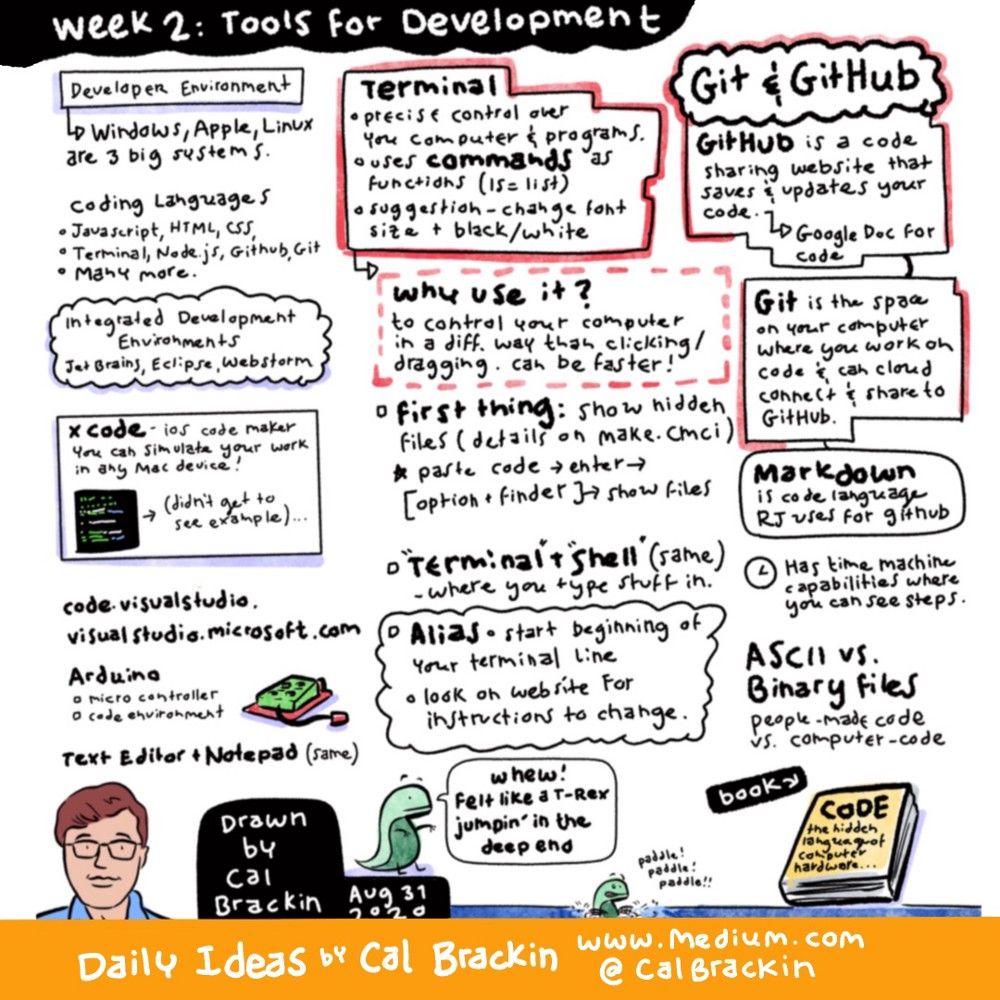 I create all my sketches on an iPad Pro in Procreate. Next, I started using photos and callouts to highlight what I was doing during project sessions. These images show how I conducted an idea session with a colleague by hooking up my computer to my iPad Pro and the projector to see ideas take shape during conversations.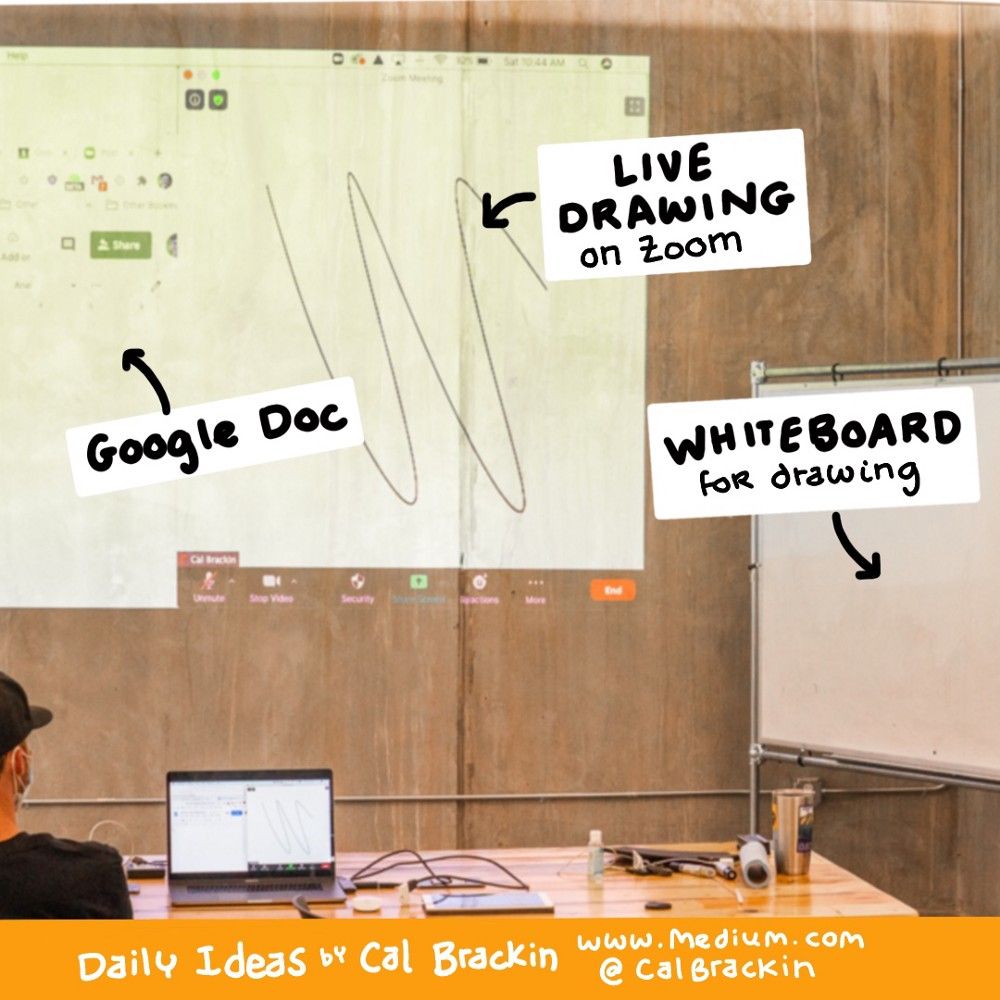 In my next efforts, I drew out one concept per day for three days. This was a great practice to just hold myself accountable for thinking about ideas and drawing them out in a way that I could show and explain to someone else. The landscape table is something that I'll be attempting to make in this program so this was a helpful sketch to get down.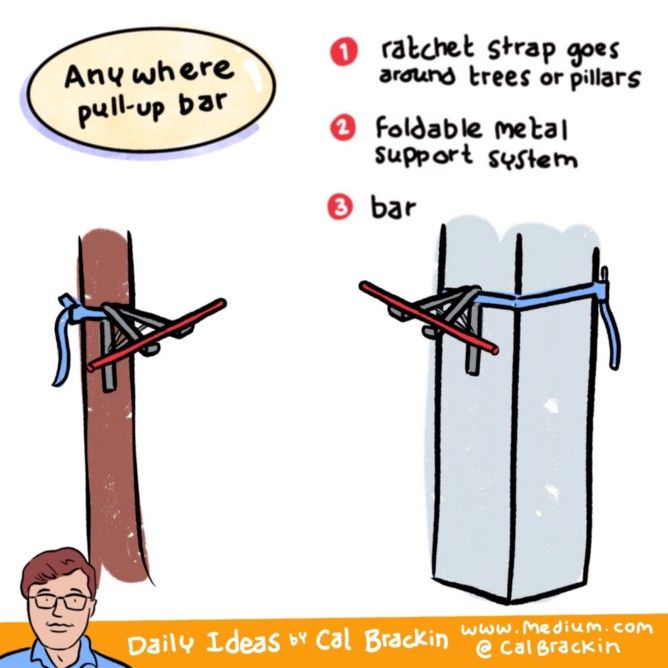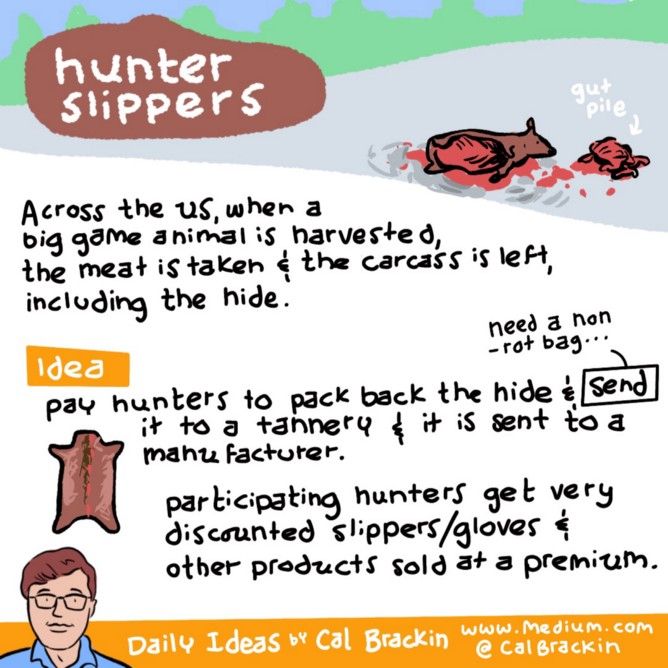 After these daily explorations, I zeroed in on learning how to sew. I have a concept in mind that requires learning how to sew and here are the drawings that explain my idea for making a dry bag: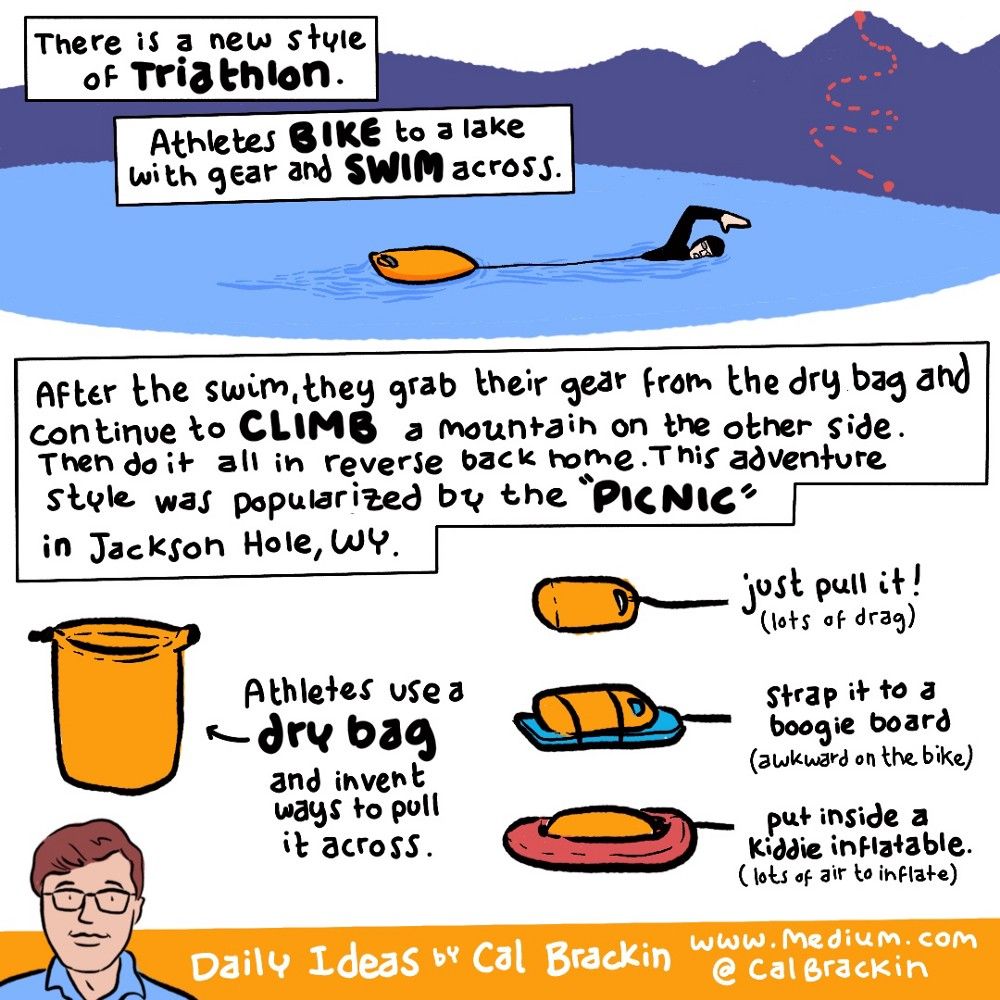 I did the Picnic last year and it was an awesome experience. From downtown Jackson Hole, it is a 25-mile bike to Jenny Lake, a 1.2-mile swim across, and an 8-mile, 7,000 ft. run to the top of the Grand Teton and then back. The return swim is the crux of the adventure and how you tow your gear is a big thing to consider. Drag, waterproofness, durability, and packability are all factors for every person who crafts their DIY solution.
The first thing I needed to do was to learn to sew. My scaffolding for learning to sew involved making a mask and then a laptop bag. I did a bunch of research on dry bags on the market and how to waterproof bag for future prototypes.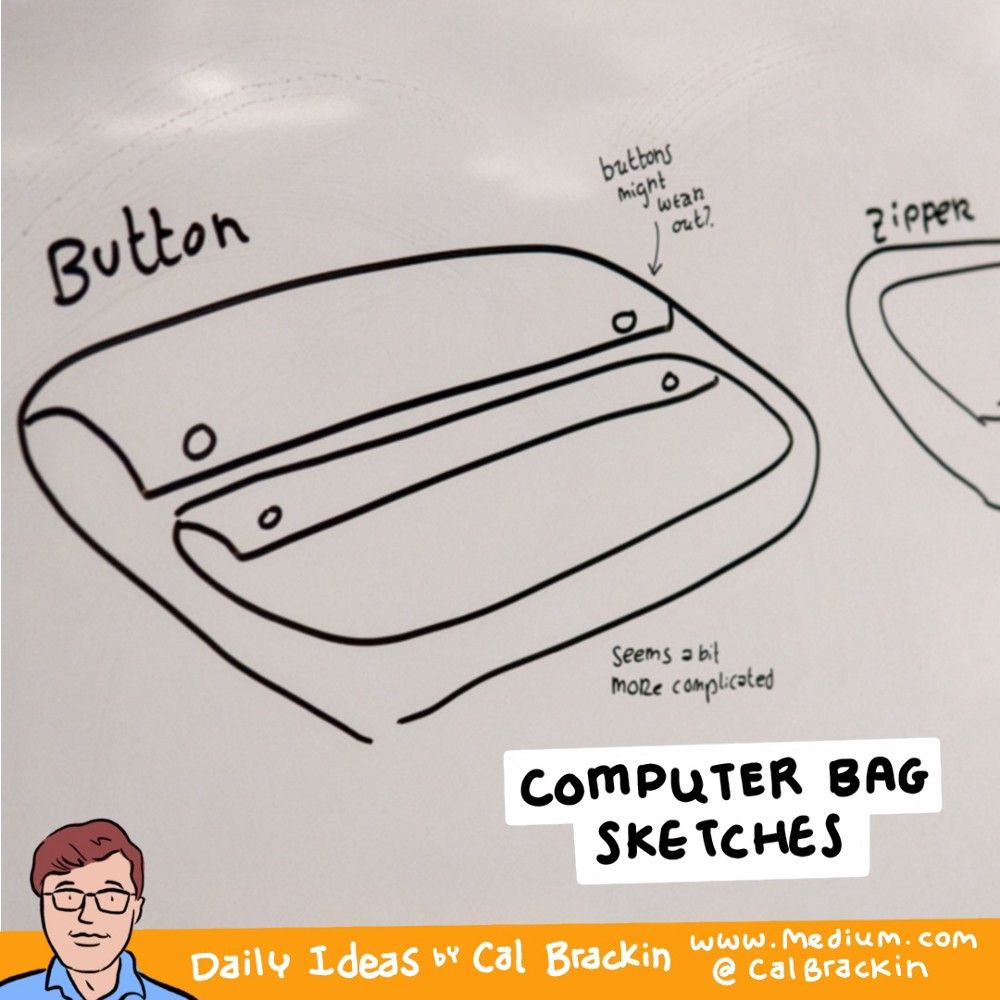 I researched how to rent and pick up sewing machines from the CU Idea Forge and bought fabric at Joann's Fabric store. It was incredible how much fabric was available. I also ordered a specialty waxed canvas online.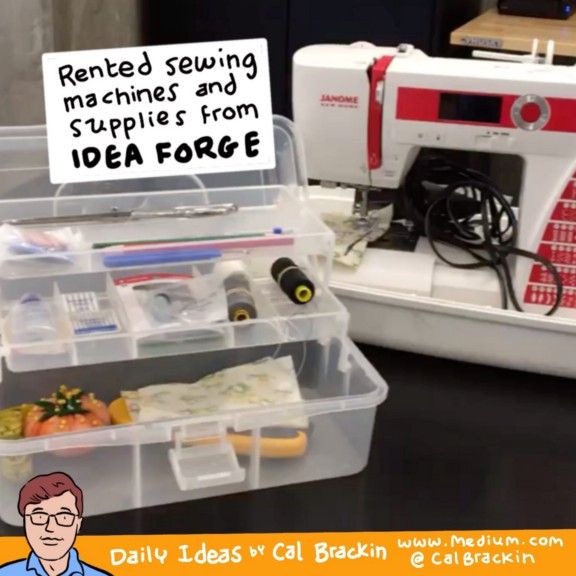 Then, I organized a sewing weekend for two days of learning how to run the machines and working on projects. I was joined by classmates Caleb and Jacque and my wife, Jenny. We watched tutorials from the Idea Forge on how to set up the sewing machines and how to make our first stitches.
Then we got to work on making masks by watching a tutorial from the folks over at the local makerspace, BLDG 61. Mask materials should be 100% cotton and these little squares ($2.50 each) make approximately 3 masks. So, with five squares ($12.50) I can make 15 for a little over 83 cents per mask.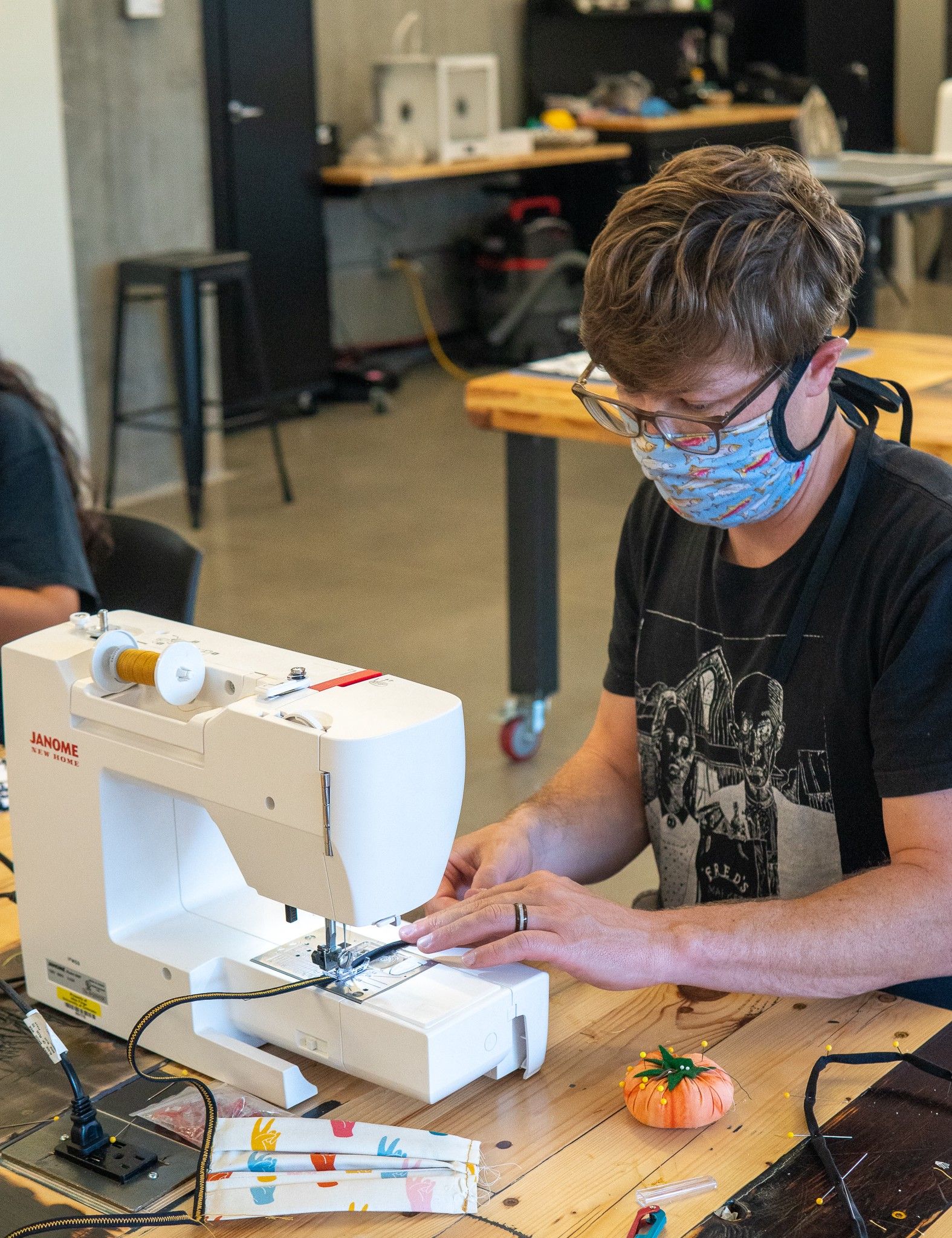 In the end, I learned how to sew and am now a proud owner of my own mask and the first thing I've ever created on a sewing machine.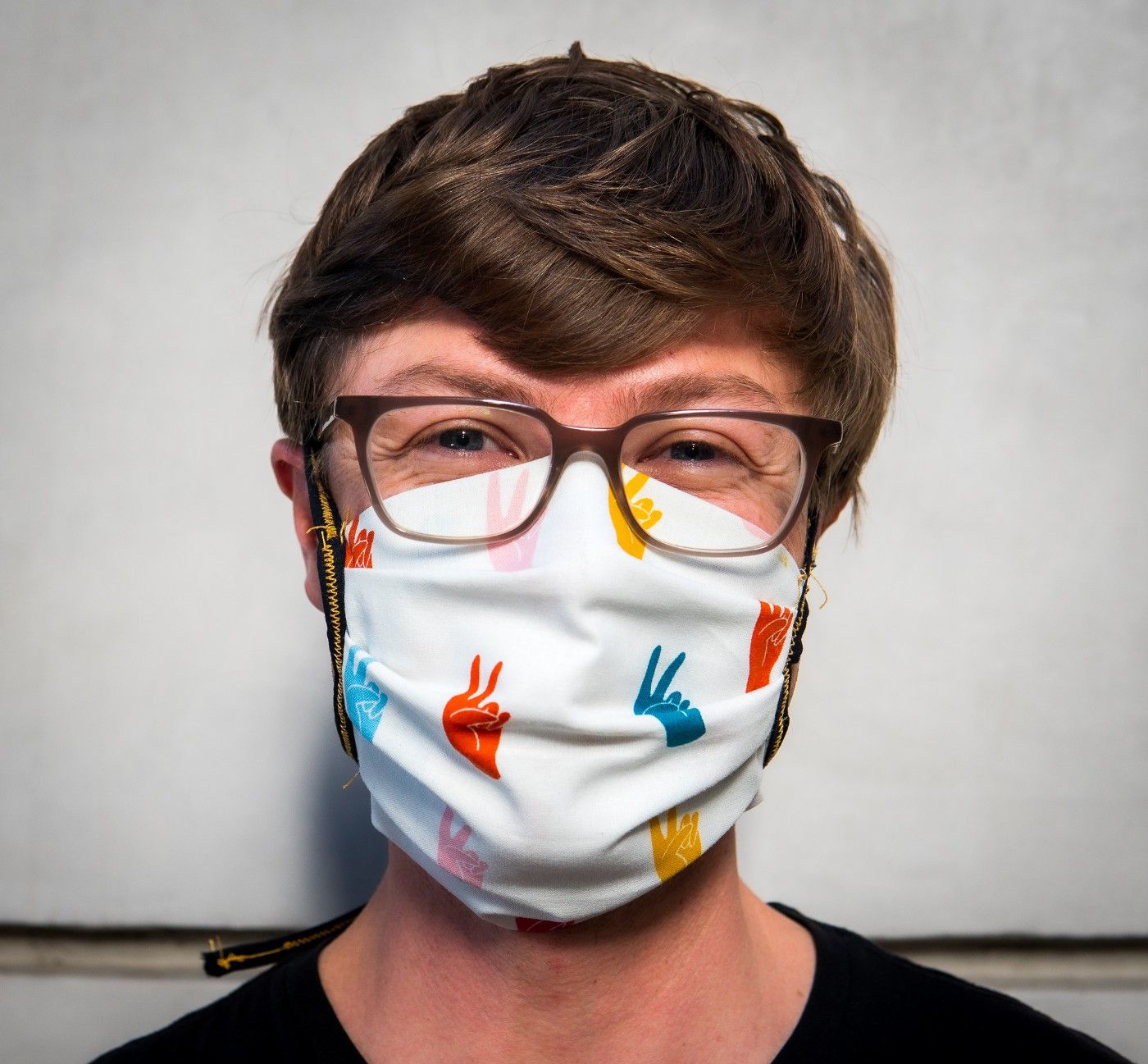 In my next project, I wanted to make a computer bag to replace my old, worn down, hand-me-down bag. It is pretty awful. I looked at many online tutorials and instuctables, but they were not easy to follow so I basically tore apart my old bag so I could replicate the basic form. I wanted to make the same form, but with a bigger pocket on the front. I gathered all of my materials and went to work.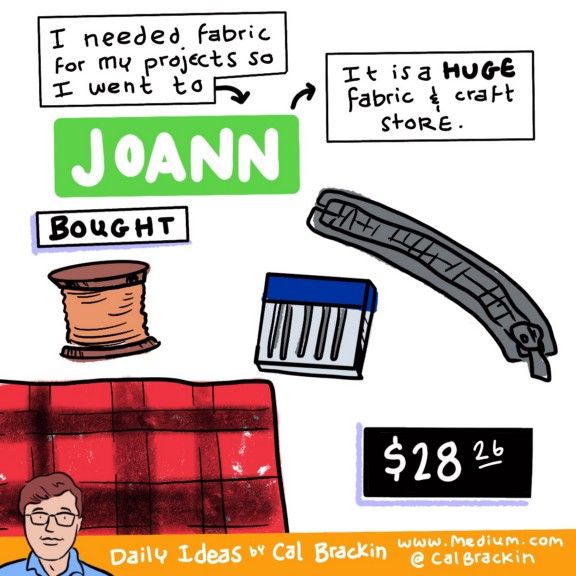 I went very slowly and was very cautious when stitching. I would look at a piece and think for a bit to make sure I understood what I was about to do.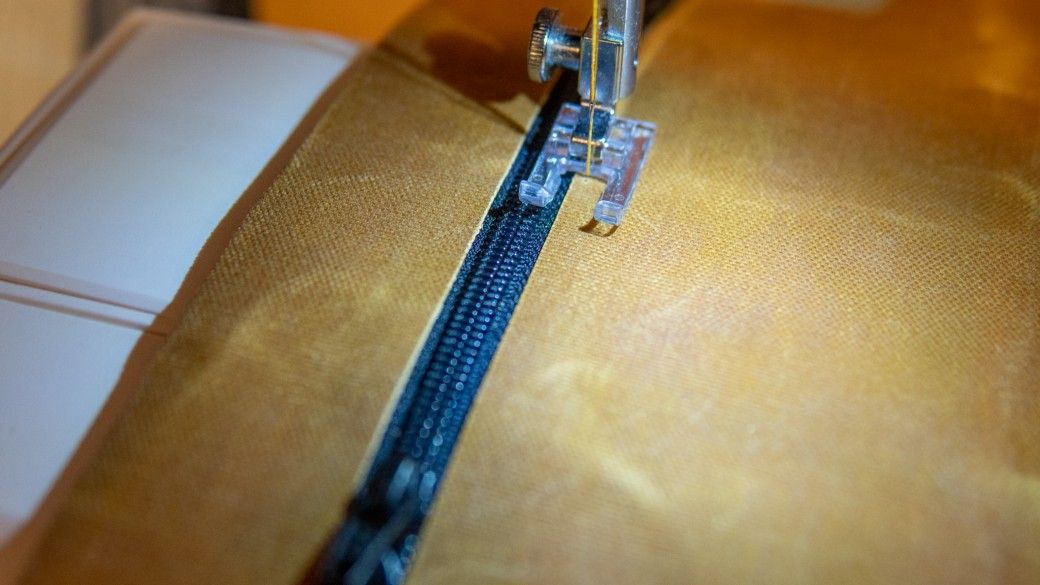 After a few hours, I had completed the front pocket.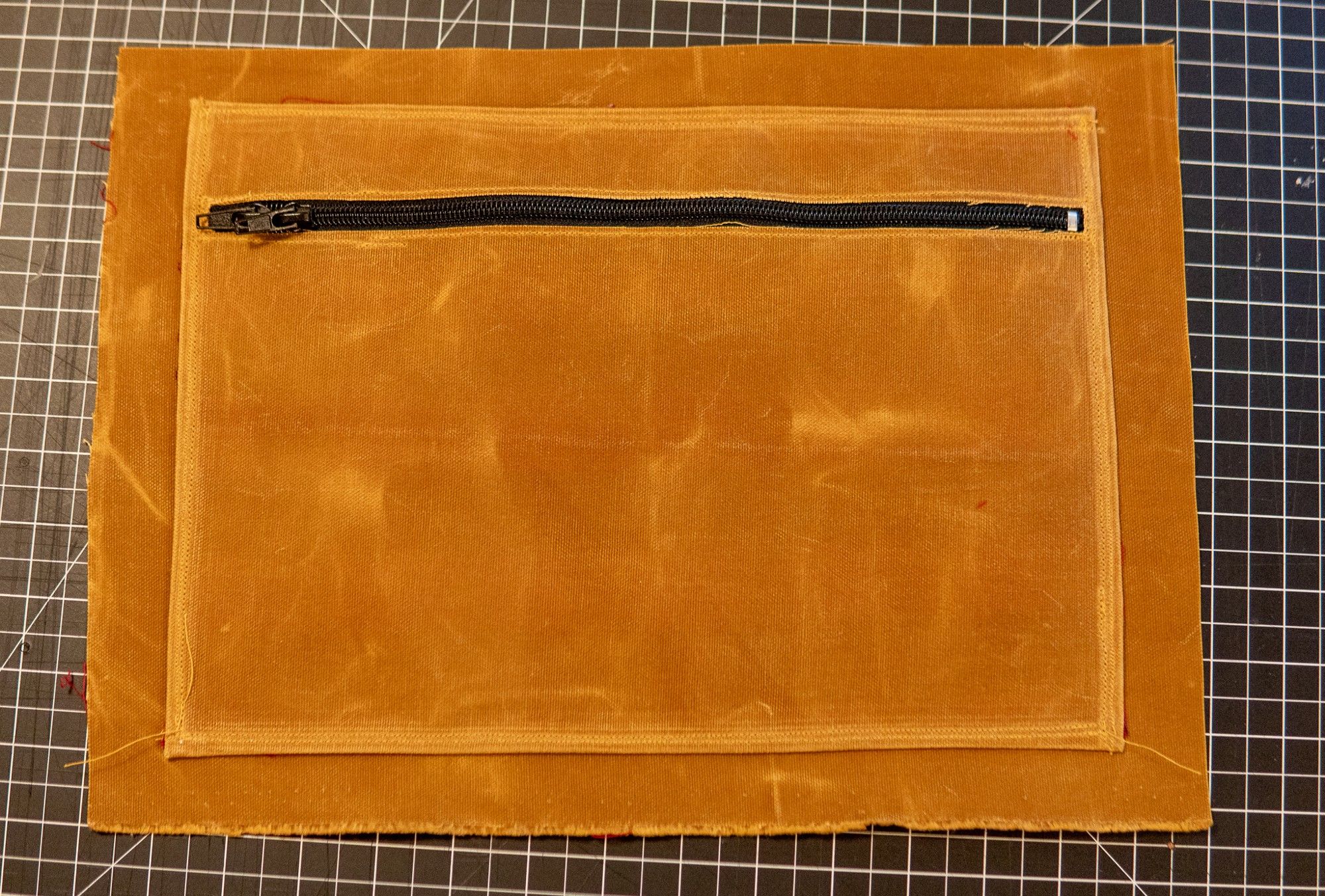 The next step was to attach foam padding (cannibalized from the old laptop case) and the inside lumberjack fabric. It was difficult to get through this step because I also had to attach the long zipper to the top. I got these pieced together and then figured out how to sew the bag inside out so when it was finished I could turn it right side out and have a finished bag.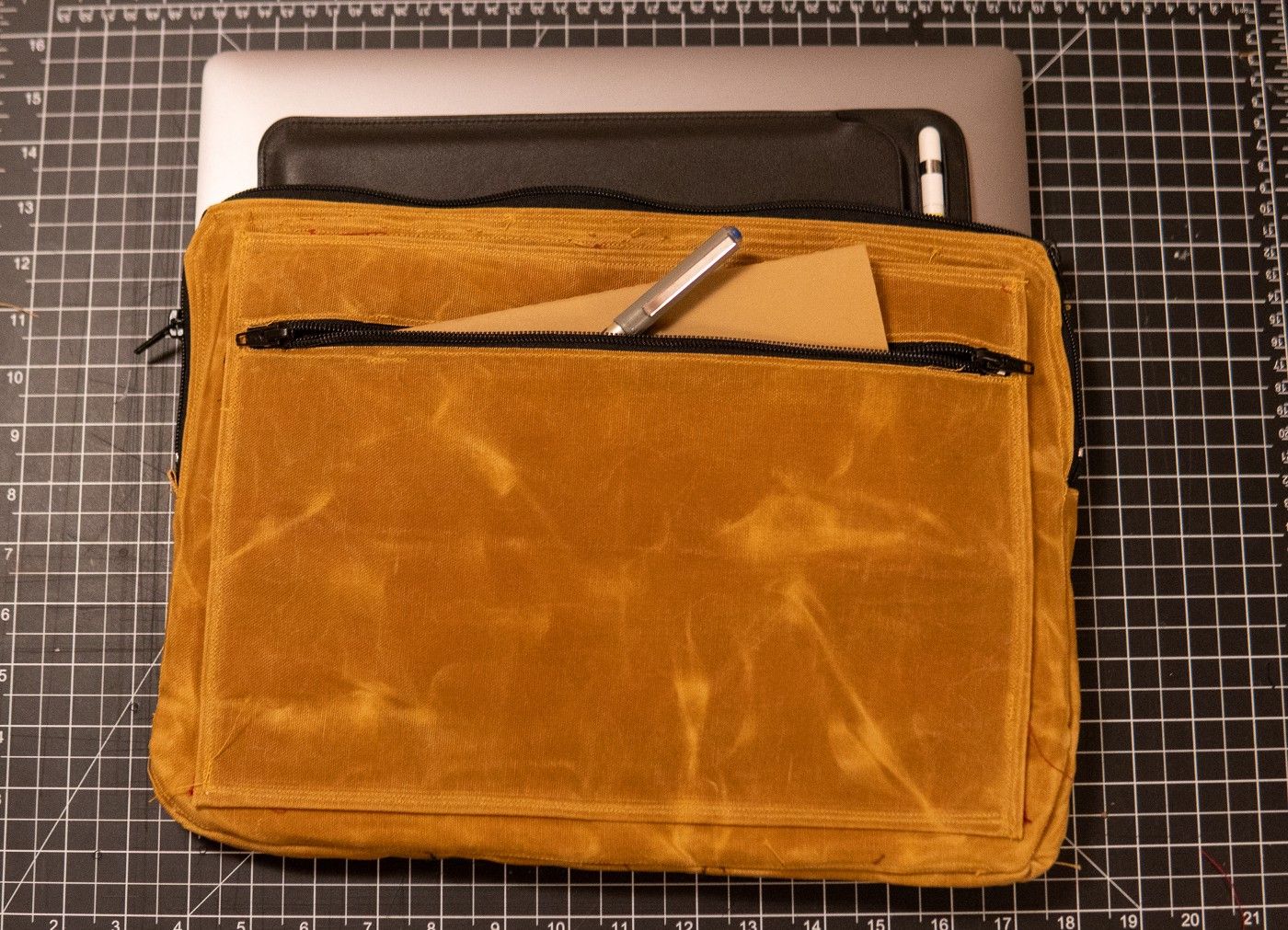 Is that cool or what? I am super happy with the final product and going through the steps of learning. Two weeks ago, I didn't know how to run a sewing machine and I chipped away at finding the tools, materials, tutorials, and the hands-on practice to make something outstanding.
I arranged a talk with an industrial designer, Ryan Lee, to come and speak to our class. He is a talented soft-products designer with many years in the outdoor industry designing backpacks for top brands. He is going to take us through a workflow and describe the way he thinks about his designs.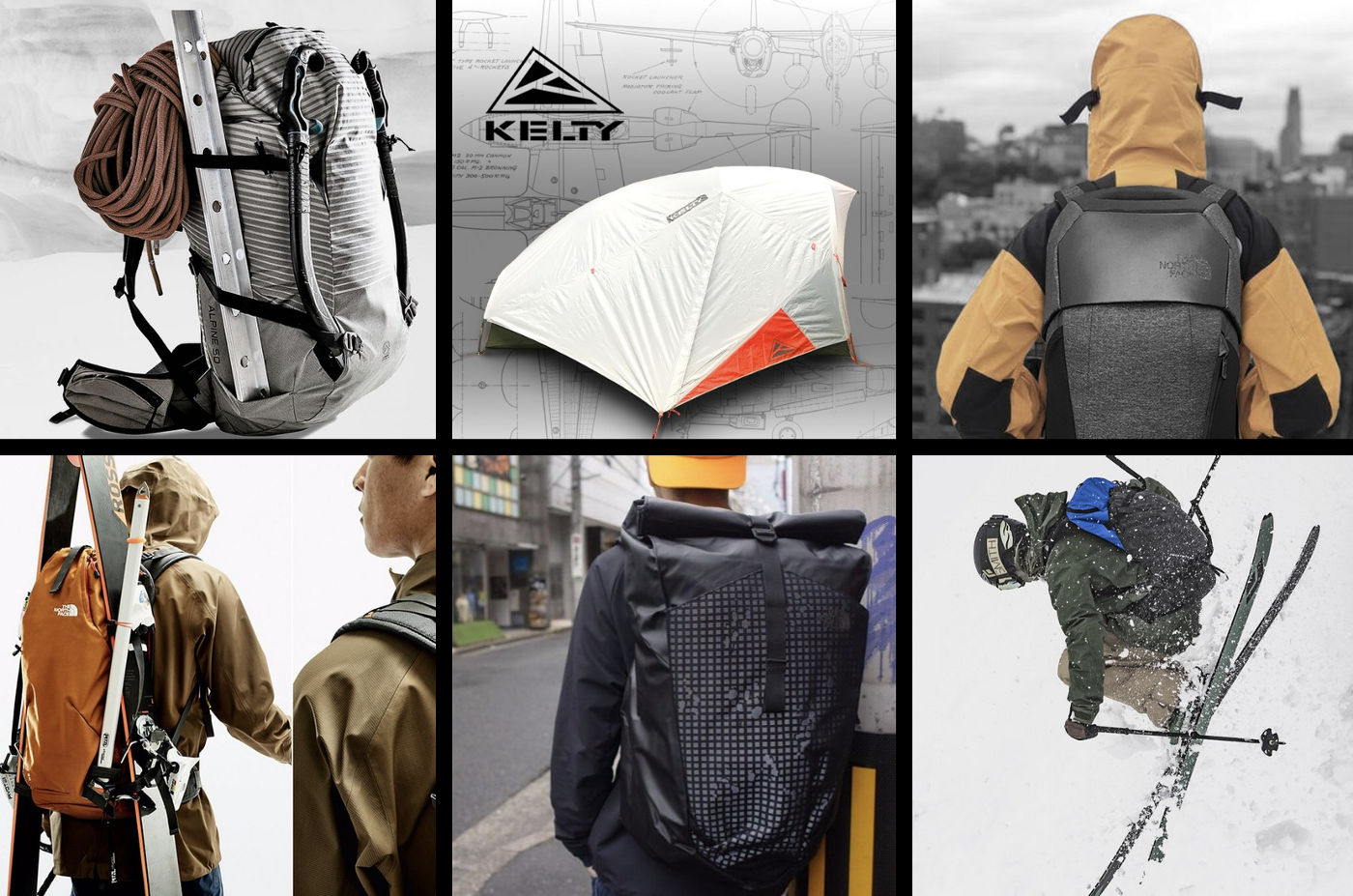 I am primed to start my daily idea challenge and will start posting every day. I am also eager to continue learning how to make a hydrodynamic dry bag with my new skillsets of sewing.
---
--- ---
Related Articles