Mapping "The Future of Work" Startup & Investor ecosystem
Investing in companies shaping "the Future of Work".
---
Tealfeed Guest Blog
2 years ago
|
11 min read
---
Like lots of people these days, I enjoy spending time thinking about & investing in companies shaping "the Future of Work".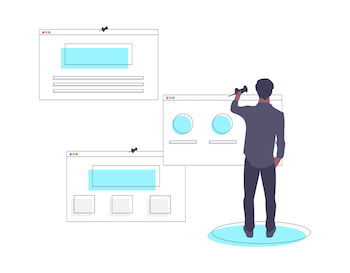 For that reason, I keep getting asked by my investor friends whether I have any cool lists of startups for them or insights I'd be happy to share.
I normally reply by sending a mere list of c.10 cool companies "to watch" off the top of my head and then pointing towards this excellent recent post by Merci Victoria Grace, which does a fantastic job at mapping Workplace Collaboration startups worldwide, or this one by CB Insights, mapping startups enabling Remote Work.
Since I'd love to have something more 'personal' to send back, and since the current pandemic is turning "the Future" of Work as we perceived it until a few months ago into "the Present" somewhat quicker — I thought I'd dig a bit deeper, to come up with a big list of unique companies & ideas for everyone interested in the wider space, adding a couple categories to Merci's & CB Insight's maps and adding investors to the mix.
My plan is to keep updating this post on a regular basis, so that it can become the go-to piece for the sector. If you're building a company that you think should be included, let me know!
Let's go.
1. Startups shaping "The Future of Work"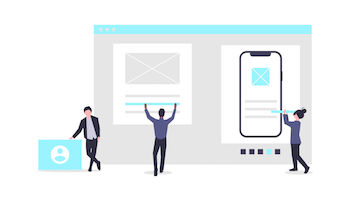 Disclaimer 1: My definition of Future of Work is immensely broad, as it includes anything that makes working easier, regardless of whether your company:
Disclaimer 2: Many of the startups listed sit across multiple categories. I chose one for each for simplicity.
Disclaimer 3: This is not an attempt at including every single company in these categories — I'm sure I'm missing loads of them — but rather a selection of the independent, private, and usually venture-backed ones I know and find interesting.
⚠️ If you're more of a spreadsheet person than a «logo map» person, you can find the full list of 195 companies I looked at here. I included funding amounts and tried to personalise the description of each company to make it clear why it fits into its category️ ️️⚠️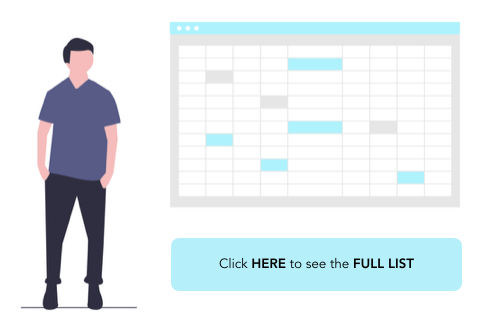 Click here to access the full spreadsheet
As a bonus , I also included a couple of startup ideas here and there💡 I'd love for you to add your ideas to the mix! Throw them in the comments! 😃
1.1. Messaging, chat & email
A lot of companies are popping up each year to take on (or enhance) more established players like Slack & Microsoft Teams (chat) or Gmail & Outlook (email). Notable examples:
💡 Startup idea: We need more tools enabling Asynchronous Work Communication. In a world where you'll be increasingly working with people from all across the world, does chat, voice & video communication really need to be in real time?
1.2. Virtual Offices / Focus enablers
With more people working 'from home' or remotely, the concept of 'virtual office' is emerging. A "place" where you work with your team regardless of where you are, and where focus is the key. Notable examples:
💡 Startup idea by Chris Herd: Enable "Constant Presence". Feeling "isolated" when you do "deep work" can help but it's not always required. Communication solutions which enable presence, like an open mic while gaming, will become compelling.
1.3. Voice & Video
"Zoom / Skype does the trick when it comes to video & calls" is an arguable statement if we look at how many companies in the same space get heavily funded each year. Notable examples:
💡 Startup idea 1, by Andreas Klinger: Rethink video clients without "big faces in a box". Different calls need different optimised experiences (e.g. Townhall vs 1on1 vs small team call).
💡 Startup idea 2, by Fred Destin: Videocall "ecosystem model". Given that work is becoming asynchronous, good solutions will need to emerge like hosted recordings, transcriptions, annotations and maybe even live translation.
1.4. Calendars & Meetings
Almost every busy professional I speak to keeps complaining about their calendar & the difficulty to manage their own time. Similarly, every VC I speak to loves the idea of a "Superhuman" for calendars. A couple of solutions are popping up, but we're still far from having a massive success story in the space. Notable examples:
1.5. Scaling Personal / Executive Assistants
A new breed of startups is emerging: ones that deal with all the work & operations that personal assistants of busy professionals need to carry out every day. Notable examples:
💡 Startup idea — bring Molly back: based on the fact that their website is off, it looks like YC-funded Molly didn't make it. I did like the idea though, even if a bit creepy: a tool that learns from everything you've ever done or typed on the internet, so it can answer questions for you using machine learning.
1.6. "Data Collaboration" / Documentation & Knowledge
Companies in this category offer software to track internal processes or make wikis (websites that allow collaborative editing), or more broadly to collaborate around data. They attempt to unbundle GSuite & Microsoft Office by focussing on particular pain points teams encounter as they operate / grow. Notable examples:
1.7. Context and Search
The more people work at a company, the harder it can be to find information quickly or to get answers to your questions; information tends to get siloed. Search is becoming crucial to democratise access for knowledge workers. Notable examples:
1.8. Project / Task Management
Startups that provide tools to manage tasks and to-dos have been heavily funded by the VC community over the last couple of years. Personal and team productivity are key for well functioning organisations. Notable examples:
1.9. Design
Another heavily funded space: more and more startups are making design tools, often emulating programs like Photoshop, PowerPoint, etc., that feature real-time collaboration similar to a Google Doc. Notable examples:
💡 Startup idea 1 — we need more motion design startups: Motion design is one of the most critical skills designers want to learn to stay relevant in the next 2–3 years. Tools making it easy will get big.
💡 Startup idea 2— Logo Map Automation: See that big picture above with hundreds of logos in it? It took me a fair amount of time to do 😁 what if there was a tool to automate the process? Perhaps one where all I'd need to do was giving the website of each company…Lots of bankers & consultants would pay for it.
1.10. Low code, no code & internal tools
"The Rise of No Code", as Ryan Hoover defined it in this post, is very real: a new wave of tools that are making creation more accessible and reinventing the way things are built for the internet. Notable examples:
1.11. Back-office / Admin Pain Relievers
Companies automating back-office and administrative tasks for SMEs & enterprises are booming (or will). Notable examples:
1.12. Remote HRM enablers
The days in which hiring remotely is seen as harder than locally will soon be gone; startups are making it easy. Notable examples:
💡 Startup idea by Andreas Klinger: Glassdoor for remote work environments.
1.13. Self-employment facilitation
There's never been a better time to be self-employed, with lots of companies now servicing the field. Notable examples:
💡 Startup idea by Andreas Klinger: Tooling for employee-owned project-based cooperation. As global ad-hoc teams will be more & more common, they'll also become more complex (you get a project; need support. You know a girl who knows a girl. The team is formed. The next project comes in. More people join the crew…) Tools to help this will thrive.
1.14. Remote Talent Engines
More and more companies are using tech to democratise access to global talent. Notable examples:
💡 Startup idea by Andreas Klinger: Build a marketplace helping people in prison (or recently released) to work remotely. With remote work rising, opportunities to rehabilitate and reintegrate incarcerated people into society could rise too.
1.15. Hiring with a Twist
This is the most subjective of my categories. The idea is that most people agree to some extent that "LinkedIn is not great". However, it's probably the only platform in the world that still really "owns the network": not many other $bn companies exist in the space. Is this about to change, now that many companies are tackling hiring from interesting angles? Notable examples:
1.16. Employee Engagement / Retention / Development
As teams grow, so do problems such as employee disengagement & churn. This is set to change with companies tackling engagement & coaching at scale. Notable examples:
1.17. The Future of Work Events
Online events and conferences are the new thing, and startups enabling them are being chased by investors at the moment. Notable examples:
💡 Startup idea — re-inventing the "dinner table". When you're at a work (or non-work) dinner, if the group conversation gets awkward, you can always start chatting with the person sitting next to you. When you have a "Zoom team lunch", everyone has to listen to the one person talking at a specific time. Could this change?
Again, you can find the full list of companies with my descriptions & funding details here.
2. Finding investors who love "The Future of Work"
As a founder tackling the space, which investors should you know about?
Given it's a hot space that spans both B2B & B2B2C, it would be virtually impossible to write a complete list of investors in it. What I did instead is list a few investors who explicitly told the world they like it + provide you with a collection of pre-existing lists I found online.
2.1. Angels & VCs
Almost every "sector-agnostic" or "SaaS-focussed" or "enterprise-focussed" VC fund or angel with more than 10 portfolio companies is very likely to have a Future of Work company in their portfolio and be open to investing in the space. As Jason M. Lemkin would say:
90% of VCs now invest in SaaS And the other 10% invest in The Future of Work
How to find them?
2.2. Micro-funds
A great deal of micro funds (which I define as ≤ $15M) are emerging which focus entirely or in part on this space. A couple that immediately jump to mind:
Some big angels could also be seen as micro-funds themselves:
2.3. Venture Builders
I just had to include this section so I could mention eFounders: the strongest venture builder I've seen, entirely focussed on the Future of Work.
This article was originally published by Pietro Invernizzi on medium.
I'm more active on Twitter → @pinverrr
---
Created by
Tealfeed Guest Blog
--- ---
Related Articles