Marketing during a global pandemic - the brands who nailed it and failed it
There is a right and a wrong way to market your business during a crisis.
There is a right and a wrong way to market your business during a global pandemic and economic recession.
It starts with needing to be sensitive to the real-world pain points your customers are feeling without virtue signalling or profiteering.

You need to communicate and nurture audience relationships without suffocating them with updates and COVID-19 messages they don't need. I've compiled some examples of brands, in a bunch of different industries, who have either nailed or failed their marketing in the current climate, and provided a breakdown of what you can learn from their response.
NAILED IT
West Elm offers free virtual backdrops for your remote Zoom calls.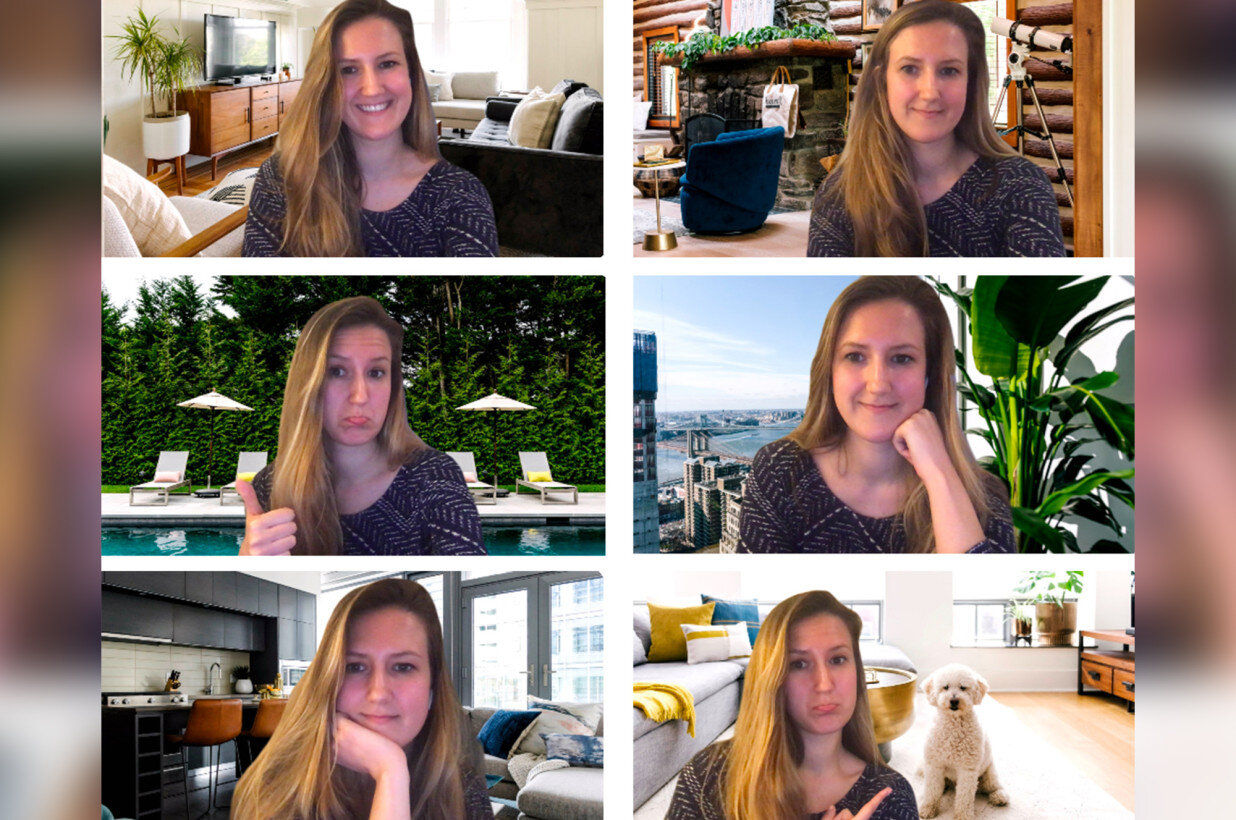 When the majority of business was being conducted from our living rooms, it was somewhat awkward. West Elm offered a classy solution with virtual backgrounds that spruced up our Zoom calls. The backgrounds are completely free and easy to install, and all showcase actual products available from the West Elm stores.

Why this is a great idea:
West Elm has taken a moment to think about where people are spending their time and the genuine pain points they might be experiencing (also known as that basket of laundry in the background of your meeting). They've used what they do best (furniture) to hustle out a free and simple solution for people - all while building brand awareness and affinity.
FAILED IT
Virgin Atlantic struggle through a PR disaster that has undercut their brand values.
Virgin Atlantic came under fire for what is best described as a PR fail. While many airlines have been readily backing their staff, Virgin Atlantic asked all staff take 8 weeks unpaid leave.
Why this is a marketing fail:
With a net worth of £8.9 BILLION, Virgin Atlantic owner Sir Richard Branson could literally pay the wages of his staff purely out of the interest accruing on his personal wealth. The real failure here is that it comes after years of Branson building an identity (both with his personal and company brand) as being employee-centric. He has spouted time and time again, the importance of taking care of your people first and your customers second. So, what appears to the public as throwing employees under the bus, has put a massive stain on a lifetime of brand-building efforts.
Following public outcry and coming under fire in the British parliament, Branson announced he would be making a £250 million investment in the company to protect employees. He also stated that the staff collectively volunteered to take 8 weeks of unpaid leave over the next 6 months.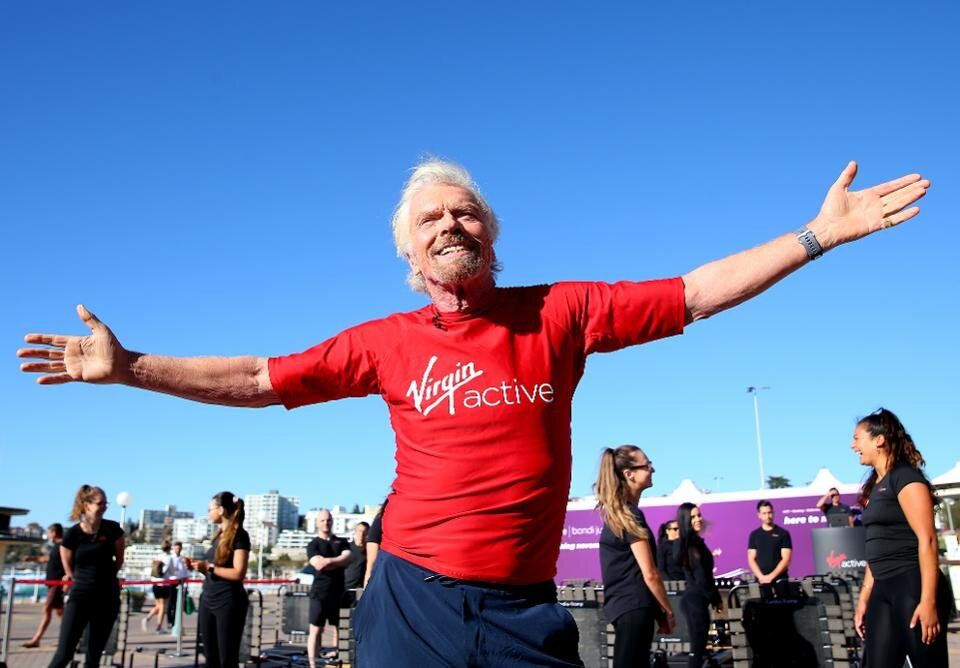 NAILED IT
National Cowboy Museum puts its loveable security guard in charge of their Twitter account.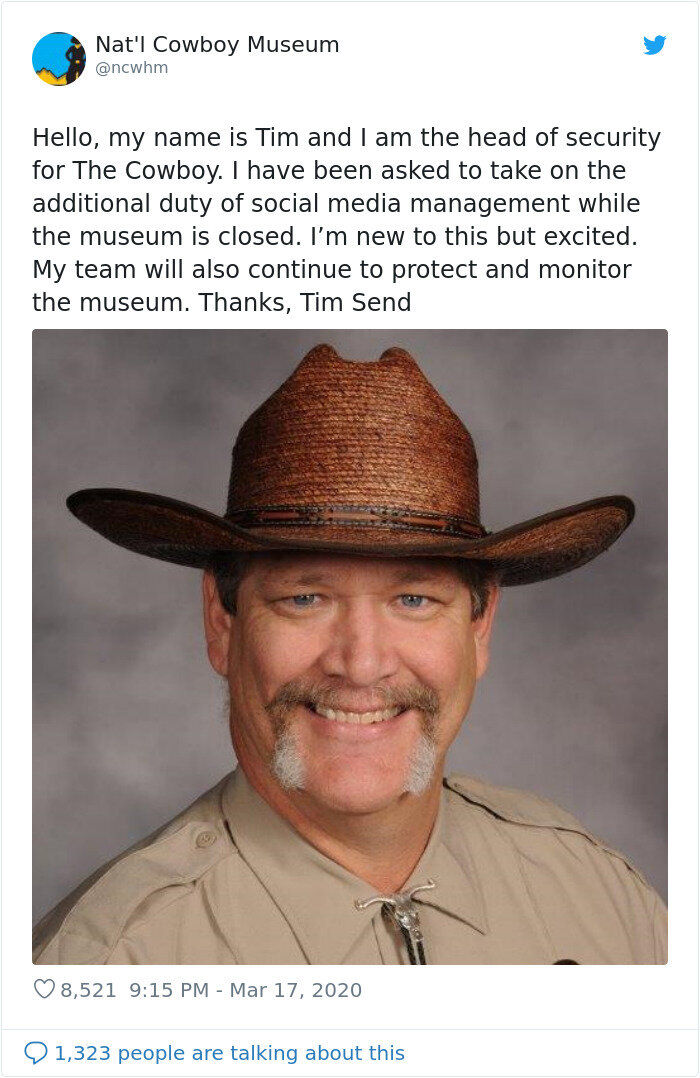 When The National Cowboy and Western Heritage Museum closed, the one person who was still working was their head of security, Tim. To keep their Twitter feed fresh and interesting with museum content, they asked Tim to take over. Tim has been providing educational glimpses into the exhibitions - but more than anything he has been providing some much needed relatable and wholesome tweets that are filling everyone with the warm and fuzzies.
Why this is a great idea:
Tim is authentic, relatable and hilarious without being insensitive to the current climate. He is a little ray of sunshine amongst the darkness of everyone's Twitter feed. The museum is developing mass brand awareness and affinity with their audience by showcasing a relatable character who has been thrown out of his depth with digital technology.
FAILED IT
Far too many brands forgot to check their active ad campaigns.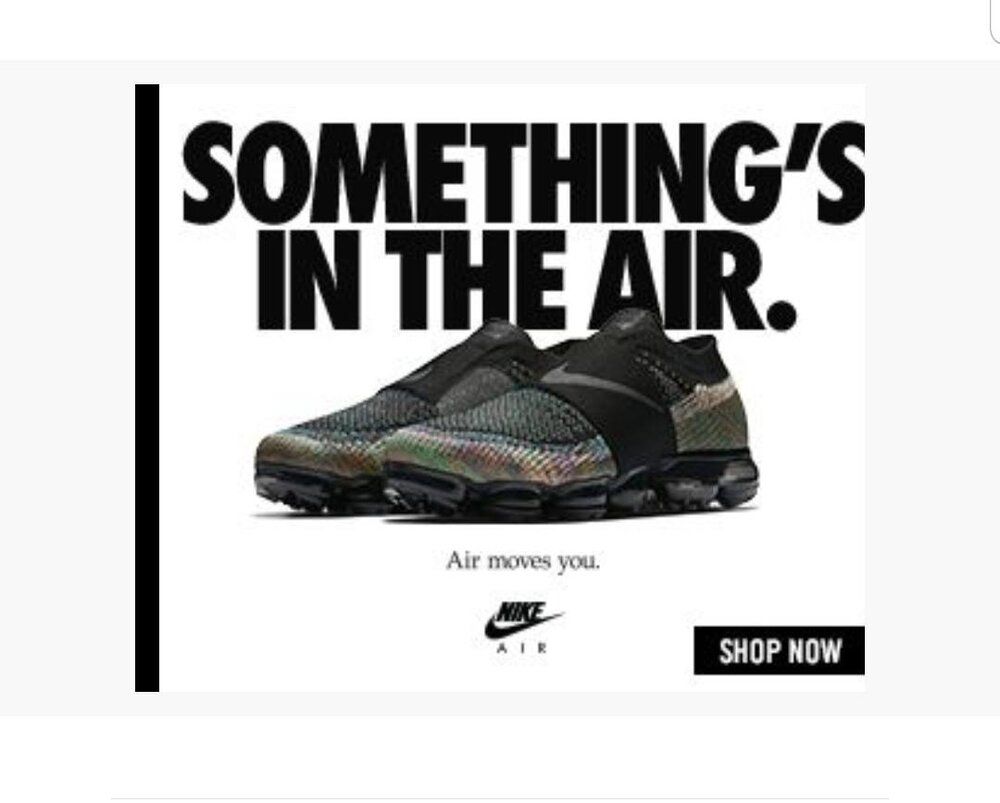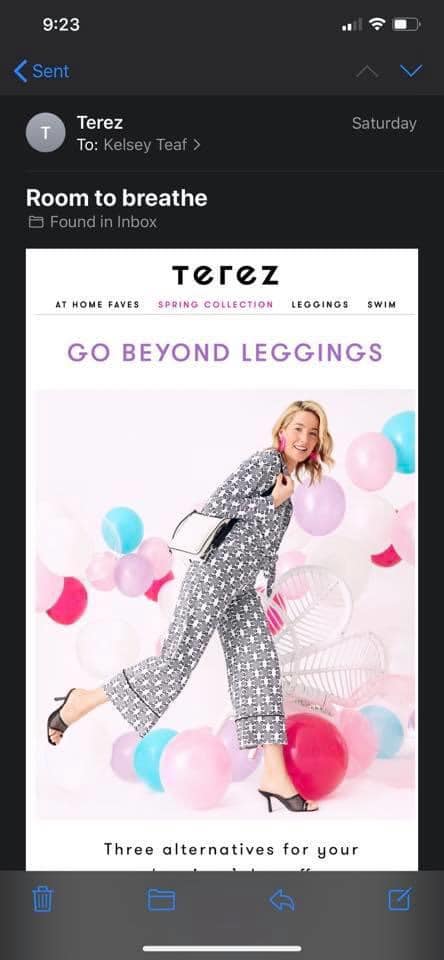 You know the ones, the ads that under normal circumstances wouldn't make you look twice, but now? When the idea of community, co-working spaces and happy hours are globally on pause? Your ads are going to look a bit stupid.
Why this is a marketing fail:
It's pretty self-explanatory really. Your ads aren't going to work. At best, your messaging will not resonate with anyone and at worst you will come across as insensitive and offensive. If you haven't already, double-check any campaigns you have running in the background.
NAILED IT
Jack Daniel's continue to roll out superb brand affinity campaigns via social media.
Personally, I'm not a whiskey fan, and yet recently, I've found myself feeling rather attached to the Jack Daniel's brand as a result of their on-point marketing strategy during COVID-19.
It started with the rollout of a user-generated content campaign with the simple caption of "With Love, Jack". The social media promotions feature a collection of scrappy home videos sent in by real people self-isolating. There's no hard sell, it's incredibly down to earth and when you watch reels you can't help but feel part of something, even from afar. Apart from the light sprinkle of people enjoying a sip of Jack in the footage, there is no actual advertising.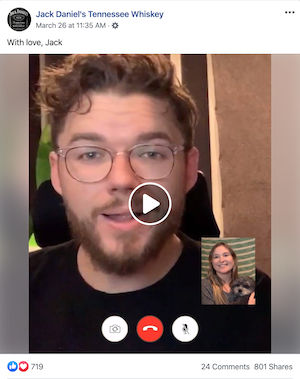 Why this is a great idea:
Now is NOT the time to "hard sell" what can be considered as a non-essential product. It is the time to foster relationships with your audience through; to humanise your brand, build connections that can withstand this crazy frozen moment in history, to help your audience work through what could very easily break them. A user-generated content campaign is such a powerful way to achieve this and ensures the messages you're delivering to your community resonate.
Then, Jack took things a step further. A recent social media video features Chris, one of their distillers, discussing some of the work that's been going on at the distillery. Their facilities slowed whiskey production to make room instead for the production of hand sanitizer; a crucial product that was suffering global shortages.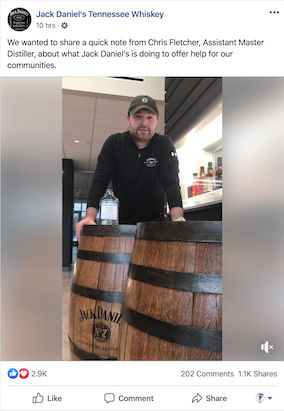 Why this is a great idea:
They are truly walking the walk when it comes to putting their ambitions aside for a moment, to be a part of the solution. Whilst turning their production lines over to hand sanitizer is an operational decision, it's also a marketing decision. It all comes back to ensuring that you continue to live up to your brand promise. To truly embody what you say your brand is all about (or you might end up looking like Virgin Atlantic). By announcing this event through their down-to-earth social media video, Jack Daniel's once again show they understand the sensitivity of the current climate and want to avoid looking like they are simply virtue signalling.
FAILED IT
Eleven billion brands swamped our inboxes with their unnecessary COVID-19 response emails.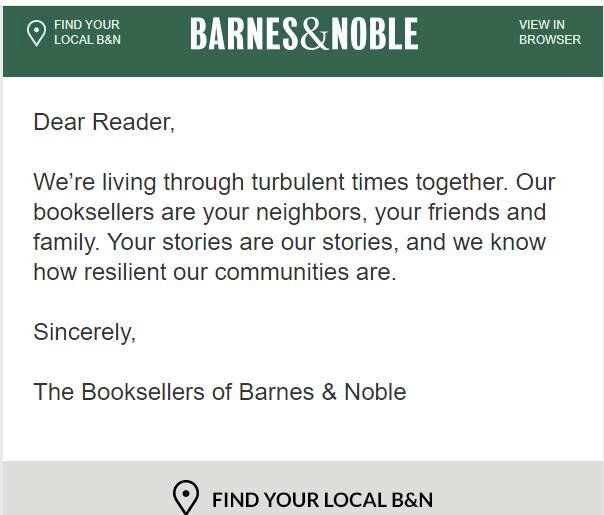 For months now, I have been opening my inbox to dozens of new emails and then having to sift through for the one or two that ACTUALLY deserve my attention. There are some businesses out there who, yes, I needed to hear from regarding their operations for the next few weeks. My gym for instance. But did I need to know that the Barnes & Noble book chain thinks their Dear Readers are resilient?
Nope.
Why this is a marketing fail:
Firstly. It's bloody annoying. And secondly, it comes across as virtue signalling which can make your customers lose respect for you. Having direct access to someone's inbox is a privilege and you should only use it to deliver them value.
NAILED IT
Guinness show they are nothing but class after losing out on their biggest sales period of the year.
St Patrick's Day is undoubtedly the biggest event of the year for Guinness, however, this year St Paddy's was effectively cancelled across the globe. They released a heart-rousing video that focused on sticking together when things get tough (plus a nice big charitable community donation), a suite of short video placements across Facebook reassuring everyone that this too shall pass, and even a few playful creatives to prompt people to stay home.
Why this is a great idea:
Your audience needs your help to make it through this. To be reassured that things will turn around again soon and when they do, you'll be there. Rather than marketing that leans into people's fears, or guilt, or pity, brand messages that boost morale, show solidarity and reinforce calm, is what the world really needs right now. The last thing you want is to develop are negative brand associations. Even if you somehow manage to drive short term sales by leveraging people's vulnerabilities, in the long term, you've done yourself a huge disservice. But if you can develop positive associations, you show yourself as the light and the calm amongst the chaos. You can walk your brand through to the other side of the COVID-19 outbreak with favourable long-term results.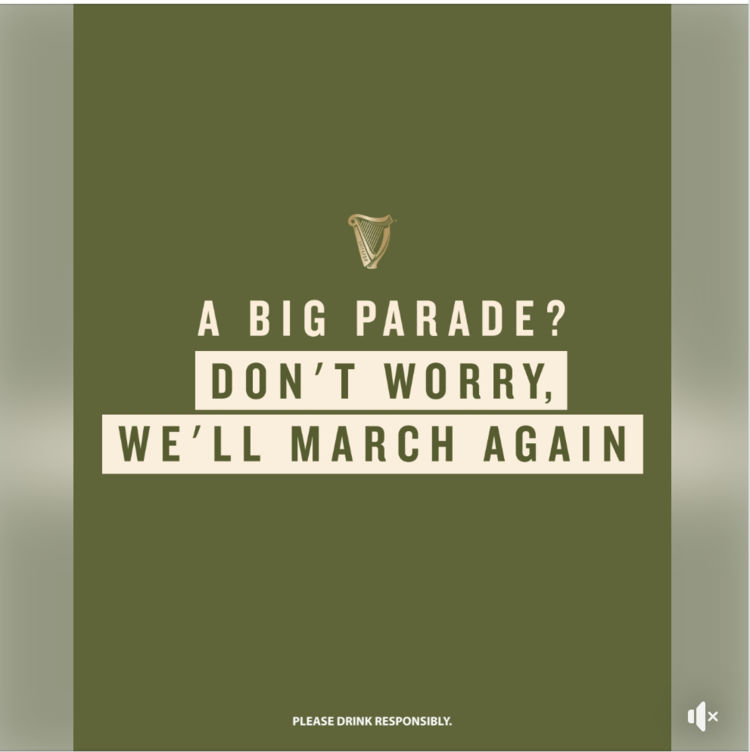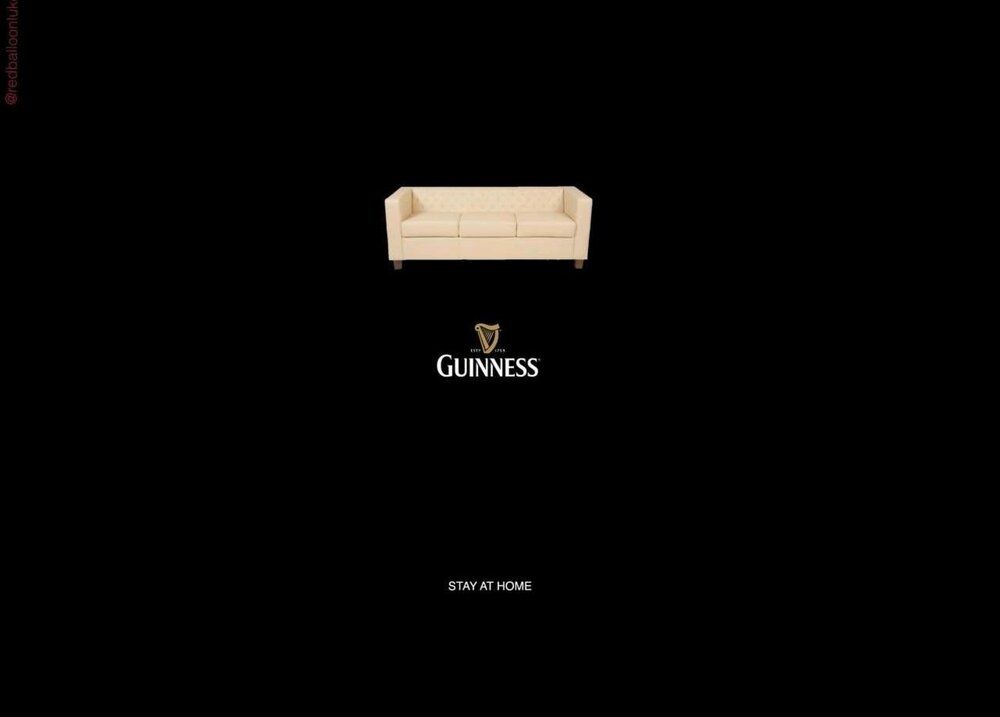 FAILED IT
A disgraceful number of brands lean into insensitive messaging and profiteering.
From ASOS promoting chain mail face masks, through to local restaurants blasting messaging suggesting customers ignore the world's plea to stay at home, there are some brands doing some STUPID things y'all.
Anyone who is running a "COVID-19 SALE", boasting that their brand has chosen not to shut up shop, pushing messaging that COVID-19 is some sort of "gift", or blasting promotions designed to profit from people's vulnerability, are all getting burned hard.
Why this is a marketing fail:
People do not have the bandwidth right now for greasy advertising. If they catch even the slightest whiff of "profiteering" in your marketing, you better believe they are going to call you out publicly. Businesses are feeling incredibly vulnerable (with good reason) and so it can be tempting to leverage the situation to turn things around, but there is a difference between pivoting your business model to survive a 'new normal' and taking advantage of a global pandemic to make bank.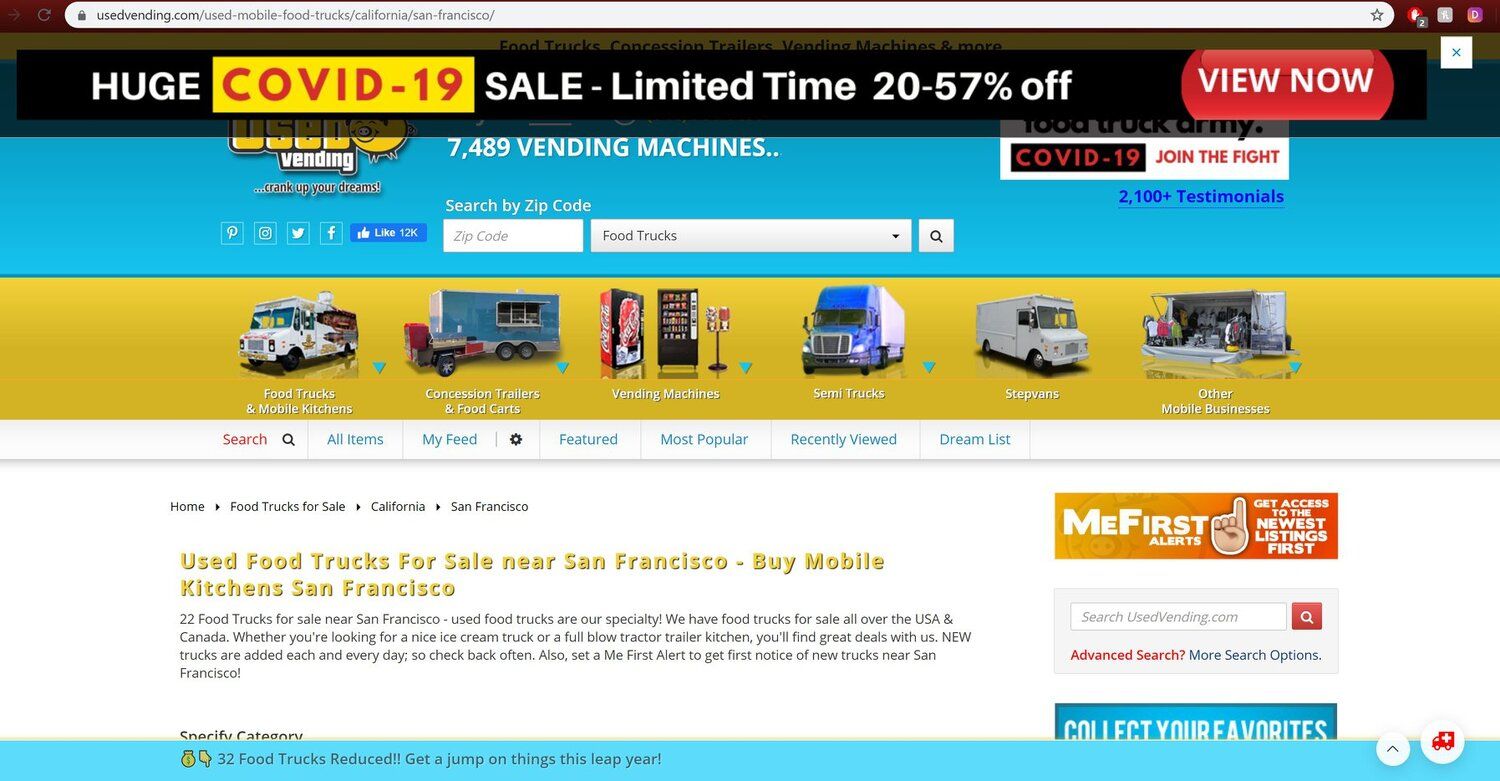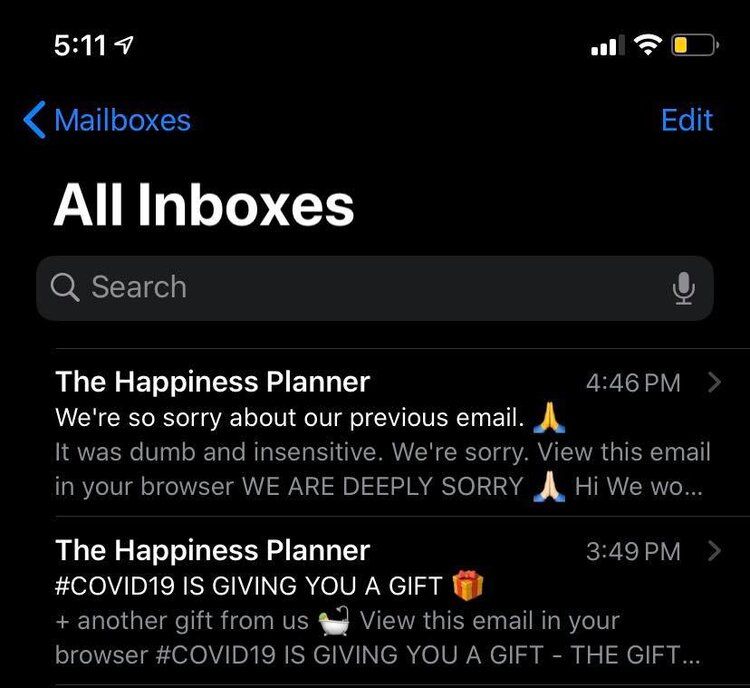 Written by Alanah Purtell, a cofounder at Idiello. Originally published at Idiello.com
---
Alanah is senior marketing strategist and co-founder of Idiello, a DIY marketing platform that offers expert-led classes and readymade campaign ideas that are trusted by brands and professionals across the world.
--- ---
Related Articles