Metaverse Architecture — A Peek Into The Future
Enter and create digital economies, leveraging blockchain technology with our Metaverse development services. Design, build, and launch amazing experiences for your users effectively with a leading metaverse development company.
---
Santhosh zakk
10 months ago
|
5 min read
---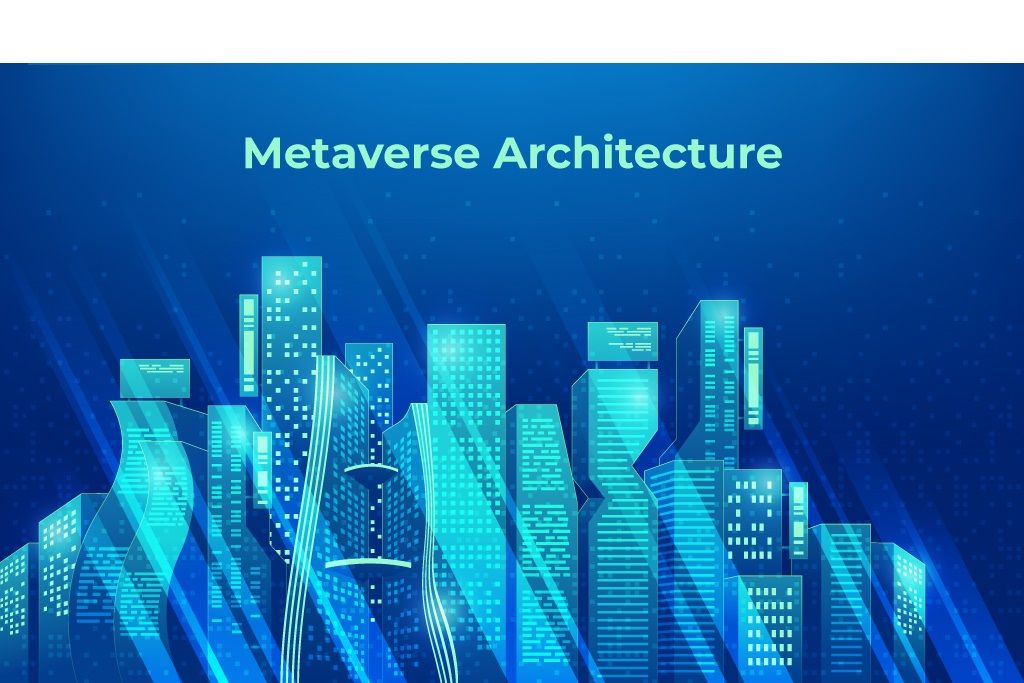 The metaverse includes the creation of distinctive avatars in a 3D world and their exploration across numerous platforms and settings. Neal Stephenson coined the phrase in his 1992 book Snow Crash, but it only became widely known after Facebook declared it would change its name to Meta. The ultimate objective of the Metaverse, according to its founder Mark Zuckerberg and other supporters, is to build a second virtual world where everyone may live online.
Have you ever imagined what architecture looks like in the world of metaverse? How different is it from the real one?
Read on further to find more information about Metaverse Development Company architecture.
Metaverse Architecture: All you need to know
The digital economy is at the peak
Since the global pandemic, there has been a noticeable increase in the fusion of the real and virtual economies throughout the world. (Covid — 19)
While many actual retail stores have shuttered, fashion houses like Balenciaga have chosen to present their most recent collection as a video game.
Tenants are leaving or scaling back their activities, putting pressure on commercial property owners. At the same time, video conferencing services like Zoom have become more popular as the epidemic has developed.
The emergence of the coronavirus has altered every aspect of the workplace. Whether it be e-commerce or how businesses are run. Everything is different now! The gaming, fashion, and cryptocurrency industries all served as the metaverse's stepping stones. After this, it is attempting to make a name for itself in the architectural world.
How will architects serve as a support between the real and digital worlds?
For ages, architects have been in charge of creating high-rise structures, shopping centres, theatres, etc. The projects the team is working on are all thoroughly understood by everyone. They may provide the end-user a successful outcome as a consequence of their efforts.
In the Metaverse Development Services, how is this coordination possible? The AEC (Architectural Engineering and Construction) sector's use of digital twins may enable architects to serve as a link between the real and virtual worlds.
To "test drive" unassembled buildings, architects may use simulations to produce digital replicas of actual occurrences. A digital twin is a representation of a structure that uses information from linked sensors to convey the tale of the structure's life cycle.
The importance of social responsibility in the virtual world
Both as listeners and speakers, architects thrive. To start, they pay close attention to what our communities and consumers are saying. They place a high priority on the societal effect of their work in addition to their clients' needs in order to better serve the entire community.
Culture is born and expressed via architecture. Prior to conceptual design, it seeks to understand a distinctive cultural context, including languages, place memories, and lifestyles.
The metaverse has no boundaries with respect to geography. Metaverse members hail from a variety of social and cultural backgrounds. On this basis, several cultural vernacular metaverses may be made.
Architecture of Metamodernism
Modern virtual architecture design technology is the foundation of the architectural theory and movement known as metamodernism.
Architecture that is influenced by metamodernism is essentially a movement. A movement dedicated to disseminating its emotions throughout several metaverse development solution, it has particularly fascinating connections to Decentraland, hosting events like PolkaWorld.
The movement toward MetaModernism Architecture is led by the architects Charlie Sun and Yen. Meta Live Studio's creator, Charlie Sun, has 10 years of experience as an architect and designer.
Yen is a famous metaverse architect that started her adventure in 2019. Her clients include well-known artists like ArtGee and The Shanghai Gallery.
Meta City
The team is optimistic about Decentraland's future due to growing users, events, and structures. They have created a model of the future metaverse metropolis in their capacity as seasoned architects and urban designers.
Metarchitect Studio
The Genesis voxel concept, a floating digital element that produces new building on the fly, is used by the metaverse architectural company. It serves as a manifesto for metarchitects, a depiction of metaverse spirits, and an exploration tool for the many architectural styles found in the metaverse.
Vault Hill Office
A metaverse inside a metaverse is Vault Hill Office. Consider it the Decentraland metaverse's central experience centre. By merging traditional architectural design into the metaverse, this concept focuses on fusing real-life design with functionality.
There are three of them. We start with a common atrium. The third is a rooftop with a breathtaking view of the area, and the second is a private area.
The NFT Fever and the Future of the Design Profession
If you were offered a virtual building, would you buy it? Only an image or a movie that you can see may be made or introduced into the real world. When architecture enters the non-fungible token (NFT) space, which has taken over the globe, this is essentially what is promoted.
NFTs have been around since 2013, but their popularity has recently surged, or at the very least, they've caught the media's notice. Bidders are interested in owning a piece of virtual originality because of the excitement, novelty, and disruption around digital transactions.
NFTs are made to provide you ownership of work valued at the price you pay for it via blockchain, which is something special. It is seen as a new frontier in fine art collecting and the progression of what is valued as art and how it is displayed.
There is always one unique digital file, despite the fact that copies can be made as often as desired. It is comparable to how the Mona Lisa is shown at the Louvre; nonetheless, the image has been widely imitated.
Technology improvements, which have produced a virtual world in which things may be purchased, are to blame for the success of NFTs.
The architects saw creating a digital replica of the real environment as creating a "alternative universe" — an uncharted realm of unbounded possibilities. A rise in the field of digital architecture may result from the enormous, unimaginable need for material in the metaverse to create virtual spaces like stadiums, conference rooms, museums, or even a whole city!
The Metaverse's Designers
The building of the metaverse is easily imaginable by anyone with a vivid and creative mind. What do real-world architects, however, bring to the table as designers for the digital world?
Social and Cultural Integration
The Metaverse has no physical boundaries, although societal issues could still exist. Designers will need to be aware of the threats to real-world communities in order to create healthy societies in the virtual realm. Architects have always been engaged citizens with a profound awareness of social and cultural concerns. The architect's responsibility is to ensure that the metaverse is a diverse and inclusive space.
Environment and Psychology
It is a well-known fact that our environment affects how we feel. Depending on the space, we may feel happy, sad, depressed, or energised. Excellent design is said to have emotion and a purpose. Architects are the best people to design for the metaverse store development company since they have a thorough understanding of this. Architects are inquisitive individuals who also make excellent listeners. They have an understanding of social psychology and the needs and aspirations of communities, and they apply this understanding to the built environment.
Architects from Decentraland
A blockchain virtual environment called Decentraland Architects was created in March 2021. Customers may create and construct professional virtual properties using their 3D design and architectural services. By utilising the in-game currency Mana to buy parcels and plots of land, users may pass their time in an immersive universe.
Conclusion
All things considered, how well the locations are built will largely decide how we see our future home, the metaverse. By providing millions of customers with highly sought spatial qualities, architects will be at the forefront of the metaverse.
The Metaverse's buildings were computer-generated, yet they were nonetheless inspired by traditional structures. More and more designers and architects will look for opportunities in virtual landscapes as the globe and the architectural environment around us change, creating digital assets with the same fervour, vision, and consideration that we see in the designs surrounding us on Earth.
---
The future is cross-chain and you can do that now a token bridge. A cross-chain bridge let's you launch your token on multiple blockchains and allow users send your tokens between chains. Launch your token on any EVM blockchain with our cross-chain bridge.
--- ---
Related Articles