What is the minimum cost to develop a mobile app in 2019-20?
The costs incolved in developing an app to boost your start-up.
There were 194 billion app downloads on mobile in 2018 alone. Consumers spent $101 billion in app stores in the same year. In the US, mobile application users have more than 100 applications installed on their devices. As you can see, apps are becoming more and more popular. Through apps, brands can target customers on mobile devices to stay relevant as well as competitive. A well-developed up will bring you decent engagement and give users a unique experience. But like everything else of value, app development has a price tag. So, how much does it cost to make an app for your business? We will tell you that plus what it cost to build some popular apps in use today.
This article covers:
Some popular apps and how much it cost to build them.
App development cost estimations.
Top considerations when budgeting for the development of an app.
In the end, we hope you will have a good idea of how much your app will cost to develop.
Examples of Popular Apps and Their Development Costs
Instagram, a very popular photo and video sharing app, started with an initial seed capital of $500,000 back in 2010. The app was highly successful, registering 1.75 million users within the first year. As a result, it got $7 million in the second round of funding and $50 million in the third round. Within these three years, Instagram was worth $500 million. In total, this app used more than $57 million in funding. Its founder, Kevin Systrom, sold it to Facebook at a whopping $1 billion, which was well above the cost of app development.
WhatsApp, a widely used messaging app, raised over $60.3 million in three rounds of funding between 2009 and 2013. The first was seed funding totaling $250,000, followed by $8 million from Sequoia Capital almost two years later. The last financing WhatsApp received was $52 million in 2013. By this time, the app was valued at $1.5 billion. Uber is yet another app that has used up massive funding to develop. The app has raised over $24 billion in more than 22 rounds of funding.
These figures are inclusive of not just the cost of app development, but also the overall cost of setting up the business. In most cases, the actual development takes about 30 to 40% of the total funding.
Estimations of App Development from Credible Resources
App development cost is anywhere from $100,000 to $500,000, according to most surveys. Kinvey, a Backend as a Service Platform that assists developers and businesses in creating apps, surveyed CIOs and concluded that the average cost for a mobile app is $270,000. Otreva, a reasonably popular app developer, says $111,300 is the average cost you will pay to develop an app from scratch. Finally, Clutch arrived at a median cost between $37,913- $171,450 after surveying several application development companies.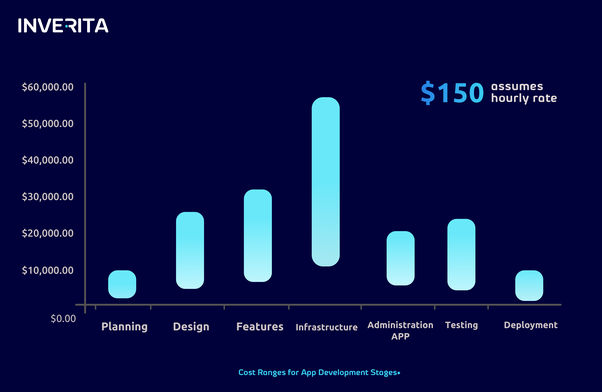 Resource: Cost to Build a Mobile App: A Survey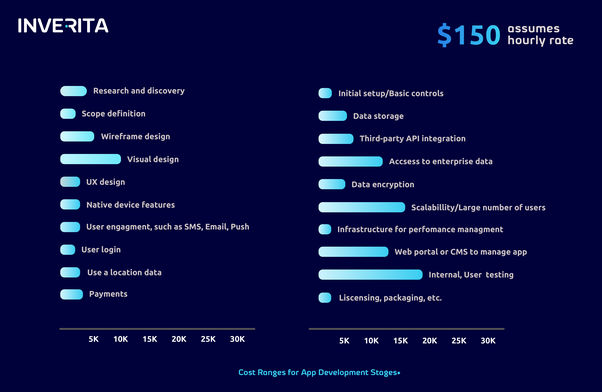 Resource: Cost to Build a Mobile App: A Survey
If you are looking to build a feature-rich app, be ready to part with anything between $267,000 to about $360,000. While the app development cost breakdown is as stated above, the actual price you will pay will depend on several factors.
What to Take into Account When Estimating App Development Costs
There are a few things that will have a significant influence on the price you will pay for your app. Some of these include:
1. Android vs. iOS. Android app development cost is higher than iOS app development mainly because Android apps are much more difficult to develop. If you are on a budget and are primarily targeting the US market, it would be wiser and more cost-effective to start with iOS. Then, expand to Android app development.
2. Server costs. Apps that have built-in servers, like Instagram and Uber, cost more. Complicated transaction-based apps will almost always require an integrated application server.
3. Salary, marketing, and other costs. How much does it cost to maintain an app? App maintenance/upgrade funds, your salary, money for marketing, and other expenses for launching and keeping the app running should also be included in the budget.
Outsourcing or Developing Your App In-House
When deciding to build an app, you can either use or hire an in-house development team or outsource the services from an app development company. Though both approaches have their pros and cons, outsourcing is a cheaper option if you don't already have a team to undertake the project. Outsourcing saves you from incurring hiring and infrastructure costs. The only significant advantage of developing your app in-house as opposed to hiring an external team is the ease of communication.
---
Co-founder of inVerita - inveritasoft.com | Entrepreneur
--- ---
Related Articles